Do you know what an HP USB driver is? Do you want to know how to download the HP USB driver? What should you do if your HP USB port is not working? Don't worry! This article will provide two ways to download and update the HP USB driver:
Overview of HP USB Driver
HP USB driver is software that allows your computer to communicate between a USB drive and your computer. HP laptop USB driver allows you to connect your HP tablet, smartphone, or other devices to your computer or PC. In short, it allows you to transfer data from one device to another.
The HP USB driver works with all service packs available on any operating system. And you don't need to take any other steps for compatibility issues. If you want to download this USB driver or update the HP USB driver, please follow the two methods below.
Download HP USB Driver via EaseUS Partition Master (Recommend)
Many websites offer solutions to download drivers. EaseUS DriverHandy is an all-in-one driver updater that provides all drivers directly from the hardware manufacturer to help your computer and accessories run smoothly.
It has the following main attractive features:
Automated system scanning for outdated drivers
Automatically finds the right driver
Drivers are officially sourced and certified by Windows
Simple operation for all users
EaseUS DriverHandy supports 11/10/8.1/8/7/XP/Vista and Windows Server. Here is the step-by-step guide to updating the HP USB driver using the powerful tool.
Step 1. Launch EaseUS DriverHandy on your PC and click "Scan" button.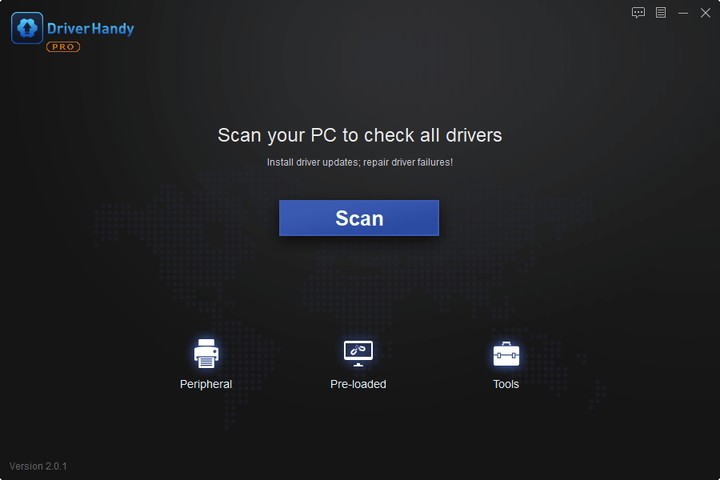 Step 2. Choose "USB Drivers" under the "Peripheral Drivers," and click "Rescan."
Step 3. If there is anything abnormal, navigate to the Driver Statuas and update it by updating the corresponding driver.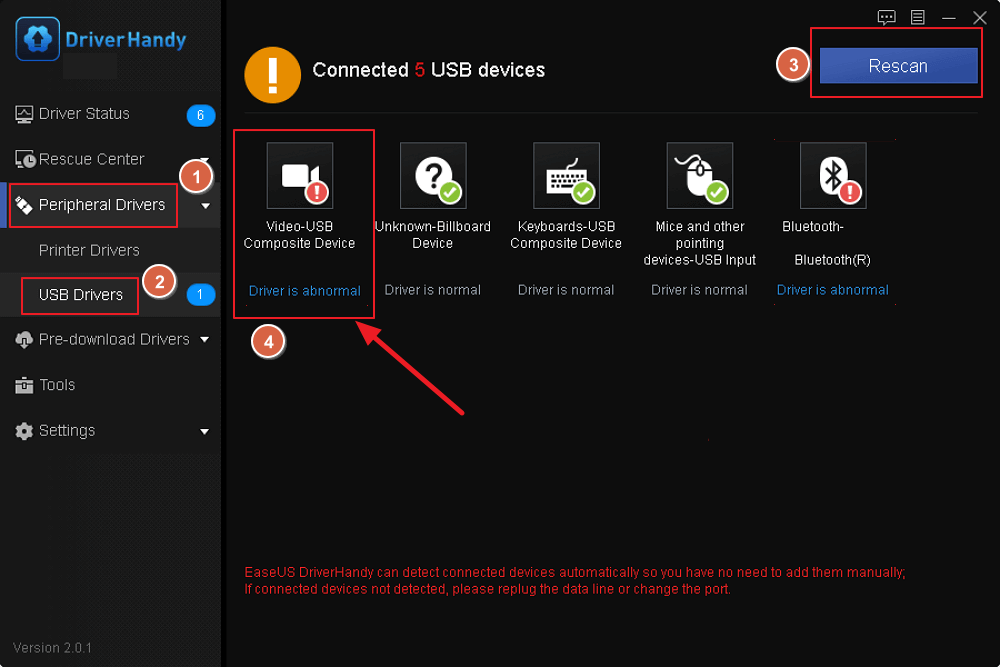 In addition, if your HP USB port does not work, EaseUS DriverHandy can also help you detect it and fix the error. It can also fix the following errors.
EaseUS DriverHandy is one of the best free driver updaters. If you have any problem, you can use this tool to fix it.
Download HP USB Driver via Official Site
The manual way is to download the latest version of the driver by visiting the manufacturer's website. Before you start, you need to know your Windows system. The website offers a very large number of channels for downloading HP USB drivers. The following is how to go through the official HP USB website and install the latest driver.
Step 1. Visit the official website of HP USB driver: https://support.hp.com/us-en/drivers.
Step 2. Select Laptop or Desktop and enter your system.

Step 3. Click Submit and get the driver.
Step 4. Install the driver on your Windows computer.
Step 5. Follow the steps to complete the installation process, and then you can restart your PC and connect your USB.
You May Also Like:
Conclusion
You will need to install the HP USB driver on your computer and laptop to access any removable device through the USB port. This guide provides two ways to do this. Downloading them manually from the official website can be more cumbersome, and you need to know your system model. Fortunately, this article provides an automatic method. EaseUS DriverHandy allows you to automatically install and update HP USB drivers without knowing your system model. It automatically scans over 5 million drivers to find the right one for your device.
You can turn to it for solutions if you encounter any driver-related problems.
FAQs About HP USB Driver
This section provides additional questions about the HP USB driver. We hope you find it helpful.
1. How do I install USB drivers on my HP laptop?
You can install the USB driver on your HP laptop manually or automatically. The manual method requires downloading the driver from the official website:
Step 1. Visit the official website of the HP USB driver.
Step 2. Enter your Windows system model.
Step 3. Download the appropriate driver and follow the instructions to update it.
2. How do I update my HP USB driver?
You can use the built-in tool to update the USB driver in Windows or use EaseUS DriverHandy. Here are the steps to use Device Manager.
Step 1. Search and open the Device Manager.
Step 2. In the device list, expand the device you want to update. Right-click the device.
Step 3. Click Update Driver. Click Auto Search Driver and follow the on-screen instructions.
3. How do I fix the USB on my HP laptop?
One of the following actions might help fix the issue: Restart the computer, then try to connect the USB device again. Reinstall the software after uninstalling the USB device's software (if there is any).