With time drivers need to be updated to give the maximum performance on your computer or PC. Device drivers play an essential role in overall system architecture to support the PC's performance from the backend.
Instead of doing the tiring process of manually finding the driver updates for your PC, let us look at some of the free driver updater software available to boost your driver's performance.
Why We Need Free Driver Updater
Drivers are the programs that help our system hardware and operating system to communicate properly. This software is a medium through which our keyboard, monitor, or mouse commands are executed through hardware. If these device drivers become outdated or corrupt, they affect our PC's performance. We cannot achieve the full potential of the system. 
The Driver updater software automatically checks the driver versions on your PC and updates them to the latest version in the background. They save a lot of time and help you get the best updates without manually going through this tiring process.
In the next section, we will discuss 8 driver updater software tools, which have multiple features to install the latest compatible drivers for free.
What Is the Best Free Driver Updater
Let's get to the actual part, discussing the free driver updater software available. We will compare them in terms of OS compatibility and supported driver and then move to the next section to learn the pros and cons.
| Comparison | OS compatibility | Supported Drivers |
| --- | --- | --- |
| | Windows 11/10/8.1/8/7/XP/Vista | 5,000,000 |
| | Windows 10, 8.1, 8 , 7 | 1,000,000 |
| | Windows 10/ 8/8.1/7/ Vista/ XP | 3,500,000+ |
| | Windows 10/8/7/Vista/XP | 5,000,000 |
| | Windows 11/ 10/ 8/7/ Vista/ XP | 500,000 |
| | Windows 10/ 8.1/ 8/7/Vista/ XP, 2000/ Server 2003, and 2008 | 160,000+ |
| | Windows 10, 8, 8.1, 7(XP/Vista up to v16.0.0.10) | 1,000,000 |
| | Windows 10/8/7 | 5,000,000 |
Now we know all the basic details, like supported drivers and Windows versions, let us move forward and know the pros and cons of selecting the best suitable one for you.
Top 8 Free Driver Updater [Pros & Cons]
1. EaseUS DriverHandy
EaseUS DriverHandy comes at the top and is one of the best free driver updater software available on the internet. Automatically scans and installs, backups, and restores the drivers without freezing, crashing and fewer system issues on your computer.
It scans the driver database of over 5 million to find suitable ones for your device. Allows users to pre-download and transfer the driver's other PCs as well.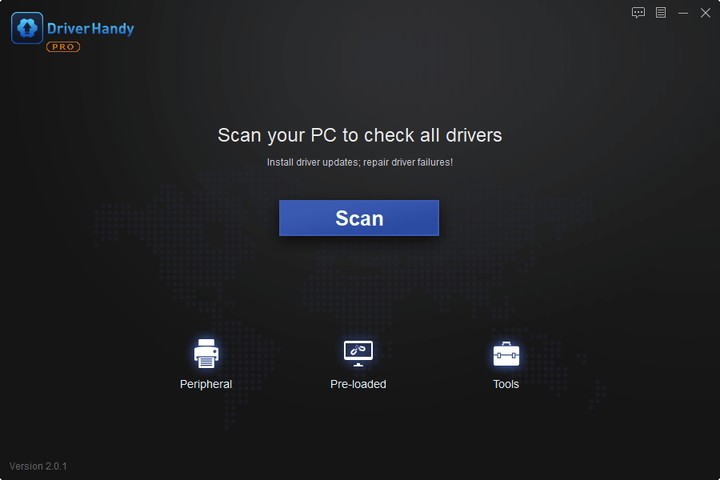 Key Features of EaseUS DriverHandy:
Install the drivers originally certified by your hardware manufacturers and certified by Microsoft's Windows Hardware Quality Labs (WHQL).
Eliminates freezing and bluescreens by repairing faulty and old drivers.
Offers sharper graphics and a peak gaming experience.
Automatically finds the drivers that need to be backed up, backs it up and restores in when needed.
It is easy to operate and has strong compatibility with different brands. For example, it supports both AMD driver update and Intel graphics driver update.
Pros
Cons

Compatible with all windows versions.
Requires a strong internet connection to get the process started
Excellent UI/UX.
Offers free tech support.

Constantly monitors and rolls out the latest driver updates to the users.
2. Bit Driver Updater
Bit Driver Updater is one of the most efficient driver updates available. It is free and keeps your drivers and PC running with the latest software. Along with updating the faulty and out-of-date drivers, it also backs up the current drivers for restoration if needed later.
Ensures smooth running of your PCs all the time with a wide range of features and excellent driver updates from certified manufacturers.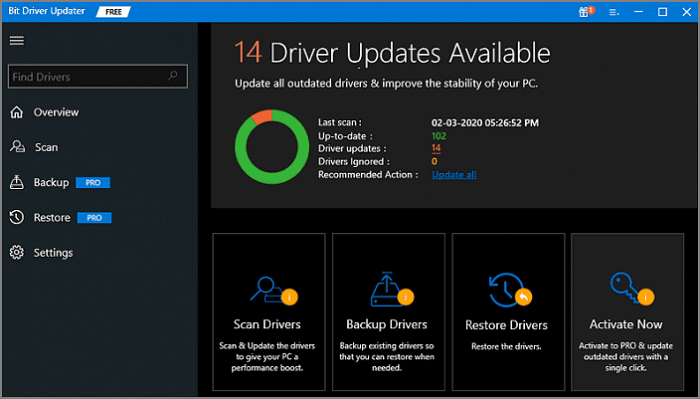 Key Features of Bit Driver Updater:
The driver database is large, with genuine updates from the official manufacturers.
Single-click to scan and update the device drivers.
You can contact customer support in case of any issues around the clock.
Before starting the process, it takes a complete backup of all existing drivers to restore later if needed.
Pros
Cons

You can schedule scans on this tool.
Offers a vast database of drivers.
Outstanding and top-notch Windows Performance.

Does not support old windows versions like XP and Vista.
3. Driver Booster
Driver Booster is widely known for its excellent updates on Windows 10 and 11. It is easy to understand and use interface with a seamless performance of device drivers without human intervention.
It helps you update outdated and corrupt drivers and game components and resolves issues like blue screens, crashes, and network failures.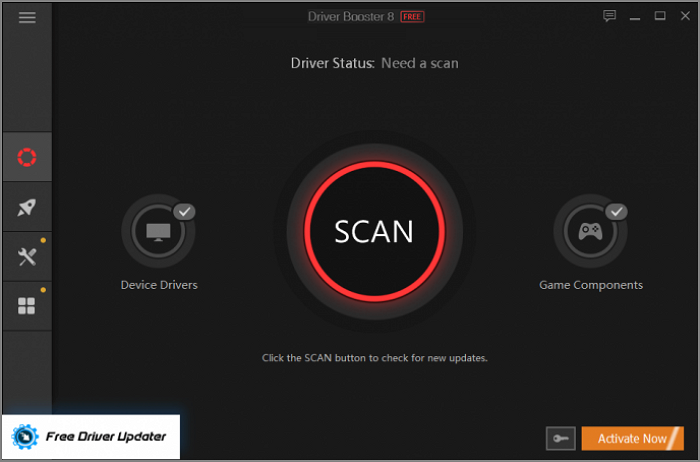 Key features of Driver Booster:
Offers drivers for external devices like printers, webcams, mouse, etc.
Update the latest drivers in real-time with the help of the "Auto Driver Update" option.
Boasts extensive driver databases from official manufacturers like hp, intel, etc.
Especially known for rolling out peak game performances.
Pros
Cons

Supports over 4,500,000 devices with Pro Version.
Offers offline driver updates.
Supports all versions of Windows.

Shows frequent ads even with the paid version.
The free trial allows the installation of only two drivers per day.
In-app features require downloading other IObit products (Parent Company of Driver Booster).
4. Driver Talent
Previously known as DriveTheLife, Driver Talent is another automatic free driver updater software that installs and updates faulty and out-of-date drivers with just one click without any internet connection.
It is the fastest scanning and updating software compared to its contemporary tools.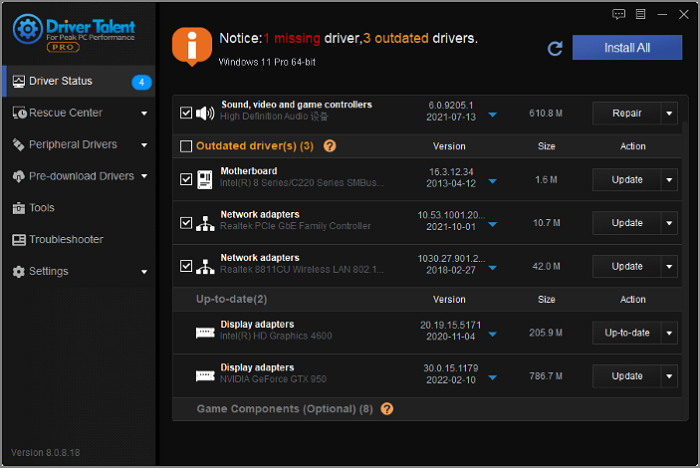 Key Features of Driver Talent:
Offers official driver links of popular manufacturers.
Multilingual support for its users.
Effortlessly scans, installs, uninstalls, backup, and restores drivers.
Easily scans for defective and incompatible device drivers and installs them.
Pros
Cons

Provides access to transfer drivers from one PC to another.
Simple and easy-to-understand UI.
Supports all Windows Versions.

Antivirus may detect the software as malware.
Does not support bulk downloads and updates.
5. DriverMax
DriverMax is quite different, as it supports automatic driver updates and can update multiple Windows components like C++ Runtime, DirectX, Oracle, Java, etc. This improves the driver's performance and the OS's productivity.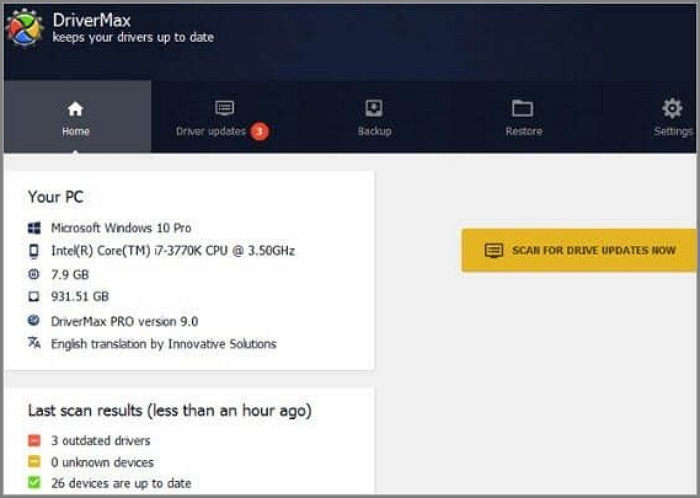 Key Features of DriverMax:
Allows multiple downloads at the same time.
Checks and schedules updates promptly.
Simple UI and automated driver updates.
Keeps a check on driver updates and notifies the user.
Pros
Cons

Supports driver updates for over 2,500,000 devices.
Provides backup for existing drivers in case of rollbacks.
Safe and secure from threats and viruses.

Free versions have very limited features.
The paid version is costly.
6. Driver Genius
Driver Genius is another free driver updater tool that keeps your driver up to date and detects and removes invalid drivers and junk files in your system. This tool offers auto scan, detects, installs, backup, and restores drivers.
Another interesting feature of this tool is that you can backup drivers into zip files or independently executable files and install them upon requirement.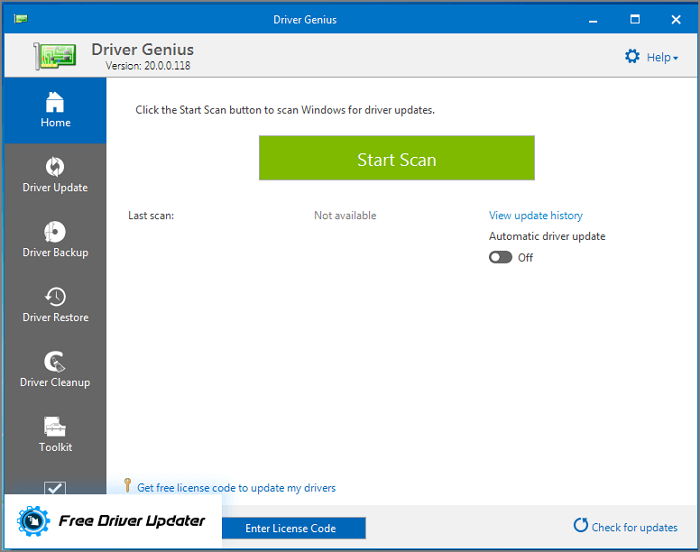 Key Features of Driver Genius:
Offers hardware protection by monitoring the CPU, GPU, and HDD temperature.
Provides software info tool to boost your system performance speed and SSD speed.
The driver database has over 160,000 official versions of drivers from Microsoft's certified manufacturers.
Upgrade or Degrade Windows OS using the system transfer assistant.
Pros
Cons

Monitors the CPU, GPU and HDD temperature.
Affordable.
Simple to use and easy to manage the drivers.
Use the built-in tool to check the details about your PC, such as CPU, GPU, hard disk, graphics card, etc.

Cannot perform offline downloads and updates of drivers.
Customer support is not well structured.
7. Driver Easy
Driver Easy is one of the most popular and leading software tools for free driver updater tools. People who want an extra boost in stability and performance can opt for this. This comes in both Free and Pro versions separately, with different features.
The difference between the Free and Pro version is you have to download the apt drivers one by one in the case of the free version, whereas the Pro version automatically scans and download the required drives by itself.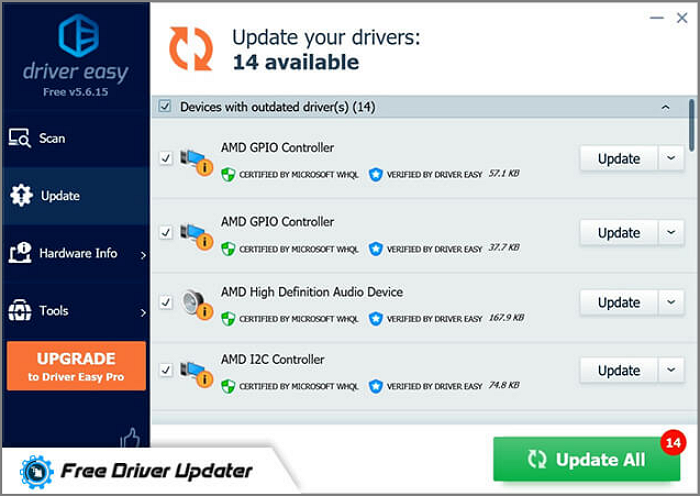 Key Features of Driver Easy:
Quickly detects all the outdated, invalid, and missing drivers and downloads and updates the faulty and mismatched drivers.
You can scan, backup, restore and download drivers without an internet connection.
Offers over 8 million certified device drivers from the official manufacturers.
Offers restore point for all existing drivers to backup later.
Pros
Cons

Supports offline scan, restore, backup and download of drivers.
You can schedule scans and downloads easily.
A well-versed FAQ section to help users with important information.

Comparatively expensive. 
The free version has very less features and more ads.
No technical or customer support for the free version.
8. Avast Driver Updater
Avast Driver Updater came with many exclusive features compared to its counterparts, like real-time scan and scaled installation process. Avast is already an established brand for PC and Laptop security services. It quickly scans and identifies problematic and out-of-date drivers and solves them with ease.
The elegant interface helps users to go through this whole process easily and helps in boosting overall PC performance.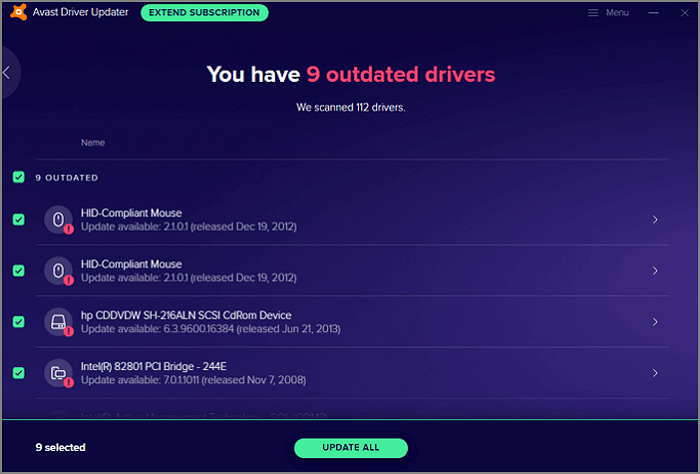 Key Features of Avast Driver Updater:
Constantly monitor, scan and update the drivers in the background.
Handles the freezing and crashing by managing faulty and corrupt drivers.
Supports driver updates from over 1,300 leading manufacturers.
Rolls out the latest updates, and defects in real time.
Pros
Cons

Reduces freezing and crashing to a large extent.
Simple and authentic user interface.
Consumes low CPU cycles compared to others.

Driver information is not displayed properly.
Shows ads even with the Pro version.
Offers a free trial of only 15 days.
The Final Verdict
To relieve you from the tiring process of manually searching, scanning, monitoring and updating the device drivers, we have discussed 8 such free driver updater software tools with robust features. The article discusses the key features, pros and cons to let you choose the best one according to your preference.
Well, the writer's choice is EaseUS DriverHandy. Not only do I personally use it, but it is the best free driver updater tool available in the market. It has easy to use interface with excellent features in both free and paid versions. Certified drivers from Microsoft to the driver's database of over 5 million gives you an excellent and easy experience overall.
FAQs About Free Driver Updater 
Here are some of the most frequent FAQs asked on the topic. If you have similar queries hope this will help you.
1. Is there an actual free driver updater?
There are a lot of free driver updater tools, but they offer a free trial for only days. Some tools offer a free and paid version, with different features for both versions. To access their advanced features and authentic services, you need to upgrade to the paid version sometime. You can go for a free trial of EaseUS DriverHandy and upgrade to its paid version. 
2. What is the safest free driver updater?
Many popular free driver updater tools like EaseUS DriverHandy, Avast Driver Updater, etc. Most of these are legitimate tools, but to select one, you can go with EaseUS DriverHandy, as top companies like lifewire, TheWindowsClub, Softonic, etc trust it.
3. Is WinZip driver updater free?
WinZIP also works on subscription methods. However, WinZip offers a free trial of 20 days and charges later. No driver updater software is completely free, and they sometimes offer free versions with fewer features.