If you're facing the issue (Power surge on the USB port) when you try to connect your USB device to your system, it can be a very frustrating and disappointing situation for you, but don't worry. We're here to help you to fix this issue instantly on Windows 10, 11, 8, or 7. Just this short how-to guide thoroughly, and you will gain a comprehensive understanding and experience of the causes and symptoms of power surges on USB ports.
We will also provide you with step-by-step instructions to resolve this issue and protect your devices. So, try the following guides to fix the power surge error quickly.
Solve Power Surge on USB Port via Updating USB Controller Drivers
One effective solution to the power surge on USB port error is to update all USB controller drivers. To simplify this process, we recommend using a driver updater tool such as EaseUS DriverHandy. This tool can quickly scan your system for outdated or missing USB controller drivers and update them to the latest version with just a few clicks. It has an automatic update process and the ability to fix all driver issues and errors in your PC's different components.
To enjoy these features, download EaseUS DriverHandy and follow the instructions to update your USB controller drivers. This tool can efficiently resolve the power surge on USB port error and keep your USB devices running smoothly.
Step 1. Launch EaseUS DriverHandy on your PC and click "Scan" button.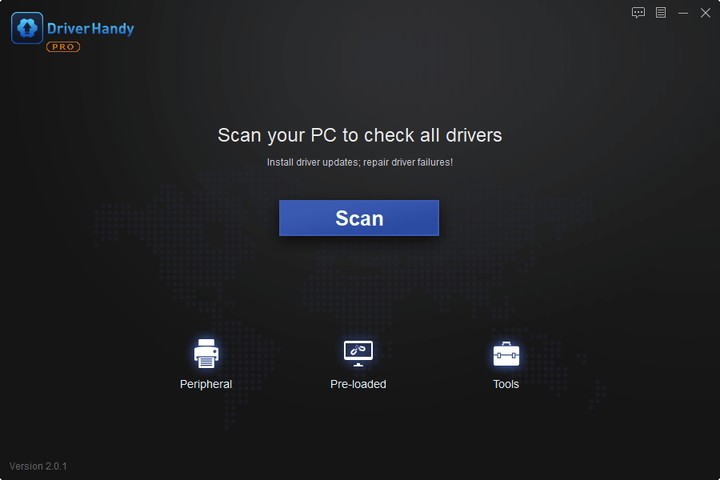 Step 2. Choose "USB Drivers" under the "Peripheral Drivers," and click "Rescan."
Step 3. If there is anything abnormal, navigate to the Driver Statuas and update it by updating the corresponding driver.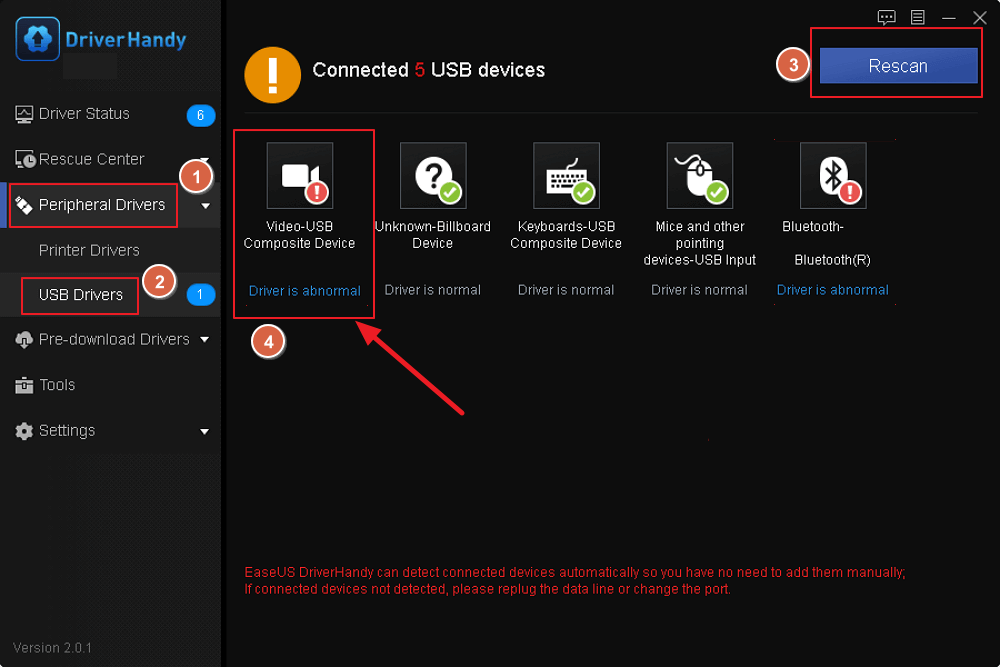 If this method successfully removes your problem, don't hesitate to share this article to help more people.
The EaseUS DriverHandy is the best tool ever due to its pro-level performance and ability to update and install relevant and compatible drivers for all components in your PC so that your PC's components function properly and deliver outstanding performance.
Features of EaseUS DriverHandy:
It automatically scans for outdated drivers.
It offers one-click repair to fix all driver problems.
It also provides backup drivers and restores drivers from the backup.
It automatically downloads, installs, and updates the driver for different components of PCs.
Get EaseUS DriverHandy on your PC now. It can help you solve most of your driver issues.
Solve Power Surge on USB Port via Running the Hardware Troubleshooter
Windows built-in Hardware Troubleshooter can also fix this issue (Power surge on the USB port). Here are the steps to solve a power surge on a USB port using the hardware troubleshooter in Windows 10:
Step 1. Search for "CMD" through a search box from the taskbar. When "Command Prompt" appears, right-click on it and choose "Run as administrator" to launch it.
Step 2. Type this command msdt.exe/id devicediagnostic in the "Command Prompt" and press the "Enter" button from your keyboard.
Step 3. Click the "Next" in the appeared popup Window to diagnose and troubleshoot issues.
Step 4. Follow additional on-screen steps to complete the troubleshooting process.
Step 5. After completing the hardware troubleshooting, you should check if the issue is fixed.
Conclusion
We addressed the power surge on USB port issues on Windows 10, 11, 8, and 7 and covered two main solutions, including updating all USB controller drivers using the EaseUS DriverHandy tool and running the hardware troubleshooter in Windows. This tool can help update drivers on Windows 10 and update the graphics driver on Windows 10. If you are facing similar problems, download this tool to help.
We hope this short how-to guide blog post will solve your problem, and definitely, you'll get rid of the power surge on the USB port issues on Windows 10/11/8/7.
Power Surge on USB Port FAQs
Do you have questions or queries about the power surge on the USB port issue? If so, take a look at the following frequently asked questions to see if you can find your answer here.
1. Can a power surge damage a USB port?
Yes, a power surge can damage a USB port. Sometimes, the USB port itself is damaged or broken. A USB power surge may damage your computer, but it's unlikely that you will fix the issue promptly. It's best to fix the problem to avoid damaging your USB port and computer and to continue using all your USB ports. A USB power surge is unlikely to damage your devices, but if a USB device continues to generate power surge errors, it may need to be replaced.
2. Why does my USB port have power surge?
A power surge error on a USB port can mean that the computer can't supply enough power to the device. This can happen because the amount of power the computer can give is limited, and when exceeded, the USB device won't work. A power surge in your USB port can be caused by several factors, such as: overloading the port with multiple devices, a device demanding more power than the port can provide, power fluctuations, physical damage to the port, or outdated USB drivers. Ignoring the issue can lead to further problems and prevent your USB devices from working properly, so you should fix this issue instantly.
3. What are the symptoms of USB port failure?
There are many symptoms or signs of a failed USB port, such as:
Devices not being recognized: When you connect a device to the USB port, it may not be identified by your computer or recognized but not work correctly.
Error messages: You may receive error messages such as "USB device not recognized" or "power surge on USB port."
Slow data transfer: The data transfer speed between the device and the computer may be slower than usual.
Devices disconnecting: Devices may randomly disconnect or stop working while connected to the USB port.
Physical damage: The USB port may have physical damage.
No power to devices: Devices connected to the USB port may not receive power.
If you encounter any of these symptoms, it's essential to promptly fix the issues to avoid further damage to your USB devices or computer.