This passage offers two efficient ways for Windows 11/10/8/7 users to download and update ASUS USB-BT400 drivers:
Automatically finding and performing drive updates saves more time and enables you to scan your drives for problems. You can choose according to your preference. Before we get started, let's briefly look at the ASUS USB-BT400.
About ASUS USB-BT400
The ASUS USB-BT400 is an advanced Bluetooth 4.0 adapter and is backward compatible with Bluetooth 3.0, 2.1, and 2.0.
Using low-power Bluetooth technology, the ASUS USB-BT400 provides energy-efficient wireless connectivity to Bluetooth-enabled computers, phones, keyboards, controllers, headsets, printers, and more.
To use ASUS USB-BT400 Bluetooth Smart Ready Adapter on Windows, it is essential to install and update the drivers for Asus USB-BT400. Next, let's see how to install and update the driver on Windows.
Note: In addition to the USB-BT400, ASUS offers the USB-BT500 with Bluetooth 5.0 support. The update method in this article is also used for the latest ASUS USB driver.
ASUS USB BT400 Driver Download & Update - Automatically
You may have installed the driver while installing ASUS USB BT400, but it is not the latest version. So you can run a driver scan with EaseUS DriverHandy, which will find corrupt and outdated drivers and update them automatically.
 Notice:

All drivers in EaseUS DriverHandy come directly from hardware manufacturers and are certified by Microsoft for strict Windows quality. It has a high level of security and stability.
EaseUS DriverHandy will help you save time and avoid downloading the wrong drivers. Here are the simple steps to update the ASUS USB-BT400 driver.
Step 1. Launch EaseUS DriverHandy on your PC and click "Scan" button.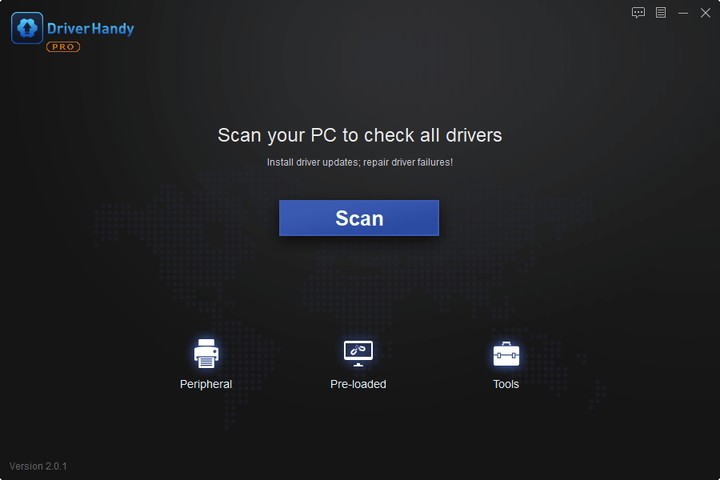 Step 2. Choose "USB Drivers" under the "Peripheral Drivers," and click "Rescan."
Step 3. If there is anything abnormal, navigate to the Driver Statuas and update it by updating the corresponding driver.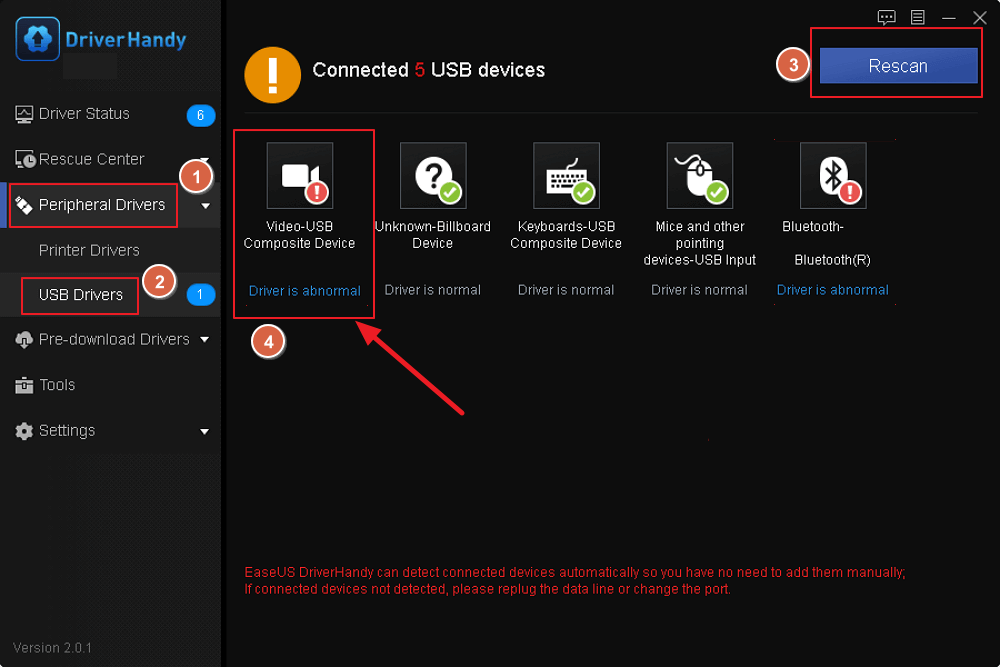 EaseUS DriverHandy is a very trustworthy and free driver update program. It also has the following features to improve the performance of your computer. It can:
Find the latest driver versions to fix crashes and blue screens.
Pre-download and save drivers before changing or restoring your system.
Find drivers that need to be backed up and back them up in a very short time.
Update graphics drivers to improve the performance of games and hardware.
Identify outdated or corrupted drivers and notify users when the security update is available.
EaseUS DriverHandy can provide everything you want related to your drivers and easily fix bugs and errors. Don't miss it if you have a driver!
ASUS USB BT400 Driver Download & Update - Manually
If you know your PC model and your specific operating system (for example, Windows 10 64-bit or Windows 10 32-bit), you can also download it directly from the official website. ASUS provides drivers for ASUS USB BT400 on the official website. You can follow the steps below to get and install them on your computer:
Step 1. Go to ASUS's official website: https://www.asus.com/support/Download-Center/
Step 2. Search for USB-BT400 and click "Driver & Utility."
Step 3. Select your operating system, such as Windows 11 64-bit or Windows 10 32-bit/64-bit, and click "DOWNLOAD."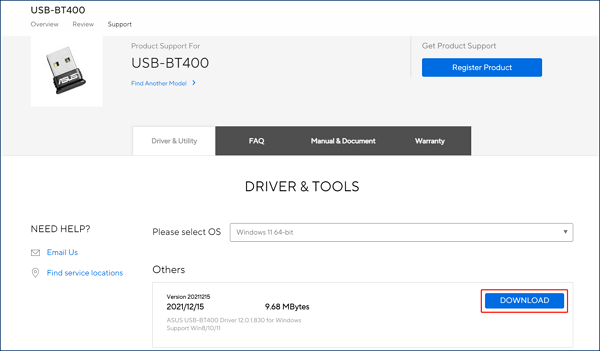 Step 4. Extract the downloaded driver file and find the file address.
Step 5. Locate the installation application in the folder, right-click on it, and run it as administrator.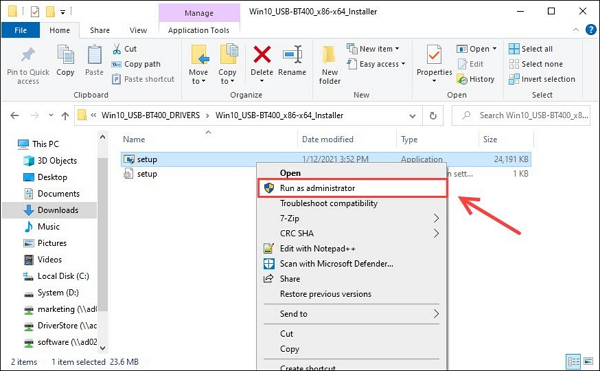 Step 6. Complete the installation by following the instructions on the installation screen.
Downloading from the official website may be a little more complicated, so if you are unsure what system your computer is running, try EaseUS DriverHandy.
You May Also Like:
Summary
This article provides two methods to install and update the ASUS USB-BT400 driver. Both manual and automatic methods of driver update are possible in this article. EaseUS DriverHandy is a reliable automatic driver that beginners can use to help your computer identify and fix any faulty drivers. I hope you will find this article very helpful!
FAQs About ASUS USB-BT400 Driver
This section also provides common questions and answers about the ASUS USB-BT400 driver. Please read on if you still have some doubts about today's topic.
1. How to download the ASUS BT400 driver?
This article provides two ways to update and download the ASUS BT400 driver. You can use a reliable driver updater, such as EaseUS DriverHandy. Or you can download it from the ASUS website.
Step 1. Find the USB-BT400 download in ASUS Download Center and click "Driver & Utility."
Step 2. Select the system version of Windows and click "Download."
Step 3. Find the downloaded file and follow the instructions to install ASUS USB BT400 driver.
2. Does the ASUS USB BT400 work on Windows 10?
ASUS USB BT400 works on Windows 10. Not only that, but it is also compatible with Windows 7, 8, and 11 versions.
3. Why is my Bluetooth USB adapter not working?
It is possible that the device is not showing up properly in the device manager, try plugging the Bluetooth USB adapter into a different USB port and calculator. It is also possible that the USB drivers are out of date. Try downloading or updating them again.