Have you ever plugged in a USB device, and instead of a seamless connection, you were met with the dreaded "Unknown USB Device" error message? 
This article will dive into the mysterious world of the "Unknown USB Device Link in compliance mode" error. But don't worry. We won't leave you hanging with just the problem. We'll give you multiple solutions to fix this pesky issue. So buckle up and get ready to become a USB problem-solving expert!
What Does Unknown USB Device Link in Compliance Code Mean
The error typically occurs when your USB ports or drivers are outdated, corrupt, or damaged. However, it can also happen if your device isn't attached correctly to your computer. The effects of this error vary, but it often results in the USB device not working at all or not functioning properly.
If you're experiencing this error with a USB drive or external hard drive, you won't be able to perform read/write operations on them.
Input devices with USB connections, such as a mouse or keyboard, may fail to work correctly.
The worst-case scenario is losing your data due to the error of the USB Device link in compliance mode.
So, to avoid this frustrating issue and keep your data safe, keep reading for our 100% realistic solutions to fix this problem.
How to Fix Unknown USB Device Link in Compliance Code
If you're experiencing the "Unknown USB Device Link in Compliance Code" error, don't panic. There are two solutions to fix this issue instantly. Move to the methods to get your USB device working again.
Method 1. Update Your Device Drivers
The error "Unknown USB device link in compliance mode" can be fixed by updating your device drivers is an effective solution. Outdated or faulty drivers can cause security gaps, crashes, and freezing. That's where EaseUS DriverHandy comes in. With over 5 million driver packages supporting 1 million hardware devices, it quickly scans and identifies outdated or incompatible drivers and finds secure updates for optimal PC performance.
Follow the operational steps of EaseUS DriverHandy to update your device drivers and eliminate the error "unknown USB device link in compliance mode."
Step 1. Launch EaseUS DriverHandy on your PC and click "Scan" button.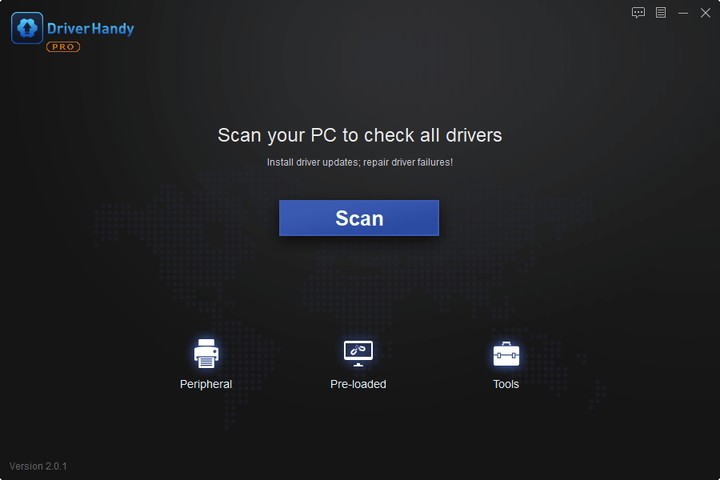 Step 2. Choose "USB Drivers" under the "Peripheral Drivers," and click "Rescan."
Step 3. If there is anything abnormal, navigate to the Driver Statuas and update it by updating the corresponding driver.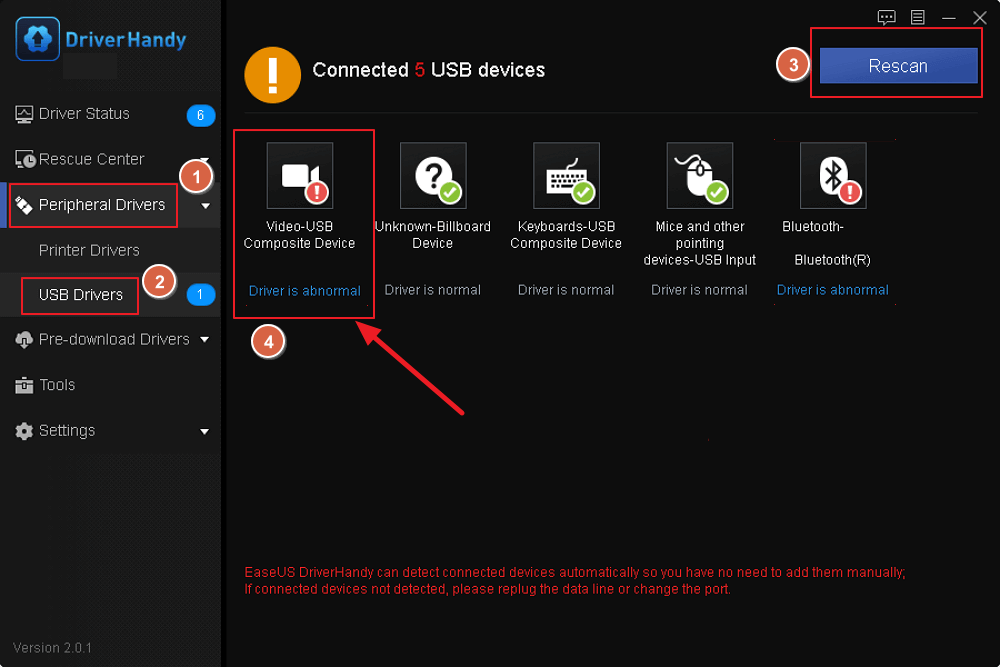 Other Key Features of EaseUS DriverHandy:
Pre-downloading drivers
Backup and restore drivers
The automated system of driver update
These features make it a one-stop solution for all your driver-related issues. So why not improve your PC's performance, sharpen graphics, and enjoy the incredible features of EaseUS DriverHandy today?
If you meet other drivers' problems, such as Windows 10 external speakers not working, you can also use this powerful tool to improve your PC's performance.
Method 2. Reconnect the Hard Drives
Sometimes, even if you've done all the right things and updated your drivers, you might still be scratching your head over an annoying error message: "Unknown USB Device link in compliance mode." Instead of pulling out your hair in frustration, take a moment to examine your USB device connection. If devices are not properly connected, you may be in for a rough ride with this pesky error.
Make sure to pay attention to the practical steps. It's always better to be safe than regretful, so take the time to read any information provided to you and follow the instructions carefully.
Here are the steps to fix the issue:
Step 1. Unplug your USB device from your computer and power down/turn off your machine.
Step 2. Disconnect the power supply to your computer and pause for 5-10 minutes.
Step 3. Reconnect the power supply cables to your computer.
Step 4. Turn on your computer to reconnect your USB devices properly and securely.
Once you've completed these steps, it's time to check if the error has vanished from the Device Manager. Check Device Manager to see if the pesky Unknown USB Device Link in Compliance Mode error is gone. If it is, you're in the clear and can reconnect all your external devices. But, if the error persists, the issue may not be with your external devices.
You May Be Interested In:
Conclusion
Updating your USB device drivers can be a good starting point, but we understand that not everyone is tech-savvy. We recommend using EaseUS DriverHandy, a user-friendly tool that can update and fix all your device drivers with just one click. Download EaseUS DriverHandy now and start enjoying hassle-free USB device usage!
However, updating your drivers isn't the only solution because the issue can not only be with your drivers it can be due to several other causes. But make sure your USB drive is connected correctly to your computer to avoid this error altogether. An adequately connected USB device can make all the difference.
We hope you found this guide helpful in resolving your USB device issues. But if you still have questions or concerns, visit our FAQ section.
FAQs About Fixing Unknown USB Device Link in Compliance Code
Still, have questions about fixing the "Unknown USB Device Link in Compliance Mode" error message? Don't worry; we've compiled a list of frequently asked questions to help you better understand and fix this issue.
1. How do I fix an unknown USB device?
If you're experiencing an "Unknown USB Device" error, you can try the following steps to resolve the issue:
Unplug the USB device from your computer and plug it back in.
Try connecting the USB device to a different USB port on your computer.
Restart your PC.
Update your USB drivers.
If the issue continues, connect the USB device to a different computer. If it works on another computer, the problem may be with your computer, not the USB device.
2. How do I fix an unknown USB device port reset failed?
Start restarting your device to fix the "Unknown USB device, port reset failed" error. If that doesn't work, try plugging the USB device into a different port. If the issue persists, it may be due to a corrupted OS version, so download the latest Windows update by going to Settings, selecting Windows Update, and clicking Check for updates.
3. What does it mean when it says unknown device?
The message "Unknown Device" means the system cannot recognize the device connected to the computer through a USB port. This may happen for various reasons, such as a damaged or faulty USB port, outdated drivers, or an incompatible device.