The Best Folder Guard Alternative to Protect Your Folders

Brithny updated on Sep 21, 2022 to File Lock
There are times that you want to run a security program to protect your PC files and folders. Besides, you can use the program to control access to the files, folders, and other Windows resources. Folder Guard is a nice choice to password-protect your files and folders. But you need to pay at least $39.95 to get the license to protect your folders and files. Thus, some people are looking for Folder Guard alternatives to protect the folders and files.
Therefore, this post provides you with the best Folder Guard alternative, you can learn about the features, price, and supported systems below. Before you start, you can read the details about Folder Guard.
What Is Folder Guard? (Detailed Information)
When you are looking for a powerful computer security program, Folder Guard will immediately come to mind. With this useful tool, you can hide your private files and folders from other users of your computer, protect folders and files with passwords, and protect system files from damage (intentional or not). This file protector has many highlights.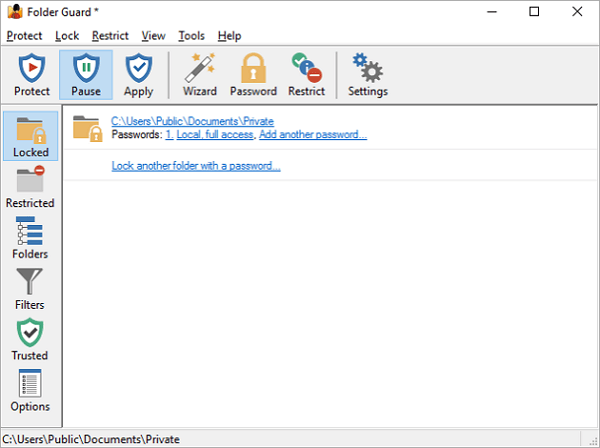 Features
Control access to external drives
Protect your data from modifications
Restrict access to files by their type
Lock folders with passwords on Windows 10
Price
Paid Version: $39.95
Supported OS
Windows 10/8/7/XP
Although you can enjoy the great features of Folder Guard, the precondition is that you need to pay at least $39.95 to get one full year of online technical and customer support, including free upgrades to both minor and major new releases of the same product.
Some people are looking for some free and effective Folder Guard alternatives. Here are the five best alternatives that work well in protecting files and locking folders. Read on to get more information.
The Best Folder Guard Alternative for Windows Users
EaseUS LockMyFile is a Windows security program that you can use to restrict access to files, folders, and other computer resources. With this software, you can lock and hide folders on a flash drive, external USB drive, internal hard drive, and more. It has many great features and highlights to help users protect their partitions and folders.
Features
Hide the private files/folders on a local disk or external (USB) disk, and make it completely invisible to anyone or any programs.
Encrypt files and folders into GFL format or EXE format to control the file access.
Monitor a disk or a folder and its sub-folders when there is any operation or change.
Limit access to the shared folders by setting a password to these files and folders.
Easily protect your folder and drive with one password on your Windows PC.
Price
Free Version: the password is the default one.
Paid Version: $29.95
Supported OS
Windows 2000/2003/XP/Vista/7/8/10/11
How to Password Protect a File, Folder, or a Drive with EaseUS LockMyFile
It's not rocket science to protect your folders and files with EaseUS LockMyFile. Just follow the simple steps below.
Step 1. Launch EaseUS LockMyFile, enter the valid email, and set password to register.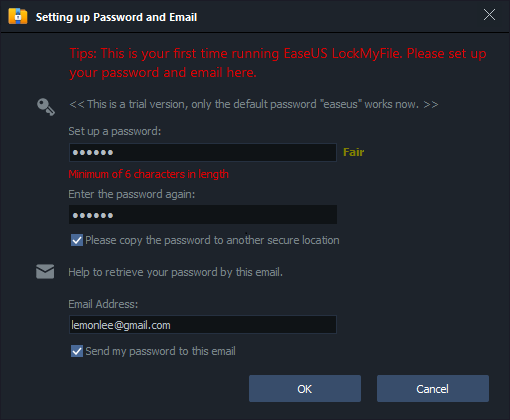 Step 2. Click Protecting File under the Local Disk. Select Protect File(s) ,Folder or drive from the right panel.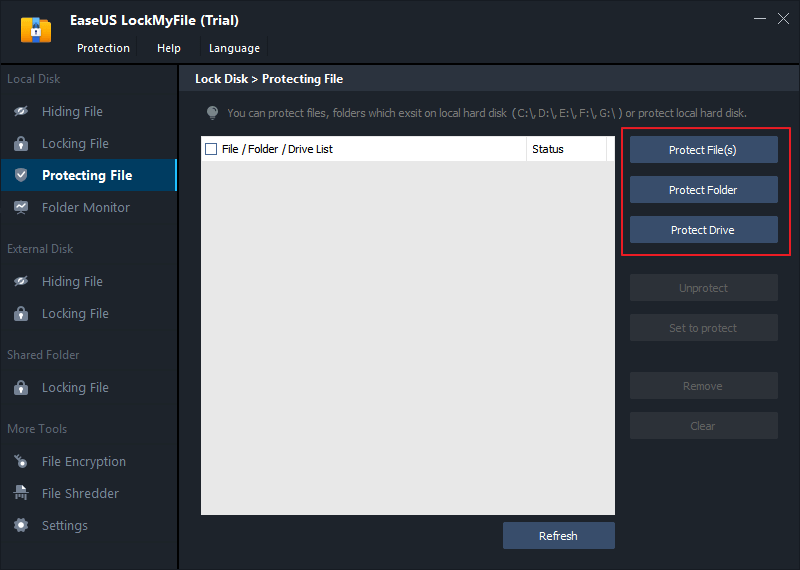 A. Add file(s) or folder from the specific location.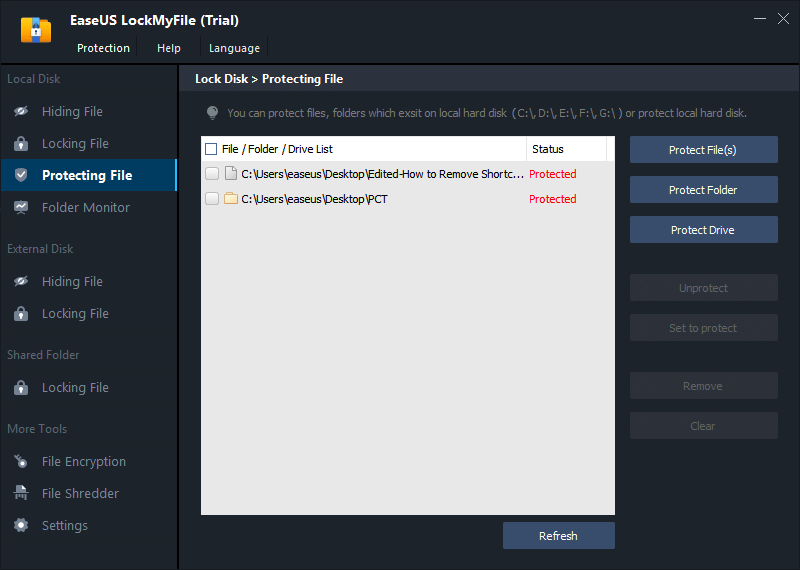 B. Click on the Protect Drive to add drive you want to protect. Select drive and click OK.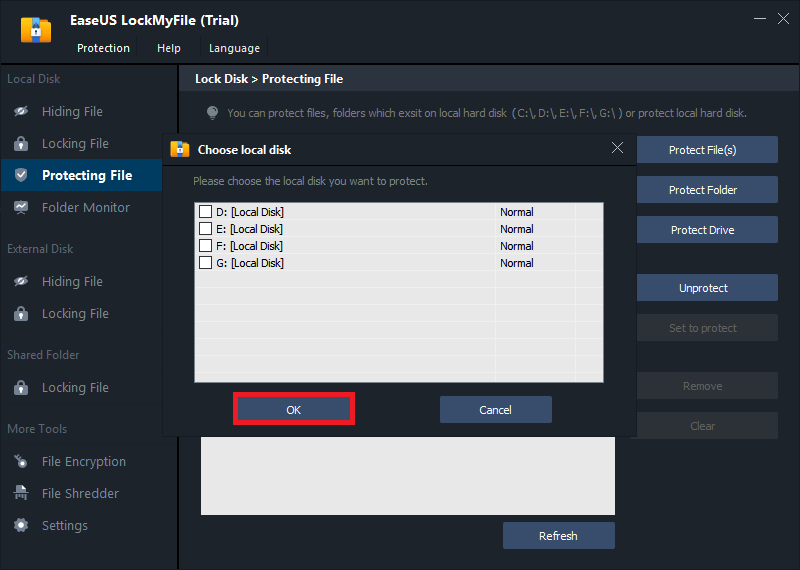 Step 3. Check and confirm the files, folder, and drive that you want to protect.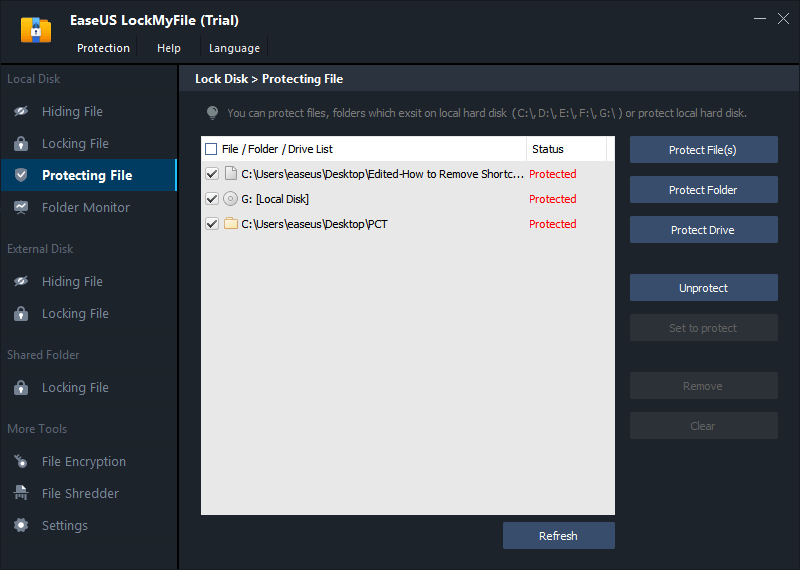 Notes:
If you want to unprotect the selected files, folder, or drive, tick the target data and click on the Unprotect button.
Folder Guard VS EaseUS LockMyFile, Which Is Better
How can you figure out which one is better? How to choose a suitable folder protector? To solve these questions, you can check the comparison table below.
| Comparison | Folder Guard | EaseUS LockMyFile |
| --- | --- | --- |
| Rate | ★★★☆☆ | ★★★★☆ |
| Interface | Old | New |
| Price | $39.95 | $29.95 |
| Supported OS | Windows 10/8/7/XP | Windows 2000/2003/XP/Vista/7/8/10/11 |
| Hide Files/Folders | Yes | Yes |
| Hide Drives | No | Yes |
| Lock Files/Folders | Yes | Yes |
| Monitor Changes | No | Yes |
| Disable Control Panel | Yes | No |
Conclusion
If you don't want other users to mess up your system configuration, you can use Folder Guard to control the access to the Control Panel of Windows. If you want to password protect your folders, drives, and files, download and run EaseUS LockMyFile - Folder Guard alternative, which allows you to protect your data with simple steps.