Best Password Protect Folder Software Free Download for Windows 11/10 (Simple and Advanced Options)

Jean updated on Sep 21, 2022 to File Lock
The password folder protect software works for protecting some sensitive and confidential materials on a computer or an external device from accessing, viewing, modifying, or copying by unauthorized visitors. There are military-grade folder encryption programs that serve especially for governmental organizations and legal institutions, which are usually labeled with a steep price. Meanwhile, it's also common to see capable folder locker software everywhere for personal use, when people are trying to add a second layer of security to images, videos, commercial contracts, financial reporting and something that they want to keep private.
Next, according to different purposes that may cover an individual use or business use, we picked the three best folder protection software that adopts the highest level of security design, at the same time, using the easiest way to take effect.
EaseUS LockMyFile - Optimal Solution for Simple and Personal Use
Since it targets normal computer users, EaseUS LockMyFile is recognized as the simplest password folder protect software among its equivalents. The user interface is comfortable and clean, without any redundant design that makes you dizzy. It goes fully compatible with all Windows operating system versions, including the latest Windows 11. Hence, everyone who wants to protect computer files and folders by using a password code, EaseUS LockMyFile can easily make it.
Pros:
Extensive file/folder protection manners, like lock, hide, protect
All device compatible, including local disk, external disk, shared network drive and cloud drive
All file types supported, such as images, videos, Text documents, Word doc/docx files, Excel xls/xlsx sheets, PowerPoint ppt/pptx presentations and so on
Let you password protect OneDrive folder as well as other cloud drive files
Auxiliary solutions are available, like monitoring files or shredding files
The free trial version is available for unlimited use, only the password is preset as "easeus"
Cons:
Only the Windows version is available
Follow the guide and see how simple it is to protect files and folder with EaseUS password protect folder software:
Step 1. Enter "easeus" to launch EaseUS LockMyFile, register with a valid email and a license code.
Step 2. Click File Encryption under More Tools > Click Add Files or Add Folders.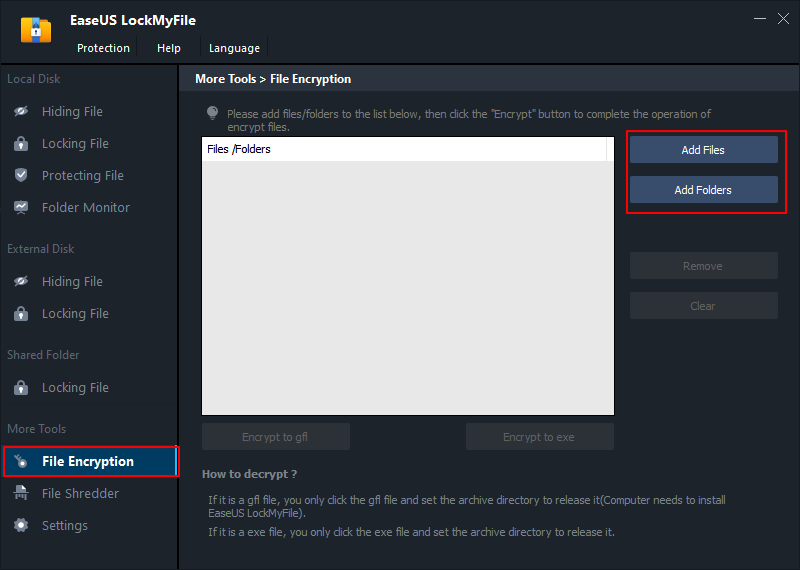 Step 3. Select important files or folders that you need to encrypt, and click Open.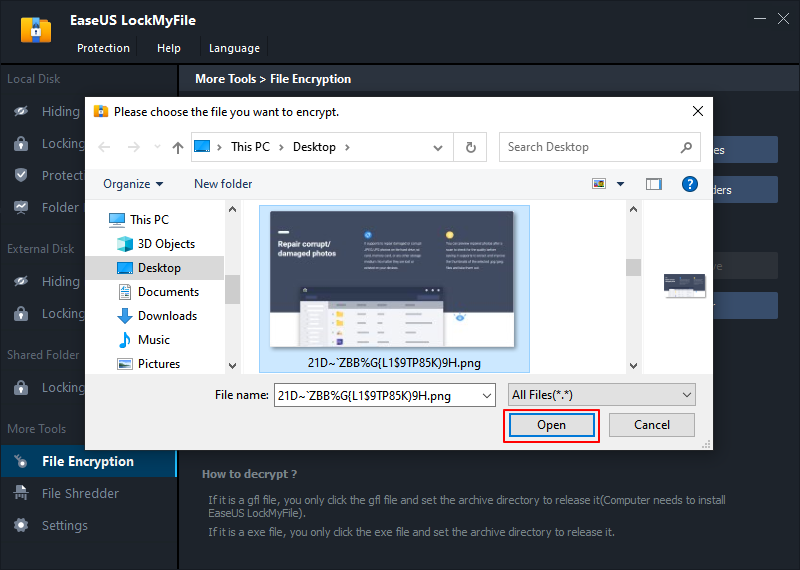 Step 4. Select the encryption mode: Encrypt to gfl or Encrypt to exe.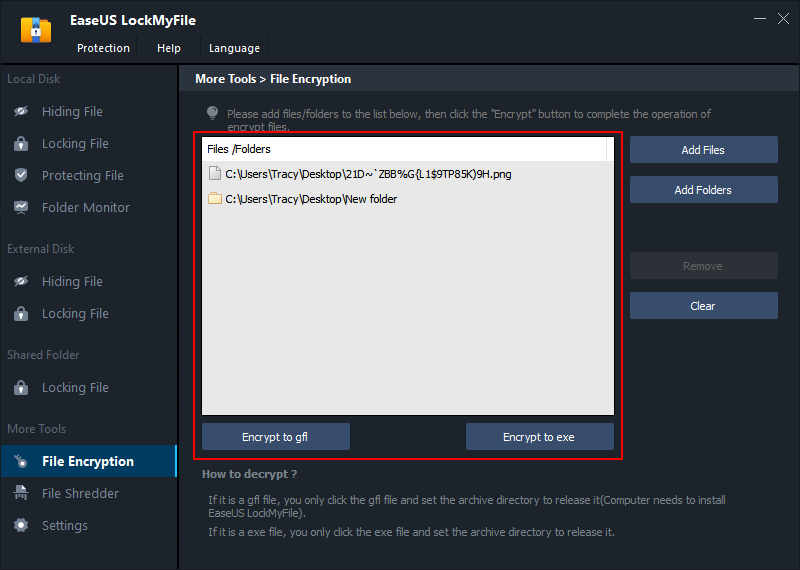 Step 5. Browse a safe location on your PC,  rename the encrypted file or folder, and click Save to save the encrypted files/folders.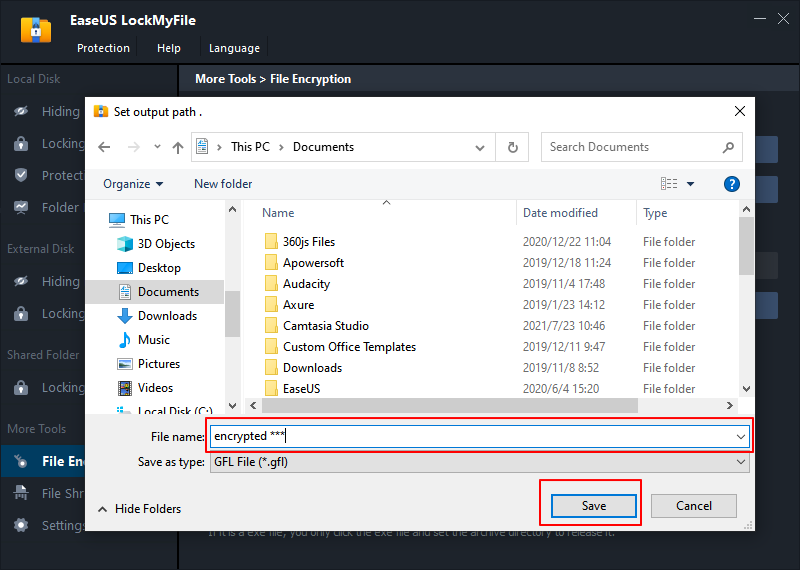 Advanced Encryption Package - Feature Riched Encryption for Advanced Use
Advanced Encryption Package (AEP) is using the United States' government official encryption algorithm called Advanced Encryption Standards (AES). This high technology makes AEP an incomparable password protection solution that others cannot match.
On AEP, you can find a couple of award-winning rich features, such as encrypts, decrypts, shreds, and makes zip files or sfx.exe files. Based on those functions, users can carry out secure file transfers, batch folder encryptions, send encrypted emails, as well as carry out encrypted backups in the cloud.
Pros:
Professional password protect folder software for experts
Military-grade of encryption adopted the highest encryption algorithm
Encrypted files and folders were compressed so it takes less disk space
Support 20+ different encryption algorithms
Cons:
Awkward user interface
Lack longterm maintanance
No customer support