| Workable Solutions | Step-by-step Troubleshooting |
| --- | --- |
| NVIDIA Drivers Update via EaseUS DriverHandy - Easy | Step 1. Download and launch EaseUS DriverHandy...Full steps |
| NVIDIA Drivers Update via GeForce Experience - Difficult | Step 1. Head to the GeForce Experience...Full steps |
How do you go about NVIDIA drivers updating in your Windows OS? When should you do them? Why are they important? This guide provides a detailed overview of why NVIDIA driver updates are important and how to update them in Windows 10/11. So, let's get started.
Why Update NVIDIA Drivers
NVIDIA drivers are essential for any computer user who wants to use their hardware fully. NVIDIA has a tradition of releasing 'game-ready' drivers every month, but their WHQL-signed drivers are available every 5-6 months.
However, this varies and depends on the user's GPU. Now, updating NVIDIA drivers is important for various reasons, such as
To boot the GPUs to 100% and remove any performance cap
To add new features to the hardware sometimes, such as DLSS 3
To ensure the thorough performance of new games, software, etc.
To fix security and compatibility problems such as constant errors, broken code
To ensure compatibility with newer hardware, such as processors, motherboards, etc.
So, by updating your NVIDIA drivers, you can ensure that your hardware is running at its peak performance and that any errors or broken code are fixed. Additionally, updating your NVIDIA drivers can give you access to new features and enhancements that were not available before.
That's why updating your NVIDIA drivers is important as soon as a new update is available. This will allow you to ensure the swift performance of your GPU.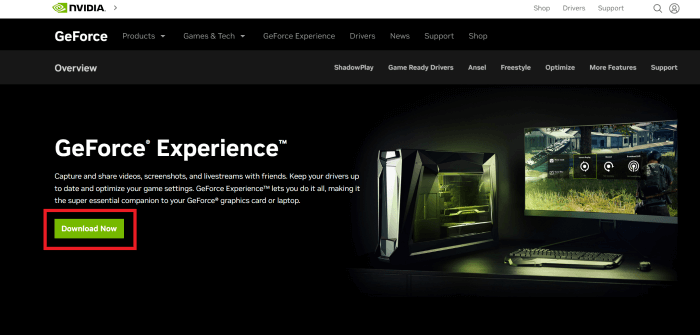 Two Ways of NVIDIA Drivers Update in Windows 10/11 [Step-by-Step Guide]
Now that the intricacies are out of the way, let's talk about the procedure of updating your NVIDIA drivers. It's important to understand that updating any driver has two ways. These two ways are:
Way 1. NVIDIA Drivers Update via EaseUS DriverHandy
Way 2. NVIDIA Drivers Update via GeForce Experience
The first is the traditional way, which is to find the exact driver for your GPU. Then, there's the newer way, which is to use a tool that helps you update the driver for your GPU—or any other hardware. So, which one is better for you? Let's try each one and let you decide.
Way 1. NVIDIA Drivers Update via EaseUS DriverHandy
The first way is to use a third-party tool; for that, you need a reliable tool like EaseUS DriverHandy. This tool will help you update the NVIDIA drivers to the latest version without any hassle. In other words, all it would take to update NVIDIA drivers will be a few simple clicks.
So, why exactly should you use this tool? Here are a few reasons:
It automatically scans your computer and detects your graphics card and other hardware.
If the drivers are already installed, this allows you to scan for outdated drivers.
The stability of the driver download and installation ensures less freezing and crashing.
Constant updating of your drivers will ensure smooth performance and avoid system issues.
You need to head to the download page and install this tool. Which will take a couple of minutes, and once it's done, follow these steps to upgrade your NVIDIA driver:
Step 1. Launch EaseUS DriverHandy and click the "Scan" button.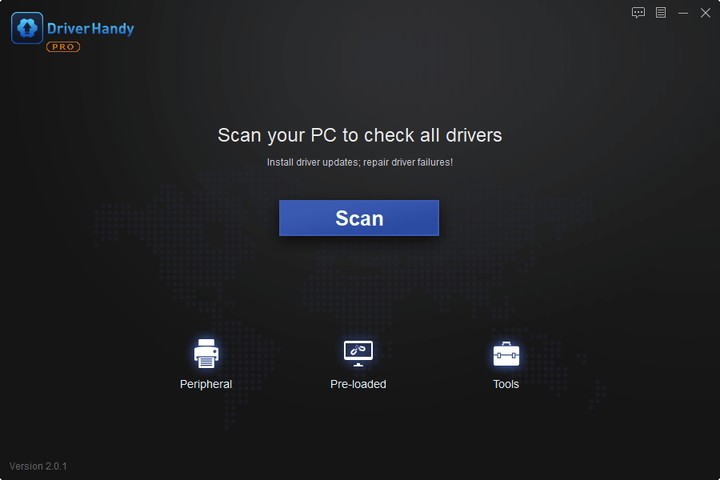 Step 2. Choose the drivers and click "Install All" in the upper right corner to update all drivers. Or you can select the single Motherboard, Sound, or Graphisc drivers and click "Update" on the right side.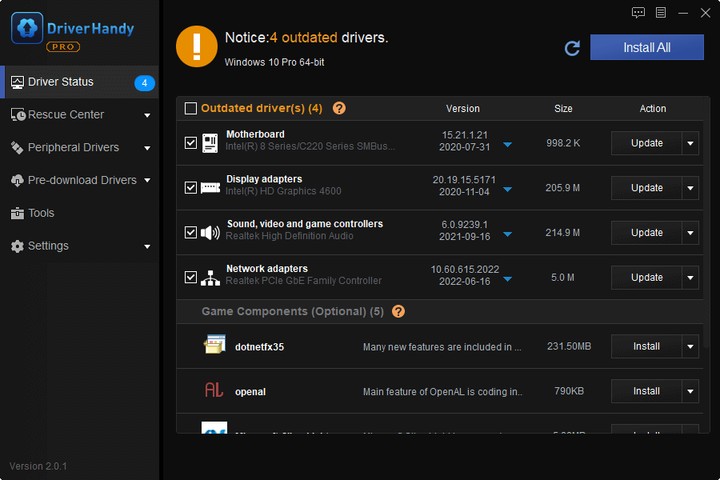 Besides, this tool can help with a lot, such as:
Way 2. NVIDIA Drivers Update via GeForce Experience
The next way is to update your drivers using the NVIDIA GeForce Experience tool. It's a specific application released by NVIDIA to update your graphics drivers, optimize the setting for games and apps, etc. So, how do you use GeForce Experience to update your NVIDIA drivers? Here's how:
Step 1. Head to the GeForce Experience website and click on the Download Now button.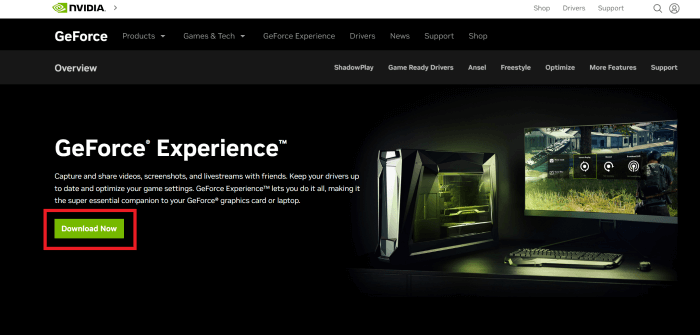 Step 2. Once downloaded and installed, run GeForce Experience.
Step 3. Click on the Check For Updates option.
Step 4. When the GeForce Game Ready Driver update pops up, click on Download.
This will install your NVIDIA driver, but it'll depend on your internet speed. On average, a driver is around 500MBs, so it may take a couple of minutes. But the installation itself will take a minute or two. Once done, you'll be asked by the GeForce Experience to restart your PC.
Conclusion
These are the two main methods you can use to update your NVIDIA drivers. Now, there's a slight problem that a user might face with GeForce Experience, as it installs the new driver on an existing one. Whereas EaseUS DriverHandy does a clean installation.
Therefore, you can try both methods, but EaseUS DriverHandy is a better option for a clean installation. Besides that, it allows you to do it easily and without any hassle.
NVIDIA Drivers Update FAQs
We have talked about how to update NVIDIA drivers. You'll find their answers if you have any further questions.
1. How do I update my NVIDIA drivers?
If you have a new GPU or need to install drivers after Windows Installation, you can head to the NVIDIA drivers download page. Once there, you can select the graphics card you have by filling out each option. Then, download and install the driver, or use EaseUS DriverHandy to keep it simple.
2. What is the latest NVIDIA driver update?
The latest driver as of this writing is the 528.24 WHQL signed driver. However, this Game Ready Driver only offered a few improvements over its predecessor.
3. What happens if I don't update my NVIDIA drivers?
Updating your NVIDIA drivers will fix any bugs and provide support for the latest games and technologies like DLSS 3. However, not updating your drivers might cause your GPU temperatures to stray out of control. Additionally, older drivers don't utilize GPU 100% as they age.