The AMD graphics driver is software that allows you to use your AMD Graphics Card in a PC. The company releases the AMD driver regularly and updates the graphics card drivers. The software is trademarked as Adrenalin Software by AMD.
The AMD Adrenalin Edition driver is a graphics controller for AMD Radeon graphics cards. It provides support for the latest games and includes new features like support for DirectX 12 on Windows 10. However, it's an issue when you don't constantly update your AMD graphics driver. It can cause lower performance and a flurry of other issues. So, let's keep going and find out how and why you should do an AMD driver update.
Why Do We Need AMD Driver Update
AMD is known to put out graphics card drivers that get better with each. Each time AMD and NVidia release graphics drivers, the latter seems superior in performance. But, as time goes by and AMD churns out more polished drivers, the performance seems equal.
In some cases, AMD begins to win because of their latest drives providing better performance. So, the reason AMD drive update can solve many issues is that older drivers can cause issues, including:
Lack of new game or software support
Inferior graphics or not full use of the hardware
Latest features, such as monitoring or overclocking
High GPU temperatures or lack of fan control
Besides that, doing an AMD driver update can make games run smoother on monitors with refresh rates below 60 Hz. That's why updating an AMD graphics card driver can fix many issues.
How to Update AMD Driver in Windows
Now that the basics are out of the way, you can try three different ways of updating your graphics card driver: 
Guide 1. AMD Driver Update via EaseUS DriverHandy
Guide 2. AMD Driver Update via AMD Software Download
Guide 3. AMD Driver Update via AMD Official Website
The first method will be with a third-party tool, which allows you to conduct an AMD driver update quite conveniently. The second and third options will make you update your graphics driver by AMD tools and it will be more complex.
So, now that we know which methods we're going to try. Let's try each method to do an AMD driver update:
Guide 1. AMD Driver Update via EaseUS DriverHandy
The first method is to update your AMD drivers using EaseUS DriverHandy. As mentioned before, you need a reliable and good-quality third-party tool to help you upgrade the tool. And, nowadays, there's no better driver tool than EaseUS DriverHandy.
This outstanding tool lets you update your AMD driver with a few simple clicks and it allows you to install the updated AMD driver without any hassles.
Step 1. Launch EaseUS DriverHandy and click the "Scan" button.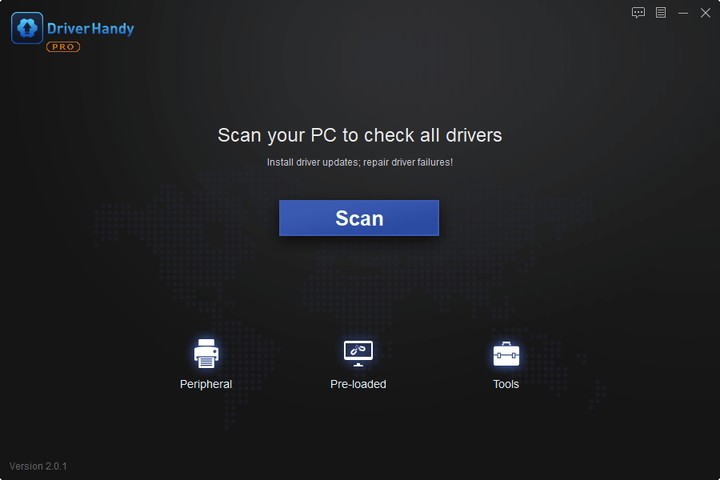 Step 2. Choose the drivers and click "Install All" in the upper right corner to update all drivers. Or you can select the single Motherboard, Sound, or Graphisc drivers and click "Update" on the right side.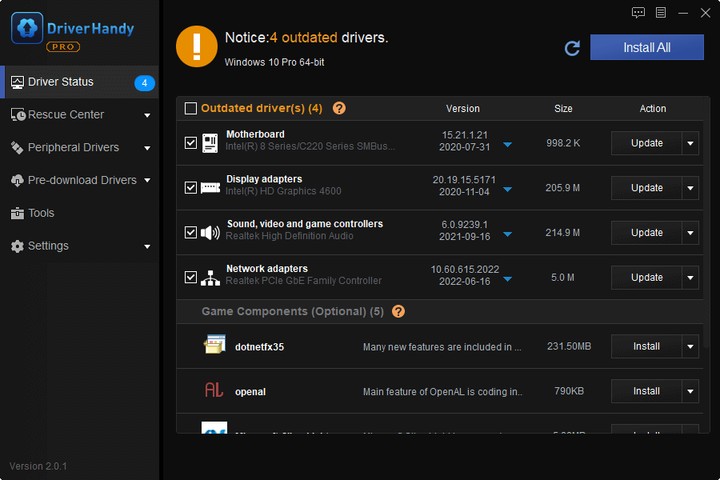 Wait a few seconds and you can finish the AMD driver update. Besides that, EaseUS DriverHandy is an all-in-one driver update tool that offers a spell of other features. Such as:
Scanning for outdated drivers automatically
Easily finds the right driver version for any hardware
One-click repair or fix for existing drivers
Download and install drivers with a few simple clicks
Scan to check all driver-related issues, updates, etc.
That's why you should rely on this tool to help you do a proper AMD drivers update. 
Guide 2. AMD Driver Update via AMD Software Download
The second method is to use AMD's own driver update tool. But, to do this, you will need to have AMD Radeon software already installed. So, any older AMD driver in your Windows will have this. But how do you use this option to update the AMD driver? Here's how:
Step 1. Right-click on your desktop, then click on AMD Radeon/Adrenalin software option.
Step 2. Inside AMD Radeon software.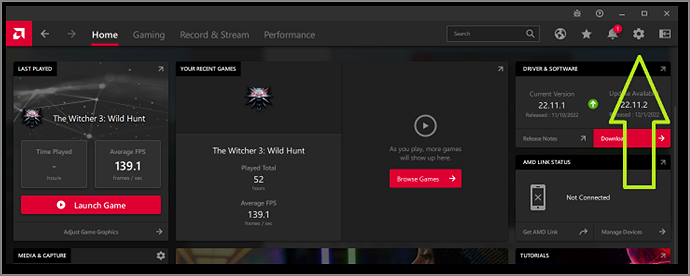 Step 3. Find and click on the Check for Updates button.
Step 4. Once the update has finished, click on Download updates.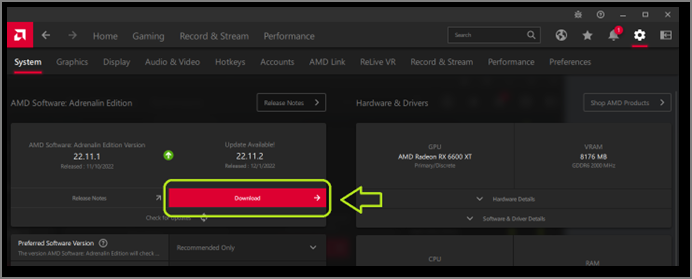 Step 5. Wait for the download to finish and install.
This is a convenient way to download and install new drivers on your AMD graphics card. However, many experts suggest it won't be a clean install since it would simply replace the software. So, for a clean install, it's imperative to get rid of the older AMD driver first.
Guide 3. AMD Driver Update via AMD Official Website
The next method is downloading and updating the driver via AMD's official website. Now, it's important to understand that you should only do this if you know which graphics card you're using. Otherwise, you risk using the wrong driver. If you do know which graphics hardware you have, you can simply uninstall the current driver, then download using these steps:
Step 1. Head to AMD's Driver and Support website.
Step 2. Find the graphics option, then select the graphics series.
Step 3. Next, select the graphics sub-series (A), and the exact model (B).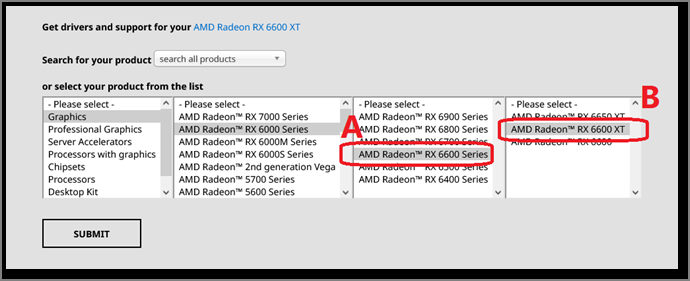 Step 4. Click on the Submit button.
Step 5. After that, select your Windows.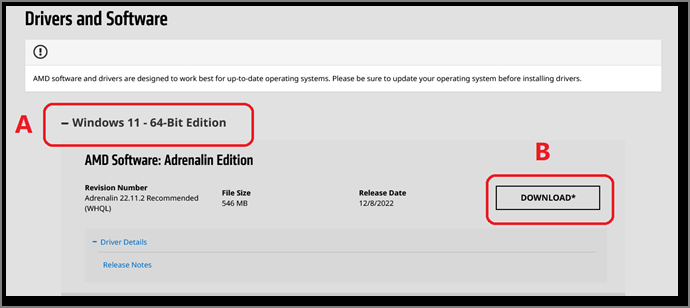 Step 6. Once the file is downloaded, run it and click on the Install option.
This will freshly install the AMD driver on your PC. So, once you're done, you'll have a new driver installed for your graphics driver.
Conclusion
These are some of the best ways to ensure your AMD drive update goes smoothly. While the AMD methods work fine, they are not as easy or stress-free as the third-party software option. That's why EaseUS DriverHandy is one of the easiest and best ways to update your AMD drivers.
It doesn't only save you from the hassle of finding the right driver but also other factors, like uninstalling, removing the registry, etc. So, it's an all-around better option for you to do an AMD driver update.
FAQs About AMD Driver Update
You'll find the answers to any further questions here:
1: How do I update my AMD driver?
The best way to update your AMD driver is by using EaseUS DriverHandy. It picks the latest driver available, then downloads and installs it on your PC. It also removes the existing driver's cache and settings, so the update becomes a fresh installation.
Besides that, you can head to AMD's website directly and select your graphics card. From there, you can download the latest WHQL signed driver for optimal performance.
2: How do I know if my AMD driver needs updating?
AMD drivers have a digital signature, which tells you which date it was from. It would look like this:
As you can see, this date indicates a release in November. So, if any driver is 3+ months old, you need to update it. Besides that, older drivers begin to show performance issues, so that's another indication your driver needs updating.
3: Does updating AMD drivers increase FPS?
It depends. If you haven't updated your AMD drivers in months, then you're surely going to see a performance uplift in your AMD drivers. On the other hand, if you're upgrading from one driver from the same month to another, the performance difference will be marginal. For instance:
Adrenalin Edition Version 22.11.2
Adrenalin Edition Version 22.11.3
Both these driver versions indicate they were released in the 2nd and third week of November 2022. So, the FPS boost between these two would be minimal.