Updating your NVIDIA drivers is essential in keeping your PC functioning properly. However, it can get a bit complicated depending on the GPU you have. Moreover, NVIDIA drivers download can get challenging at times and can even fail, leaving you with random errors.
This article includes all the methods you can use to update your NVIDIA graphics card drivers without issues. So, follow the guide below and update your GPU drivers today.
NVIDIA Drivers Download - Everything You Want to Know 
NVIDIA drivers are software programs that enable communication between your computer and your graphics card. These drivers are essential for the proper functioning of your GPU and are regularly updated to fix bugs and improve performance. Plus, you even get additional benefits for using the latest drivers for your GPU. 
Here are some benefits that you can expect with an updated driver:
More R&D invested - As time goes on, NVIDIA continues to research and improve its GPUs. This results in a better overall product for you with lesser bugs or random errors. Plus, this ensures your GPU is up to date and is not a risk to your PC. 
Much lower power consumption - Tweaking the GPU clocks and power cycles is common with newer driver updates and ensure you get a better-optimized GPU with lower power requirements. 
Better cooling and better overclocking potential - Extra performance and an upgraded boost potential can help get those extra frames for your favorite games. So, ensure you're running the latest drivers for the best-performing GPU for your PC.
Considering the benefits above, it is important to keep your NVIDIA drivers up to date to ensure that your graphics card is functioning properly and performing at its best. You need to keep your NVIDIA drivers updated with the latest build to have the best experience possible, and here's how to perform NVIDIA drivers update.
How to Update NVIDIA Drivers Safely and Efficiently
There are a few different ways to update your NVIDIA drivers, depending on your operating system and your level of comfort with computer tasks. However, today we'll look at two easy ways that you can use to update your NVIDIA drivers safely and effectively. Choose any one and start with updating your GPU drivers:
Way 1. Update NVIDIA Drivers Via EaseUS DriverHandy
The fastest method to download and update your NVIDIA drivers is by using EaseUS DriverHandy. We tested four different GPUs from different generations, and everything worked without issues. 
The DriverHandy tool instantly recognized the GPU installed in the PC and updated the NVIDIA Drivers to the latest version with a few simple clicks.
NVIDIA drivers download are hassle-free with EaseUS DriverHandy, and here's how you can update them:
Step 1. Launch EaseUS DriverHandy and click the "Scan" button.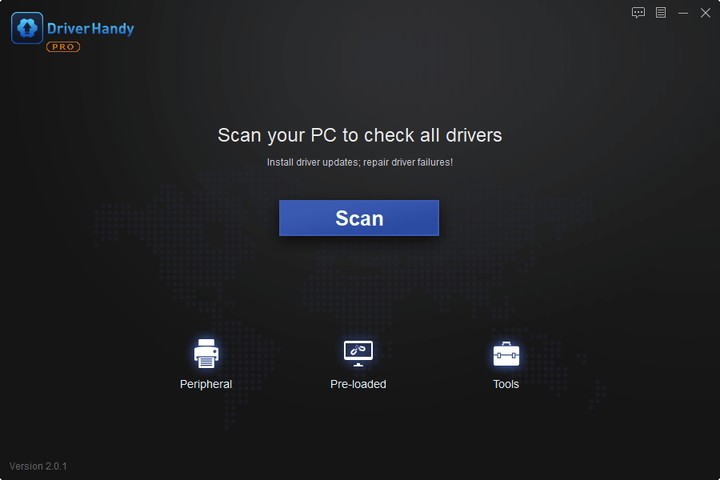 Step 2. Choose the drivers and click "Install All" in the upper right corner to update all drivers. Or you can select the single Motherboard, Sound, or Graphisc drivers and click "Update" on the right side.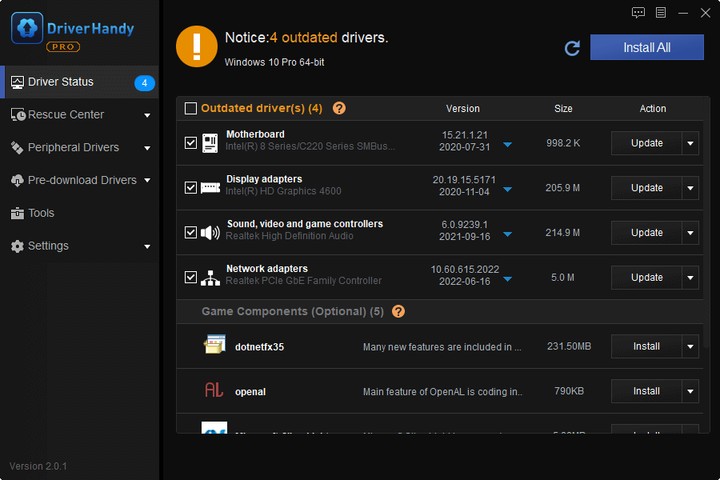 You also get some extra benefits from using the DriverHandy app. These are some of its key features:
All-in-one driver management - You can update, download, backup, and restore all drivers present on your PC with EaseUS DriverHandy. Plus, the process is fast and won't slow you down.
One-click repair and fix for drivers - The tool instantly scans and fixes/repairs all driver-related issues on your PC. Just start the auto-scanning option and let DriverHandy work its magic.
Extensive device support - EaseUS DriverHandy is compatible with many devices, including printers, speakers, and wireless accessories. So, you can rest easy and let the tool fix any and all errors present on your PC.
Give the DriverHandy tool a shot to scan and fix all driver errors on your computer. You can download the tool from the official EaseUS webpage. 
Way 2. Update NVIDIA Drivers Via NVIDIA GeForce Experience
Another way you can keep your NVIDIA drivers updated is by using the GeForce Experience software. This app is great for managing everything essential with gaming, screen capturing, and managing the optimal settings. Plus, you can also set it to automatically update your GPU with the latest drivers. 
Follow the guide below to install the latest drivers for your NVIDIA GPUs:
Step 1. Download NVIDIA GeForce Experience. You can get the app installer from NVIDIA's official GeForce Experience page. Use your browser of choice and download the installer. Now, run the installer and follow the process to get GeForce Experience on your PC.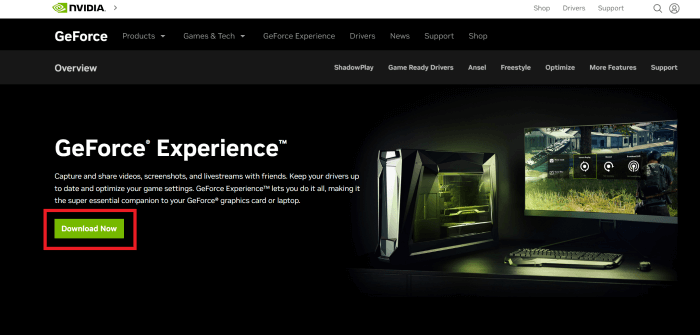 Step 2. Check for available updates. Run the software and go to the "Drivers" tab to automatically check for the latest driver update options. You can also manually look for updates by clicking the "Check for updates" button.
Step 3. Install the latest drivers. Click the "Download Driver" button and wait for it to be downloaded. Once the process completes, you'll see the "Express Installation" button. Click on it and install/update your latest NVIDIA GPU drivers.
However, some issues may hold you back from using the GeForce Experience software, and they're:
Doesn't support all PC games. 
Many of its features are found elsewhere. 
Local streaming requires extra NVIDIA hardware.
Sometimes has trouble finding games or the latest drivers. 
So, if you want an easy, smooth, and error-free experience, we recommend using the EaseUS DriverHandy software. The app is more efficient and easier to use compared to NVIDIA GeForce Experience. The UI is straightforward and offers a fast installation process compared to its NVIDIA counterpart.
Conclusion
Keeping your GPU drivers up to date with the latest releases is essential for the optimal performance of your PC. By using one of the methods described above, you can easily update your drivers and enjoy the benefits of the latest software. 
We highly recommend using EaseUS DriverHandy for an easy and smooth experience in managing all the devices and drivers on your PC. The app offers a one-click fix to all your driver-related problems or errors and helps you fix any random bugs or errors.
NVIDIA Drivers Download FAQs
We've tried to answer all your queries on how to update your NVIDIA GPU driver. However, if you still have some questions, look at the FAQs below.
1. How to download NVIDIA drivers?
You can download NVIDIA drivers using multiple methods. One way to download your GPU drivers is by manually downloading them from NVIDIA's official webpage.
EaseUS DriverHandy software also lets you download GPU drivers. Scan for the available drivers and download them on your PC.
2. How to update NVIDIA GPU?
You can update the GPU drivers through the EaseUS DriverHandy or NVIDIA GeForce Experience software. Selecting "Check for Updates" will show you a list of drivers you can install on your device. 
Another way to update your drivers is through the device manager. Press the Windows + R keys and type "devmgmt.msc" into the dialog box. Once the device manager is open, expand the "Display Adapters" category and right-click on your NVIDIA graphics card. Finally, select "Update Driver" from the context menu and let the process start.
3. Does GeForce Experience lower FPS?
No, GeForce Experience doesn't lower your FPS. However, your performance might dip if you have a bug or get an error while updating the GPU drivers using the GeForce Experience software.
So, make sure you're using the latest drivers and have a clean installation for zero slowdowns while gaming.