Intel Graphics Card Driver is a software application that enables the operation of Intel graphics cards on PCs and laptops. It is designed to provide the best performance for Intel's graphics processors and allows users to take full advantage of their hardware capabilities.
But the Intel graphics driver update doesn't always go so smoothly. If you're trying to update your Intel drivers, this article will teach you how to do that. So, let's keep going.
Why Do We Need Intel Graphics Driver Update
Intel Graphics Driver Update is essential for users who want to get the best out of their Intel graphics cards. The following are some reasons for an Intel graphics driver update:
Get a better visual experience and fix screen flickering
Fix the bugs in the old version to meet the demands of the game version
Improve the game performance
Fix overheating PC/Laptop
Run videos and software smoothly
Set your monitor to a higher refresh rate
These are some major reasons you need a driver update for your Intel graphics. It will improve the performance by miles and fix any underlying issues. Besides that, it'll ensure features in Windows run smoothly, such as themes.
How to Update Intel Graphics Driver in Windows
If you have an Intel graphics card on your computer, it is important to keep its driver up-to-date. Throughout the article, we have discussed that this will ensure that the card runs optimally and that you get the best performance.
So, we're going to guide you through two ways of updating your Intel drive, including:
Guide 1. Intel Graphics Driver Update via EaseUS DriverHandy
Guide 2. Intel Graphics Driver Update via Intel Driver & Support Assistant Utility
Both these methods will show you two separate and essential ways of conducting a successful Intel graphics driver update. So, let's dive into these methods. 
Guide 1. Intel Graphics Driver Update via EaseUS DriverHandy
EaseUS DriverHandy is a remarkable third-party tool to update drivers and keep them up-to-date all year round. The software provides proper performance upkeep by ensuring a fast connection between the operating system and your hardware.
This software is the ideal solution to successfully do an Intel graphics driver update. So, how do you do that? Once you download and install EaseUS DriverHandy, here's how:
Step 1. Launch EaseUS DriverHandy and click the "Scan" button.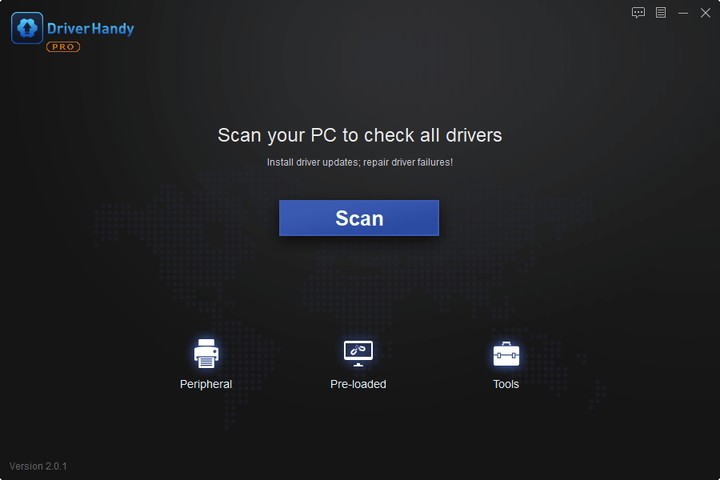 Step 2. Choose the drivers and click "Install All" in the upper right corner to update all drivers. Or you can select the single Motherboard, Sound, or Graphisc drivers and click "Update" on the right side.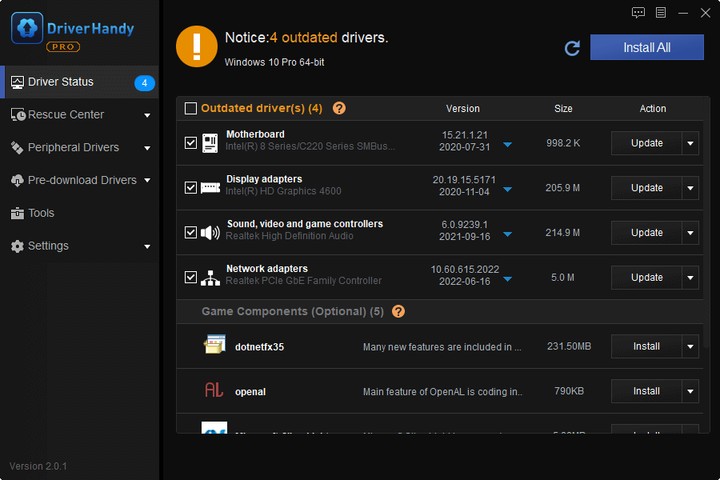 EaseUS DriverHandy is a powerful tool to support many brands, such as AMD driver update and it is also the best alternative to NVIDIA drivers auto detect.
Other Features of EaseUS DriverHandy:
This remarkable tool is the first choice for many computer users around the globe for its outstanding ability to update drivers without any hassle. What makes it so great? Let's list some key features of this tool:
Scans to check and fix all driver-related problems constantly.
Clears previous driver and its junk before updating to the new driver.
Ensures smooth gaming experience by automatically updating drivers such as audio and video.
Finds the best drivers for all your devices after scanning your PC—including graphics card.
Find out the drivers that need to be backed up and backup them.
Guide 2. Intel Graphics Driver Update via Intel Driver & Support Assistant Utility
The second method is to use Intel Driver & Support Assistant Utility and its usage. Intel Driver & Support Assistant Utility is a powerful tool that helps users to keep their Intel-based devices up to date and running smoothly.It can automatically detect and update drivers, optimize system settings, and troubleshoot any issues with Intel hardware.
You can follow the steps we're going to show you. Here's how:
Step 1. Head to Intel Driver & Support Assistant Utility (DSA).
Step 2. Locate and click the download button to download the utility.

Step 3. Run the downloaded file on your PC.
Step 4. Agree to the terms and click on the Install option.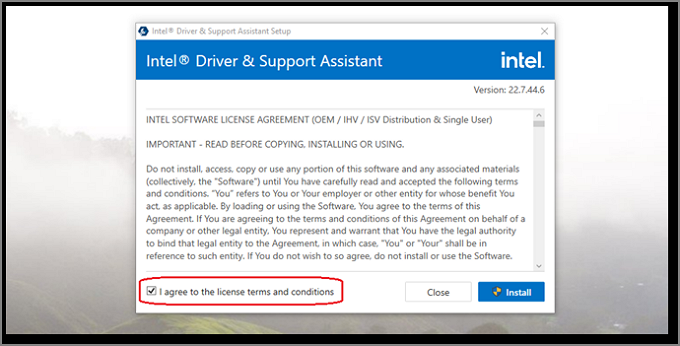 Step 5. Wait for the Installation to finish.
Step 6. Restart your PC when prompted.
Step 7. Once restarted, run the Utility again and scan your PC.
Step 8. When the utility prompts for a new Graphics driver installation, agree and proceed.
This will download the driver to your PC and begin the installation. While the download depends entirely on your internet, the installation will take about a minute or two. Once your PC restarts, the updated driver will be installed.
Conclusion
These are the two primary methods of downloading and installing the Intel graphics driver on your PC. The first method of using EaseUS DriverHandy is the best one.
Not only because of its ability to download and install the software quickly but also because it will clean up the existing driver quite comprehensively. And it provides myriad other benefits, such as keeping your drivers updated around the clock.
FAQs About Intel Graphics Driver Update
If you have further questions, these queries will answer them.
1: How do I update my Intel graphics driver?
The first and perhaps the best solution for many would be to head to Intel's website and download the exact model of driver needed. If you don't know which driver you have, then use EaseUS DriverHandy to find and install your driver quickly and comprehensively.
2: Should I update the Intel graphics driver?
Yes, you should. Updating any graphics driver won't only ensure a performance uplift but also cause your graphics card to run a bit more comprehensively hence, why you should always update your graphics driver every 2-3 months.
3: Does Windows 10 update Intel drivers?
It does, but sometimes the update isn't recent or as clean as it should be. Hence, it's better to directly download the graphics card driver or use a third-party tool like EaseUS Driver handy to update your drivers.