PreSonus AudioBox USB 96 has been a popular choice for musicians, singers, and sound engineers since its release in 2017. It is among the most reliable and cost-effective audio interfaces for users to record high-quality audio into their computers. If you are also starting to build your home studio, AudioBox USB 96 is the best choice.
However, it can be a bit complex device, and you can face AudioBox USB 96 not working error. Stick with the article to learn how to resolve this issue:
Seeing your AudioBox USB 96 not working when needed can be infuriating. Multiple reasons can lead to this issue, including improper connection, outdated or corrupted drivers, system bugs, and glitches. Below we have selected and explained three fixes for you to resolve this problem:
Fix 1. Reconnect the Device to Solve AudioBox USB 96 Not Working
One of the most common reasons behind AudioBox USB 96 not working is the improper device connection. PreSonus recommends using a USB 2.0 port on your computer for AudioBox USB 96. They also recommend using the same USB port to always connect your AudioBox USB 96, which you used for the first time. Using a different USB can lead to your device not being recognized by the computer.
So, you should disconnect and reconnect your AudioBox USB 96 to the same port you have used. If it didn't work, try changing the connecting cable. If the issue persists, move toward the next fix to get rid of this.
Fix 2. Update AudioBox 96 Driver to Solve AudioBox USB 96 Not Working
Corrupted or outdated AudioBox 96 driver is the other major reason which can lead to AudioBox USB 96 not working. You must also reinstall the AudioBox 96 driver if you have changed the USB port. Is there an easy way to update or reinstall the latest AudioBox 96 driver, you ask? Well, yes, there is. The best tool to get your computer's driver without any hassle is EaseUS DriverHandy.
Windows cannot work properly without drivers, and updating all of them is a big hassle. EaseUS DriverHandy is designed to end all that trouble and keep your system driver updated through one click. To get an idea of how good a tool it is, you can download and try it free from its official website.
Step 1. Launch EaseUS DriverHandy and click the "Scan" button.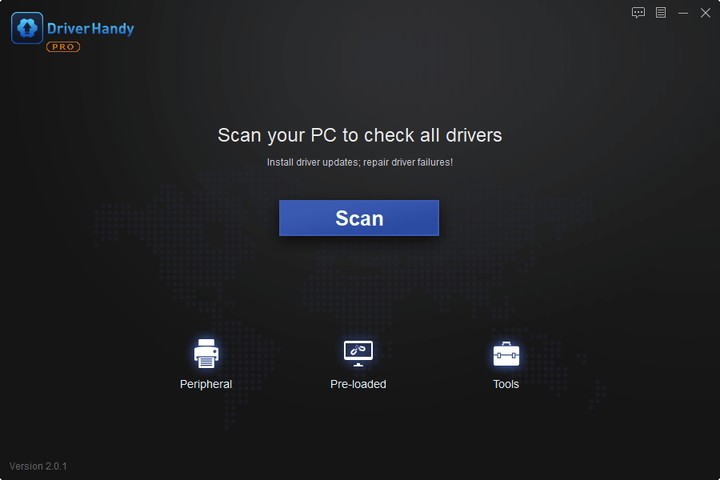 Step 2. Choose the drivers and click "Install All" in the upper right corner to update all drivers. Or you can select the single Motherboard, Sound, or Graphisc drivers and click "Update" on the right side.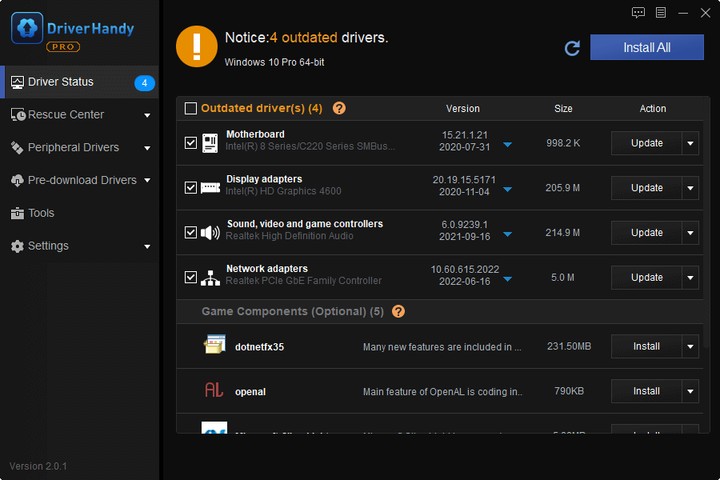 It is easy to use EaseUS DriverHandy to update AudioBox 96 driver, so share this way to help more users facing this issue.
Main Features of EaseUS DriverHandy
It will only use the drivers taken directly from their manufacturers' websites to update your system drivers. All of the drivers used by the tool are certified by Microsoft.
EaseUS DriverHandy is fully compatible with all current Windows and Windows Server versions. It can be used on Windows XP/Vista/7/8/8.1/10/11 and all respective Windows Servers.
Through this tool, you will be able to uninstall any driver safely and securely. It will ensure that the uninstallation of a driver doesn't negatively impact your computer.
The driver database in EaseUS DriverHandy is always up to date. That means it will be the most recent version whenever a driver is installed or updated using this tool.
Despite packing many features, EaseUS DriverHandy has a clean and delightful interface. There is no cluttering or vague tool location in this software. Due to this, updating your computer's processes becomes an easy task.
Fix 3. Run Hardware and Device Troubleshooter to Solve AudioBox USB 96 Not Working
To ensure no system bugs or glitches result in your AudioBox USB 96 not working, try running the troubleshooters available in Windows. The best troubleshooter in this scenario is the Hardware and Device Troubleshooter.
It will help resolve all the bugs and glitches present in your system hardware. Follow the steps given below to run the Hardware and Device Troubleshooter on your system:
Step 1. You must first run Command Prompt as administrator to access the Hardware and Device Troubleshooter. To run CMD with admin privileges, find it using the search bar and click "Run as administrator."
Step 2. Type and run the "msdt.exe /id DeviceDiagnostic" command here. It will open the interface for the "Hardware and Device Troubleshooter." Tap "Next" on the pop-up interface to run the troubleshooter.
Conclusion
You are unlikely to find a reliable and high-quality audio interface to connect your DAW to your computer as AudioBox USB 96. There is no need to get discouraged due to AudioBox USB 96 not working properly. It mainly happens due to problems with the AudioBox 96 driver. EaseUS DriverHandy can help you resolve this with ease using just one click. Besides, this tool can help with Windows 10 update drivers automatically, which can free you out of the driver's management.
AudioBox USB 96 Not Working FAQs
Your AudioBox USB 96 not working properly can be a troublesome error to understand. If you have any questions that still need answering, go through the FAQs regarding this topic answered below:
1. How do I get my PreSonus AudioBox USB 96 to work?
Use these steps to properly set up your PreSonus AudioBox USB 96:
Step 1: After buying the AudioBox USB 96, go to the PreSonus website and register yourself to download the related software.
Step 2: Now, download the AudioBox 96 driver from the website and then install it on your computer.
Step 3: Connect your AudioBox USB 96 to your computer and open the sound settings. Here, find "Playback" and "Recording" and set AudioBox USB 96 as the default audio device for your PC.
2. Why is my PreSonus not recognized?
There can be many reasons behind your computer not recognizing PreSonus AudioBox USB 96. The USB port you are using may be USB 3.1 or 3.0, while AudioBox USB 96 only works on USB 2.0 ports. Your corrupted or outdated AudioBox 96 driver can also cause this issue.
3. What driver do I need for AudioBox USB 96?
You need to use AudioBox 96 driver to use AudioBox USB 96. It can be downloaded from the PreSonus official website and installed on your computer. Otherwise, you can also use EaseUS DriverHandy to automatically download and install your system's latest AudioBox 96 driver.