2 Best Photo Locker Free Download for PC in 2023 & How-to Guide
Everyone has their secrets, be they big or small. So how to keep your secrets safe? Yes, hiding them. As to some sensitive or private pictures that you don't want to delete, the solution is similar.
You can hide pictures, and even lock them up from being viewed by a reliable photo locker application. And we are here to offer 2 reliable photo locker software for you to free download on PC and lock your photos with ease. Let's go.
Where Should I Hide & Lock Photos, Mobile Phone or Home PC
Speaking or hiding photos, keeping sensitive pictures from being viewed by other people, where should you save and lock your photos?
Mobile phone gallery? Or your home computer? It must be the home PC. 
1st, it's safe that mostly, your home PC is only used on your own. 
2nd, it's safer than a mobile phone as it's connected via your home network. 
As for the phone, it's riskier as you may connect it to different networks or WiFi, which is not safe for privacy protection.
So how to keep your secrets and photos only available to you on your home PC? Yes, to lock them up via reliable photo locker software. 
Two Best Photo Locker Free Download for PC in 2021
So how to find reliable photo locker software to hide or even lock your photos on a home PC? What you need is a reliable photo locker application.
Here we'll list two reliable photo lockers that we think are the best for you to try in 2021.
Tools
Pros
Cons

Hide pictures
Lock photos by encryption
Create folders to categorize photos
Import and export photos
Photo viewer

Can't lock videos, documents, or other types of files.
Can't lock network shared files.

EaseUS LockMyFile

Hide photos, videos, and other types of files.
Lock photos, videos, and other types of files.
Lock local disk, external disk,and even network shared files.
Encrypt photos, videos, and other types of files.
Shred files on local disk, external disk, and network drive.

Doesn't have a photo viewer.
How do I select between the two photo locker applications? Easy. Here is the Editors' Suggestion from EaseUS:
To lock local disk photos on your computer only, try Photo Locker Pro.
To lock more types of files besides photos on more storage devices, turn to EaseUS LockMyFile.
So how to use the photo locker? Just follow the tutorial guide as shown below, you can lock all private photos on your computer immediately.
#1. How to Use Photo Locker Pro
Tool: Photo Locker Pro
Developer: Cheesecake
Photo Locker Free Download for PC: https://www.microsoft.com/en-us/p/photo-locker-pro/9nblggh6gtk1
Photo Locker Pro is a third-party photo locking application developed by Cheesecake and it's currently available on Microsoft Store. You can directly search and get it on your PC. Photo Locker Pro allows you to securely hide sensitive photos, and lock your photos from appearing picture library on a computer. Users can't access these photos without logging into the app.
How to Lock Photos with Photo Locker Pro:
Step 1. Open the download link in your browser, click Get.
Step 2. Click Get again when Microsoft Store opens, then click Install.
Step 3. Launch Photo Locker Pro and set up the password.
Step 4. Click the three dots at the right corner, and click Import Photo.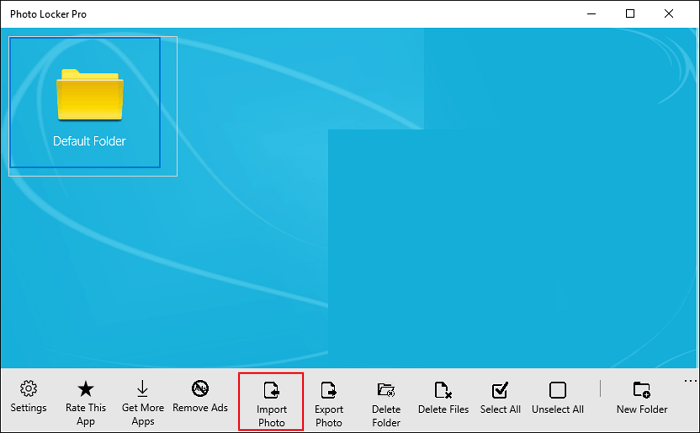 Step 5. Browse to select photos that you want to lock and click Open.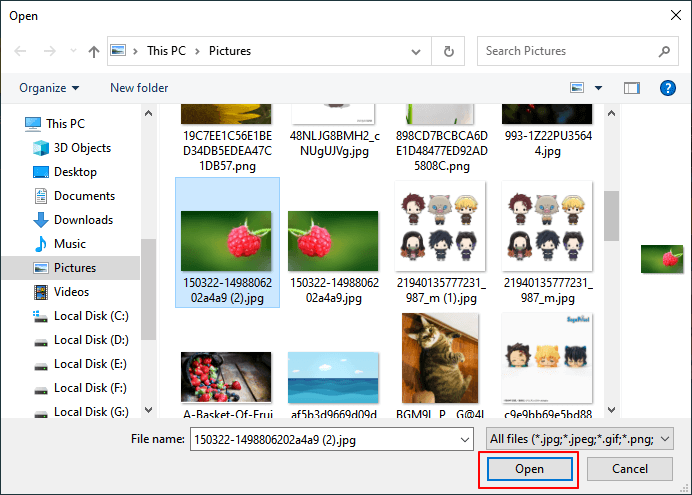 When the process completes, you'll see that your photos appear in Photo Locker Pro, and they are no longer visible on your computer. It's been successfully locked.
#2. How to Use EaseUS LockMyFile
Tool: EaseUS LockMyFile
Developer: EaseUS software
Photo Locker - EaseUS LockMyFile Free Download
EaseUS LockMyFile is newly developed by EaseUS software for locking up files like photos, videos, images, documents, etc., safely with a password. It enables you to hide, lock, password protect, and even encrypt photos, videos, documents, and folders on a local computer drive, external hard drive, and even a network shared drive. With it, you can keep sensitive photos, videos, and even confidential files your own secret.
You can flexibly lock photos, videos, and confidential documents on Windows 10/8/7/Vista/XP/2003/2002.
How to Lock Photos via EaseUS LockMyFile
Step 1. Launch EaseUS LockMyFile, register with your email address and set a software protection password.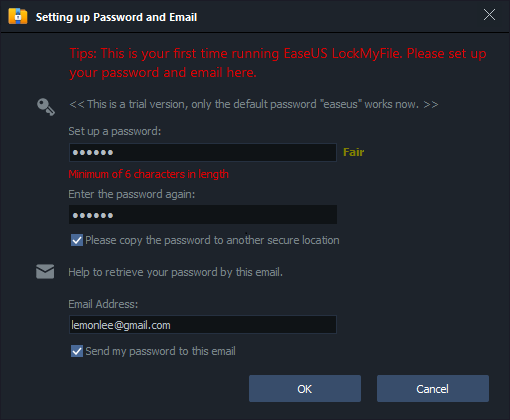 Step 2. Click Locking File on the right side. There are three options available: Lock Files, Lock Folder, and Lock Drive.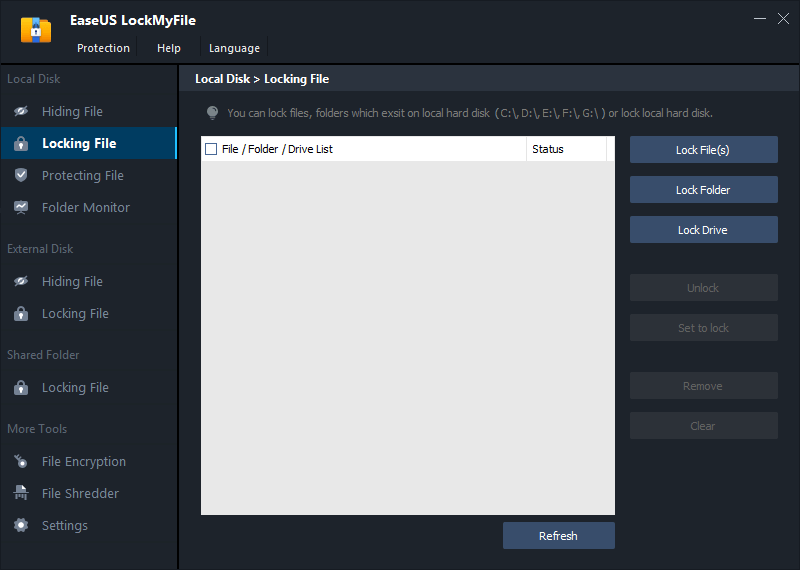 Step 3. Click Lock File(s), and choose the file you want to lock from your computer, and click Open to confirm.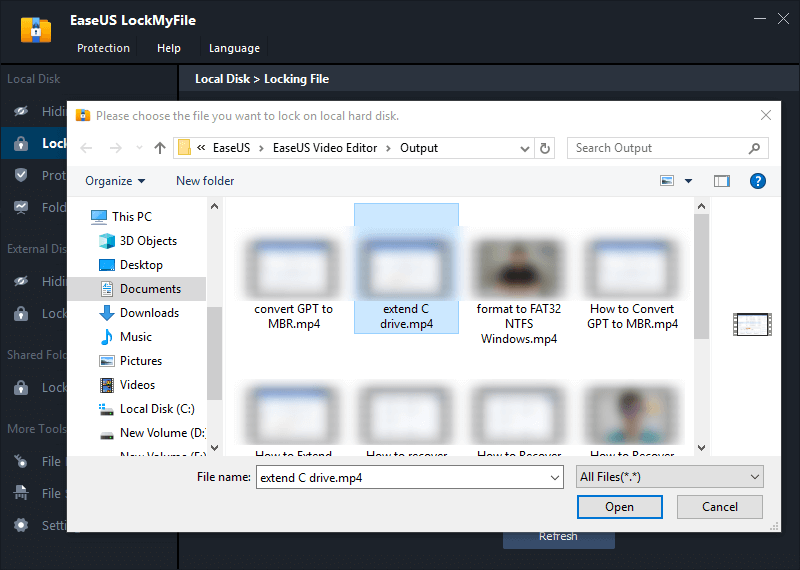 If you need to lock a folder, the operation is the same. Click Lock Folder, choose the target folder, and click OK to confirm.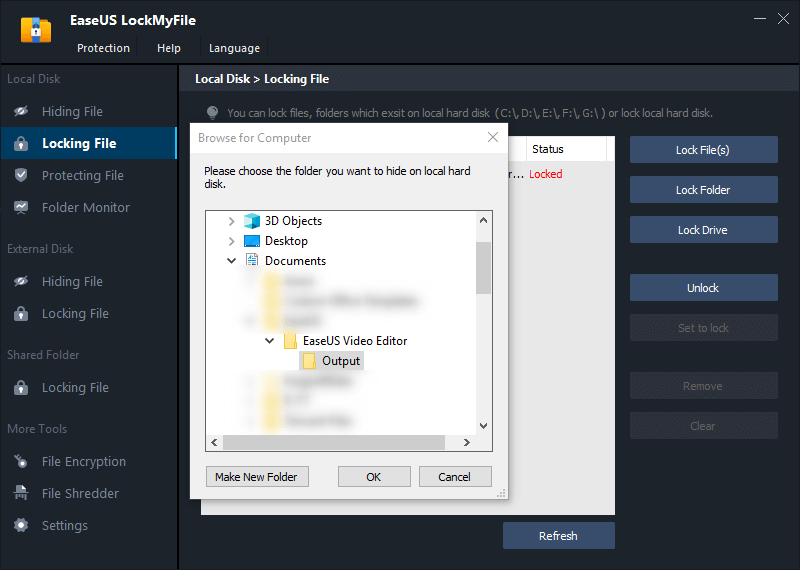 Step 4. You can check the status of your chosen files or folders now.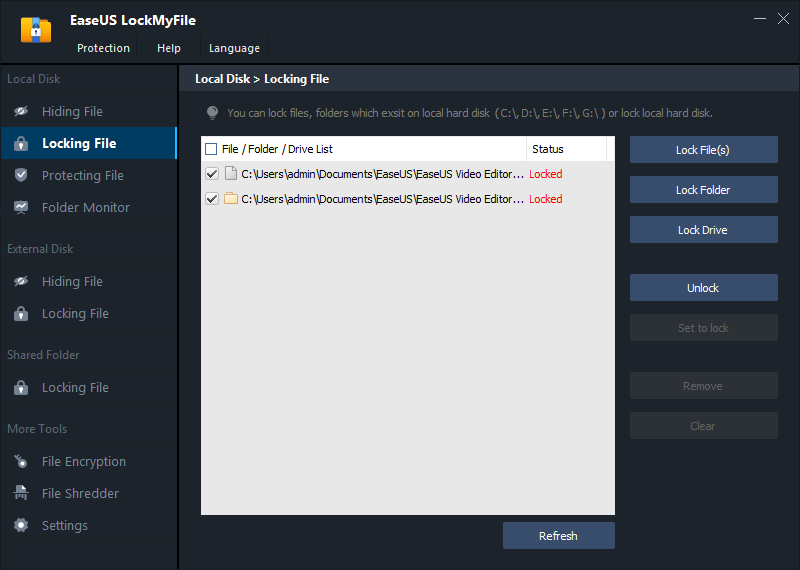 The picture will be automatically saved into a folder with the same file name. And you can neither view nor open it without using EaseUS LockMyFile.
Protecting Private Photos Is Easy, Get Photo Locker App Free Downloaded for Help Now
It's easy to protect your private photos, confidential videos, document files, and even folders. There are also many ways to do so, for example, that you can lock a file, hide a folder, or even compress important documents with a password by using a file encryption tool, file locker, compression utility, etc.
Protecting your private photos is easy now as long as you turning to the right tool for help. Here we collect two photo locker apps and you can free download either one to safely guard your secrets now.
Related Articles - ALSO ON EaseUS SOFTWARE