Easy File Locker: How to Lock Files, Folders, and Drives Securely

Cedric updated on Sep 21, 2022 to File Lock
No one wants to keep their data unsecure. The very thought of having our files unprotected gives us anxiety. Unfortunately, there is no feature in windows through which you can lock your documents or files. Almost all laptops offer no built-in lock feature as well. You can use an easy file locker though.
You can not hide your laptop away from the world, right? Someone can borrow your laptop or you may need to use it with your co-workers. Your little sister wants to play games on it and you can not refuse. You have forgotten it at home and want your partner to send you the document that is on your laptop. These are all reasons you need to free download an easy file locker to protect files. 
Which Easy File Locker to Use
The Internet has many easy file locker software but most of them are a scam. You need a file locker that offers reliability. A file locker with which you can successfully lock your private files and folders. We were on a hunt for an easy file locker and we found the amazing EaseUS easy file locker. It will protect your data like none other. 
EaseUS Easy File Locker Free Download
The EaseUS LockMyFile is a brilliant utility that will keep your data safe. Never worry again about people going through your files and breaching your privacy by downloading this tool now. Safety is not the only reason to download it. Let us take you through its incredible features.
1. Hiding Files/Folders on the Local or External Disk
EaseUS LockMyFile hides folders and files from local disk and/or external (USB) disk. It makes your folders invisible just by the single tap of a finger. Even under Windows Safe Mode, people will not be able to see your hidden files. No matter how much someone searches, your files will remain hidden and safe. 
2. Lock File, Folder, and Drive on a Local or External Disk
You can now protect files and folders with a password. Sounds unbelievable, right? You can lock all folders that you want to protect. You can also lock folders on USB. It is a smart feature that will allow you to password-protect your data. No one will be able to gain access to these folders.
3. Protect Files (Read-Only)
Another genius feature is to protect the documents in a way that people can read the shared file but can not modify, rename, or delete it. This is important as you will be able to keep the original document even after sharing it. 
4. Encrypt Files/Folders
This tool provides encryption. With its AES encryption algorithm, you can encrypt files and folders into GFL format or EXE format files. You will be able to open EXE encrypted files or folders on other computers.
5. Lock LAN Shared Folder
EaseUS LockMyFile helps you set passwords for your folder shared on the network that limit access to them.
How to Use Easy File Locker to Lock Files and Folders
It is a user-friendly tool that is extremely easy to use. You already know its features so let us teach you how to use it. It is not rocket science to install it. Simply go to the easeus.com website and download this tool. Launch it on your computer to use it. With our step-by-step guide, you will find it effortless to use it. 
Step 1. Launch EaseUS LockMyFile, register with your email address and set a software protection password.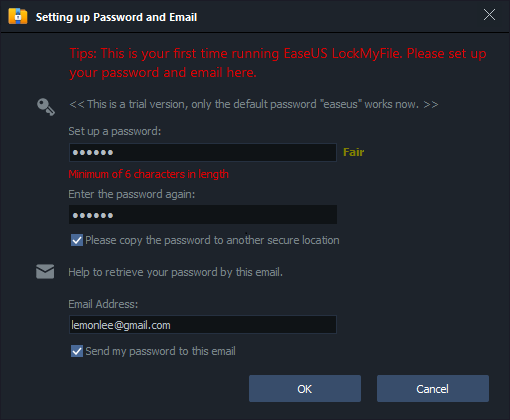 Step 2. Click Locking File on the right side. There are three options available: Lock Files, Lock Folder, and Lock Drive.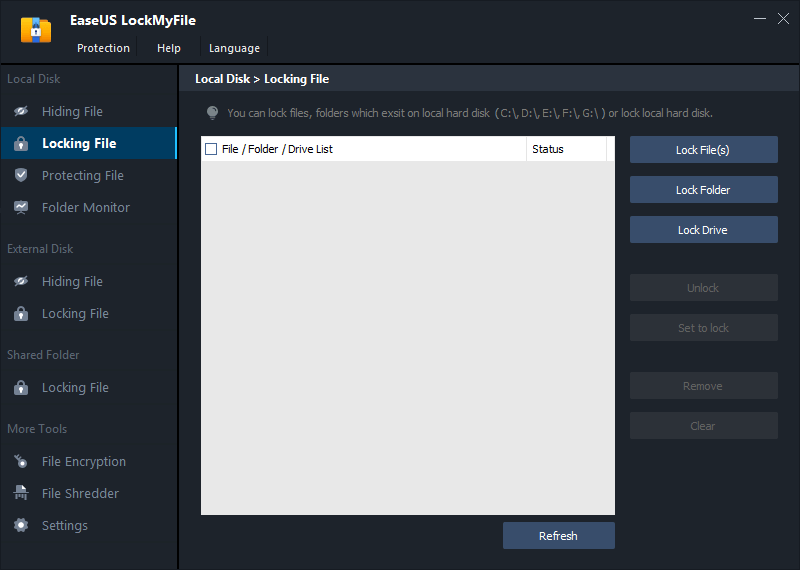 Step 3. Click Lock File(s), and choose the file you want to lock from your computer, and click Open to confirm.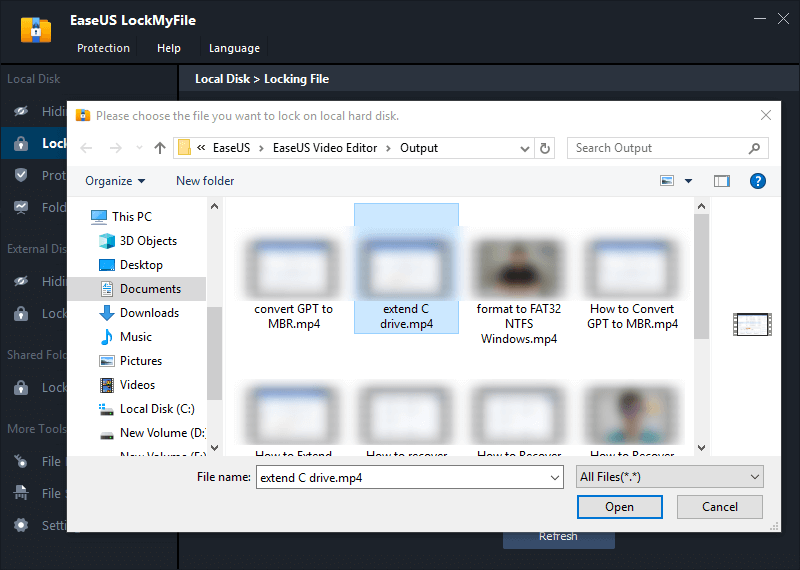 If you need to lock a folder, the operation is the same. Click Lock Folder, choose the target folder, and click OK to confirm.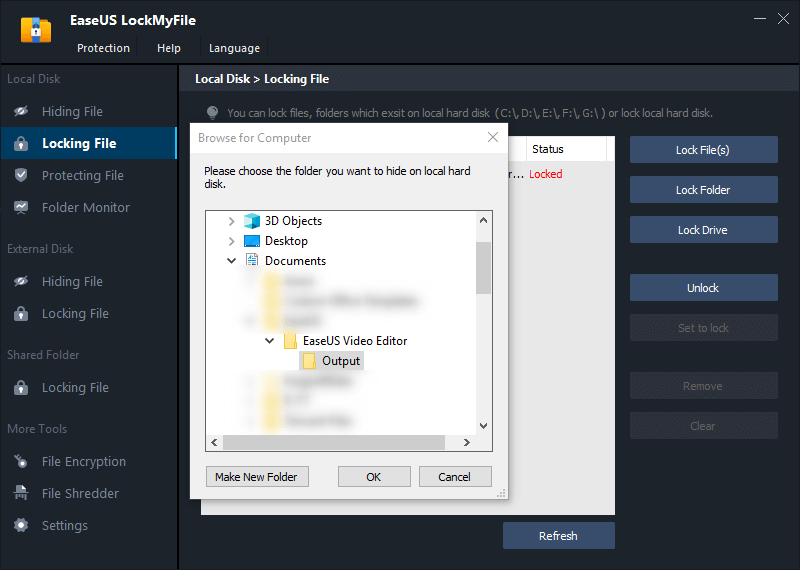 Step 4. You can check the status of your chosen files or folders now.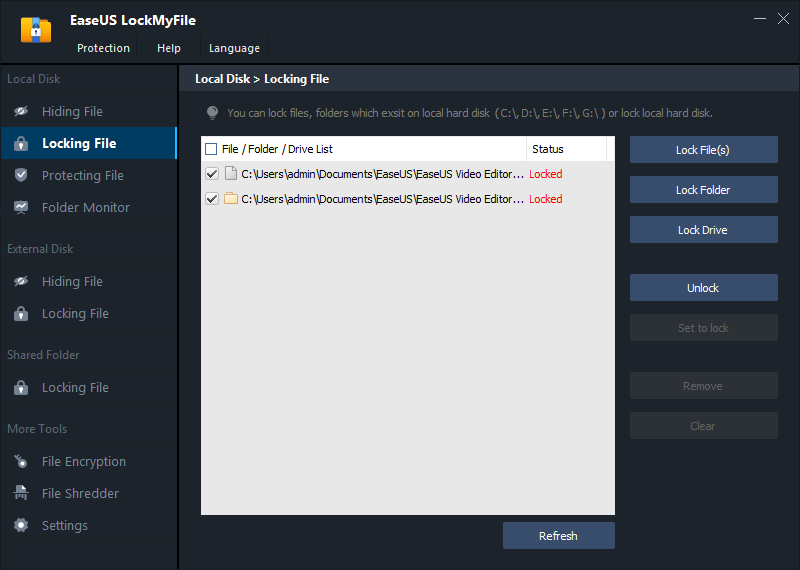 Easy File Locker FAQs
1. Is Easy File Locker Safe?
Many people wonder if using an easy file locker is safe or not. Such software can be fraudulent and can hack your data. If you download a trustworthy file locker, it is totally safe. It is hard to find a reliable file locker with so many options available online. You do not want to buy a tool that promises one thing and delivers another. We recommend downloading the EaseUS LockMyFile to protect your files. Try its free trial now. 
2. Is EaseUS Easy File Locker safe?
We assure you that it is totally safe to use. I have personally tried it and found it to be very safe. It offers mind-blowing features that you can use by downloading it now. It is an authentic tool by a well-recognized company. They realize the importance of your trust and guarantee safety. 
3. How to use an Easy File Locker?
Using a file locker is child's play if it is user-friendly. The EaseUS LockMyFiles is a handy tool. You just need to download it and you will know the rest. It is designed to provide you with convenience. Follow the guide given above to get a detailed answer on how to use it. 
Conclusion
Now you can protect your files and keep them safe. It is something you do not get with many tools. As much as we wished that Windows introduced a built-in feature to lock files, we are thankful to the EaseUS LockMyFiles tool for making the wish of locking our files come true. With its various features, security is guaranteed. Keep your data safe and secure with this tool.