Which One to Choose? 5 Best Folder Lock Software for Windows 10
In recent days, people care more and more about their personal info security and privacy. In order to avoid information leakage or file deletion, they think it is necessary to take measures to ensure the security of their important data. That's why folder lock software emerged in the field of data security.
The folder lock software is the tool that enables you to prevent other people from viewing, editing, and deleting your files and documents. There are hundreds of file lock programs on the market. It is hard for a novice to pick one. So here we have listed the 5 best folder lock software for you. You can compare the features of each software and choose the most suitable one.
#1. EaseUS LockMyFile
The first one we'd like to recommend is EaseUS LockMyFile. It has an attractive interface that is very simple to operate. With this tool, you can easily encrypt your hard drives, files, documents, and even external flash drives. 
Features:
You can hide files, folders, and drives with EaseUS LockMyFile.
You can monitor the disk or folder when changes are made by the user.
It enables users to open the software with a password.
It supports users to find lost passwords with pre-defined email addresses.
You can download EaseUS LockMyFile from the button below and follow our guide to see how to protect the file.
Step 1. Launch EaseUS LockMyFile, register with your email address and set a software protection password.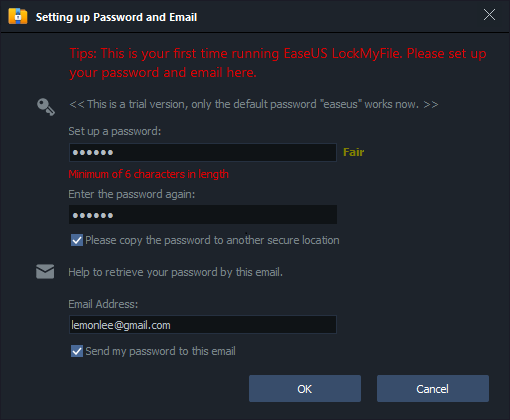 Step 2. Click Locking File on the right side. There are three options available: Lock Files, Lock Folder, and Lock Drive.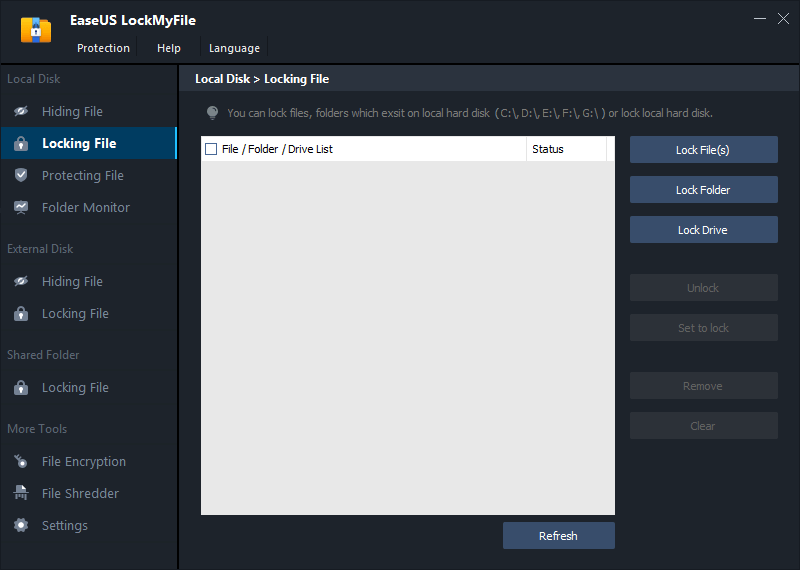 Step 3. Click Lock File(s), and choose the file you want to lock from your computer, and click Open to confirm.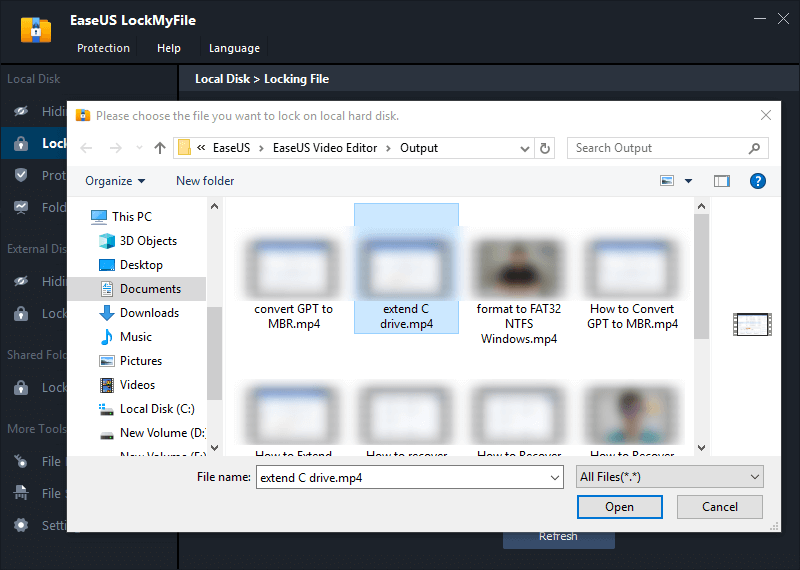 If you need to lock a folder, the operation is the same. Click Lock Folder, choose the target folder, and click OK to confirm.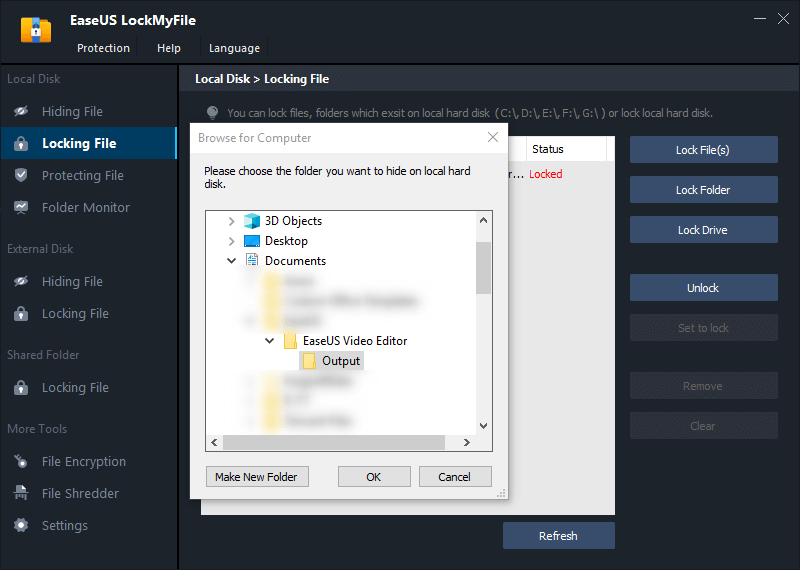 Step 4. You can check the status of your chosen files or folders now.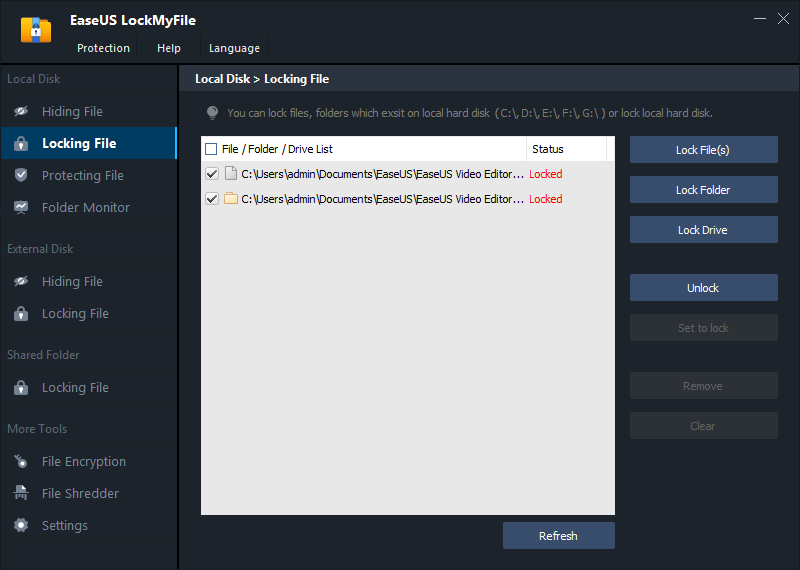 #2. Folder Lock
Folder Lock is a comprehensive folder and files lock software that lets you keep your personal files encrypted and locked. It provides users with loads of lockable options. For example, it can protect lots of your sensitive information, such as email attachments, USB and DVD/CD, and wallets with store credits. More importantly, if you are interested in Folder Lock but can't decide whether to purchase it right away, you can run the program 25 times for a free trial.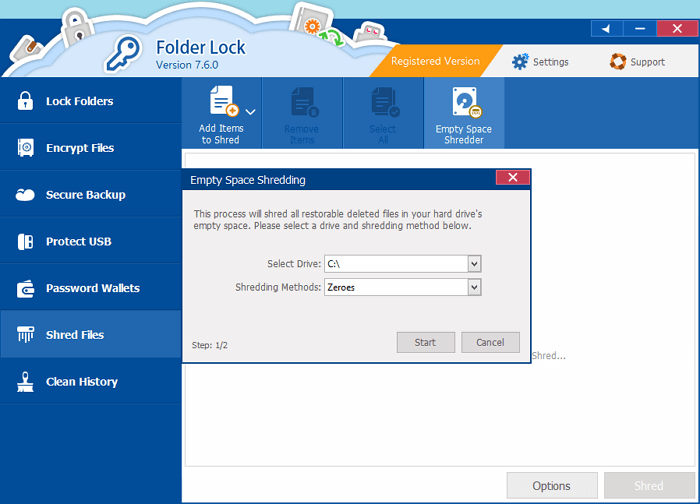 Features:
Saves users' personal information in Wallets.
Offers 256-bit AES on-the-fly encryption.
Supports sync of encrypted files to online storage so that you can restore files at any time on any computer.
The interface is integrated with Windows Explorer.
For more information about Folder Lock, you can go to this page:
https://www.newsoftwares.net/folderlock/
#3. WinRAR
Surprise! For most of the users, the WinRAR is only a compression tool. However, it can also work as a file encryption tool. It provides users with Advanced Encryption Standard (AES) 256-bit keys which makes it a strong contender in our list. And the operation is very simple, right-click the files you want to encrypt, choose to Add to archive. Then you will see the Set password option.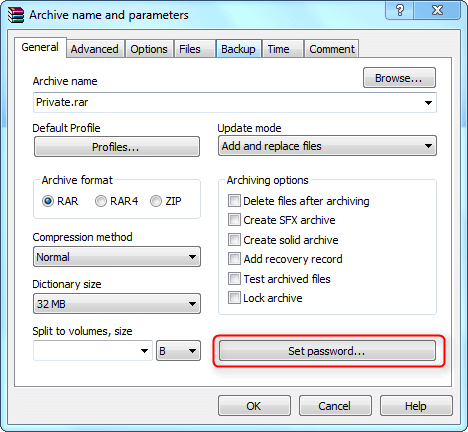 Features:
Supports both compress and encrypt files.
Offers users up to 40 days of free trial.
Processes with 256-bits password encryption and authentication signature technology.
For more information about WinRAR, you can go to this page:
https://www.win-rar.com/start.html?&L=0
#4. Folder Password Lock Pro
If you want to find a secure tool that can lock your folders with passwords and keep them safe, Folder Password Lock Pro is a great choice. Designed with a user-friendly interface, you can lock or hide your folder with just a few clicks. And no one can access, delete, or modify your folder without a password. It also provides you with options of locking an individual file, a file inside a specific folder, or a whole folder. In conclusion, you can lock anything you want with Folder Password Lock Pro.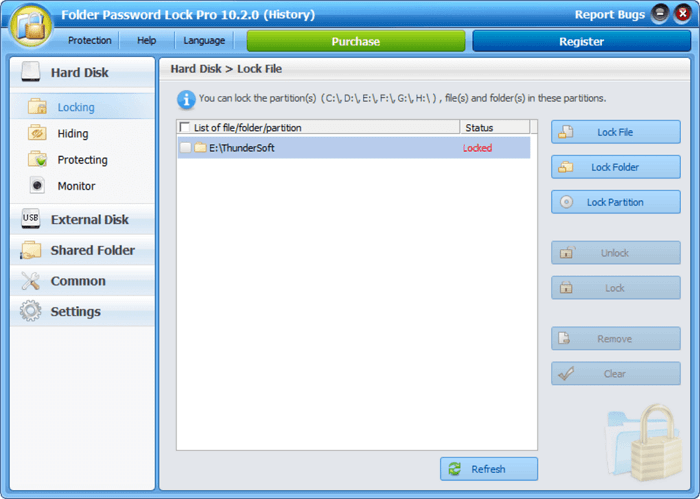 Features:
Allows users to lock, hide, and encrypt files and folders.
Supports users to find back passwords through the pre-set email address.
One password for all the folder locks.
Supports users to lock and hide external hard drives and USB flash drives.
For more information about Folder Password Lock Pro, you can go to this page:
https://www.filehorse.com/download-folder-password-lock-pro/
#5. File Protect System
Another data protection software you can try is File Protect System. The target customers of File Protect System are those with professional encryption needs. It uses hash functions like Message Digest 5 and SHA-256 to transform data into cipher code. Users can choose the encryption algorithm when they need to password-protect their files. Compared with other folder lock software, the interface of the File Protect System is more complicated. If you are a novice, it might take you some time to explore how to use it.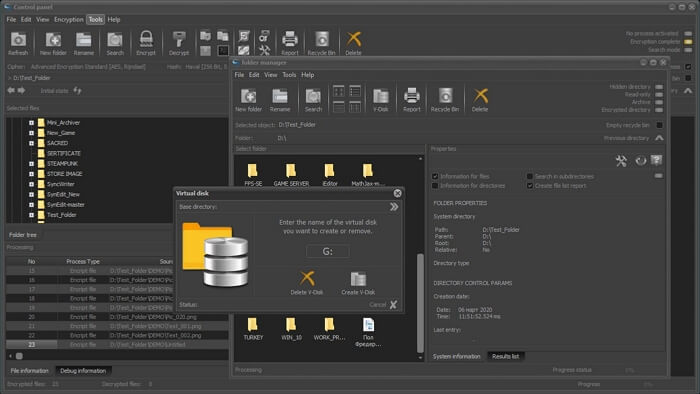 Features:
Supports users to exchange confidential information using an embedded e-mail client.
Allows users to create packages of files for crafting archives or taking backup.
It can convert your PC to a cipher machine that is used by government agencies.
For more information about File Protect System, you can go to this page:
https://www.microsoft.com/en-us/p/file-protect-system/9pkc8npbknbl
To Sum Up
For users who want to better protect their files and folders, choose a proper folder lock tool is a wise choice. Here we have listed 5 tools for you to choose from. You can compare the features of each software and choose the most suitable one.
Related Articles - ALSO ON EaseUS SOFTWARE