How to Password Protect USB Flash Drive on Windows and Mac
USB flash drive can store a large amount of data, is small in size, and easy to carry. USB drive is an important external device used by people to back up and transfer data. Before you save valuable information on your USB flash drive, you should first learn how to protect it and keep your data safe.
To password protect a USB flash drive, you have two ways to do it. One is directly investing an encrypted flash drive with hardware encryption, and the other is applying software encryption. And the majority chose the latter method.
This article summarizes simple and effective ways to password protect the entire USB drive or encrypt files and folders on a USB flash drive. Check the step-by-step tutorial.
Password Protect USB Flash Drive on Windows 10 with BitLocker
Windows 10 offers a built-in encryption tool - BitLocker to protect a USB drive with a password. BitLocker protects everything on your USB drive, even if you add new content to the drive at a later date. BitLocker is free and easy to use.
Note: BitLocker is available on Windows 10 Pro and Windows 10 Enterprise.
Step 1. Insert the USB flash drive into your computer.
Step 2. Press Win+ E keys to open File Explorer, then, right-click your USB drive.
Step 3. Select "Turn BitLocker On".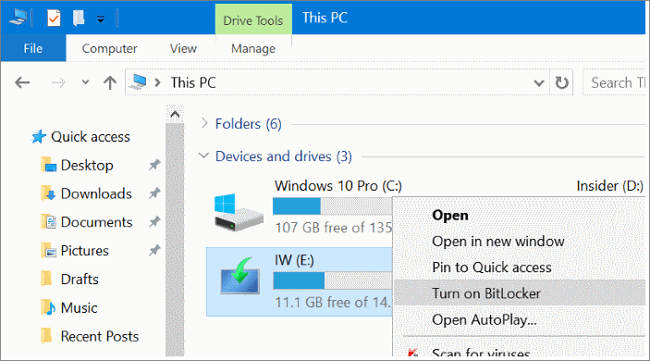 Step 4. Check the box before "Use a password to unlock the drive" and enter a password twice. Then, select "Next".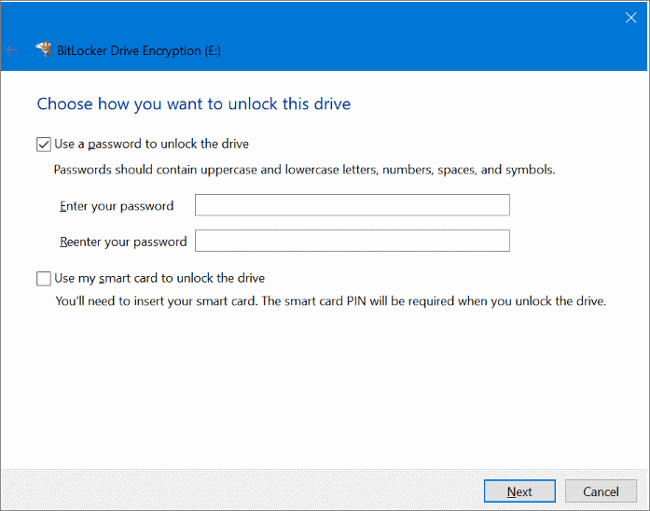 Step 5. Select where or how you want to back up your recovery key in the next window and select "Next".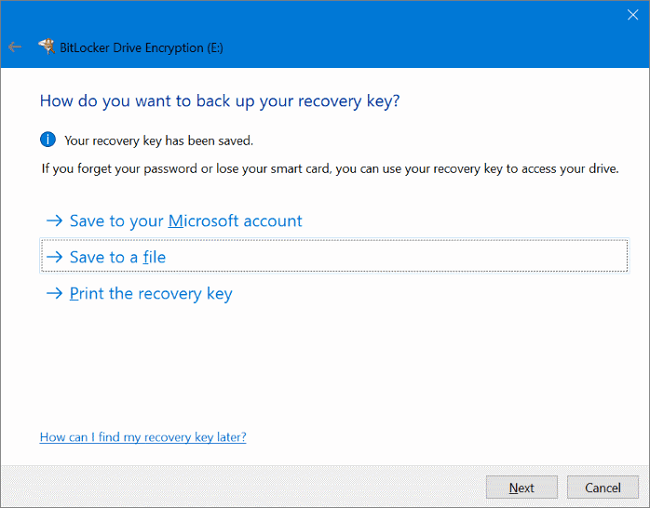 Step 6. On the Choose how much of your drive to encrypt screen, select "Encrypt entire drive" and then click "Next".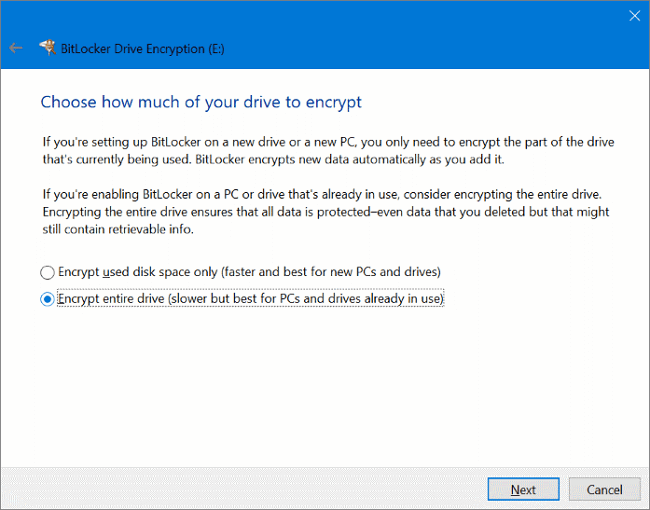 Step 7. On the Choose which encryption mode to use screen, select "Compatible mode" and then hit "Next".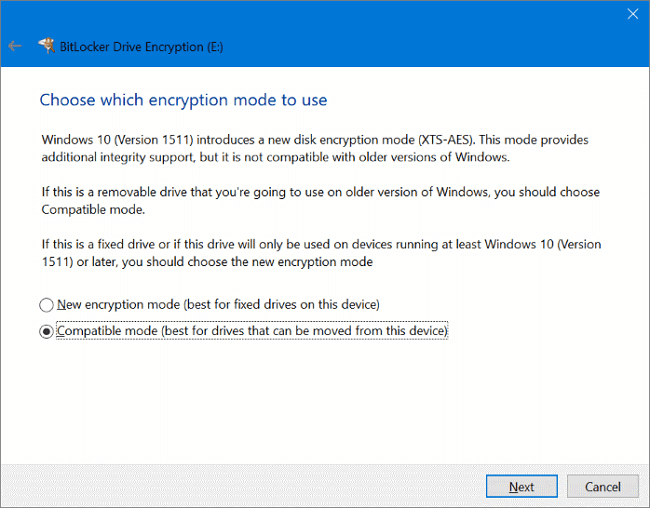 Step 8. Then, you reach the final step. Pay attention to some warnings and click "Start encrypting". BitLocker will immediately work and encrypt your flash drive with a password.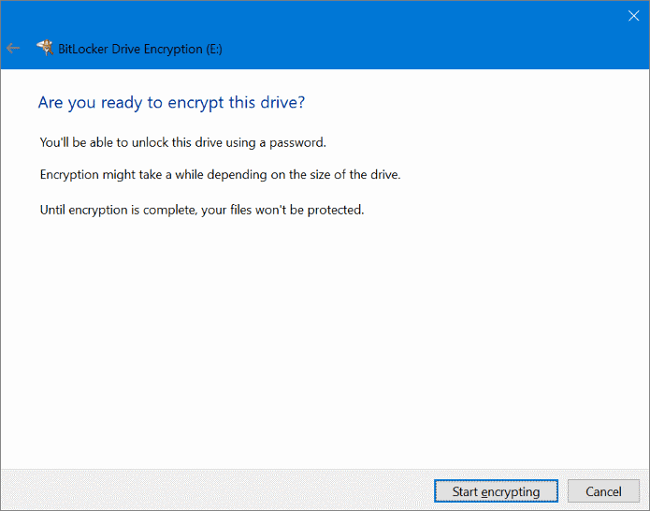 After the encryption finishes, you'll get a pop-up message: Encryption of X: is complete. The Explorer icon for USB drives will now include a padlock. When you want to access the drive, double-click it and you will be prompted for a password.
How to Password Protect USB Flash Drive with a Password Protection Tool
If you want to protect USB drive Windows 10 without BitLocker, an easy and secure Windows file lock software is called EaseUS LockMyFile available for you. It can hide and lock files and folders with Advanced Encryption Standard (AES) 256-bit keys to keep your USB data safe.
With EaseUS LockMyFile, you can easily password protect folders and files on a local drive, USB drive, or LAN network.
Hide your important files/folders on a local disk, USB flash drive, or external hard drive. Make your folders completely invisible and unsearchable.
Protect files, folders, drives from being edited or deleted with the read-only option.
Password protection. When you forget your password, you can find it through the pre-defined email.
Free download this file lock and encryption tool to encrypt files or folders on your USB flash drive to protect individual data.
Step 1. Enter "easeus" to launch EaseUS LockMyFile, register with a valid email and a license code.
Step 2. Click File Encryption under More Tools > Click Add Files or Add Folders.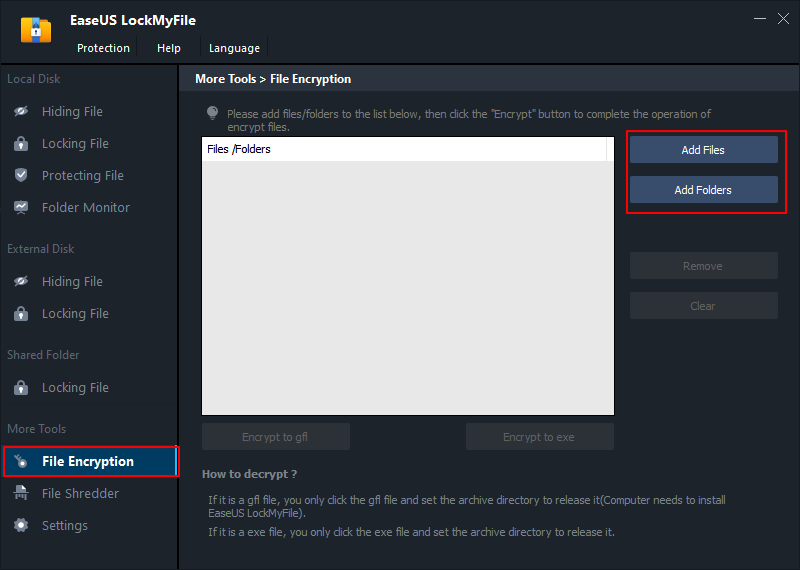 Step 3. Select important files or folders that you need to encrypt, and click Open.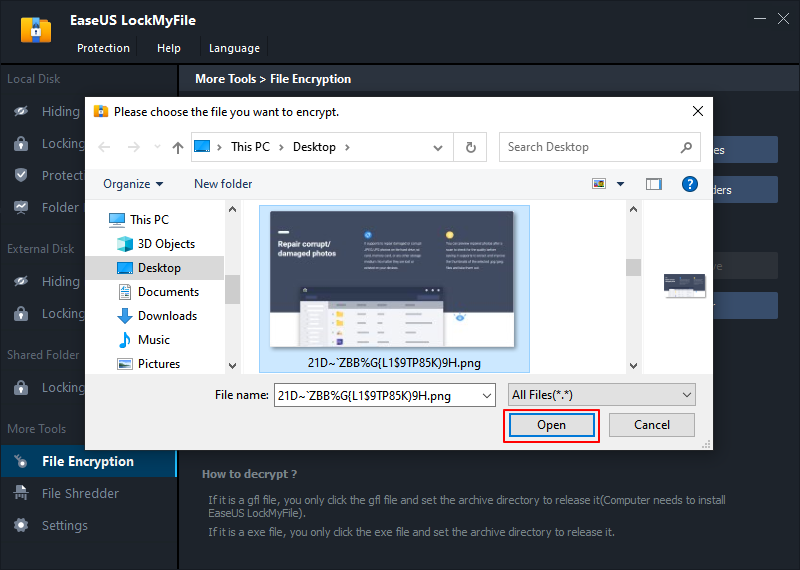 Step 4. Select the encryption mode: Encrypt to gfl or Encrypt to exe.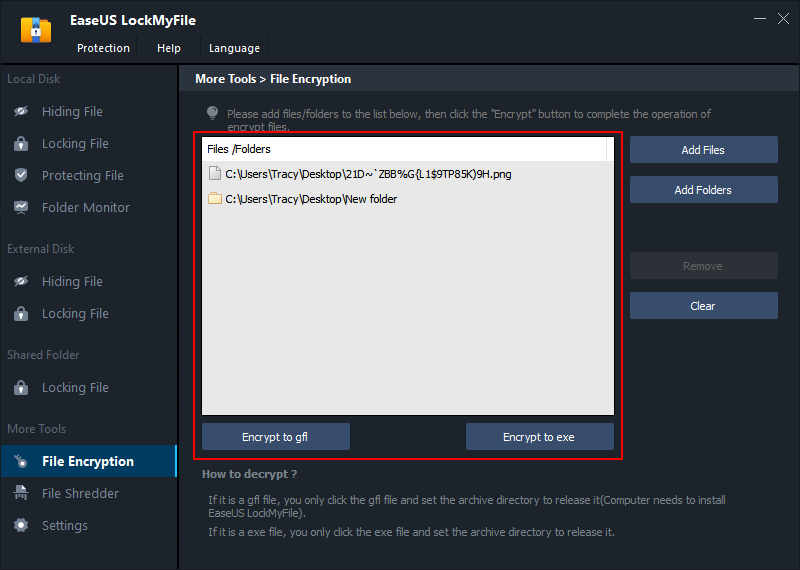 Step 5. Browse a safe location on your PC,  rename the encrypted file or folder, and click Save to save the encrypted files/folders.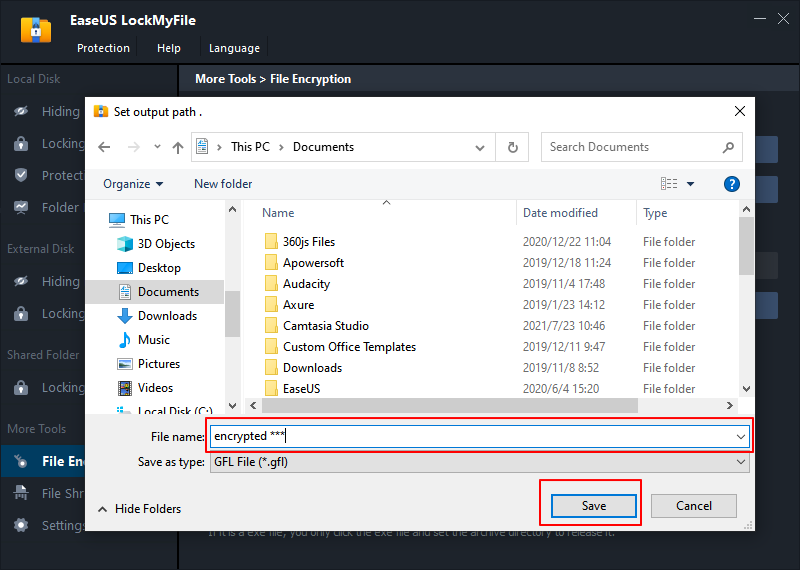 How to Password Protect Individual Files on USB Flash Drive with MS Office
If you are not a Windows Pro or Enterprise user, don't fret, you can still take Microsoft Office's encryption solution to protect Word, Excel, or PPT files on the USB drive in the way below.
Step 1. Open your USB drive, and find the file you want to put a password to. Go to "File > Info". Under Protect Document, select "Encrypt with Password".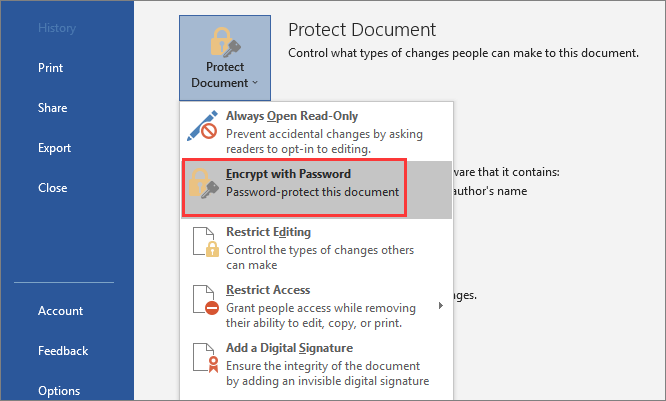 Step 2. Enter a password and confirm it before clicking OK.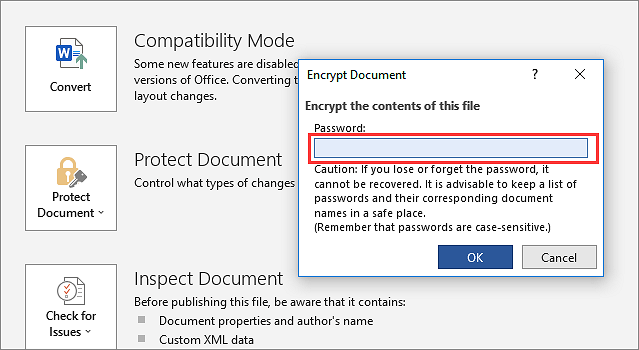 After the password encryption, users would need to enter a password before they can view the file.
How to Password Protect a USB Drive on a Mac
If you're using a Mac, there is no need for you to apply a third-party tool to encrypt your USB flash drive. Mac offers FileVault feature to password protect a flash drive on Mac in simple clicks.
First, you need to format the flash drive on Mac with an Apple-compatible file system.  Back up your USB drive before format.   
Step 1. Connect the USB flash drive to your Mac.
Step 2. Open Finder and right-click the USB drive, then select "Encrypt".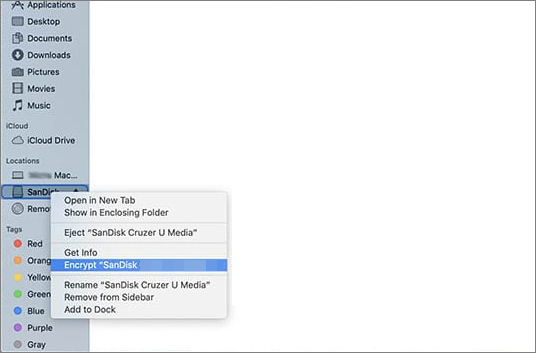 Step 3. Enter the password and confirm it. You can also add a hint to help remember the password later.
Step 4. Select Encrypt Disk to complete the encryption process.
Final Thoughts
These are easy ways to password protect a USB drive in Windows and Mac. Depending on certain needs, you can either encrypt the entire USB drive or password protect folders or files. Whichever option you choose, it can help you protect your USB drive, keep sensitive data from falling into the wrong hands, and prevent data breaches and security incidents.
Related Articles - ALSO ON EaseUS SOFTWARE