Ensure Your Privacy by Knowing How to Hide Pictures On iPhone, Android, Windows, and Mac
Are you the one constantly on your toes when a family member gets hold of your phone to view a picture and the risk of them swiping your gallery makes you sweat even more? We all have been there. Similarly, sharing your laptop with your family members seems too risky as well as they might accidentally discover a private photo or find a confidential picture that you don't want to share, even with your family or friends.
Don't worry; we got you covered with the best ways to hide your pictures on your devices.
Why Is Hiding Pictures Necessary
While there are some memorable pictures that we are proud to share, there are also some pictures that we're not comfortable sharing or we wish to keep private. These can be a picture of a surprise present you want to buy your wife, a job advertisement you are excited about, or simply a photo you don't want to show anyone.
But every so often, you may have to hand over your phone to your family or to your friend who might check all your photos as the temptation can be overwhelming. To maintain your safety and protect yourself from any potential conflict, you should always know how to hide your important photos.
Can I Hide Private Pictures
Yes, you can do that absolutely! If you have got something on your device that you want to hide right away, there are plenty of options that can stop people from accessing your videos and pictures and hide them right away.
Below is a detailed step-by-step guide on How to hide your pictures on iPhone, Android, Windows, and Mac devices.
How to Hide Pictures on iPhone
The simplest method to hide pictures on your iPhone is by using the Photos app. You can easily select the images you want to hide and remove them from the available views; this is how to do that:
Step 1. Tap open your Photos app.
Step 2. Choose the album that contains photos you wish to hide. Now tap and select all the images you want to hide.
Step 3. Tap open the "Share" icon located at the bottom left corner of your screen.

Step 4. Scroll down the pop-up options and choose the "Hide" option.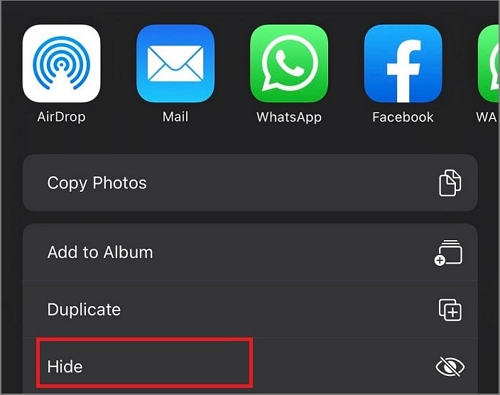 Step 5. The hide option will read differently depending on the number of your selected photos.
Step 6. All your selected photos will now move to the Hidden album under Utilities on the album tab
This is one of the most convenient methods of hiding your photos if you are an iPhone user. You can always choose to show or hide the hidden folder with your phone's settings.
How to Hide Pictures on Android Phones
All the pictures that you click from your android phone end up in our device's gallery, and you need to hide your photos from those two curious sets of eyeballs. Here are two methods that can help you hide your pictures from your gallery on an android phone:
1. Hide Photos in Gallery
The new Android update comes with a feature called "private mode". Using this feature will help you lock and hide your pictures directly from the gallery app. Here's how you can do so
Step 1. Scroll down to Privacy and safety from your phone's setting and select "Private mode". This setting will vary depending on the brand of your smartphone. There might be other built-in settings as well.
Step 2. Turn the toggle button on. Pin, password, or pattern protect your private mode to be able to defend it.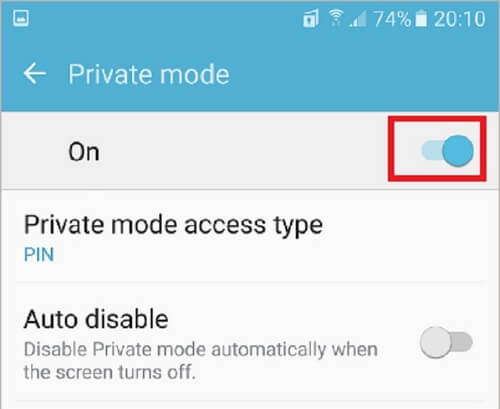 Step 3. Go to your gallery and select the images you want to hide. You will get an option of "Move to Private".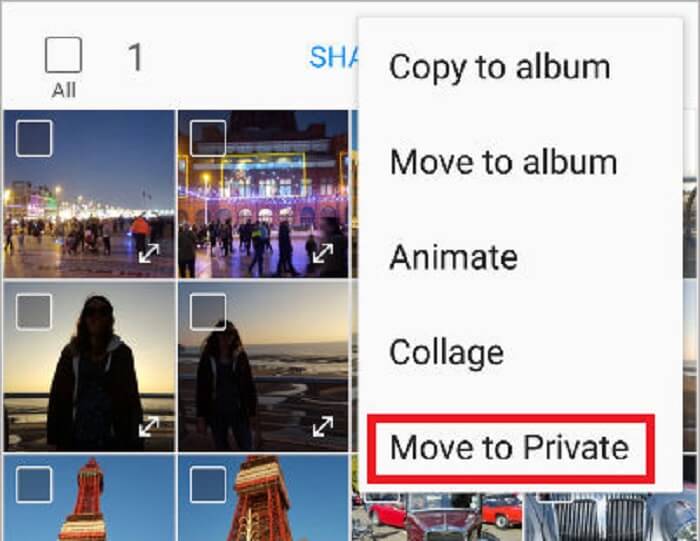 Step 4. Your photos will be moved to a private album that you can only access when you turn on the private mode by entering your pin or password. How amazing is that!
2. Archive Photos in Google Photos
If your Google account is active and synced, your photos might be backing up there as well. Google photos archive option is an easy-to-use solution that can help you easily hide pictures from your phone's album.
Step 1. Open the Google Photos app on your android device.
Step 2. Tap on "Archive" present under the hamburger menu icon on the top left corner of your screen.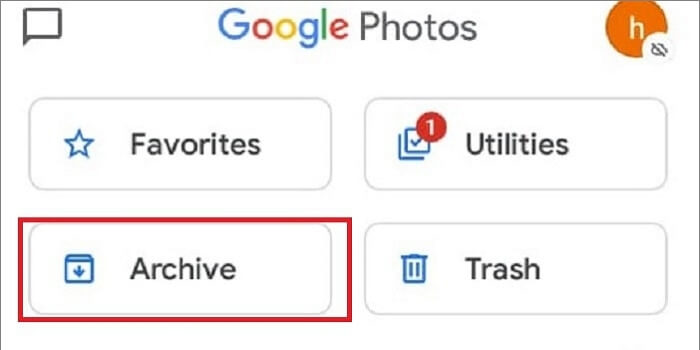 Step 3. Besides the three vertical dots present at the top left of your screen, you'll see the option of "Add photos".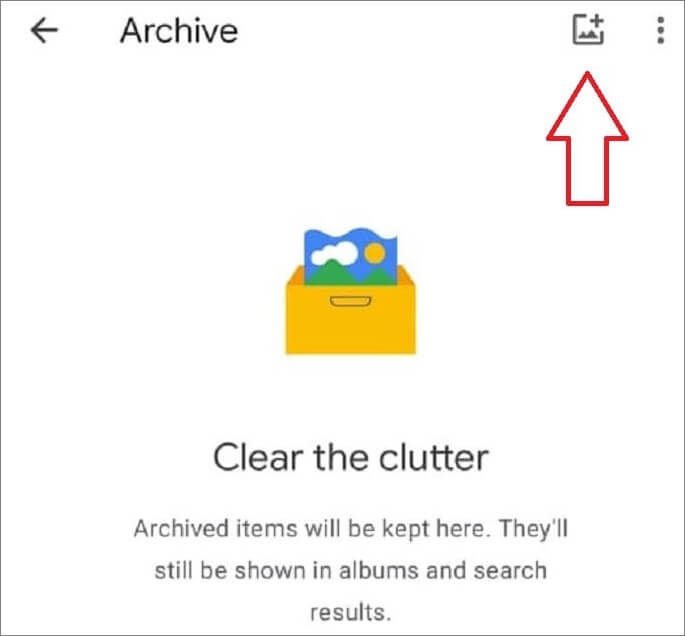 Step 4. Select the photos you want to archive and tap on "Done".
These easy steps will transfer your photos from your gallery and protect them in the archive photos in the Google photos app.
How to Hide Pictures on Windows Computer 
Windows has offered its users a convenient way to hide their photos or necessary file, which is:
1. Set Photos as Hidden in Windows
Step 1. Choose the photo you want to hide from your computer and select "Properties" by right-clicking on that picture.
Step 2. From the attributes, select "Hidden" and click on "OK."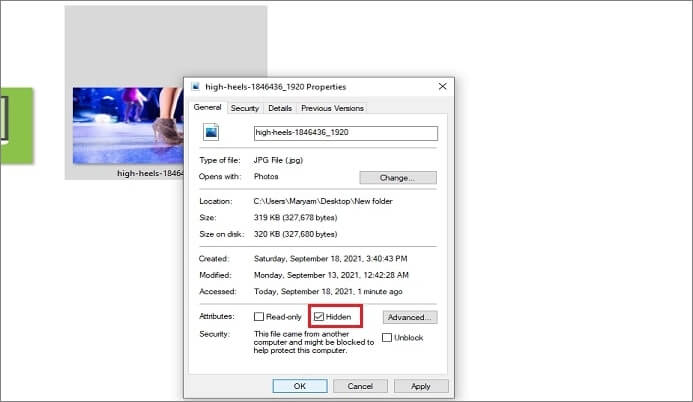 The photo will be hidden from your computer until you click on the unhide photo.
Method 2. Use EaseUS LockMyFile to Set Photos as Private
EaseUs LockMyFile is a convenient file lock tool that can hide and keep photos privately on Windows drives and external storage devices. The tool offers encryption up to military standards. 
It allows hiding photos and folders on multiple devices like a flash drive, external USB drive, internal hard drive, and many more. Other advanced features are password-protect folders/files, locking hard drive/USB, encrypting files/folders, and more. 
You need to download the EaseUs LockMyFile tool to secure your precious files. It's quite easy to use.
Step 1. Run EaseUS LockMyFile, and select "Hiding File" under the module of "Local Disk ".
Step 2. Click on the "Hide File(s)", "Hide Folder", "Hide Drive" button to select the file/folder/drive you want to hide. Then they will be add to the list. You can add files as many as you want.
Step 3. Click "OK" to start the hiding process.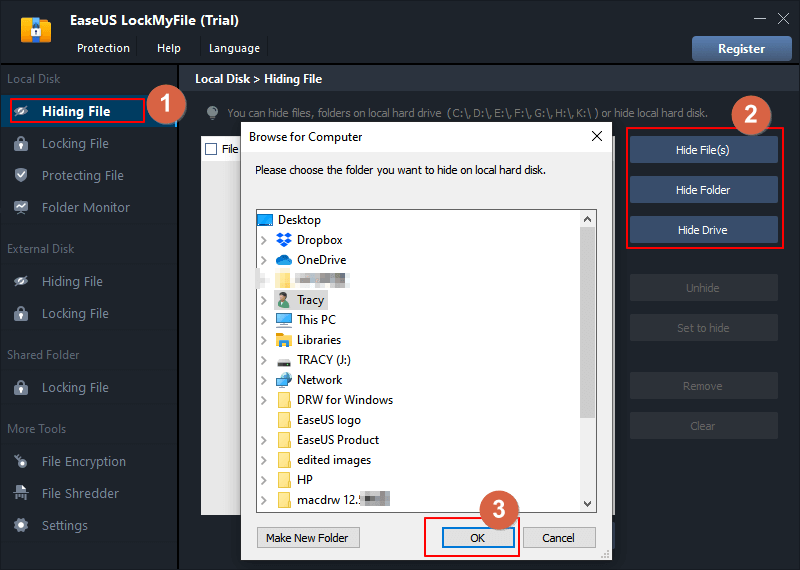 How to Hide Pictures on Mac Computer 
You can use multiple select images on your Mac computer, or you choose pictures one by one by following these steps:
Step 1. Choose the picture you want to hide from your phone's photo app album.
Step 2. Right-click on the picture you want to hide and choose "Hide x Photos." The hide option will read differently depending on the number of your selected photos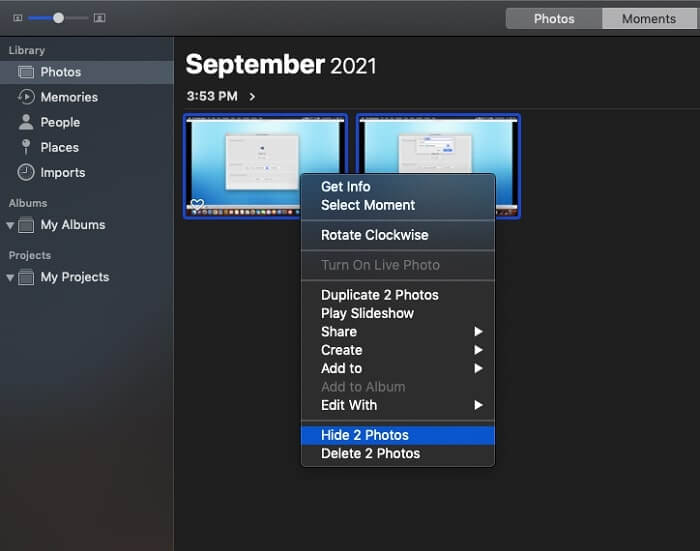 Step 3. Confirm that you want to hide the image, and your picture will be moved from the album view to the hidden photos album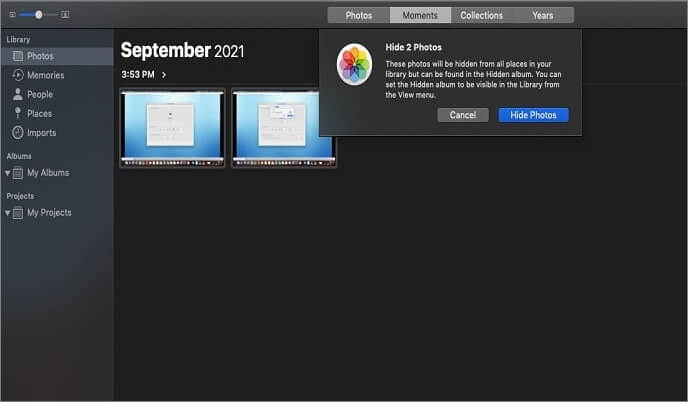 Once the pictures are hidden, you will no longer view them in your general photos library.
Conclusion: Hiding Essential Pictures Is Necessary
Deleting your precious pictures when someone asks for your phone should not be the only option as you may not be able to recover that pictures again. Privacy protection is important. Whether you have Mac, Android, iPhone, or a basic PC, we've explained in detail how you can hide your pictures from prying eyes.
So, whatever your gadget is, save yourself from embarrassment and shield your devices with the methods we have mentioned above.
Related Articles - ALSO ON EaseUS SOFTWARE