How to Download Protected Videos from Any Website - 2 Methods

Brithny updated on Sep 21, 2022 to File Lock
Cybersecurity is a big concern nowadays. Therefore, it is advisable to keep your online and offline data protected with a high-end security system. 
That's why many people are today using passwords or encryption to protect their video content from unauthorized downloads. Specifically, websites that offer exclusive video lessons protect videos so that no one can download their premium content without proper access. In fact, you can't download videos directly from sites like YouTube, Vimeo, Facebook, Dailymotion, etc. 
However, if you want to download protected videos on your computer to watch offline, edit videos, or do other purposes, you can easily do that. Yes, it is possible to download protected videos from any website with a few simple steps. 
If you have legitimate reasons to download the protected videos, scroll down to find the two robust methods to download protected data on your computer. Let's dig in. 
How to Protect Videos on Your Computer
Before discussing methods to download protected videos, let's understand how to protect videos on your computer. That's because your computer faces many threats, including viruses, malware, or system failures. Also, if you share your computer with your kids or colleagues, it is better to keep videos or other data private and secure with powerful data security software. 
One of the easy and intuitive tools to protect videos on your computer is EaseUS LockMyFile. This software can password-protect, hide and fully encrypt your videos on your computer. Overall, it is a complete security solution for your device that can help you:
Hide, lock and protect files or folders on your local hard drive as well as an external hard drive. 
Allow you to encrypt data files to GLF or EXE formats. 
Help you shred unwanted videos on a local or external disk. 
You can create an Exclude List to filter out the videos or programs that you don't want to lock. 
Program Log offers a history of all your operations. 
Self-protection mode prevents anyone from deleting your videos without a password. 
It sends you an email notification when someone adds the wrong password five times. 
Let you set a password for your videos shared on a network that limits access. 
 The best thing about EaseUS LockMyFile is that it is very easy to use. You can lock your videos with the windows explorer context menu or can simply drag and drop them to the program's main window. Also, if you forget your set password, you can recover it with your predefined email. 
You can today leverage EaseUS LockMyFile free trial and protect videos on your computer using these easy steps:
Step 1. Launch EaseUS LockMyFile, enter the valid email, and set password to register.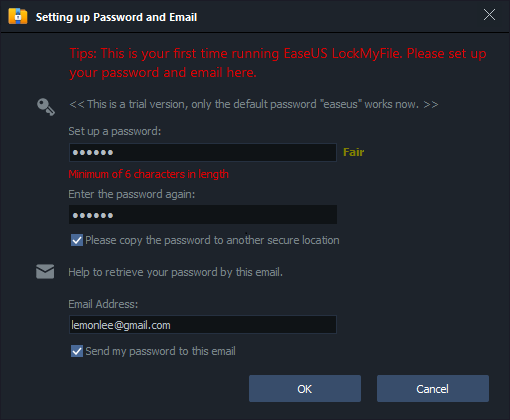 Step 2. Click Protecting File under the Local Disk. Select Protect File(s) ,Folder or drive from the right panel.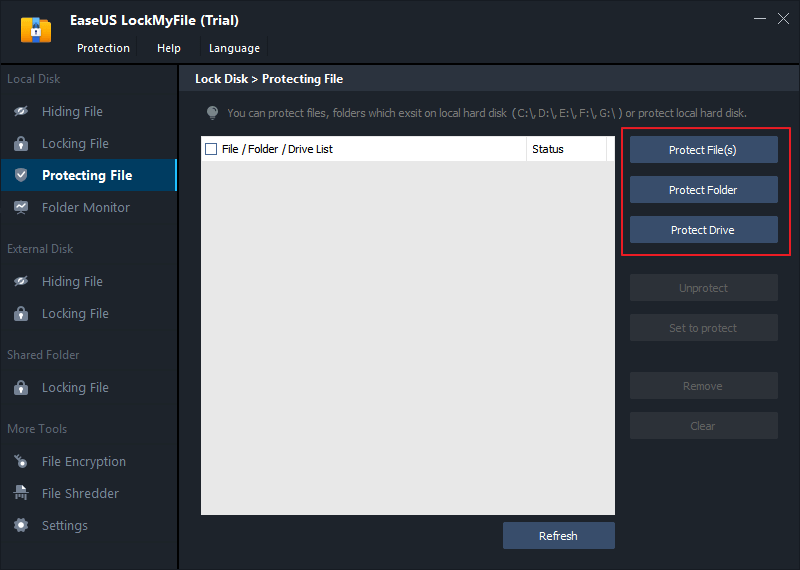 A. Add file(s) or folder from the specific location.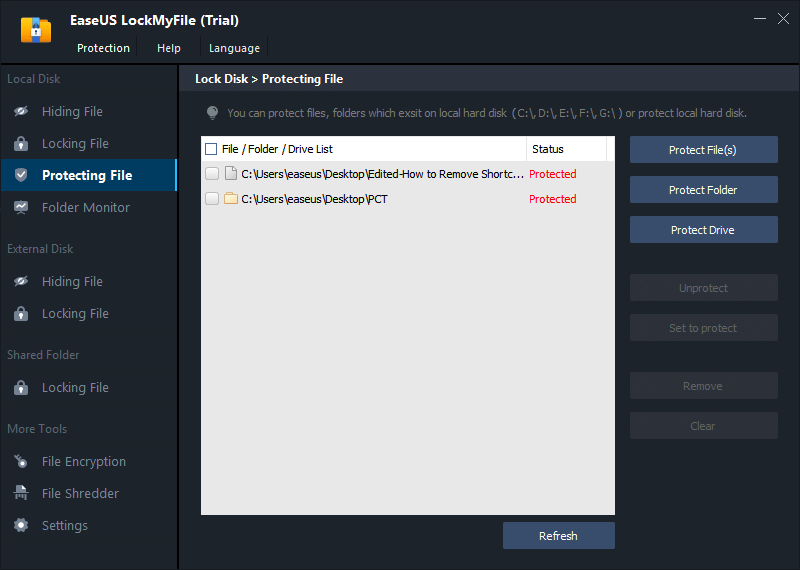 B. Click on the Protect Drive to add drive you want to protect. Select drive and click OK.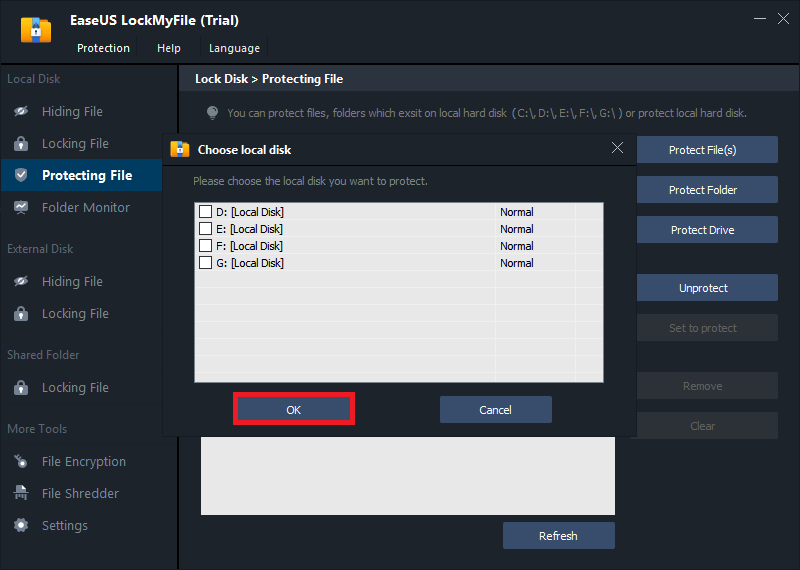 Step 3. Check and confirm the files, folder, and drive that you want to protect.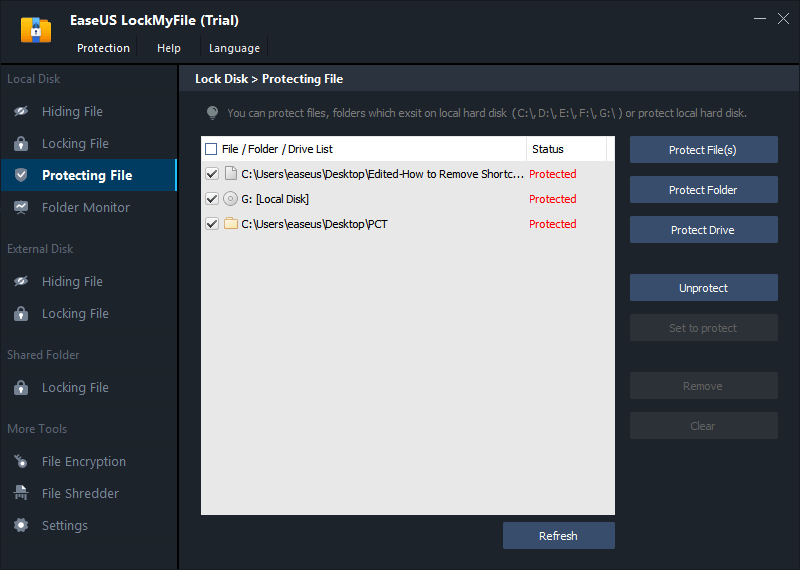 Notes:
If you want to unprotect the selected files, folder, or drive, tick the target data and click on the Unprotect button.
How to Download Protected Videos from Any Website
Whether you want to download a tutorial from YouTube to watch offline or you want to save your friend's Facebook videos, you need to get the right software to do the job. That's because all videos shared on social networking sites are encrypted due to security reasons. Thus, you can't download protected videos simply on your computer or phone. 
Here are the two easy methods to download protected videos on your device: 
Method 1. Download Protected Videos using EaseUS MobiMover
EaseUS MobiMover is one of its kind software for the data transfer between two iOS devices or an iOS device and a computer. This software helps you download protected videos from any website, including Facebook, YouTube, Vimeo, or others, to your computer and mobile phones. 
The software is compatible with iOS 14 or higher and all the leading Windows or Mac versions. Additionally, it can transfer and backup your videos on your computer or other devices in one click. 
Some of the other amazing EaseUS MobiMover features are:
Enables you to download protected videos from any popular site such as YouTube, Vimeo, Facebook, Instagram, and more. 
Allows to save online videos to iOS devices without iTunes or jailbreaking your device. 
Facilities to download high-quality videos on Windows or Mac computers. 
Supports download in multiple video formats such as MP4, MKV, AVI, MOV, FLV, and more. 
Effective tool to build personalized playlists by simple drag and drop. 
The software can also display all your valuable content information, including photos, contacts, videos, messages, and more. 
It is the best and simple alternative for iTunes. 
EaseUS MobiMover features list is quite big so let's not drag anymore and check out steps to download protected videos from any website using this powerful tool:
Step 1. Launch EaseUS MobiMover, go to "Video Downloader", and choose to download YouTube videos to your computer.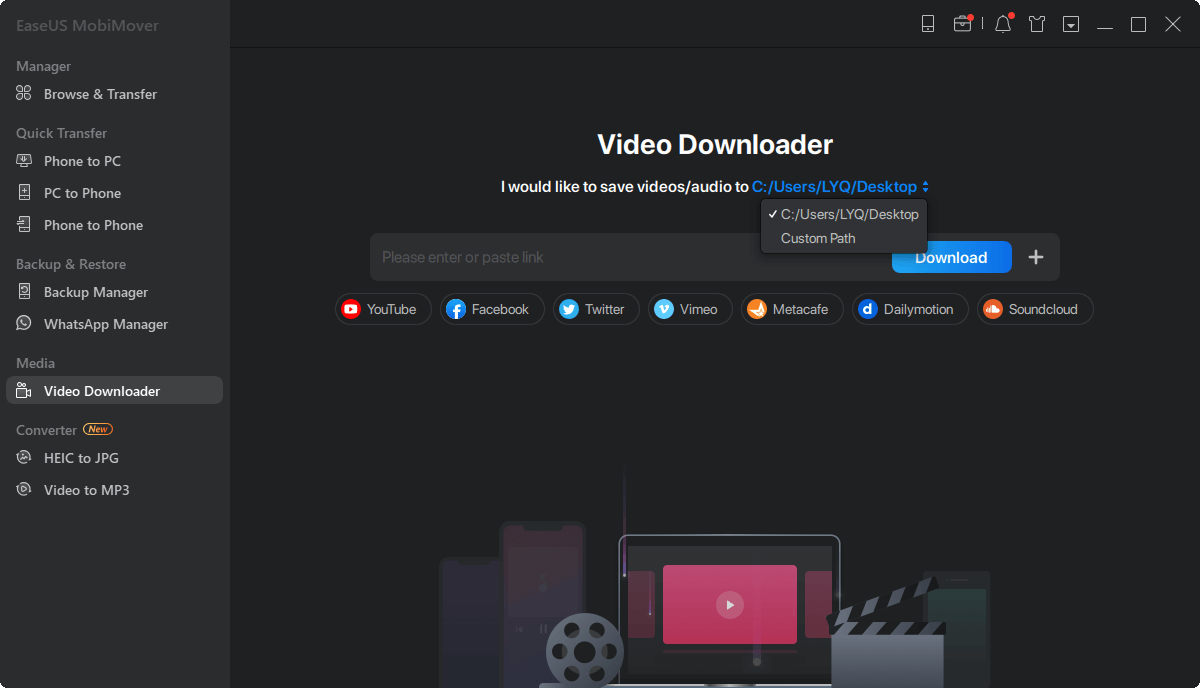 Step 2. Copy the URL of the YouTube video, paste it into the bar, and then tap the "Download" button.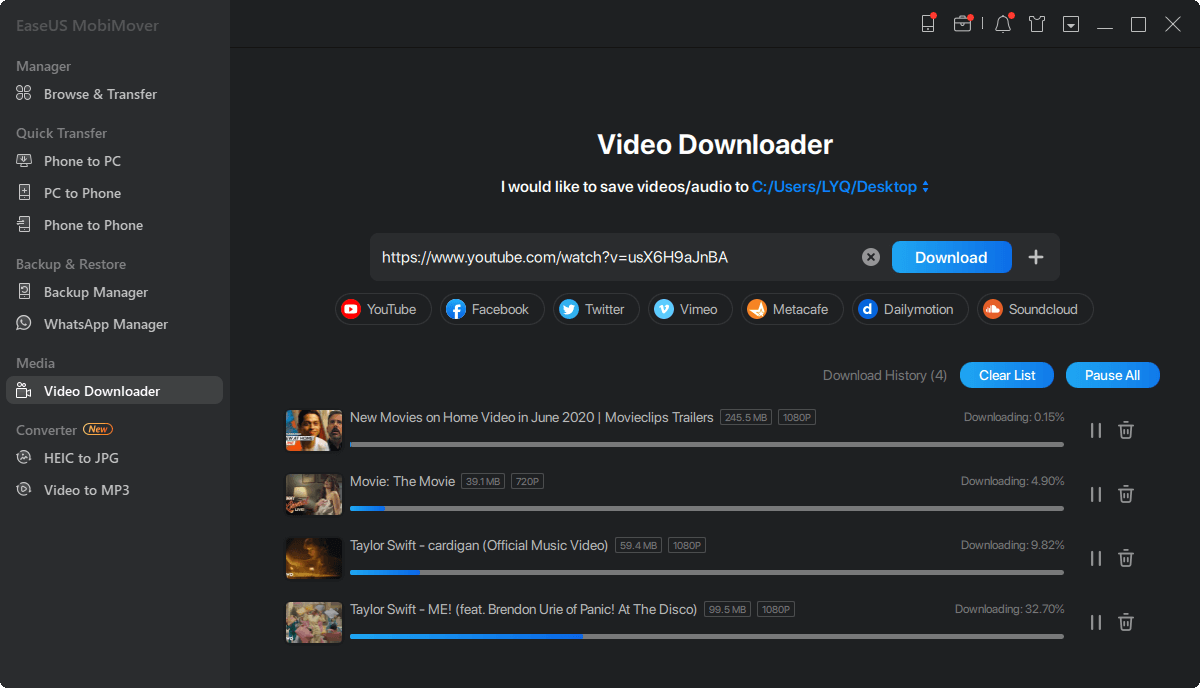 Step 3. Then MobiMover will quickly analyze the URL and download the YouTube video to your computer. When it has finished, you can find the video in the selected folder on your computer and enjoy it offline.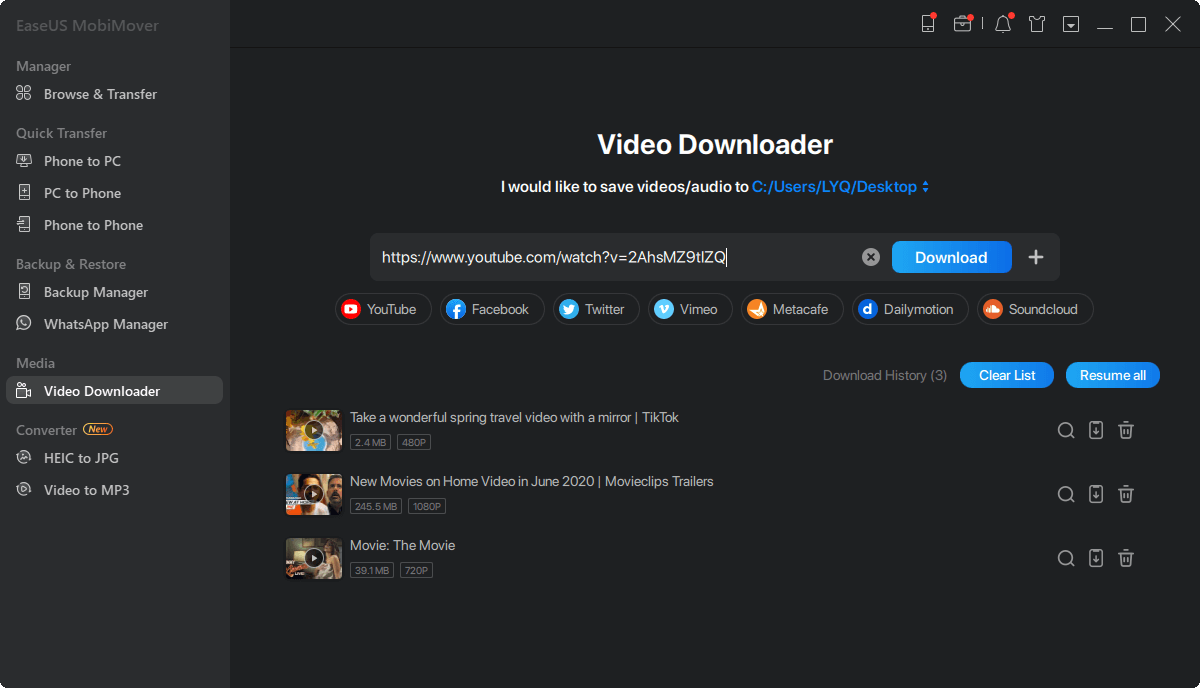 Method 2. Download Youtube Videos with an Online Downloader
If you want to download protected videos from YouTube only, you can find numerous YouTube downloader software online. Here you have to first download the video downloader on your computer or phone; you can download the videos as per the software guidelines. 
However, this method has some shortcomings, such as: 
It allows you downloading videos for free for a limited time. 
Many YouTube downloader tools aren't compatible with various file formats. 
You may find quality issues with some free online video downloader tools. 
However, if you found a free online YouTube video downloader, you can use this method to simply download protected YouTube videos. You can find many free YouTube downloaders online like Y2Mate.com, Snapper, etc.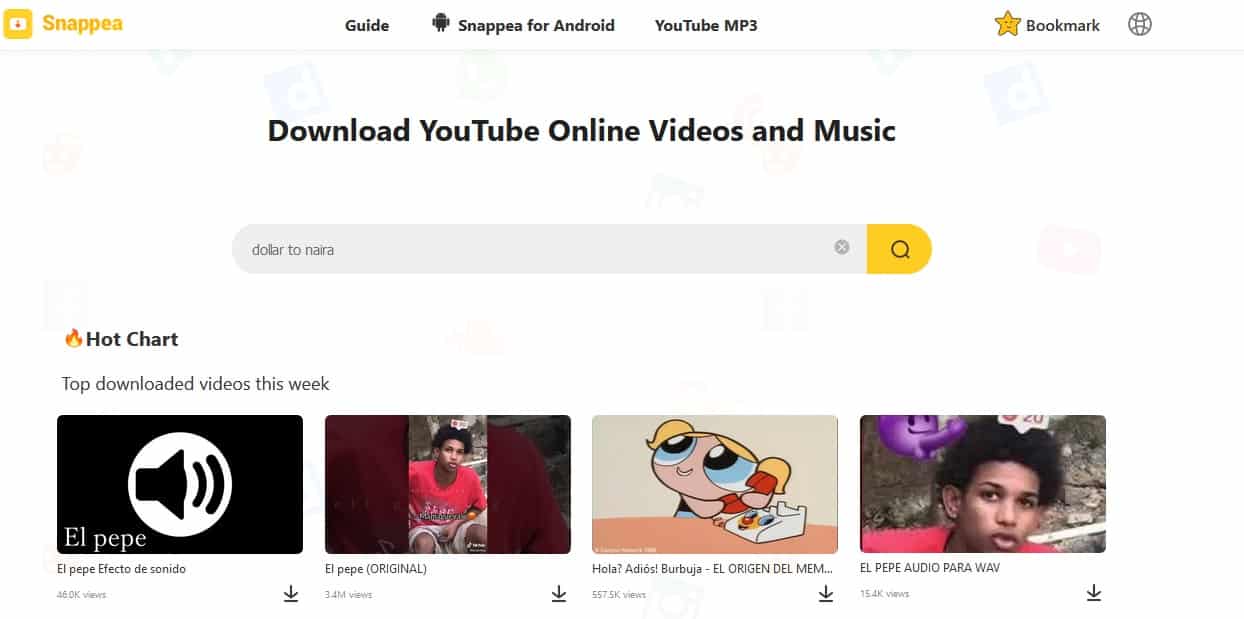 You have to follow a different set of instructions to download YouTube videos using different tools. However, the basic steps are the same:
Just open the YouTube video downloader app or website. 
Enter the YouTube video link and hit Download. 
Choose the desired format and download the video on your device. 
Parting Thoughts 
Video protection or data protection is very important to prevent your content from unauthorized access. Therefore, once you download the protected videos on your device, don't forget to use EaseUS LockMyFile to lock, hide or protect your videos. 
This one tool can help you fully protect and encrypt data on your computer. So, let's select the right mode to download online videos and then safely store them on your computer.