How to Fix Photo Vault Forgotten Password on a PC and Mobile
Imagine you have stored all your special family vacation or your work photos on the Photo Vault app, but unintentionally you uninstalled the app while removing junk from your device. 
Now, this sounds horrible because, with the app, all the photos saved on it will also be deleted. However, it is not a bad situation if you remember your Photo Vault password. Then, you can simply reinstall the app and enter your password to recover all your photos. 
If you have forgotten your Photo Vault password, you need to worry. That's because, without a password, you can't access your photos or can recover them on your device. In short, you will lose your photos permanently unless you have a backup somewhere else. 
Since accidentally deleting the app or forgetting a password is a common scenario today. Thus, we did some research and found solutions to recover the Photo Vault forgot password on mobile phones or computers. So, let's not stress anymore and recover your forgotten Photo Vault passwords now. 
How to Recover a Forgotten Photo Vault PIN
Photo Vault is a popular app to hide and lock photos, videos, and other media files on mobile phones and computers. This software helps iOS and Android users to create a unique PIN code to hide their photos from prying eyes. However, it is highly recommended to remember the PIN; otherwise, you can lose your important files. 
Unfortunately, if you don't remember your Photos Vault password and have unintentionally deleted the app or due to some other reasons, the app has stopped working for you. In that case, you can still recover your Photo Vault content on iOS and Android devices. 
Here are the few solutions to recover your Photo Vault forgotten password:
Solution 1. Recover a Forgotten Photo Vault PIN on iPhone
For iOS users, there are three solutions available to recover a forgotten Photo Vault PIN, such as: 
Use iTunes Backup 
If you have already backed up the Vault app to iTunes before deleting it from your iPhone, you can easily restore the app using iTunes backup as follows: 
First, connect your iPhone to your computer and then open iTunes. 
Once iTunes recognizes your device, it will appear on your iTunes screen. 
Now, go to the General tab and click open the Restore Backup button. 
You can now find all backups that you have created previously. Just select the relevant backup and click on the Restore button. 
Once the restoration is completed, your Photo Vault app password, along with all your data, will be recovered on your iPhone.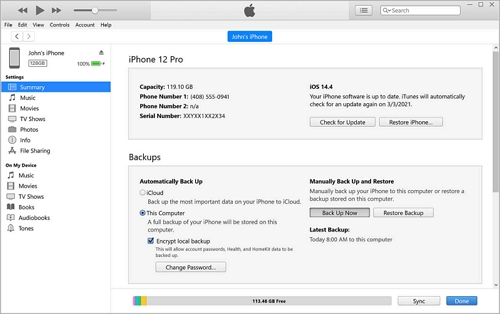 Use iCloud Backup 
Similarly, if you have backed up your iPhone on iCloud, you can easily recover your Photo Vault forgotten password and deleted it by following steps:
You have to factory reset your iPhone by navigating to Settings > General > Reset > Erase All Contents and Settings. 
Now, when your device resets and reaches the Apps and Data screen. Just tap on the Restore from the iCloud Backup option. 
You will be requested to sign in to your iCloud account using the Apple ID and password. 
Just select the relevant backup file using the date and time filter, and the restoration will start.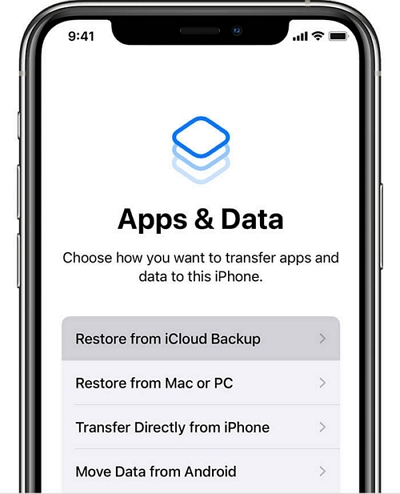 Use Third-party Tools 
If you haven't backed up your Photo Vault app on iTunes or iCloud, you have to use third-party iPhone data recovery software to get back your lost images. For that, you can head over to the App Store and find the right iOS data recovery software to restore the forgotten password. 
Solution 2. Recover a Forgotten Photo Vault PIN on Android 
If you are an Android user, you are fortunate like iOS users, and you also have three methods to recover a forgotten Photo Vault PIN, such as: 
Use File Manager 
Mostly, lock applications come in two categories - hiding using encryption and dot files. Recovering files from the encrypted application has less chance than the dot file format. 
So, if your Photo Vault data is stored in the second format, you can use File Manager to recover photos. You simply have to download a File Manager software and easily recover your photos from Photo Vault. 
Use Vault App 
If you have just deleted the photos but not the entire app from your Android phone, you can use this method: 
First, open the app and click on Photos. 
Then, go to Menu > Manage photos or videos. 
Select the photos that you want to recover and click on the Restore. Just click on the OK button, and your photos will be recovered. 
Use Third-party Tools 
Like iOS data recovery software, you can download the Android data recovery software from Play Store and retrieve your Photo Vault content without a password. 
How to Protect/Lock Photos on a PC or a Phone
Now, you must be wondering whether it's a good idea to store your photos in the vault app or not. Well, people, it is a good idea to protect your photos on vault apps because:
Vault apps can hide your private photos, videos, and documents from prying eyes. 
It can free up storage on your device. 
Secure your personal information and so much more. 
However, you need to use the right method to lock/protect your PC or phone photos. You need to store photos in the perfect vault-app so that if you forget your password, you won't lose your data. 
Here are the simple and easy ways to lock photos, videos, or other documents on your PC and phone.
How to Lock Photos on a Windows PC
To hide, lock and protect photos on your Windows PC, you should use the EaseUS LockMyFile. It is a military-grade level encryption software that can hide and lock folders on your flash drive, external USB drive, internal drive, and more. 
With EaseUS LockMyFile, you will get numerous features to secure and hide your photos, such as:
Monitor a disk or folder when you make changes. 
It can encrypt your photos into GFL and EXE formats with the AES algorithm. 
You can exclude certain photos from the lock list. 
Using Program Log, you can anytime view all your operational history to recover files. 
When you or someone else enters the wrong password 5 times, the software will send you an alarm notification on your email. 
EaseUS LockMyFile has a plethora of features to safely and easily password protect your photos and other data. You can lock your photos on the software just as follows:
Step 1. Launch EaseUS LockMyFile, register with your email address and set a software protection password.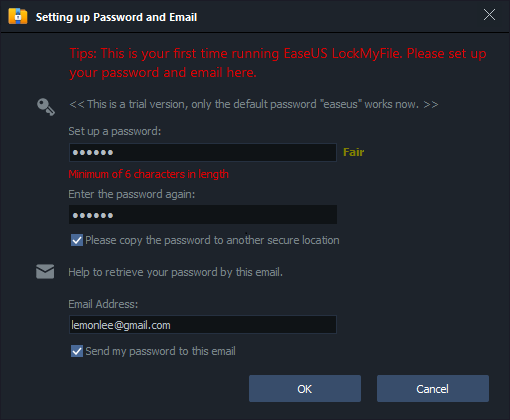 Step 2. Click Locking File on the right side. There are three options available: Lock Files, Lock Folder, and Lock Drive.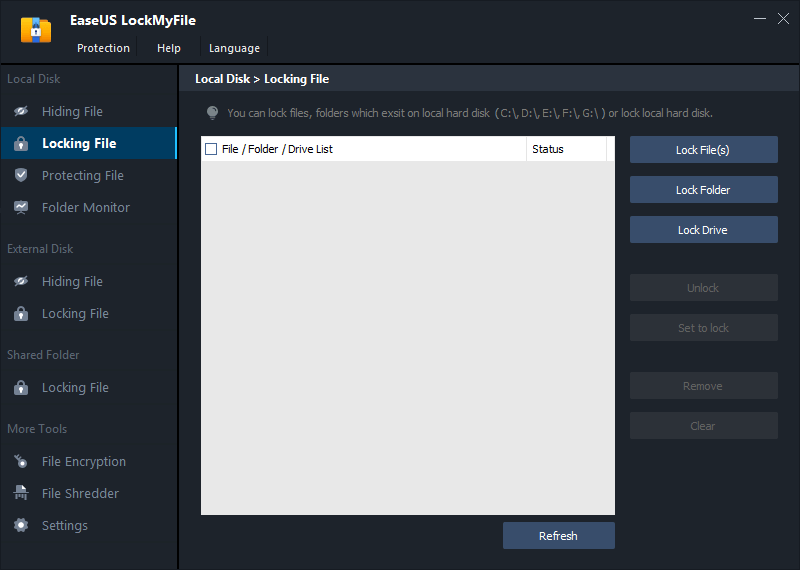 Step 3. Click Lock File(s), and choose the file you want to lock from your computer, and click Open to confirm.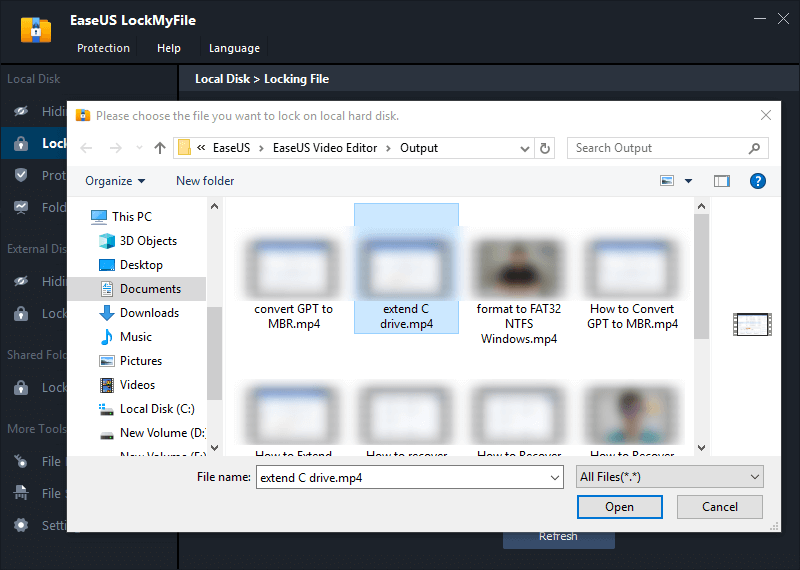 If you need to lock a folder, the operation is the same. Click Lock Folder, choose the target folder, and click OK to confirm.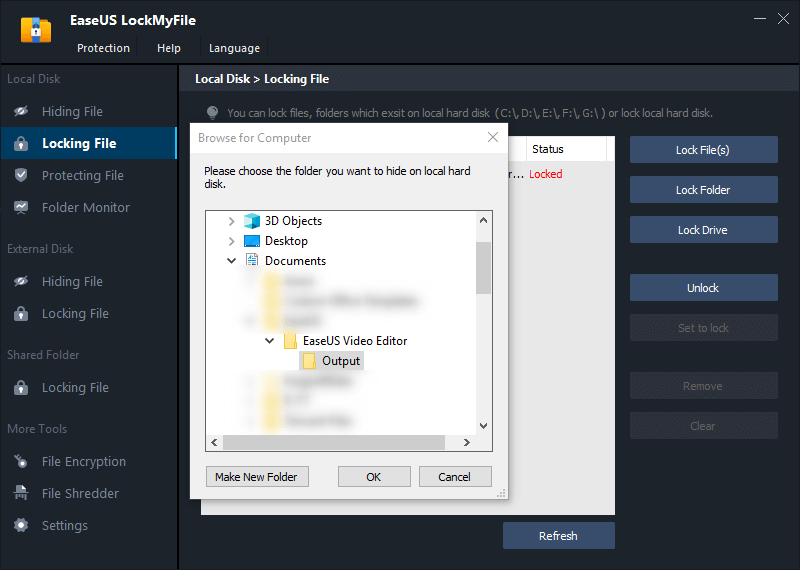 Step 4. You can check the status of your chosen files or folders now.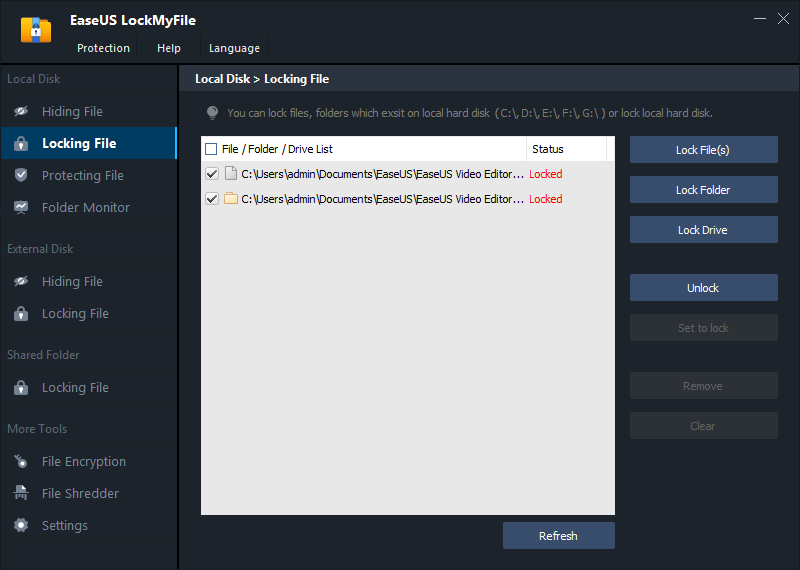 How to Lock Photos on a Phone
Unfortunately, EaseUS LockMyFile isn't available for mobile users yet. However, in both iOS and Android, some built-in methods to lock photos are available. 
Lock Photos on iOS Devices 
iPhone users can lock or hide photos using the Photos App easily. They just have to:
Open the Photos App and tap on the Select button from the top-right corner. 
Select the photos that you want to hide on your device. 
Tap on the Share Menu button. 
Scroll down to the Hide option and confirm to hide photos.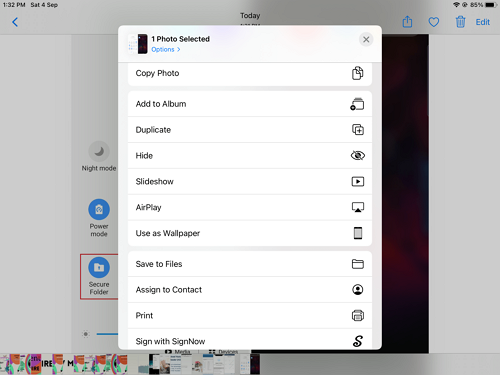 All the hidden photos will be moved to the Hidden in the Photos App. You can go to Albums > Utilities to access the Hidden photos anytime. 
Lock Photos on Android Devices 
If you have an LG or Samsung Android phone, you can easily lock your photos by setting up a secure folder. 
Samsung users go to Settings > Lock screen and security > Secure Folder. Then, sign in to your Samsung account and upload photos to your secure folder.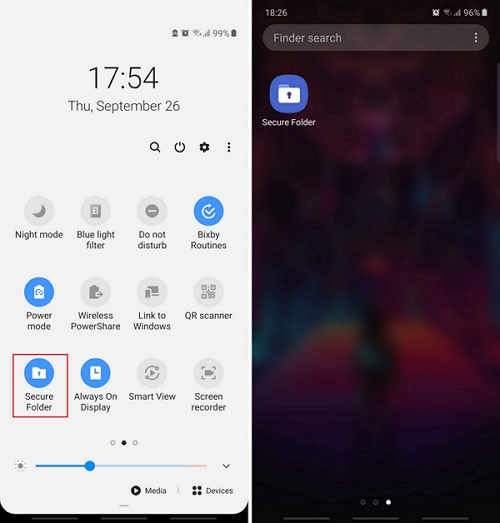 LG users have to head over to Settings > Fingerprints and Security > Content Lock. Now, set a security PIN, go to the Gallery app, and tap on Menu > More > Lock to hide your photos.

However, if you aren't an LG or Samsung Android phone user, you have to either get a File Manager or third-party vault app to lock your photos. 
Parting Thoughts 
Forget your Photo Vault password? Then, no need to worry as you can easily recover your lost photos using backup on iOS or File Manager on Android. You can also use third-party apps if nothing else worked for you. 
However, if you use powerful software like EaseUS LockMyFile, you don't have to worry about losing your data as the tool is highly secure. Also, you can use the built-in methods to lock or hide your photos on your phone. 
Overall, it is good to password protect your photos or other data; just remember to use the right method and try not to forget your passwords.
Related Articles - ALSO ON EaseUS SOFTWARE