How to Track A Samsung Phone [2022 Update]

Cedric updated on Sep 21, 2022 to Find360 - Location Tracker
"How to track a Samsung phone?" Are you wondering the same? This is a common question asked by many Samsung users. 
If you've been one of the Samsung users and want to know how to track a Samsung phone, this post is for you! Continue reading to know more about how you can easily and quickly track your Samsung phone. 
Introduction 
Tracking your mobile phone location is one of the great features that Samsung is offering. It can help you get your device and its essential data back. But, when do you need to use this feature? Most of the time, when the phone is lost or stolen, you can use the tracking option to locate it. This feature will share the exact location where the phone is currently available.
In this article, we will share how you can track your Samsung device using the "Find My Mobile" feature. We will also share three simple and easy ways to track your Samsung phone location.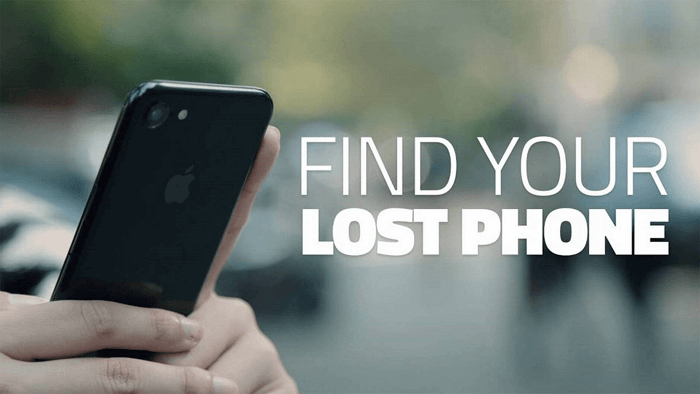 What Is Samsung's "Find My Mobile" Service
While there are many reasons to track your Samsung phone, the process can seem daunting. However, there are a few easy methods that can help you to get started. First, many Samsung phones come with the "Find My Mobile" feature. This works like a Samsung phone tracker. It can help you remotely locate, backup, or erase your Samsung device data if it is lost or stolen. The service is available for all Samsung devices running Android 4.0 or higher. To use the "Find My Mobile" service, you must create a Samsung account and register your device.
Features of "Find My Mobile" Service:
Set up a security PIN: To help prevent unauthorized access to your device, you can set up a security PIN that must be entered before anyone can use it.
Remotely locate your device: You can use the "Find My Mobile" service to track the location of your lost or stolen device in real-time.
Lock your device: If your device is lost or stolen, you can use the "Find My Mobile" service to lock it to prevent unauthorized access.
 Erase your device: If you need to, you can use the "Find My Mobile" service to erase all data from your lost or stolen device remotely.
The pros and Cons of the Find My Mobile option are listed below.
Pros:
It's free and easy to use
It can help you check the battery status
It can also help you check the WiFi connection it's connected to
You can erase all the data if the device is lost or stolen
Cons:
Not available for devices running Android lower than 4.0
Tracking can be a bit difficult if the device is turned off or not connected to Wifi
Furthermore, several third-party apps like EaseUS Find360 can be used to track your phone. This app can help you track the real-time live location of your phone. Also, it offers some great advantages, like customized notification and complete history, making this tool the best. 
How to Track A Samsung Phone - 3 Methods
Now that you know how great the Find My Mobile feature is. Let's discuss how to track a Samsung phone. In this part, we're going to mention three methods. You can select the method at your convenience.
Method 1. Using "Find My Mobile"
We'll start with the Find My Mobile method as the first one. Samsung provides this feature. Let's check how you can track your Samsung phone using this method. 
Step 1. Open the https://findmymobile.samsung.com/ and sign in to your Samsung account.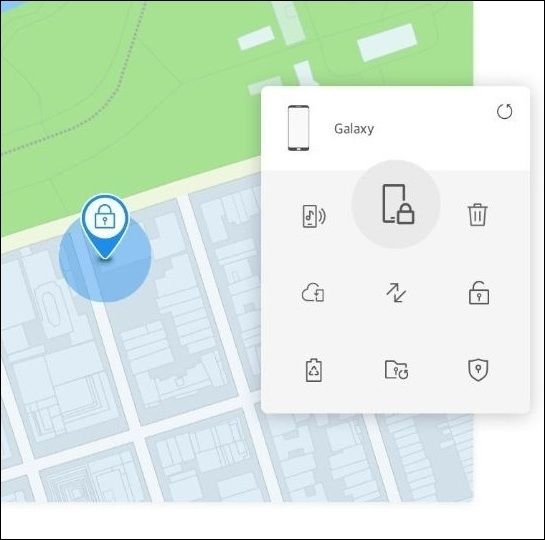 Step 2. Now, you can see all the devices registered in your account. You can select your device that was lost or stolen and track it. Please note that your device must be connected to the internet.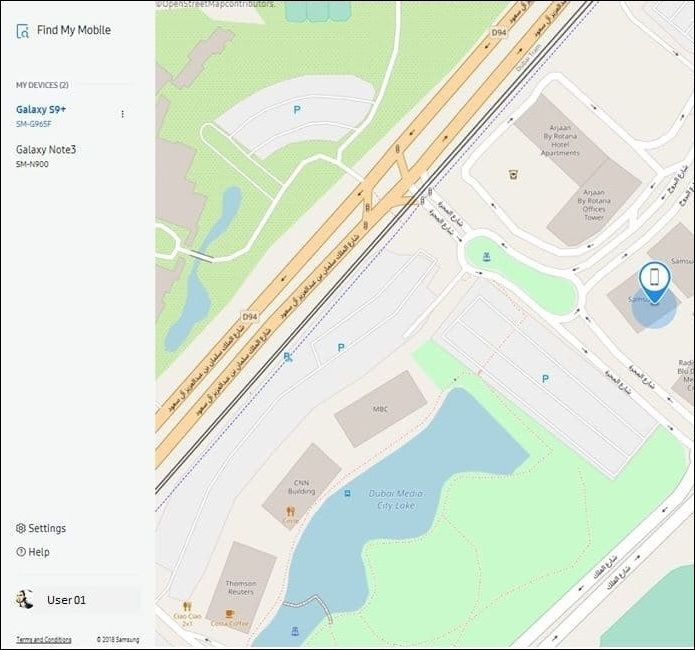 Step 3. You'll have the following options: tracking the location, ringing the phone, locking the phone, erasing the data, backup files, and a few more options. Simply, click on each option, follow the instructions, and you're done. 
Please note that this feature should be enabled on your device. If it's not, it will not work. You can confirm it by following the below steps. 
Step 1. Open the settings option from your menu. Click on the "Lock Screen and Security". Now, open "Find My Mobile". 
Step 2. Check if the account is logged in. Also, make sure all settings are turned on.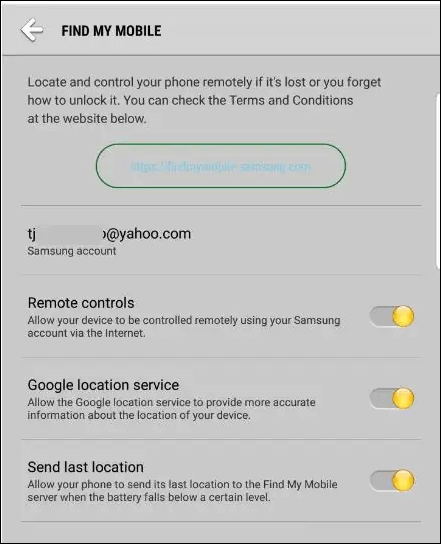 Method 2. Using Google Maps
Above method doesn't work for you? Don't worry. You can try using google maps to track a Samsung phone. Here are the steps to do so!
Step 1. Go to www.map.google.com and log in with your Google account credentials. 
Step 2. Now, click on the three horizontal bar plus icon from the top right corner and navigate to your timeline option.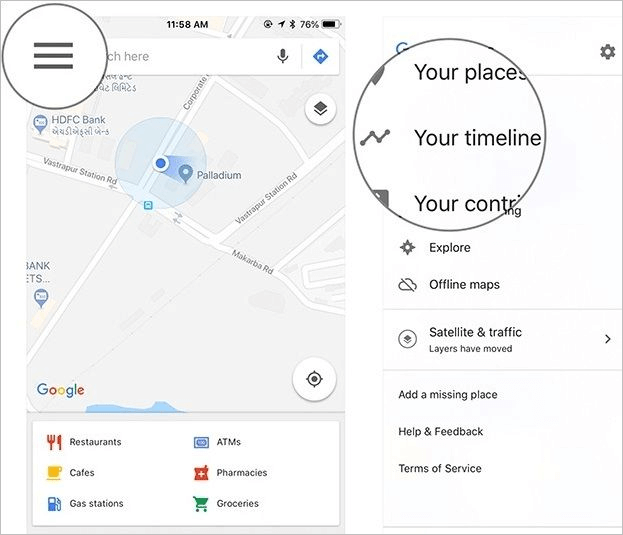 Step 3. Here mention the Year, month, and day you want to track the location. 
Step 4. Just after that google will show your mobile location history with its current location. 
Method 3. Using a Third-Party App
The above manual methods are meant to work but come with limited features. If your Google account is not linked or if you were using a different Google account, you may not be able to use the above features. To make it easy for your, we recommend trying EaseUS find360 as a Samsung phone tracker to reap the most benefits. It fosters everything from simple and easy tracking to an unlimited history check.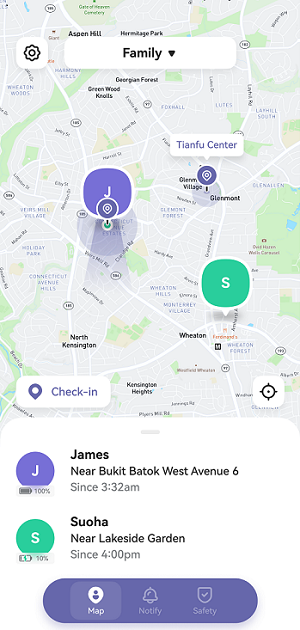 Most notably, you no longer need to monitor your child's every move since EaseUS Find360 provides you with all check-in notifications, allowing you to keep track of your loved ones and assure their safety.
That's not enough. It's available for both iPhone and Android. Yet this app is in one tracker that fosters multilingual features. Some of them are enlisted below. 
Features of EaseUS Find360:
Below are some of the notable features of EaseUS Find 360.
Find an accurate real-time location: You can find the accurate location of your child with its real-time location feature. 
Unlimited access to location history: To check your child is safe and on route when you aren't there, software introduces unlimited location history. It will track the complete day routine and share all the locations he/she will visit.
Receive a customized notification: You'll get the notification right at the time when and where your loved one goes. 
Check-in Tracking: The app allows you to check where your child has just checked in, but you need to ask your child to click check-in after going anywhere.
Location sharing: You can use EaseUS Find360 to share your live location with others. 
Samsung Phone Tracker FAQs
We've mentioned all the needed methods to track a Samsung phone, but there's some more confusion that users want to be solved. Here are the answers to most of the problems that Samsung users might face. 
1. How do I activate "Find My Mobile" on a Samsung device?
To do so, you will need to follow the steps below.
Step 1. Select Apps from the home screen or swipe up to access your apps, then select the Settings option.
Step 2. Now go to biometrics and security.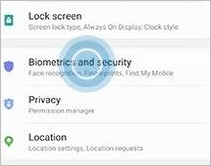 Step 3. You'll find the Find My Mobile option. Just simply click on the switch to turn on the feature.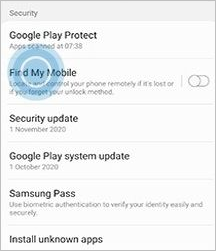 Note: The switch will not be turned on if you do not have a Samsung account on your device. To create a Samsung account, select add account.
2. Can I track a lost Samsung phone?
Yes, you can do it by just following the methods mentioned above. We recommend using EaseUS Find 360 as the best tracking app. 
Final Verdict
This article mentions all the methods to track a Samsung phone. All of them are simple and easy to perform. EaseUS Find360 is what you'll need if you want more than just tracking. The app introduces some incredible features. 
You'll get it all from tracking to check-in and history notification. With that said, download this app to make tracking simpler for yourself.