How to Track the Phone Location - Full Guide

Cedric updated on Sep 21, 2022 to Find360 - Location Tracker
Have you recently lost or had your phone stolen? Do you want to know where your phone is at all times? Here, we'll discuss different methods and provide step-by-step guidelines for tracking your phone location. Continue reading to find out how to track a phone precisely.
It's natural that someone would want to locate their phone if it was lost or stolen, but this can sometimes be difficult. Fortunately, thanks to GPS and mobile technologies, it is possible to trace your phone's location. These technologies have improved to the point that they can now pinpoint a person's exact location. You can get not just the location of the person you're tracking but also the history of all the places he has been.
You no longer need to go to a mobile network operator to track someone. Instead, you can locate a cell phone using a few simple methods. You will receive a thorough walkthrough of these methods in this article.
Why Track the Cell Phone Location
Before we get into the core of our article, we should explain why it is necessary to track the location of a cell phone. You may need to track the cell phone location for various reasons.
To ensure the safety of your loved one.
To track down the whereabouts of a lost or stolen phone.
To backup/erase your data when the cell phone is stolen or lost. 
You're at the right place if you've been trying to track the cell phone location. This article reveals all the methods to track your phone location. Along with that, we'll also unveil the best tracking app, i.e., EaseUS Find360. It's available for iPhone as well as Android devices. Further, it has a simple and easy-to-use interface. 
You can choose the best method that fits your needs, but we recommend relying on EaseUS Find360 as it's an elite tracking app with a user-friendly interface and is easy to use. 
How to Track the Phone Location - Full Guide 
As discussed above, this section will outline every technique for tracking your phone's location. We have included tracking methods for iPhone and Android to make the information more relevant for our readers. For easy understanding, read through each step carefully.
Method 1. Find My Device/Find My iPhone 
This section will outline the most effective way to use your Android or iPhone's default settings to track the position of your phone. Find out how to do it now!
Option 1. Using "Find My Device" for Android Users
Google's Android Device Manager, formerly known as Find My Device, is turned on on modern cell phones if you use Android. You can also download ADM from the Google Play Store.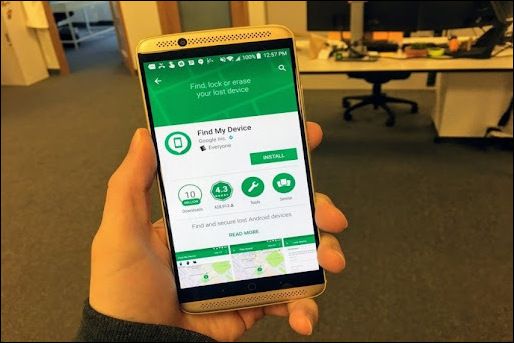 This app offers four options:
Track the current location of your mobile device. 
Ring the phone.
Erase all the mobile device's data. 
Lock it. 
Follow the below steps if you want to know how to track a cell phone:
Step 1. You can start tracking by going to Find My Device on the web. You can use this link: www.google.com/android/device manager. 
Step 2. Signing in with your Google credentials will bring up a dashboard with various options and a location for your mobile device.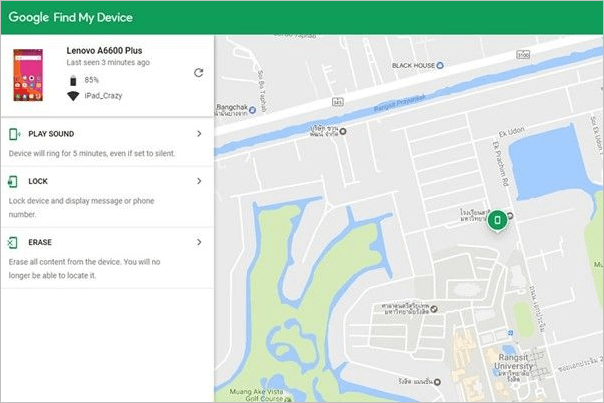 Step 3. Aside from checking your mobile location, you can now perform one of three actions: play a sound, lock, or wipe the complete data of your device.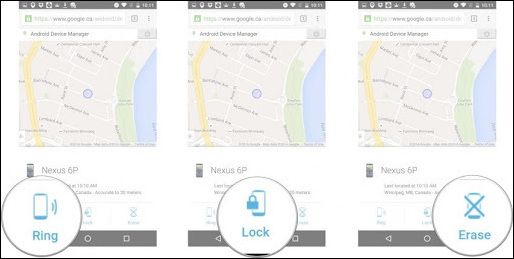 Option 2. Using "Find My iPhone" for iPhone users
Above, we mentioned how to track a phone if you're an Android user. Now, we're going to discuss how iPhone users can track their phones. The "Find My iPhone" feature that Apple includes on most of its phones must be turned on before they are lost for it to function.
Most of the time, you will have already activated this feature as soon as you opened the device, but if you didn't, follow these steps to do so: 
Step 1. To activate "Find My iPhone", go to "Settings" on your iPhone, press your Apple ID, choose iCloud, and finally choose "Find My iPhone".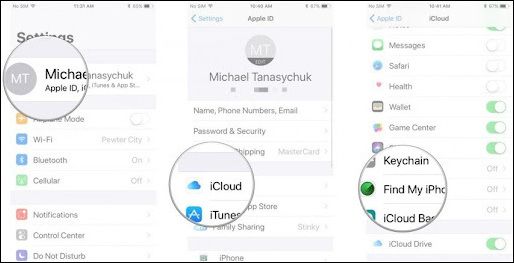 Step 2. Once activated, you may now use any web browser to check the location of your iPhone in iCloud.
Step 3. Go to iCloud.com and enter your login information.
Step 4. In the second row, click the "Find iPhone" button.

Step 5. From here, pick the target device by clicking the selection labeled "All Devices". Once you've found the device you're looking for, you can either wipe your iPhone, send an audible alert, or lock it.

Method 2. Track with Google Maps 
If none of the above techniques work, you can try directly tracking your phone's location using Google Maps. If your device has the "Find My Device" application installed and you've also connected your Google account, then you can quickly track your phone using the "Google Maps" option.
Want to know how to track a cell phone using Google Maps? Here's how to do it.
Step 1. Open Google Maps. Now, go to the Menu and Select "Your timeline". 
Step 2. You'll have the filter option. Enter the date to track your phone on the specific date. It will show the current location plus the location history.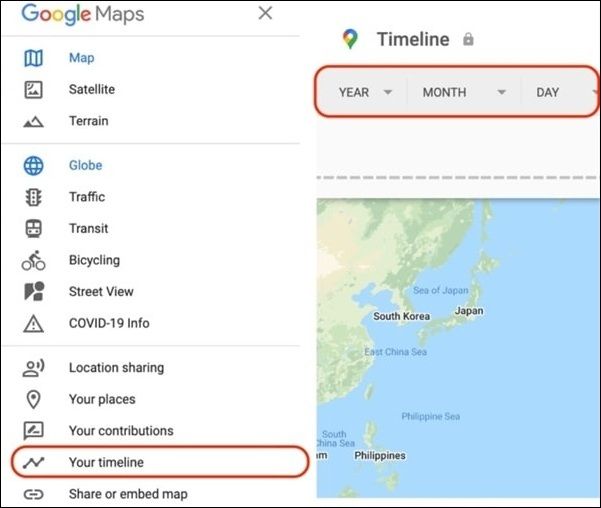 Method 3. Track with EaseUS Find360 
We've given you some general ways, but they're limited in features. Also, there are restrictions when you use those options. For example, when we are tracking a phone using "Google Maps", your device needs to have a Google Account and the "Find My Device" app already installed. In case we didn't install these, it won't track.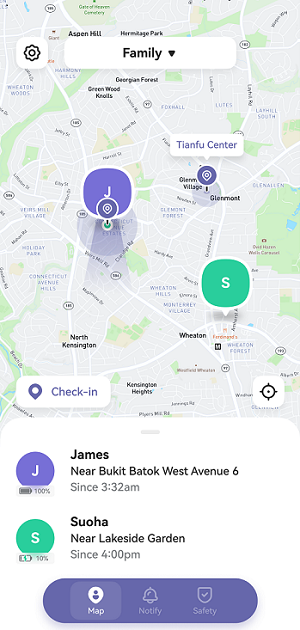 However, there may be instances when you need to track a phone without any hassle or want to set customized notifications. And for that, there is EaseUS Find360, an app that not only lets you track the location of your mobile device but also comes with extensive features. Installing it is simple, and you can always look for online assistance if you have any problems. With this great app, you can easily find the location of your own and your loved ones' mobile devices.
Want to know more about the app? Here are some of its main features. 
Main features of EaseUS Find360
These are some of the main features that this great app fosters. 
Unlimited location history check: You can access your and your loved one's complete location history as this incredible app monitors every location of your loved one. You can track all the destinations without any limit. 
Real-time location track: It allows users access to real-time live tracking. Its powerful algorithm app updates its location frequently, yet users can track the actual live location without any extra hassle. 
Circles: You can create a group/circle and invite all your family members. It can help you track all your family members or friends on one page. 
Available for multiple devices: It supports iOS and Android devices to meet the needs of every mobile user.
Customizable notifications: You don't need to keep an eye on everything as EaseUS Find360 will do it for you. The customized notification will automatically acknowledge you when your child is late for school or hasn't come home.
Check-in tracker: You can track the check-in of your loved one where and when she goes to a different point. 
Highlights
With the key features listed above, it's important to emphasize some of the highlights that will help you grasp the nature of this tracking app.
It is entirely safe to use and acquire.
The company has over 530 million satisfied customers.
Providing excellence to its users for 18 years.
Share your location with others.
Support
EaseUS Find360 is compatible with both iOS and Android devices. You may get it from the App Store or the Play Store.
Track a Cell Phone FAQs
If you've still some queries or questions left, you can check the FAQs below. We've answered some more questions so that you know how to track a phone conveniently. 
1. How to track a cell phone on Google Maps?
This article has mentioned detailed steps to track a cell phone on Google Maps. You can look at Method 2, to continue tracking your phone using google maps.
2. Can I track a phone with just the number?
Yes, you can do so by using EaseUS Find360. This incredible app provides the extensive features that have set it apart from other tracking apps. 
3. How to track a cell phone for free?
Want to know how to track a phone for free? You can use EaseUS Find360. The app has made tracking much easier with incredible features and an easy-to-use interface.

Full Guide to Track Someone Location with Phone Number [Free]
For this article, we shall be looking into the best techniques that can help you understand how to track someone's location with a phone number. We will also go across EaseUS Find360 as the best option for tracking the phone location on iPhone and Android.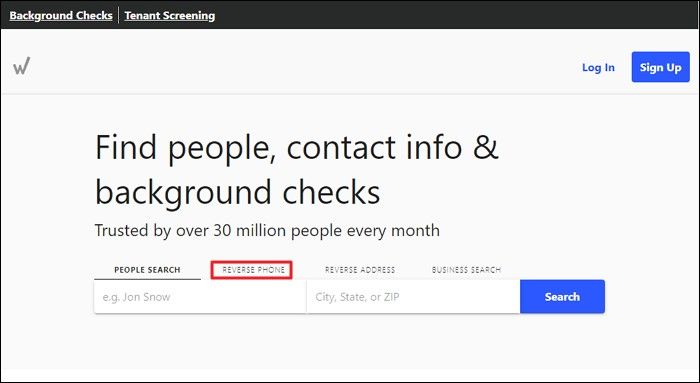 Final Verdict 
Above, we've mentioned easy ways to track your location. You can use these options on your Android and iPhone devices. 
In a number of situations, such as the excitement of purchasing a new phone, we could forget the necessity of installing software to track a cell phone, and once we lose it, it creates an issue while tracking. However, Google and Apple are kind enough to provide a way for you to track your mobile device's location. But, they require you to install applications or log your accounts and activate the location/tracking feature. We usually miss these options and face difficulties in tracking the phone. 
However, EaseUS Find360 is a professional tool in this case. If you're looking to do much more than just track the location of your cell phone, use this perfect app. Along with real-live location tracking, it can allow you to set customized notifications. Further, you can make circles and invite all the members. This feature can help you track all your family members on one page. 
Is there still something to consider? Get this app right away!