Step-by-Step Guide to Share Live Location on Snapchat

Cedric updated on Sep 21, 2022 to Find360 - Location Tracker
In addition to the app's Snap Map function, Snapchat has unveiled a live location-sharing feature. Friends can use the live location sharing feature as a buddy system to keep tabs on each other's whereabouts for safety. Although Snapchat currently offers the option to view a user's most recent location, this function only refreshes your approximate location when you open the app.
For your privacy and to decide when and how often your friends and family can monitor you, Snapchat allows you choice over how you use its live location feature. Without letting your friends know, you can stop sharing your current location with them. As a result, no one else can start following your movements without your permission because you can only share live location with app users with whom you are friends.
Keep reading this article as a full guide to share location on Snapchat.
Guide to Share Live location with Only Select Friends on Snapchat
You can modify your settings so only specific Snapchat friends can see where you are. In this section, we are explaining with full steps on how to do that.
Method 1. All of My Friends, Except
Method 1. All of My Friends, Except
Except for the friends you put on this list, all your friends will be informed of your location.
To make this setting active, follow these steps:
Step 1. Open the Map screen and tap the setting button at the top.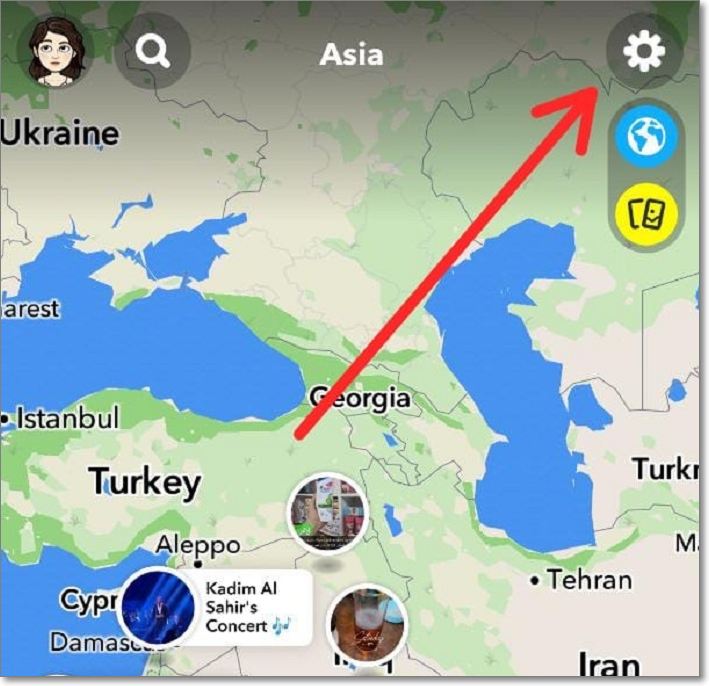 Step 2. Select the friends you don't want to see in your location by tapping "My Friends, Except" and then select the ones you want to exclude from the list.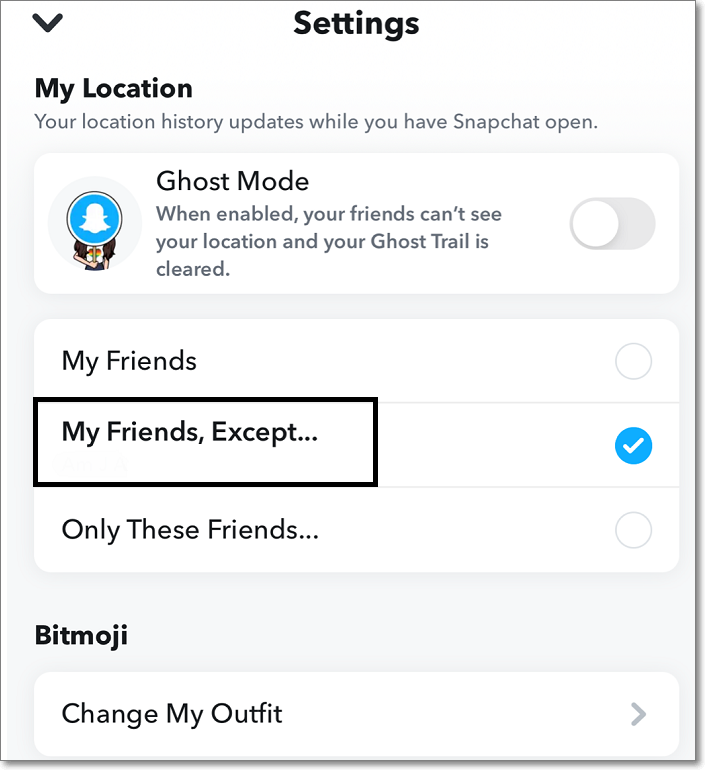 Method 2. Only These Friends
This setting allows you to make a custom list of friends you want to share your location with. This way, you won't need to exclude any from the list.
To make this setting active, follow these steps:
Step 1. Open the Map screen, and tap the setting button at the top right corner.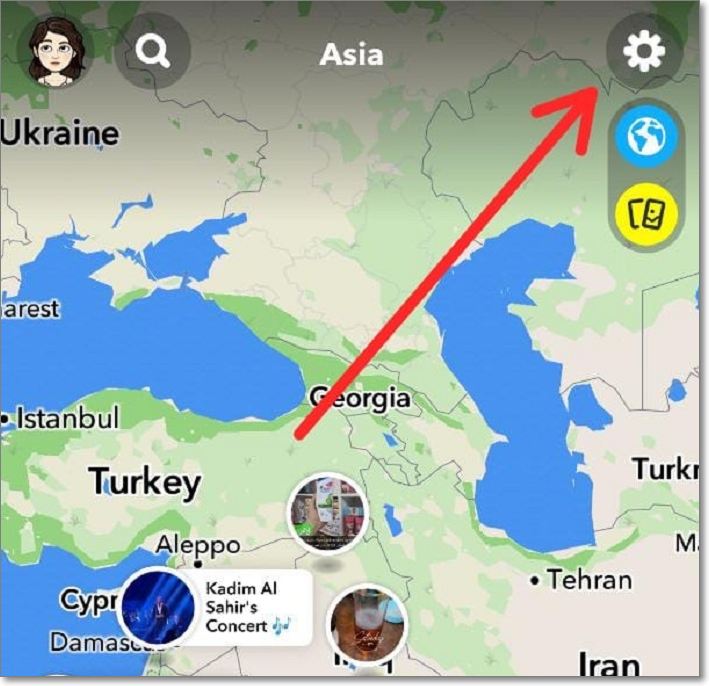 Step 2. To choose which friends should be able to view your location, tap "Only These Friends" and make a custom list.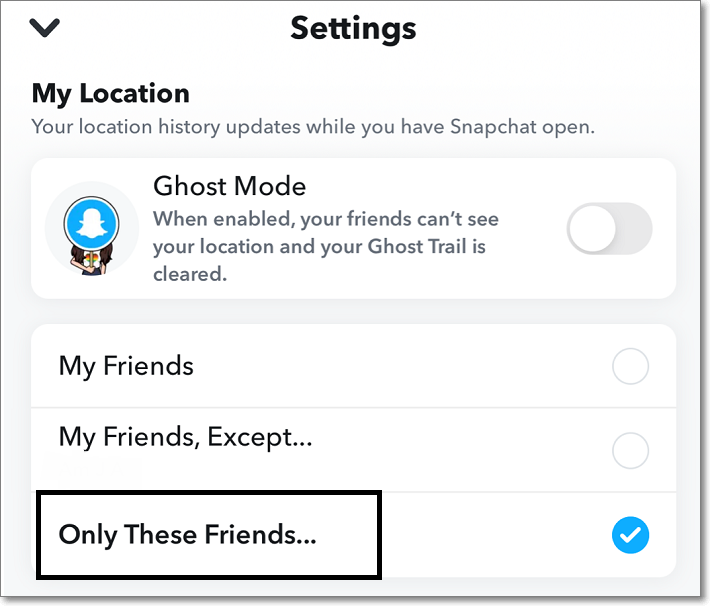 Guide to Share Live location with All Friends on Snapchat
To let all of your Snapchat buddies know where you are:
Step 1. On the Map screen, tap the Setting button at the top.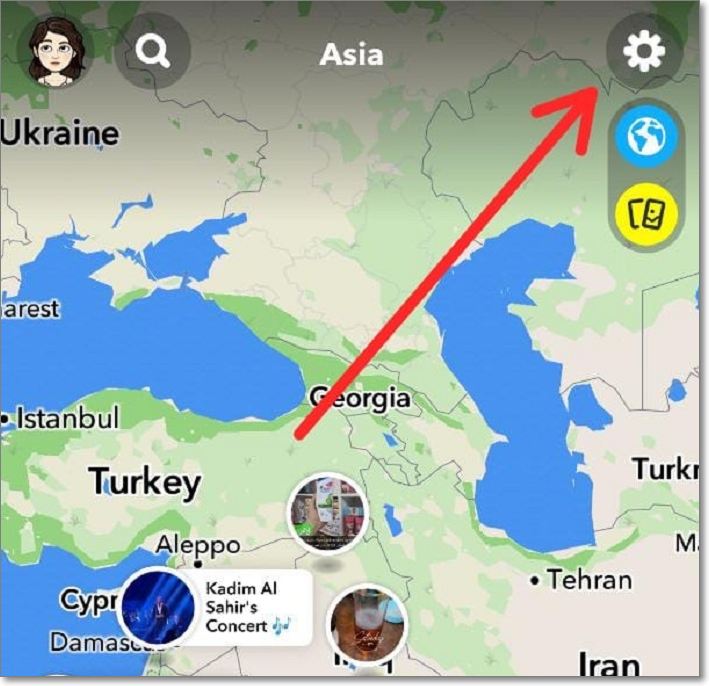 Step 2. Select "My Friends".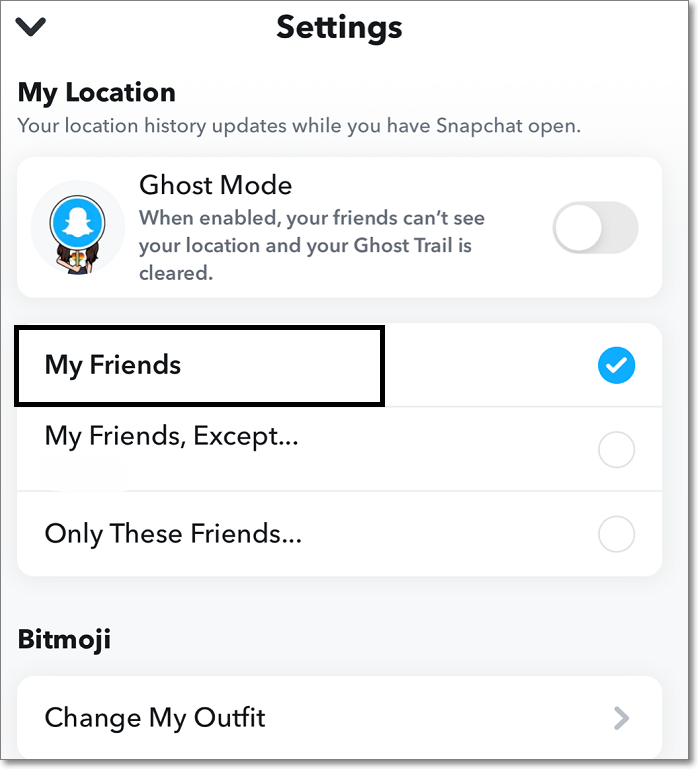 Your location will be shared with all your friends when you enable "My Friends," including any new friends you may add. People who have added you as a friend but who you haven't added back are not included in this option. If you select this option, Snapchat will periodically ask if you still want to let your friends know where you are.
Guide to Temporarily Share Live Location with Friends on Snapchat
By momentarily sharing your Live Location, you can keep yourself safe while you're out and about and let a close one know where you are.
To notify a friend of your live location, follow these steps:
Step 1. First, visit a friendship profile. In the "Snap Map" section, select "Share My Live Location".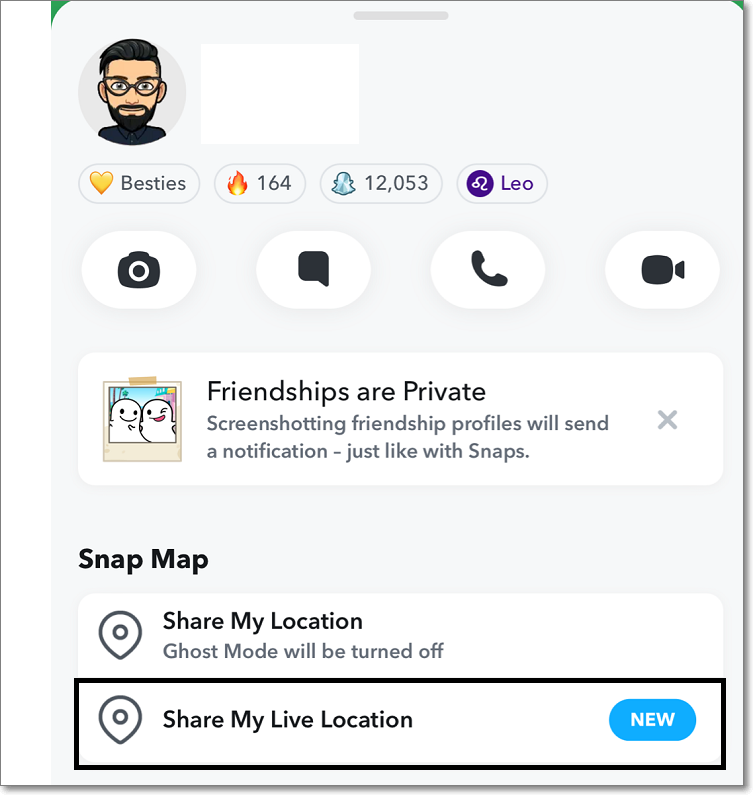 Step 2. Select the duration that you wish to share your Live Location with a relative or close acquaintance (15 mins, 1 hour, or 8 hours).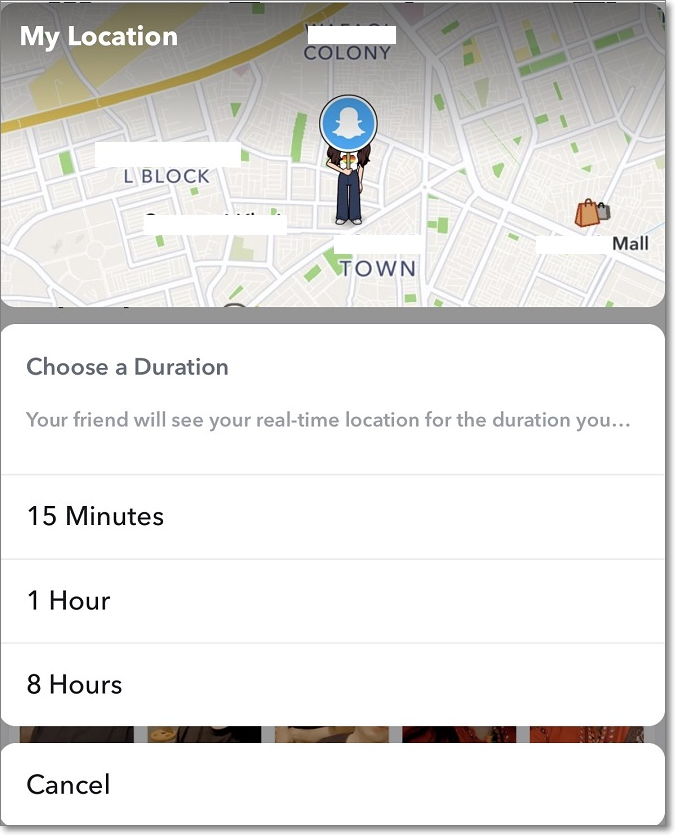 Share Live Location with a Professional Software
If you face any problems while using Snapchat to share your location, we recommend using a professional location sharing software - Find360. It allows for both historical and real-time location tracking.
For both Android and iPhone, Find360 can be easily downloaded from the Play Store or App Store. It is an excellent app for parents who want to keep a remote check on their kids if they've left the school timely or reached where they intended to.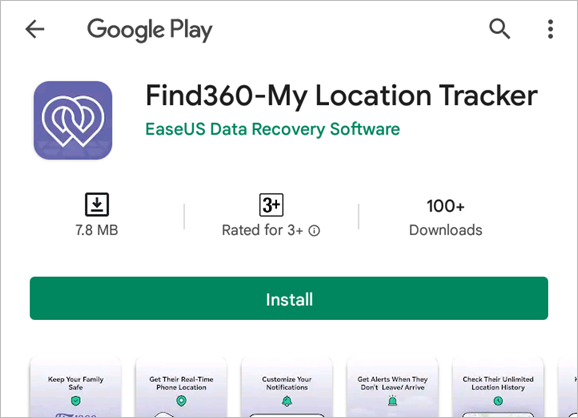 Find360 Features
These are just a few of Find360's impressive features:
Location sharing in real-time: It offers real-time location tracking and helps you realize sharing location on your phone. The software was created using an algorithm that frequently refreshes the positions and allows users to follow real-time, live locations.
Track travel history: You can access the complete location history. You may trace every location that a friend or member of your family has visited without any restrictions.
Customized Notifications: You no longer need to keep everything in mind. The app will display an update notification if your child has not arrived at school by the designated time.
Easy Check-in option: When the child checks in at a specific location, the parents instantly know they've reached there. Hence, it reduces the constant worry.
Highlights:
In addition to the features mentioned above, it's important to highlight a few points that make it simpler for you to comprehend the nature of this tracking software.
Safe to use.
You can create your private circle.
It allows you to customize your notifications.
Support: iOS and Android 
Pros:
Live location monitoring in real-time
Cons:
Continuous tracking and mobile internet use can prematurely drain your battery
Summary
In this article, we shared the full guide to share location on Snapchat with all friends, selected friends, or with any friend temporarily. You can do it easily via the built-in settings of Snapchat.
If any of the methods mentioned above doesn't work, we have also suggested a professional app, Find360, compatible with Android and iPhone. It is great for families to keep a check on their loved ones. Download it and see the features yourself!
Snapchat's Live Location FAQs
To help users better share locations on Snapchat, we also recommend that they read the following questions and answers.
1. How long does my location stay on Snap Map?
The location on Snap Map updates only when you have Snapchat open; it won't update in the background. The location on Map will expire after 24 hours.
2. Can everyone see my location on Snap Map?
On Snap Map, only the friends you've chosen to share your location with can see where you are. But if you have enabled Ghost Mode, nobody can see your location.
3. What about Snap Map privacy and location settings?
You may share your current location with all friends, exclude some, or make a custom friends list. 
If you enable Ghost Mode, your friends cannot see your location. You can select the time period for your Ghost Trail to be cleared (3 hours, 24 hours or until turned off). Also, your location on the Map will expire automatically after 24 hours.