See Someone's Location on iPhone/Android

Cedric updated on Sep 21, 2022 to Find360 - Location Tracker
Smartphones are essential for getting connected to your family and friends. Fortunately, it is possible to pinpoint a person's exact location in every possible way through advanced GPS mobile technology. 
Mobile phone location tracking is more than just convenience. Different scenarios can lead you to track and see the location of a phone. You may need to find your lost cell phone, or you may want to keep an eye on your family. Since there is so much crime going on around the world, knowing the exact location of your loved ones gives you peace of mind that they are safe and not in danger.
This article will help you by providing the best way to see someone's location on iPhone/Android. 

Full Guide to Share Live Location [2022 Update]
This article provides a comprehensive overview of how users can share their live location through Android and iPhone. While providing different live location sharing options, this article has featured EaseUS Find360 as the perfect tool for sharing locations indefinitely.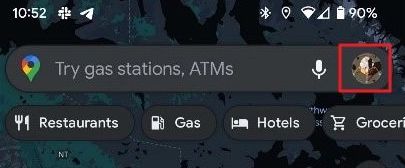 How to See Someone's Location
Tracking someone's cell phone and seeing their location is not hard enough these days. In fact, it is easier than you think. You can see one's location in three different ways. Generally, the methods of tracking iPhone and Android phones differ, but we have discovered a surprising method that is useful for tracking both.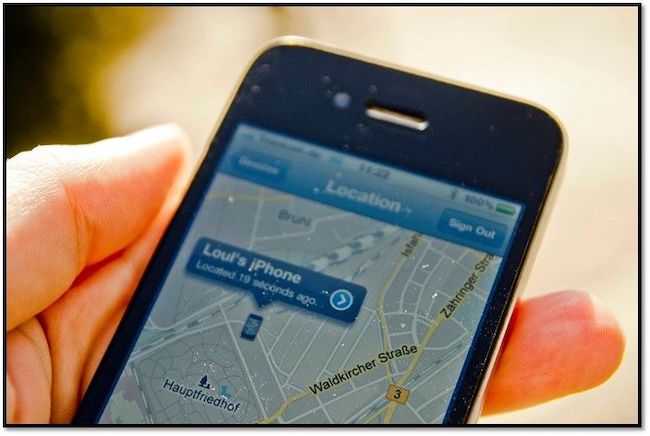 You have to use Find My iPhone to track an iPhone, whereas Android can be tracked using the Find My Device feature. The coming section is dedicated to providing you with a step-by-step guide on how to use these features. However, using these features can be annoying because you can't see live locations if they turn off location sharing or the phone is turned off. 
Therefore, it is advisable to use EaseUS Find360 to see one's location perfectly. You can use it on Android and iOS devices to see the real-time location. Even if someone is in a completely different place, you can still find out where their phone is. 
Part 4 of this article is dedicated to letting you know everything about how EaseUS Find360 helps to provide the best results.
See One's Location on iPhone 
iPhone's location has the potential to monitor your minute-by-minute moves and share them with your family and friends. However, no one can share your iPhone's live location without your permission. The most manageable way of seeing someone's location on an iPhone is using the Find My feature. To use this feature, first, you need to turn on Start Sharing Location, and you can constantly share your live location. Here are the detailed steps of how to do so.
Step 1. Open settings and select the Find My app on your iPhone.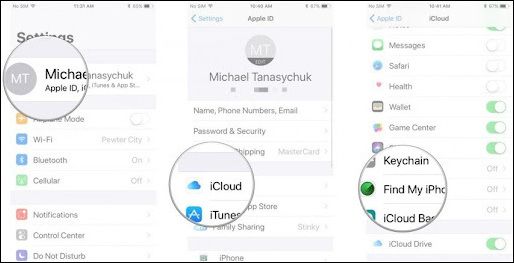 Step 2. Tap the "People" tab, and select someone from the contact list.
Note: If the given option has never been used on your phone, then you will encounter the Start Sharing Location. Tap the option and turn it on. 
Step 3. Now, it will lead you to the contacts to select someone from the list who will be able to track the real-time location. 
Step 4. After selecting the contact, tap the "Send" button.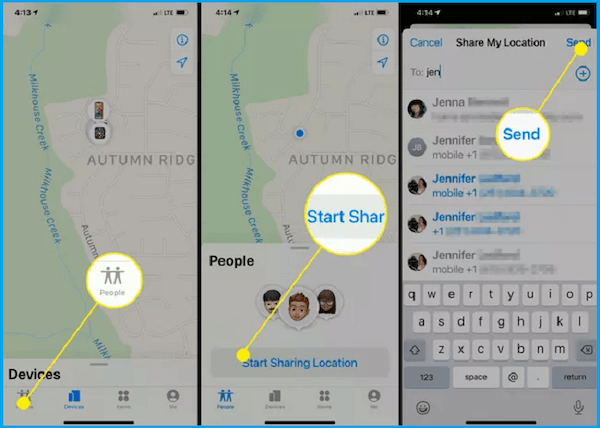 Step 5. It will send an invitation to the number of selected contacts. If you have shared the location before, they can see your location without any hassle. Otherwise, they need to tap the "Ask to Follow Location" option. It will send back an invitation to your phone.
Step 6. Accept the invitation and turn on your location. 
Now, they can see your live location as long as you keep your iPhone's location turned on. 
See One's Location on Android
All the smartphones these days, including Android phones, are loaded with excellent features like Find My Device. These features enable us to see one's location through android phones. 
If you want to track an android phone's location, follow the given steps:
Step 1. Open an internet browser and click on android.com/find. Sign in with the same Google account. 
Note: You can download the Find My Device app on another android phone and sign in with the same email address whose location you want to see. 
Step 2. It will display you the list of devices in which the same email address has logged in. You need to select the device whose location you want to track.
Step 3. The location of the selected Android device will be displayed.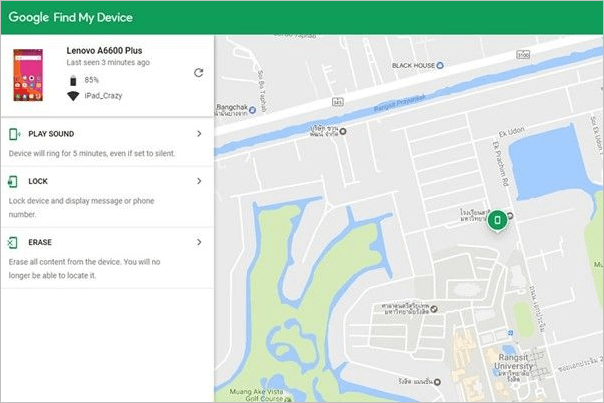 How to Share Your Location
Methods to share your location on iPhone and Android are different. In this section, we have discussed both methods individually. 
Share Your Location on iPhone 
Step 1. Get the target and Open the iMessage app on the iPhone whose location you want to share.
Step 2.  Select the number or open the previous conversation (if available) and tap the contact icon.
Step 3. Tap "info" and choose "Share My Location".
Step 4. Now, it will display the duration setting, where you can set the location timing for hours, until the end of the day, or indefinitely
Step 5. Send the message to invite them to join the location.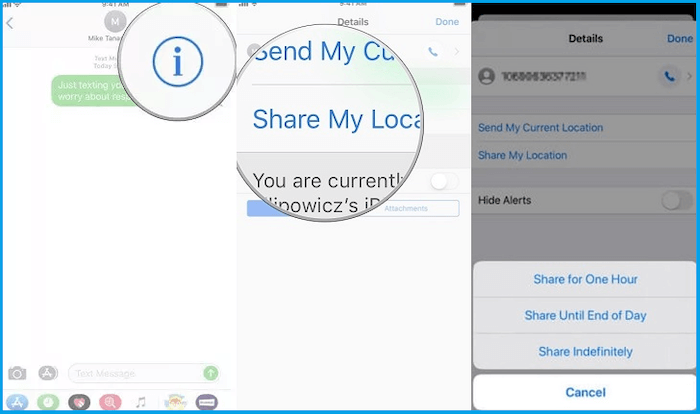 Share Your Location on Android
Google Maps offers excellent and easy-to-use options to enable you to share the location of your Android with your family and friends. 
Follow these steps to share your location using Google Maps on an Android device.
Step 1. Open the Google Maps application on your Android phone. 
Your google account will be already logged in there. In case you haven't used your google account before, log in by using your email and password.
Step 2. Navigate the "three vertical lines" in the top-left corner of your mobile screen and tap to expand the menu.
Step 3. Tap on the Location sharing and then tap on the "Get started" option.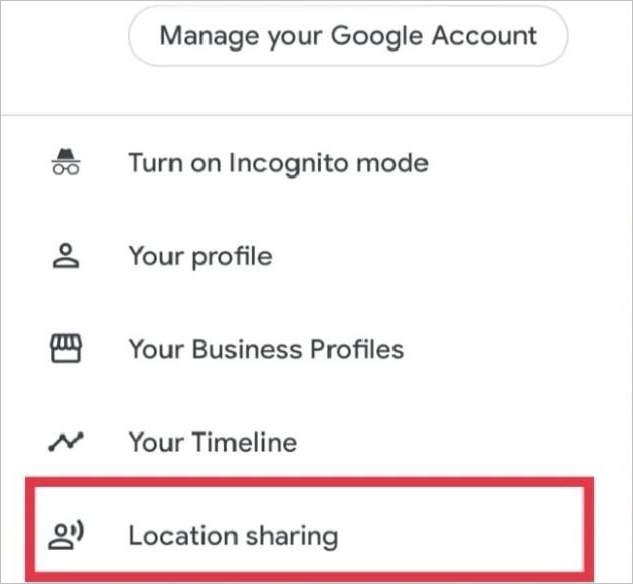 Step 4. You will get two options to choose the amount of time to share your location. Set an exact time by tapping the "+" and "-" buttons, or you can select "Until You Turn This Off" for infinite location sharing.
Step 5.  Select the contact to share your location and then tap "Share".
Bonus Tip: See Someone's Location with EaseUS Find360
Tracking phone location is all about keeping your family safe. If you can check on them, you will have peace of mind knowing that they are safe. On the other hand, you may need to see the location of your mobile if you have lost your brand new phone. There is no better way than EaseUS Find360 for tracking any smartphone and mobile device. 
We highly appreciate that countless people utilize this application to ensure the safety of their children at school and their partners at work. People are getting excellent results by using this app for a long time, and they never look back.
EaseUS Find360 provides the best results in any condition of your device, no matter if it is Android or iPhone. It also offers a fantastic "Circle" option where you can create circles to manage with whom and when you need to share the location. Only members of a Circle can see their private map and private message service. Whenever you are searching for an app to track friends or your family, it is worth checking.
Conclusion 
All the methods mentioned above are highly effective in tracking a cell phone, but each method has its limitation. According to your need, you can choose if you want to share or track location. However, the best way would be by EaseUS Find360. Its monitoring features are effective and accurate, making it a highly recommended application.