How to Easily Find Your Lost Phone [Android & iPhone]
Daisy updated on Sep 21, 2022 to Find360 - Location Tracker
No doubt it's a panic situation we all have experienced when you think you lost your phone, even temporarily. In such a situation, the only question you ask yourself is, how do I find my lost phone? Right! Yeah, you can't deny that. But no need to fear; there are solutions to it. Nowadays, several phone trackers (track your phone's current location) will help you find your phone effortlessly. This post will give you some quick fixes and introduce reliable tools/apps to help you find your lost phone easily within a few minutes.     
Quick Fixes to Find the Lost Phone
Phone trackers are the ultimate solution to find out your lost smartphone, but before that, you should try some quick fixes to get back your phone (Android/iPhone) quickly. Let's know more detail about these quick fixes.  
Fix 1. Call Your Phone
To find your lost phone first, you need to call your phone from another phone. It is the easiest way you can find your phone! Ask anyone to call on your phone number, or you can also use free call websites to dial numbers from any computer having an internet connection.
Fix 2. Have Someone Text Your Phone
The second way you can try to find your lost phone is by having someone else text your phone. You can test your address and contact info on your phone so that anyone who finds your phone can easily reach you to return your phone.
Fix 3. Retrace Your Steps
Retracing your steps can be one of the most effective ways to discover your lost or misplaced phone. If you have realized that you just left your phone at your previous location, then retracing your steps will assist you in locating your phone. Never panic in such a situation; try to concentrate and think about where you left your phone.
Fix 4. Contact Your Service Provider
Most cell phone service providers nowadays offer GPS location tracking assistance for customers. So, contact your service provider's customer care number, help their members, and track your phone's current location. If your cell phone provider doesn't offer GPS tracking service, you ask them to cut off service to your phone. 
Easy Ways to Find Your Lost iPhone
No matter how careful you are, losing your iPhone is not out of the realm of impossibility. Some circumstances are beyond our control. However, instead of increasing anxiety and feeling despair, you can start finding your lost iPhone. Surprised?
Fortunately, there are different ways to locate the lost iPhone. Take a look at the various methods listed below:
Method 1. Ping Your iPhone With Your Apple Watch 
Are you worried you don't have another phone to locate your iPhone? Relax! You can even use the Apple Watch to track your iPhone. For that, take a look at the steps you need to follow: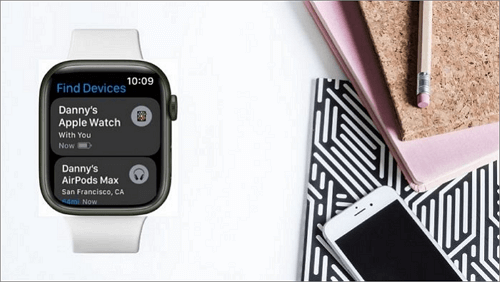 Step 1. Go to Control Center. For this, you need to swipe up the screen of the Apple Watch from the bottom part.
Step 2. Select the "Ping iPhone" icon. (The icon represents the silhouette of an iPhone ringing imagery.)
Step 3. Tap the button once, and your iPhone will produce a ping sound. If you keep pressing the button, your iPhone will flash and ping simultaneously. 
Method 2. Use the Find My App to Locate Your iPhone
Apple offers a wide range of useful features. One of them is the Find My App. However, you will need to enable the app to use for location tracking. Check out how the app can aid in finding your iPhone:
Use another Apple device to launch the Find My app. The device can be an iPad, Mac, or iPhone. You also must ensure that the Apple ID of the lost iPhone and the device you currently use are the same. 
Step 1. Open Find My app on another device. 
Step 2. Choose Devices from the bottom part of the screen.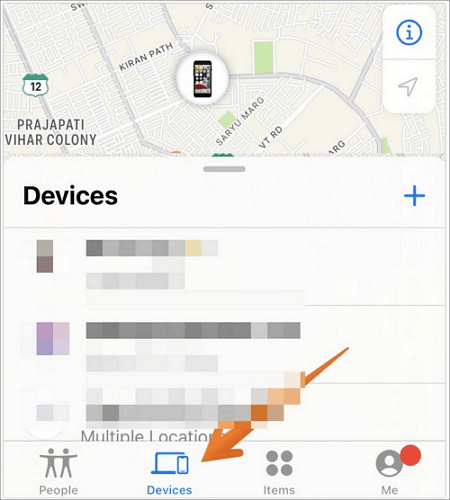 Step 3. Select the device where you want the sound to play. 
Step 4. Press the "Play Sound" option.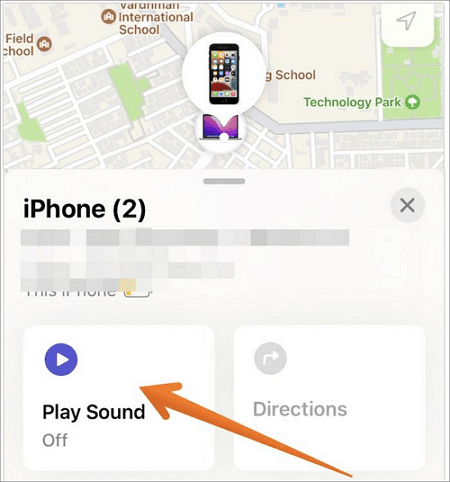 If your iPhone is online, the sound will play for two minutes (approximately). It starts after some time and increases the volume significantly. You will also get a Find My Device notification on the target screen. 
But, if the iPhone is offline, a Sound Pending alert will come. Once the device connects to a network or Wi-Fi, the sound will play.
 Notice:

 If you think your iPhone has been stolen, do not embark on a quest to find it yourself. You have no idea about the situation and may encounter dangerous operations. The best solution is to approach authorities with the information and seek help. 
Apart from getting directions, you can also use sound to locate the lost phone. It is a good option if you feel you have lost the device nearby. Take a look at these steps:
Step 1. Select the Devices option. In the case of Mac, first, you need to open icloud.com in your browser. 
Step 2. Once you open it, you need to click on the "Find iPhone" option. 

Step 3. At the top part of the Find My window, you need to click on the "All Devices" option. But, if you are using an iPad or iPhone. It is present near the lower end of the screen. 
Step 4. Choose the iPhone you want to locate.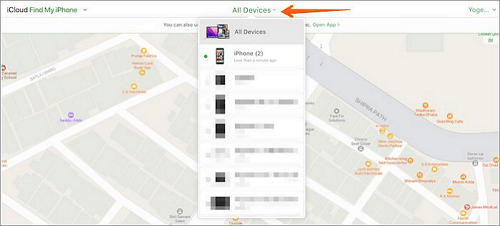 Step 5. Click on "Directions". 
Step 6. You will be sent to the Maps app.
If the phone is online, you can obtain the location of the phone.
Method 3. Use the iCloud to Locate Your iPhone
But what happens if you don't have another Apple device? Is your iPhone truly lost? No! There is still an alternative you can explore. For that, you can use any computer and visit iCloud.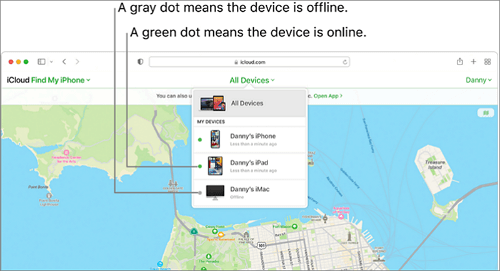 Here are the steps:
Step 1. Go to iCloud.com.
Step 2. Log in with your Apple ID. (The ID must be the same as the lost device)
Step 3. Press the "Find iPhone" option. 
Step 4. You might be prompted to enter the password. 
Step 5. After some time, it will display the last location of the device.
Method 4. Check Google Location History to Locate iPhone
Another excellent way to locate iPhones is to use Google. With the Google Maps app, you can find the location with ease. 
To see the location history of the lost iPhone, you need to open the Google Timeline page. Here, you can see the places where your device has been. However, it is vital to note that this feature only works if enabled before you lose the device. If Location History is not on, the feature won't work. 
To enable Google Location History, you must follow these steps:
Step 1. Open the browser of your choice and go to the Activity controls page of your Google Account.
Step 2. Look for "Location History".
Step 3. Press the "Turn on" button.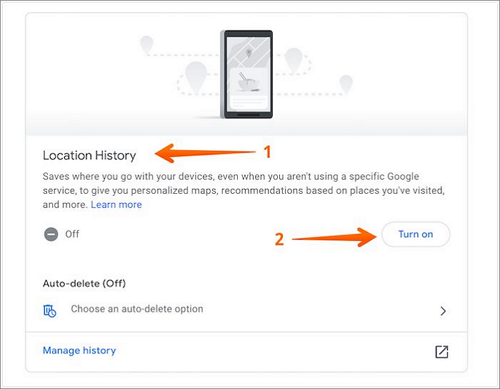 Step 4. To re-confirm, select Turn on again. 
Easy Ways to Find Your Lost Android Phone
No doubt the above-given four quick fixes will help you a lot to get back your cell phone, but here we will share some simple and most effective methods to find your android phone. So read the post till the end to grab the complete knowledge.  
Method 1. Check Google Location History to Locate Android Phone
If you want to find out about your lost android mobile phone, then you can check the Google location history of your phone by using google maps. Now the question is, how can you do this? We will guide you in detail, so follow the exact steps below. 
 Step 1. Go to Google to find my device from here.
 Step 2. Now sign in with your Gmail account.
 Step 3. On the map, you can see your phone's approximate location. If your phone can't be found, it will show you the last traced location if available.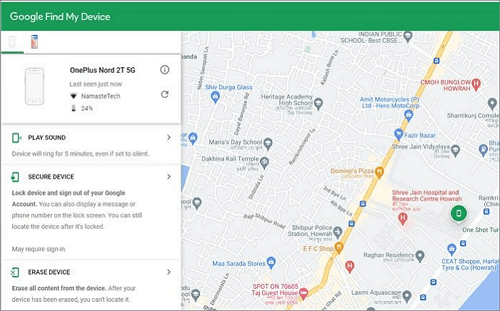 You will get three options from the map page: find, secure, or erase your android device.
Find: The find option will allow you to ring your phone even if it's on silent or vibrates.
Secure device:  This option will permit users to leave anyone who finds your phone a message or phone number where you can be reached. 
Erase your Android device: If you want to protect your personal information, then you use this option from any remote location.  
Method 2. Find Your Phone with Smart Home Speaker
If you lost or misplaced your phone inside your home and cannot locate the intelligent home speaker can be very helpful to find your android phone. Now the question is, How? Here is the complete guide below. Follow it.
Step 1. First, ensure that your smart speaker and mobile are signed into the same email account.
Step 2. You can say commands like Okay, Google, find my phone to your smart speaker. Then it will automatically confirm the device you are asking for and make it a ring. 
Step 3. The best thing is that it will ring your Android phone even in silent or vibration mode. 
Locate a Phone with a Professional Software
If you are in a hurry and don't want to go with too many technical details to find out, then we will recommend you use a professional third-party location sharing tool. Here we will recommend you use Find360 Location Tracker professional software. Let's know more about this tool and the unique features of this top-rated location-sharing tool.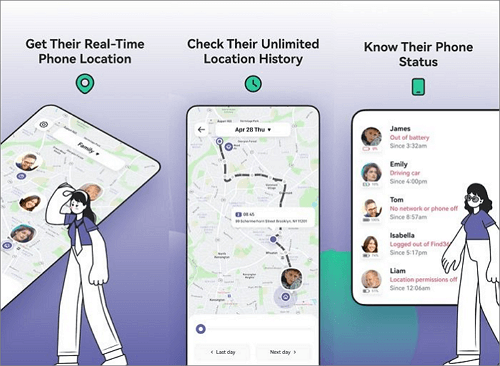 Key Features
Regarding professional location-sharing tools, no doubt Find360 Location Tracker is an excellent choice to opt for. This popular third-party location tracker tool comprises some of the most advanced and unique features like
 Real-time location tracking
 Unlimited location history
 Customized personal notification
 Check-in 
Let's know more details about these features
Real-time location tracking
Real-time location tracking is one of the most advanced features of any top-rated location-sharing tool. Find360 Location Tracker can track real-time location, which always helps you find the tracking person's exact time and location.
Unlimited Location History
This tool lets you immediately get accurate route information about the tracking person.
Customized personal notification
You can effortlessly customize location tracking information for any particular purpose of the tracked person. 
Check-in
This advanced software permits the tracked person to validate the check-in location to send notifications to their parents or family members. 
Pros
User friendly
Simple and detailed interface
Accurate and real-time tracking
Most reliable location tracker
Cons
Other information about finding a lost phone you may be interested in:
Conclusion
We have given some quick fixes and two effective methods to help you find your phone. However, if you want to go the easiest way, we recommend using the professional Find360 Location Tracker tool by EaseUS. This tool will locate your phone's exact location and help you get back your cell phone quickly.
Find the Lost Phone FAQs
Other questions about finding the lost phones you may want to ask
1. Can you track a lost phone by phone number?
No, only the police can track a stolen phone using either your phone number or the phone's IMEI (International Mobile Equipment Identity).
2. How do you locate a stolen phone that is turned off?
To find your stolen phone, simply go to the Find My Device site and log in using the Google account that is associated with your phone. If you have more than one phone, choose the lost phone in the menu at the top of the screen. Then, the location of your phone will appear on the map.
3. How can I track my IMEI number through Google Maps?
You can track mobile IMEI numbers on Google Maps by using the Find My Device feature. However, the target device must be connected to a strong internet connection for this technique to be potent.