How to Remove Background from PDF for Printing Online/Offline

Vanessa Chiang updated on May 14, 2021 to PDF Editor Tutorials
People add background to a PDF file for many reasons. It can be branding, their own liking, or a company policy to add a sort of watermark in the background. However, the biggest problem with a background image is that it can be print out with PDF, and it looks distracting.  
In this post, you will learn how to remove the background with online and offline tools. These tools will remove the background image permanently or during printing, making sure the printed PDF is easy to read.
Remove Background from PDF Offline - 2 Ways
It is always a good idea to use desktop tools to remove background images as they are more efficient and offer more features that you can use when managing all the PDF files on the computer. You can use Adobe Acrobat and EaseUS PDF Editor to remove background from PDF in offline mode.
1. Remove PDF Background with Adobe Acrobat
Adobe Acrobat DC is a compelling PDF editing and content creation tool from Adobe that lets you take PDF documents and edit them with ease. As the online alternative to Adobe Acrobat, Google Docs lets you edit PDFs, but you cannot add or remove content or re-order pages.
With this software, you can make your PDFs look like they are issued from a high-end publishing printer and create multiple forms from the same PDF or remove content you do not want people to see, like your phone number or address.
You can also edit the file, convert it to a different format, and even secure it with a password or a digital signature, all of which will make sure that nobody will be able to mess with the file you create.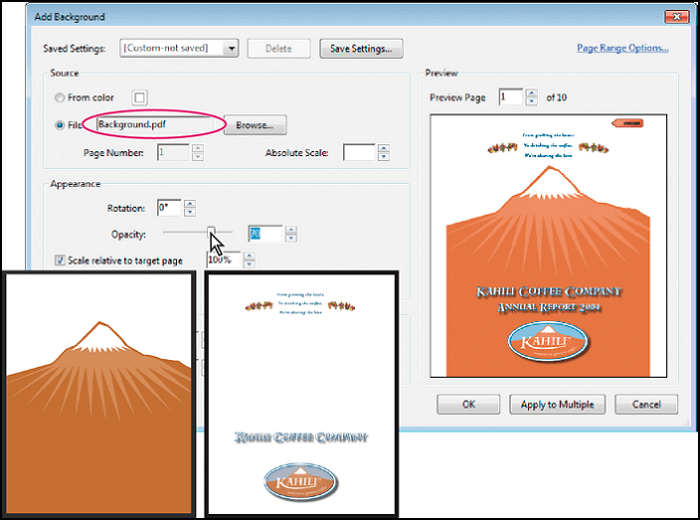 Features:
Create PDFs, add comments, and change page layouts
Search words in PDF documents and replace words
Add text to PDF or delete text from PDF
Steps to Remove Background Image with Adobe Acrobat:
Step 1. Open the PDF in Adobe Acrobat reader. You can either use open with or double click if Adobe is the default PDF reader.
Step 2. Next, click on "Tools" > "Edit PDF". It will display a secondary toolbar. Click on "More" > "Background" > "Remove".
Step 3. Once you are sure that images have been removed, you can choose to save the file.
While the PDF format is handy, there are also flaws. PDF documents can be difficult to edit, but EaseUS offers a solution. EaseUS PDF Editor allows you to work on PDF documents like editing any other document, including changing text, adding images, and more.
This tool offers you a PDF page editing mode to manage those pages without any hassle. You can insert a blank page to the PDF as well as delete or extract a PDF page. Under the "Page Design" tab, you can choose to add a customized background. Vice versa, you can also remove the background image from PDF pages effortlessly.
Key Features:
Make scanned files editable
Search and replace text
Highlight PDF or unhighlight text in PDF
Document conversion
This PDF editing software is suitable for everyone who needs to create, edit, and convert PDF documents. If you want to delete the background image, click on the button to download it and follow the tutorial to do that now.
Steps to Remove Background with EaseUS PDF Editor:
Step 1. Right-click on the PDF file you want to remove the background image and choose to open it with the EaseUS PDF Editor. If it's already the default editor, you can double click to open it directly in the software.
Step 2. Then click on the "Pages" option on the top of the toolbar to bring up the right-side menu. It includes all the operations possible with pages and page design. To remove the watermark, click on the "Background" option and then choose to "Remove" it.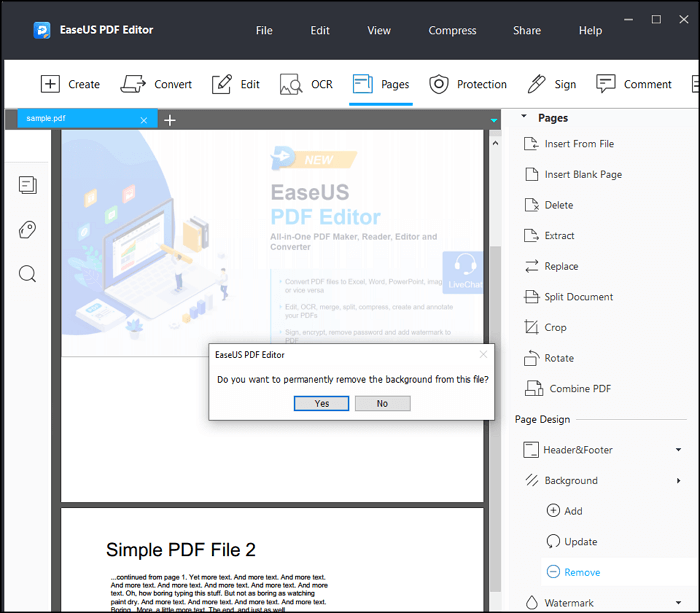 Step 3. When you click on "Remove", it will display a prompt where it will ask if you want to remove the background from this file permanently. Click "Yes", and the background image will be instantly removed. Save the file.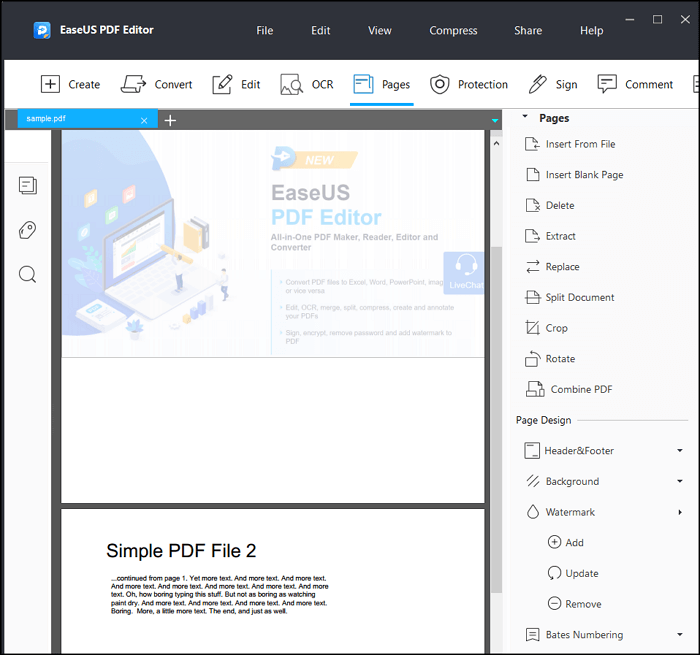 Remove Background from PDF Online - 2 Ways
Using an online tool is easy because it works on any platform, and you don't have to install any software. That may be a minor drawback that some text is probably incorrect, but it can be corrected very easily. Here we will use Google Drive and Smallpdf to remove the PDF background.
1. Remove PDF Background Image Using Google Drive
It's an online storage solution and document editor that is offered for free to all Google accounts. It also allows you to edit any PDF file, convert it to Microsoft Document format, share it with others for real-time editing, and so on. 
You can create spreadsheets, doodle in Google Drawings, and even create presentations with Google Slides. Google Docs is a great way to work on a document with others, either in real-time or at a later date. You can also make your documents available offline, which is very convenient if you're working on a tablet or other mobile device.
Features:
15 GB of free storage to store documents
Available across devices
100+ file types supported
Offline access
Data loss prevention
Steps to Remove Background Using Google Drive:
Step 1. Open Google Drive in your browser, and then drag and drop the PDF file from your computer into it.
Step 2. Once the file is upload, click on it to open in preview mode, and then click on the "Open in Google Docs" option available at the top middle.
Step 3. Google Drive will use OCR to convert the PDF document into Google Docs and will remove the background image automatically. Click on the file and download it as a PDF file.
The major drawback of the process is that it is only suitable for small PDF as it may not maintain the layout and remove all kinds of images in the PDF file.
2. Remove Background Using Smallpdf
Smallpdf is a professional online PDF editor that offers many features that can be used with PDF files, including forms. You can use the free version to upload the file and then convert or edit the document.
The overall processing is fast, and if you buy the paid plan, it will unlock many more features. When it comes to background image removal, while there is no direct function, but you can use the conversion feature to separate images and text in the document. Later, it can be removed using any standard document editor and printed to a PDF file.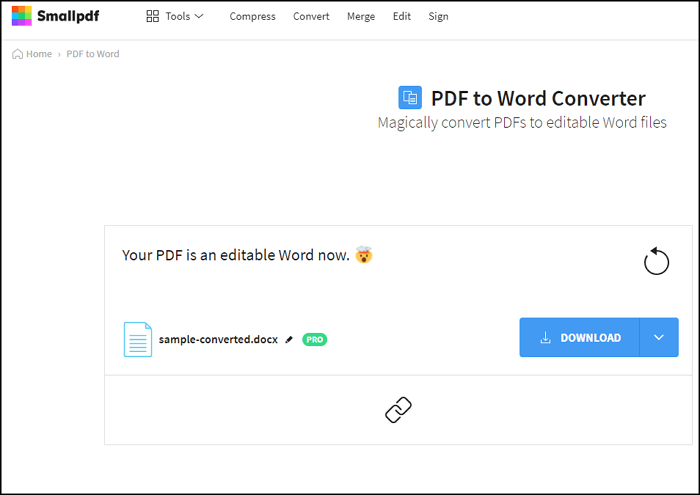 Features:
Compress PDFs
Convert scanned PDFs to Word and other formats
Split and merge
Sign and protect the PDF
Steps to Remove Background from PDF:
Step 1. Open the "PDF to the Word" tool and upload the PDF file online. When prompted, use the standard function instead of OCR.
Step 2. Once the conversion is complete, download the document file on the computer. You can then choose to open this with any document editor. The background image will be available as a selectable image.
Step 3. Select the background image and then delete it. You will have to repeat this for all the pages. Once done, you can then print the document as a PDF. You now have a PDF that doesn't have any background image.
Conclusion
This post talked about many PDF editing tools that help remove PDF images in simple steps.
When using software, you can easily use EaseUS PDF Editor to remove background images. If you do not like to install software, use the online tool. However, these online tools might mess up the document's layout and remove all images instead of the background images.