How to Change PDF Page Size in 4 Easy Ways

Vanessa Chiang updated on Aug 20, 2021 to PDF Editor Tutorials
There are many situations in which you need to change the paper size of a PDF file. Maybe you need to print the file, and the paper size is different than the paper your printer uses. Maybe you need to deliver a file to someone who needs a different paper size. Whatever the reason may be, you can easily change the size of a PDF file.
What you need is an application that allows you to do that efficiently. This post will help you know about applications and online tools to change PDF page size.
Related Article: >> How to Change Font Size in PDF
Change PDF Page Size on Windows
Under Windows, you can use the EaseUS PDF Editor and Adobe Acrobat to change the PDF's print size. While you can change the PDF size while printing using the "Zoom" or "Scale" option, but they can be printed only in fixed formats. If you need to resize to a specific dimension, you need to modify the original document.
Tool 1. EaseUS PDF Editor
EaseUS PDF Editor is a powerful all-in-one PDF editor for Windows that can convert and edit PDF effortlessly. It helps complete PDF management and offers many more features for all PDF need. With its ease of use, any user can understand it and use it whenever it's needed.
Using this editor, you can perform any operation on a PDF file that includes replacing text, hiding text, changing the background, and converting the PDF. If you are looking for a PDF editor to help you with your PDF files, EaseUS PDF Editor is a program you should look at.
Key Features:
Compress file to reduce PDF size
Convert a PDF file into another format
Add watermark to PDF or remove watermark from it
Protect PDF files with a password
Add a form field to the PDF
As this PDF editor supports cropping PDF pages freely, you can change the PDF page size of your files with this tool. Click on this button to download the software for free now, and this tutorial will walk you through the way to do that.
Steps to Change PDF Page Size Using EaseUS PDF Editor:
Step 1. Right-click on the PDF file, and then open it with EaseUS PDF Editor. Then click on the "Pages" menu on the toolbar. It will reveal the list of actions you can take with the pages in the PDF file, such as "Crop" it.
Step 2. Click on it, and then drag a rectangle on the page you want to resize to. Once done, double click to open the "Crop Pages" dialog box. Here you can precisely select the area or page size you want to have. If you want to crop in batch, you can set the page range, and the program will crop the selected pages according to your needs.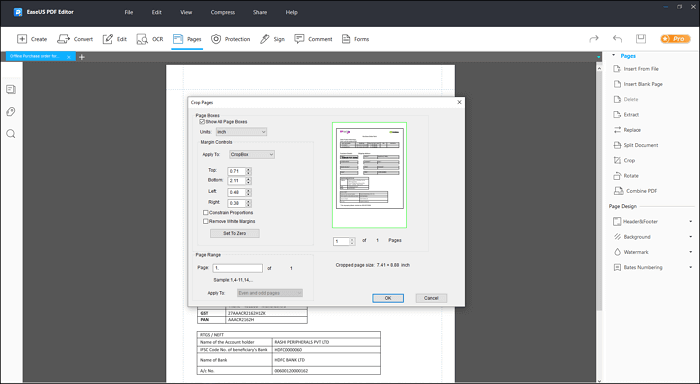 Step 3. Once done, you can then save the PDF file, and all the pages or selected pages will be resized as per the settings. You will get see a live preview of the resized page. If it is not as you expected, you can undo or change the PDF size manually.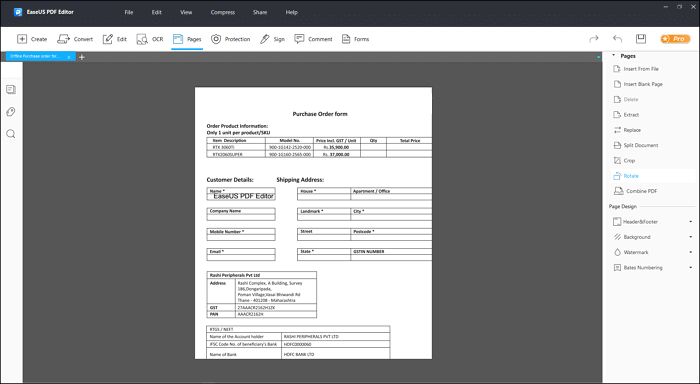 Tool 2. Adobe Acrobat DC
Adobe Acrobat DC is a more compact version of Adobe Acrobat XI and is a great choice for people who want to convert, edit, and sign PDF documents.
The latest version is compatible with all major operating systems and offers some features such as adding conditional signatures and form completion. If you have an existing file that is not PDF-formatted, you can convert it to a PDF to preserve the layout and formatting.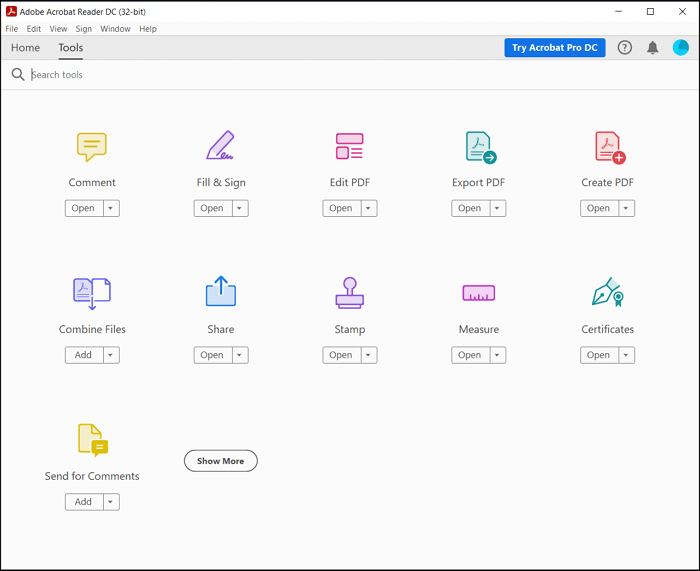 Features:
Convert files to PDF easily
Add annotations to PDF
Protect PDF with a password
Add a signature to the PDF
Steps to Change PDF Page Size with Adobe Acrobat:
Step 1. Open the PDF file with Acrobat DC, and then go to "Tools" > "Print production." Select Preflight from the right pane, and then select "Single fixups".
Step 2. Next, expand the Pages heading and locate and select the "Scale pages" to the specified size. Then click on the "Edit" button.
Step 3. Now enter the page measurements in the "Scale pages" section. Click on "OK" and save it as a new file.
Download: acrobat.adobe.com/us/en/acrobat.html
Change PDF Page Size on Mac
Preview is the macOS operating system's proprietary image viewer and PDF viewer. Besides displaying and printing images and PDF files, Preview can also edit these files.
This is actually the default app that opens up whenever you view a PDF or image, and it has a lot of useful tools built into it. Within Preview, you can rotate, crop, and edit photos, as well as work with PDF documents. With the addition of the "Markup" feature, you can even draw on PDFs and make notes.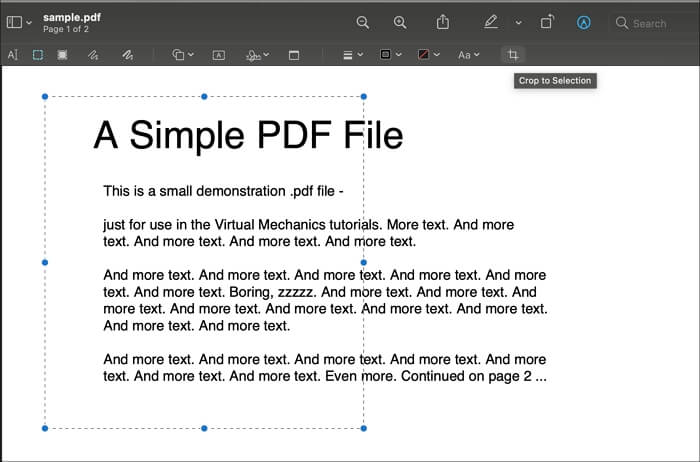 Features:
Apply changes to multiple files
Add annotations to PDF files
Secure sharing using encryption
Change PDF page order and resize them
Steps to Change PDF Page Size on Mac:
Step 1. Right-click on the PDF file, and then open it in the Preview app.  Once you are sure how you need to change the size of each page, click on the "File" menu, and select the "Print" option from the drop-down.
Step 2. In the "Print Preview" section, you can change the page size by choosing page orientation, scale, page size or manually selecting the percentage.
Step 3. Once done, you can save the PDF from the drop-down menu instead of printing it.
Change PDF Page Size Online
AvePDF is an online tool that offers a ton of features when it comes to PDF manipulation. One such feature is changing the PDF page size, which is useful when the pages in the PDF file are of varying size. As those files are not easy to print because of different file sizes, you can choose to resize them using this tool.
The interface is straightforward, and the tools it offers are hepful. All you need is to upload the file, configure the options, and then download it once the conversion is complete.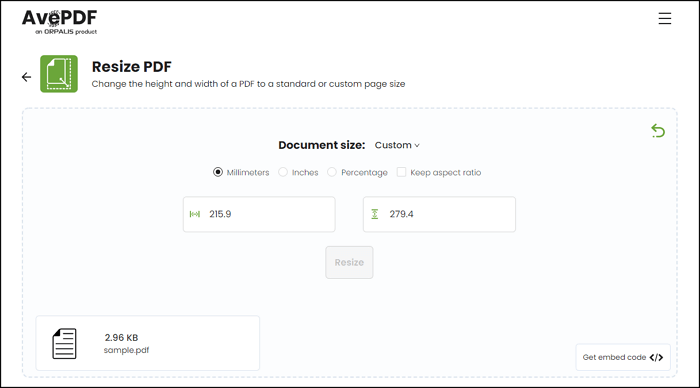 Features:
Compress PDF files
Convert, combine, and organize PDF files
Adjust the PDF page size easily
Steps to Change PDF Page Size Online:
Step 1. Open the page, and then upload the PDF file. You can also submit a link to the PDF file from Google Drive and Dropbox.
Step 2. In the next step, you can select the unit of measurement, i.e., mm, inches, percentage. Enter the size of the final output, and then click on the "Resize" button.
Step3. Once the process completes, you can download the file and then print it if needed.
Try: avepdf.com/en/resize-pdf
Conclusion
Resizing PDF files is one of the commonly used features. The right size of the file not only helps to open it perfectly on a device, but it also helps when it comes to printing the file.
There are lots of situations where you may need to resize your PDF file. If you want to adjust the page size on Windows computer, EaseUS PDF Editor is a wonderful choice as it provides enough PDF editing tools to edit your PDF files without much effort.