3 Methods | How to Make a PDF Smaller to Email Attachment

Vanessa Chiang updated on Jun 30, 2021 to PDF Editor Tutorials
The PDF file size often increases due to the images and graphics that are added to it. The increased size of a PDF can, however, be inconvenient for emailing. As a result, you should know how to make a PDF smaller to email. Luckily, finding compressor software is not a hard task today, as long as you can find an easy-to-use tool and compatible with your device.
One of the most important characteristics of an excellent PDF compressor is reducing the file size without losing quality and keeping the original layout. Which is the most suitable tool that can meet this requirement? How to use it? This post will give you the answer.
How to Make a PDF Smaller to Email on Windows 10
You can use software to make a PDF file smaller. EaseUS PDF Editor is one of the best PDF editors for the Windows platform. With the help of this PDF editor, you can perform a wide range of functions. Nonetheless, one of the main functions of PDF editing software is to reduce the size of PDF files. If you need to find the best free PDF compressor, this is the one you cannot miss.
Its "Compress" option offers you two methods of reducing the file size, and that makes it become both suitable for those who only want to get a smaller PDF and those who want to optimize the PDF while compressing.
Some other helpful functions are also available. For instance, if you want to protect the PDF, the best way is to add a password. And EaseUS PDF Editor, this versatile PDF editing tool, can encrypt the PDF document securely for you. Some of the other known features of this PDF editor include adding watermarks to the pages, merging different PDFs, and signing with a digital signature. 
Key Features:
One-click compression of large PDF documents
Advanced Optimizing features for text, images, etc.
Search and replace any particular text within PDF
Insert the footer and header to PDF easily
This software is not only a powerful PDF editor, and you can also use it to OCR the PDF or convert the file into other formats. If those functions are what you need, click on this button to download this software for free now.
Steps to Make PDF Smaller for Email Attachment Using EaseUS PDF Editor:
Step 1. Click "Open Files..." to import your PDF document.
Step 2. Choose the "Compress" tab in the top toolbar, then click "Reduce File Size..." in the drop-down menu.

Step 3. Select the folder to save your compressed PDF file and click "OK".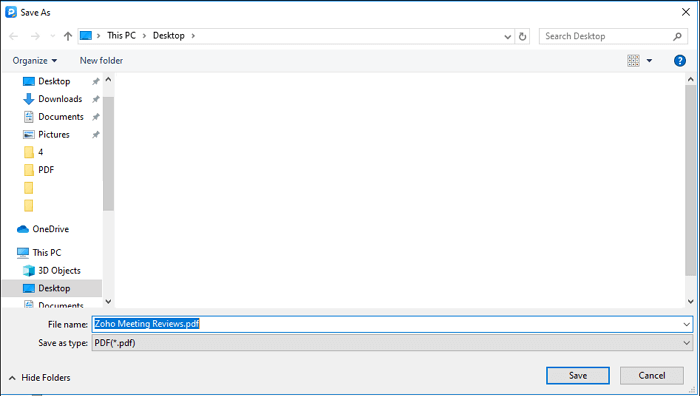 How to Make a PDF Smaller to Email on Mac
Adobe Acrobat is one of the best programs to compress PDF into smaller ones. Compared to other PDF compressors, Adobe Acrobat is extremely convenient because it allows fast file editing. 
Besides its compressing function, this is also one of the best OCR scanners with extensive features that will allow it to edit, search and read documents. Adobe Acrobat allows editing PDFs easily, and it supports the editing of around 200 pages. 

The features that attract many users to Adobe Acrobat include:
Convert HTML pages to PDF
Convert PDFs to MS Office formats
Merge several PDFs into a single one
Send and track files online
Steps to Compress a PDF File on Mac:
Step 1. Launch the Adobe Acrobat software on your Mac. 
Step 2. Click on "File" > "Open", and choose the PDF you want to compress and import into the editing software.
Step 3. Once the PDF opens, click on "File" > "Reduce File Size" or "Compress PDF".
Step 4. Save the compressed file at your desired location.  
How to Reduce PDF File Size for Email Attachment Online
If you want to reduce the file size for email attachments at an affordable rate, Smallpdf is one of the best choices to use. It is one of the most comprehensive all-in-one PDF compressors.  
Compared to other ones, it is straightforward to compress and convert PDFs using this platform. However, if you're accessing the free trial features, you will only access them for 14 days. All the extensive features for PDF compression are available only for the paid version. Moreover, in the trial period, you will only get the basic updates. 

The attractive features of Smallpdf are following:
Compress, convert, merge, or split PDFs
Create, edit, and convert PDFs into multiple file formats
Sign and unlock PDF documents
Sign PDF documents electronically
Steps to Compress Large PDF Files into Smaller Ones:
Step 1. Go to the page of Smallpdf compressor.
Step 2. Click on "Choose Files" and select the file you want to compress. The tool will automatically start compressing the PDF.
Step 3. Download the compressed PDF document and save it on your computer. 
The advanced version will ensure high quality. Moreover, all the files are stored in the cloud, thereby ensuring better security. 
Conclusion
You may need PDF compressors for different reasons. These compressors play an important role in ensuring a better way to send an email with an attachment.
Among all those optional ones, EaseUS PDF Editor is one of the most convenient tools to make a PDF smaller to email, as it provides you with an easy and full compression process. Moreover, it will ensure that the PDF quality will remain original.