Track Cell Phone Location Free with/Without Software

Cedric updated on Sep 21, 2022 to Find360 - Location Tracker
Looking to track a cellphone without having to pay for it? Let's find out how.
Tracking a lost phone or a stolen one is something many of us have needed in our lifetime. It's not only a remarkable way of finding lost devices but also tracking loved ones. These factors make cell phone tracking a remarkable but often expensive feature.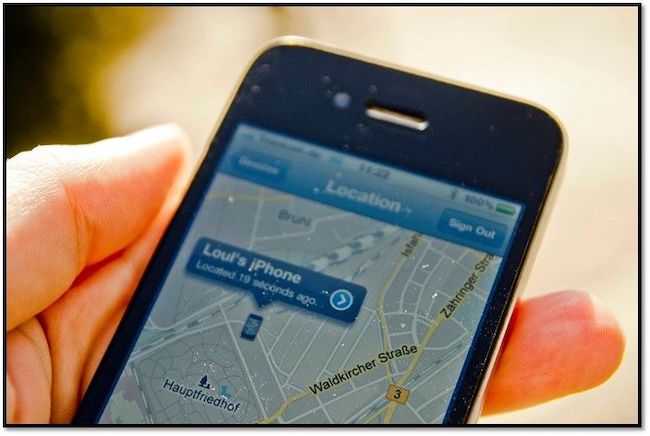 Mainly because installing or using a tracking program can be costly. So, how to track a cellphone location without installing software? Is there even a way of doing it? Today, we'll be exploring a few ways to do just that. So, let's get started.
How Does Cell Phone Tracking Work
Every cellphone from the past 10 years or so has had trackers in them. This has allowed the GPS inside these phones to help users track or navigate their ways, find locations, or look for places in their local vicinity. However, the same features also enable cell phone tracking.
Since the tracking device inside a phone sends a signal to the local cell tower, programs like Google Maps or other services detect these signals to pinpoint your exact location on the map. That's how they allow you to use GPS or way-tracking services.
So, as the phone moves, the antenna tower picks up the signals it sends back to the user or the one with the tracking information. That's why today we'll be looking at a few essential things like:
Tracking cellphones without expensive software
Tracking cell phones without installing software or application at all
How to set up tracking information and share it on Android or iPhone
Now, a lot of people might be concerned about privacy or security. However, location sharing or tracking is a service that's totally safe and secure. On top of that, it can only happen once you allow a user to do it on your phone.
Track the Cell Phone Location without Installing Application
Every mobile phone has built-in options allowing the user to track its location. While sometimes these features are well-hidden, other phones put them at the forefront. It's up to you to find them.
But today, we'll tell you two ways of doing that on either iOS or Android. This way, you won't have to install an application or software to be able to track your phone. So, let's begin:
Track Cell Phone with Find My Device for Android
Tracking an Android device isn't straightforward, but it's not difficult either. If you know how to set it up, it'll be easy to track your device(s) from anywhere. So, how do you do it? Here's how:
Step 1. Go to Android phone Settings.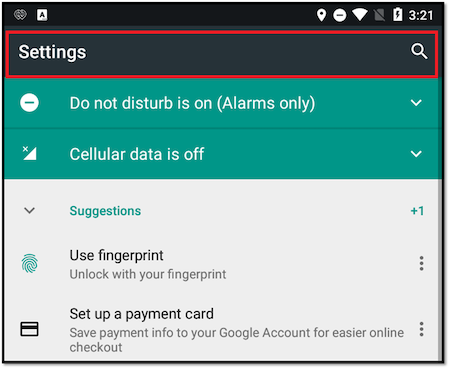 Step 2. Search for Find My Device.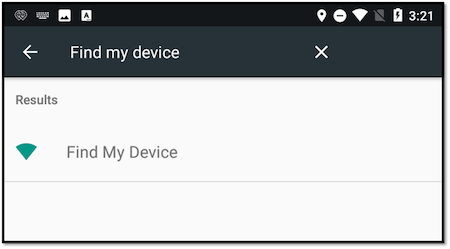 Step 3. See if the setting is off.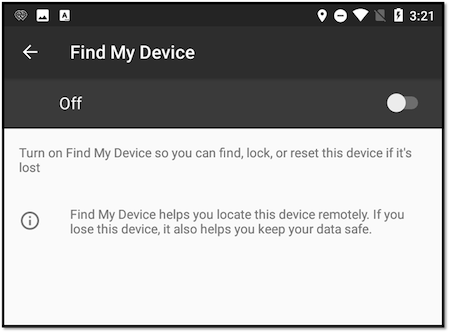 Step 4. Toggle it ON.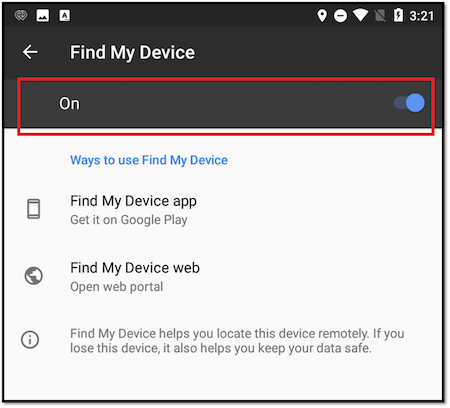 Now that the tracking is on, how do you find where your device is? Head to Google and sign in to your Android account, the same one that you use on the phone you wish to track. Once done, here's what to do next:
Step 1. Head to Android.com/find.
Step 2. Sign in with your Gmail account or pick the one with your device.
Step 3. Let it track your device.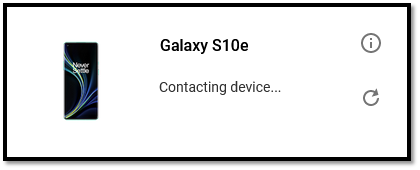 Step 4. See the location.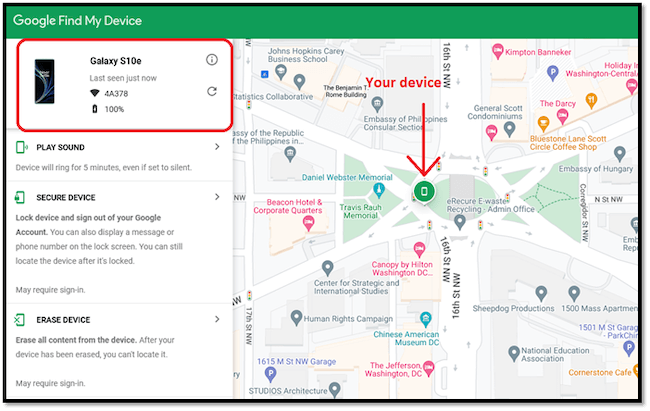 Step 5. You can see where the device is located in this.
As you can see, it's imperative that you turn and keep your "Find My Device" on at all times. This will allow you to track your device from every location, ensuring its safety and security. Now, if you wish to add a family member, you can use their Gmail to do the same.
Track Cell Phone with Find My Phone for iPhone
Tracking an iPhone is more or less the same as an iPhone's device-locating capabilities. But, of course, it has a different UI and various other settings that come into play.
So, how do you use an iPhone's device-tracking settings to find it? First off, you need to turn your device tracking on from settings. Here's how:
Step 1. Open iPhone Settings.
Step 2. Head to iCloud settings.
Step 3. Navigate down and locate Find My iPhone.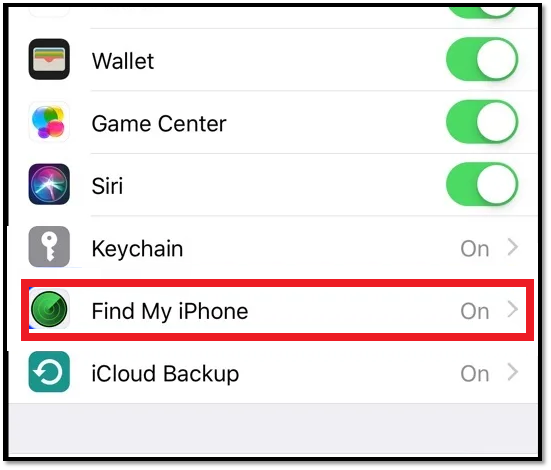 Step 4. Toggle Find My iPhone ON.
Step 5. Toggle Send Last Location ON.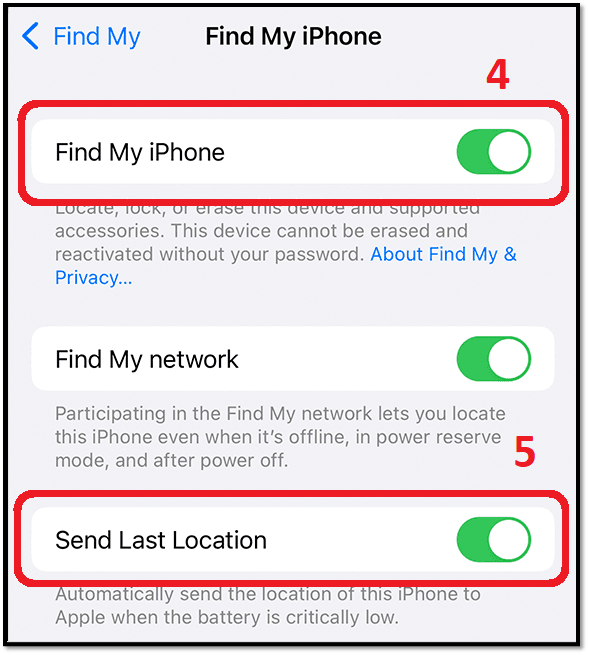 Now that your device is set for tracking, all that remains is for you to find your device through iCloud. For that to happen, you'll have to do this:
Step 1. Go to iCloud.com.
Step 2. Sign in to your Apple ID.
Step 3. Find and click My devices.

Step 4. Select All Devices.
This process will allow you to toggle tracking on any iPhone device. Then, later on, it'll help you track it with iCloud.com. By doing so, you'll be able to track your devices, your family, or your friends as long as they're set on the same iCloud/Apple ID.
Track The Cell Phone Location with Free Application
While both Google and iCloud ways of tracking a device are viable, there are other ways. What if you could use a program that doesn't compromise privacy or security yet still allows you to share your location or track the devices of the ones you love?
The only such application that allows you to do that is EaseUS Find360, which will enable you to set up groups that you can track, stay in touch with, or get notified about.
So, why this particular application? Here are a few reasons:
It allows real-time location tracking
It offers unlimited location history
You can customize location-related notifications, such as your child leaving/arriving at the school
Supports both Android and iOS devices
On top of all that, it's an outstanding program with effortless usage. For instance, the steps mentioned throughout this article won't have to be taken. All you'll have to do is install the application and configure the group of people you wish to track and allow them to track you.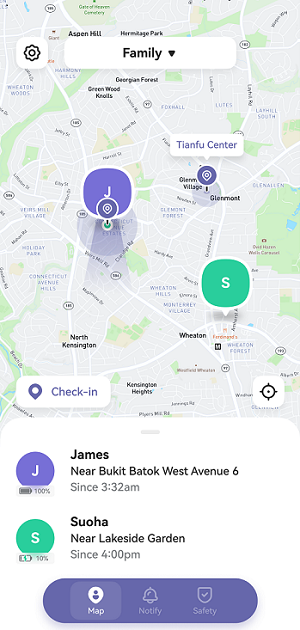 Track Cell Phone Location FAQs
If you have more questions, which we're sure you do, try this FAQs section. This will help you answer additional questions and queries, so see if you can find your wanted answers:
1. Will tracking apps work if location sharing is disabled?
Yes, it can. Some various applications and methods allow the user to track their devices even if the location services are disabled. This is an in-built security system in many Android and iPhones today.
2. Can you track a person's location with their phone numbers?
Yes, you can. While it requires extra work or permission from the user of that number, it can be done simply with a phone number and through GPS tracking. Or, you can use Find360 with a friend's number and permission to track their location.
3. Does the tracking app require permission?
Yes, it does. To access your tracking signals, any tracking application will require you to grant it permission to use your GPS and location settings.
Conclusion
These are all dependable ways of tracking your device or the people you know. Granted, you'd need their device and Apple/Google IDs to activate this tracking system. However, using a mutually agreeable application like Find360 is a much better, safer, and privacy-securing option.