How to Share Your Location in Google Maps

Cedric updated on Sep 21, 2022 to Find360 - Location Tracker
Looking for ways to share your location on Google maps? Let's figure out how.
Location sharing on Google Maps is a handy feature. It can help people with many things, such as finding lost devices or keeping track of their children. However, using this feature isn't as easy as it sounds.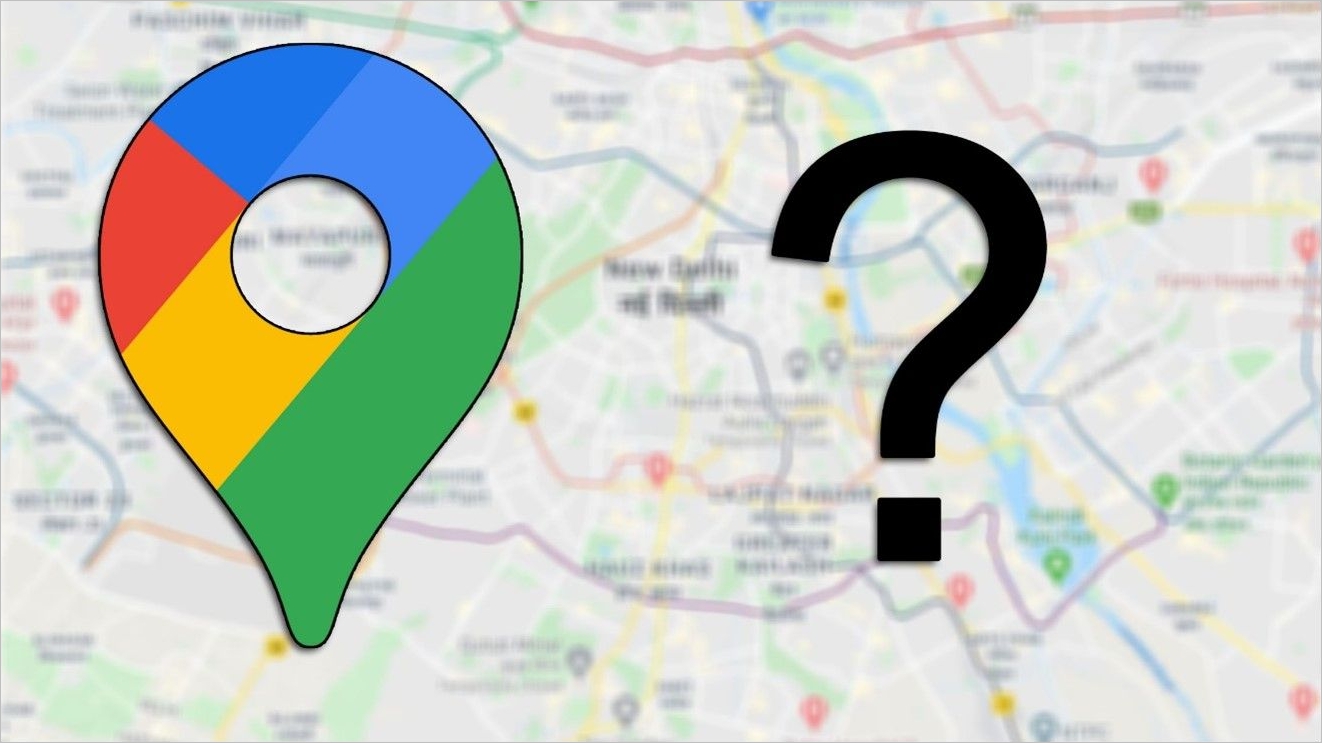 On top of that, it's a handy feature in finding nearby locations, eateries, shopping malls, etc. Now, to understand how to share your real-time location, we'll be exploring a few ways for iPhone, Android, and PC users. So, let's get started.
What Location Data Does Google Maps Share with Others
Location data depends on your preference and setting. By default, Google doesn't share your location or data with anyone on your contact list. However, there are various ways for you to share real-time locations in Google maps, alongside other key elements such as:
Your Google name and profile picture
Real-time location pinpoint on Google map
Battery status of the device you're using
Tagged locations such as meet-up spots, workplaces, homes, etc
This allows the user you share your location in Google maps to track your device. However, you need to remember that you're in control of who you share this information with and if you want to share it.
Therefore, this article won't only explore how to share but also how to stop sharing your location anytime you wish to.
Share Location in Google Maps on Any Device
Now that we understand the significance of sharing location with fellow users let's explore a few ways of doing it. In this section, we'll be discussing how one can share their location on Google maps on an Android, iPhone, or PC/Mac. So, let's get started.
Way 1. Share Location in Google Maps on Android
Sharing your location in Google maps on an android device is as easy as they come. It's a straightforward process, but you must take your steps properly. However, Google does warn that you cannot share location if you're in a country or region that doesn't allow it.
But, if it does, you can follow these steps:
Step 1. Launch the "Google Maps" app on your Android device.
Step 2. In Google Maps, tap on the "Location" icon on the bottom-left side of your screen.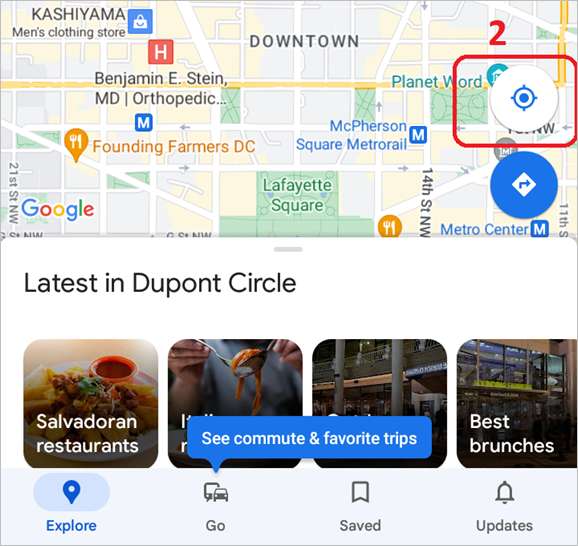 Step 3. Tap on the place with the blue dot (your location).
Step 4. Tap on "Share Location" when "Your Location" pops up at the bottom of your screen.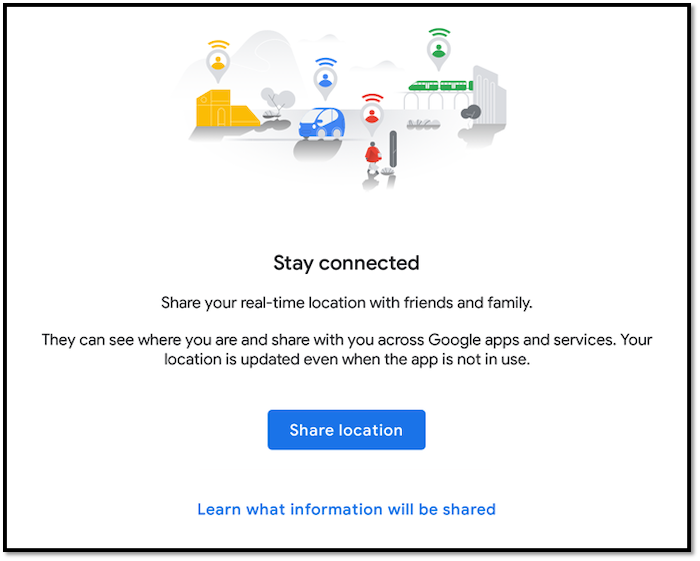 Step 5. Pick the time for your real-time location to be available (Optional, unless you're sharing a real-time location).
Step 6. Tap on "Copy to Clipboard".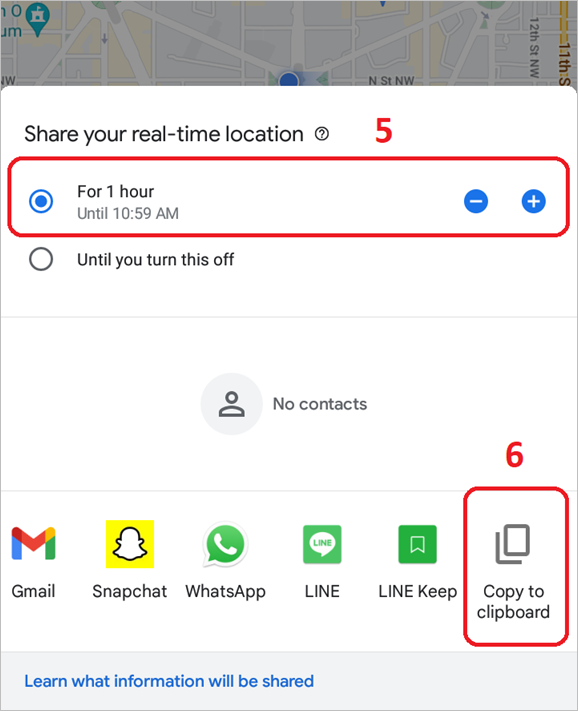 Step 7. Paste the link or send it to the person you wish to share your location with.
You can also directly send your location to any recipient on the below-mentioned applications, such as LINE, Snapchat, Gmail, WhatsApp, etc. So, make sure you pick the time correctly for your location to be visible.
Way 2. Share Location in Google Maps on iOS
Sharing your location on the iOS version of Google Maps is more or less the same. However, it depends on various iOS versions and the ever-changing UI of Apple's devices. However, you can still employ the same procedure like this:
Step 1. Launch "Google Maps" on any iOS device.
Step 2. Tap on the "Location" icon.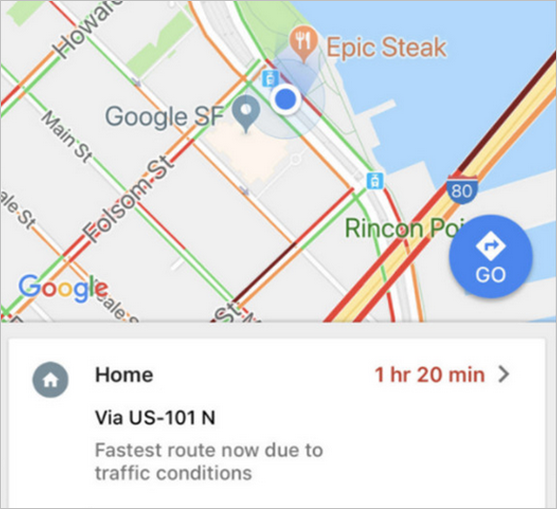 Step 3. Tap on the "Share Location" button.

Step 4. Pick the time (optional).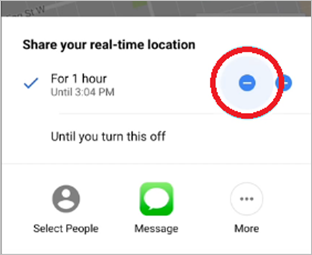 Step 5. Copy to clipboard or send directly to a recipient.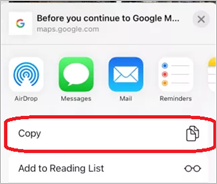 Now, you can directly pick people to send your location to as well. However, this is the easiest and most hassle-free way of sharing your location with your friends or family.
Way 3. Share Location in Google Maps on PC/MAC
Sharing your location using a PC or Mac device isn't difficult either. All you'll need is to head to Google Maps website and sign in to your account. Once you do, follow these steps on either your Mac or PC:
Step 1. Sign in to Google Maps on PC/Mac.
Step 2. Click on the location you want to share.
Step 3. Head to the sidebar and click "Share".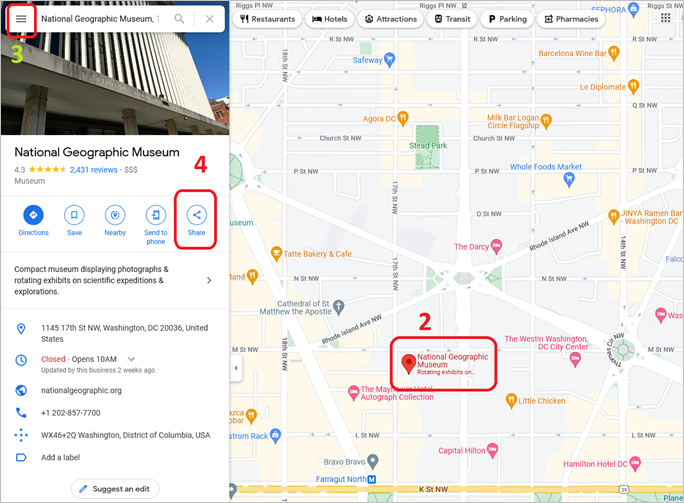 Step 4. Copy the link. Or directly send it to a user.
This will send your targeted user the location you wish to share. Now, considering that it's not the live location as it was on iOS or Android devices. So, you'll have to turn on location settings from your PC or Mac settings.
Share Location in Google Maps with Software
Suppose you think using Google as a location finder or a location sharing program is a bit of a hassle. In that case, you can try a professional alternate.
We're talking about EaseUS Find360, which allows mobile phone users to locate their loved ones, friends, and any location they wish to. So, why this program/app? Let us tell you why.
Find360 is a location tool by EaseUS, which accesses your device's location or the devices of your loved ones and tells you exactly where they are. This location-tracking application allows you to create small groups, i.e., your family and friends, to track their location.
This application aims to provide peace of mind to families so they can stay in touch with one another at all times. There are privacy factors if a user wishes to avoid sharing their location at specific times. However, it all depends on the users and their preferences.
How to Set up Find 360
Setting up Find360 is easy as it comes. All you need to do is head to the product website from your device, i.e., Android or iOS, and install it. Here's how:
Step 1. Head to the EaseUS Find360 website.
Step 2. Choose either Android or iOS, i.e., Apple's Appstore or Google's Playstore.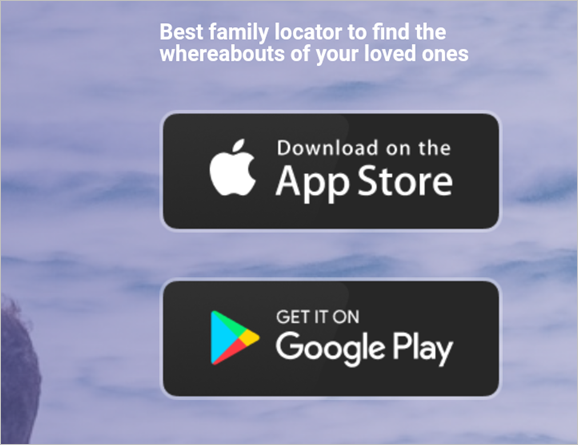 Step 3. Install it on your Android or iOS device.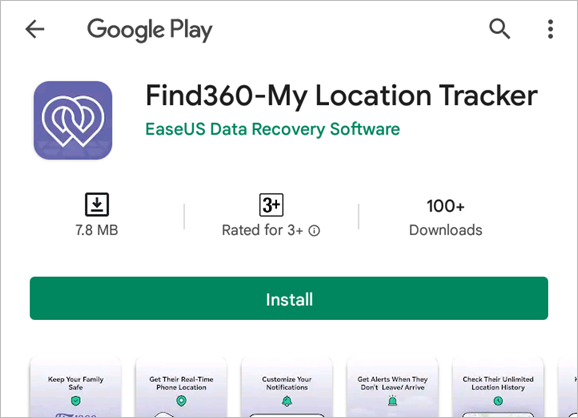 Step 4. Let the installation run course. Open the app. Then tap on "Get started" and type in your email.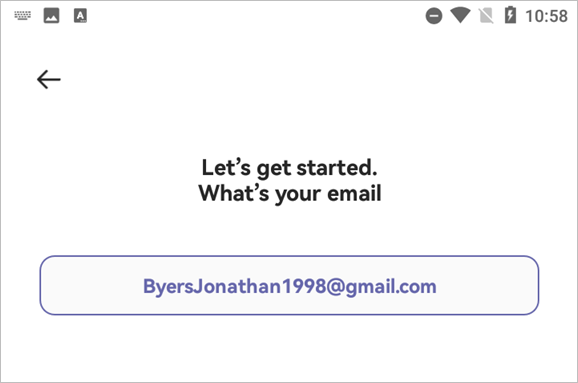 Step 5. Type your first & last name.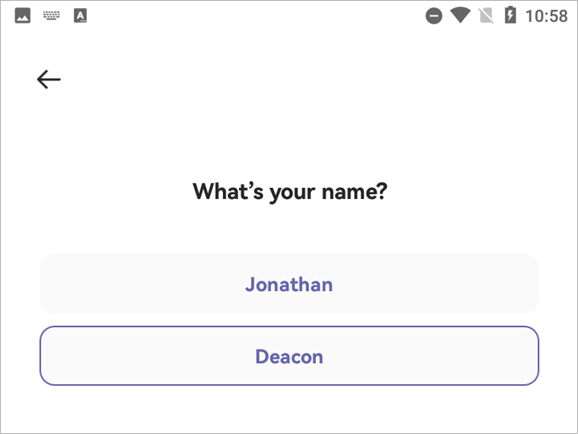 Step 6. Create a circle.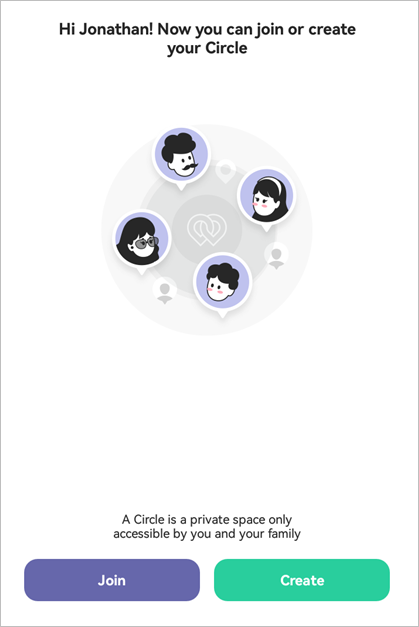 Step 7. Share "Invitation Code".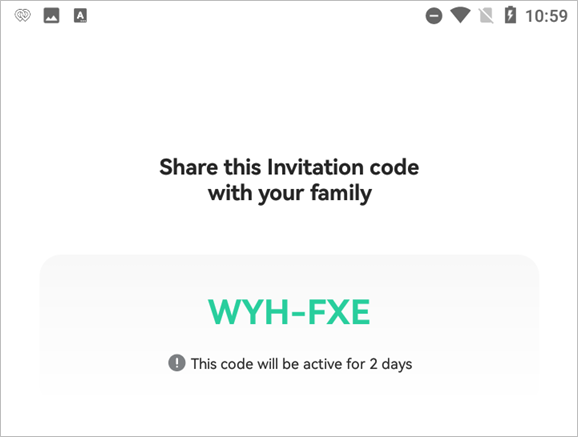 Once you share the code, your desired users can join this circle. However, they must have the application installed on their devices to access this code.
Find360 Features
Find360 is chockfull of key features, all of which are ideal for a group of friends or family. The location-tracking abilities of this app are also outstanding. That's why the application has everything you'll need in a location-related program, as it allows you to:
Keep real-time tracking of your device
Track the devices of your loved ones
Find their current location
Find their estimated time of arrival
Find out if they checked in at designated times, in places like school, work, shopping malls, etc
All these factors make it one of the most accessible and convenient location-tracking programs available today. On top of that, this application allows you to:
Create a group of people that you wish to track
Create customized, personalized notifications, which allow you to track other devices
Setting up the program is also easy, which we demonstrated above. Making it an ideal companion for a group of friends, students, workplace colleagues, and most of all, a family circle.
Pros:
Easy to use
Create customized notifications
Create/allow check-in information
Cons:
Not easy to use for first-time users
Privacy issues if not configured properly
Summary
These are some of the best ways to share your location on Google using maps on Android, iOS, and PC/Mac. So, all you need to do is follow the steps mentioned throughout this article. But, if you wish to create a private circle, you can try Find360 by EaseUS for professional-level location tracking.