How to Track a Phone Number Freely and Legally

Fiona updated on Sep 21, 2022 to Find360 - Location Tracker
Care about your family's safety? Being a good parent is tough. This app allows you to track your loved one's phone location and find out where he/she is.
Do you want to know your kid's location on the road to school?
Wanna check if your child drives safely?
Wanna ask your husband to pick up your kids after work?
Every parent worries about their kid's safety when they are not with their kid. For example, parents have a business trip while a kid has to look after themselves, or when the kid goes out with friends...But if we text or call them, kids will feel nervous, but now we can know their whereabouts without blowing up their phones.
We can even locate this kind of APP to track our missing phone.
Some scenarios in our life:
''Did my children enter or leave school on time? Are they in a high-risk crime area? ''
''After school, did they do their routine activities as usual? Such as go to the Stadium.''
''my son is driving my car on the road; I feel anxious about his safety''
''The city for college of my daughter is far away from our city, is she safe always?''
''Should I share the location always with my boyfriend who lives in another city?''
''Will my husband arrive home in 30 minutes? I'd like to prepare some food for him in advance.''
''May I check the location of my aged parent with amnesia?''
''Could I track the location of my kids during the trip?''
"Could I find out my missing phone by locating it?"
No worries! You can find the answers with peace of mind by installing Find360 immediately. We allow you to ensure your family's safety by tracking the activities of the people you care about during the day. Find360 is an all-in-one app for all ages and all relationships: teenagers and their parents, long-distance couples, middle-aged children and elderly parents, etc. We aim to help you not to be worried anymore about the whereabouts of your loved ones and to bring you closer by connecting and protecting you through our platform.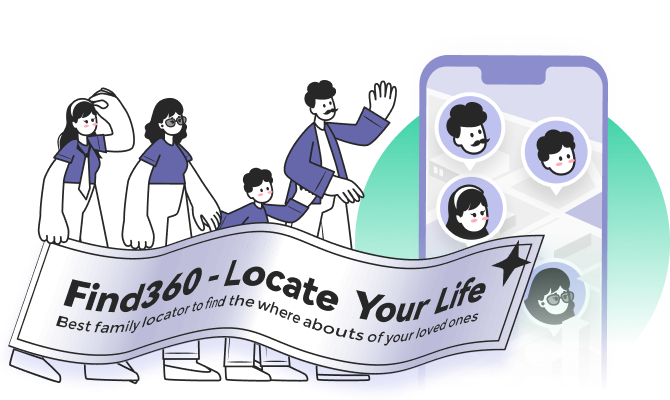 What can you do with Find360?
- View the real-time location of your family members and close friends on the map
- See the phone status of your family members: battery/login or out/phone off
- Check the unlimited location history of your family
- Customize notifications when they leave/don't leave/arrive/ don't arrive at school/ home/ work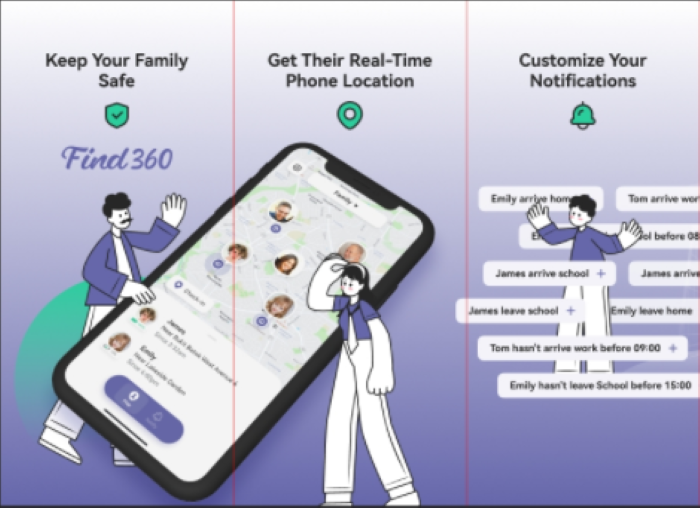 But how to get their accurate real-time location? Let's see the process:
1 Create a private circle
2 Invite your family members or friends to join
3 Get their accurate location
4 Personalized alerts when they leave or arrive
5 Check their unlimited location history at no charge
Awards
- 2022 Family Safety Union Award Winner. Awarded by Family Safety Union Awards.
- Best Family Product Online for Parents 2022. Awarded by Parents Union Awards.
Find360 is the best family locator to track the location of your family, and friends. Get it now !