How to Remove Comments from Your PDF Files

Jane Zhou updated on May 27, 2021 to PDF Editor Tutorials
Adding comments in a PDF file is common when people add comments into a PDF file for someone else to correct the errors or issues with their writing. This is very normal to highlight points or important lines in a PDF file by adding comments.
Sometimes people add permanent comments into their PDF files, and sometimes comments are not permanent. Although, a lot of people don't know how to remove comments from PDF files easily? If you are also one of them, then you'll find your solution in this article. We have provided 3 different ways to delete PDF comments with step-by-step guidelines for you to follow. So don't panic and follow the article to choose your best suitable method for this.
Part 1. How to Remove All Comments from PDF in Adobe Acrobat
The most common and popular way to remove comments from PDF is by using Adobe Acrobat. It's one of the most powerful Windows PDF editor on the market because of its advanced features.
It has a very colorful and intuitive interface that can attract your eyes easily. Many professional and personal users recommend Adobe Acrobat to handle PDF files because of the trust it has among millions of people. With its help, you not only can batch remove comments from PDF but also edit, convert, sign and reduce PDF file size within a few clicks. So it's a reliable and trustworthy software for managing PDF files like a pro.
Step by step tutorial to delete comments:
Step 1. First, you need to start Adobe Acrobat and open the PDF via the software that needs deleting comments from it.
Step 2. Next, select any comment and click on the "Delete" button to delete it.
Another way is to right-click on the comment that you want to delete from the Comments list. Then select "Delete" from the context menu to remove the comment from PDF.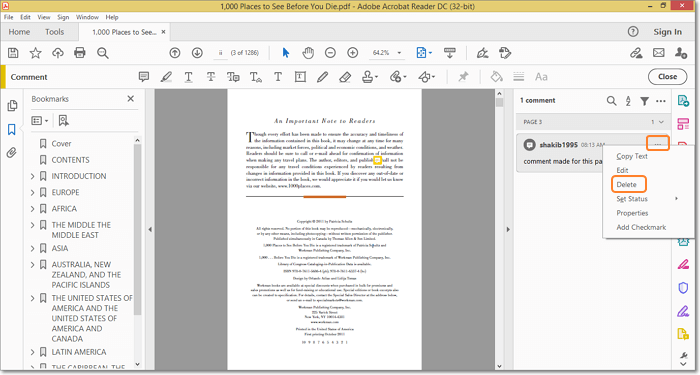 Part 2. How to Delete Comments from PDF with EaseUS PDF Editor
Among several ways to remove locked comments from PDF, the best way is EaseUS PDF Editor. This amazing software is a free Adobe Acrobat alternative, which can change your view on managing PDF documents.
It has all kinds of features that you'll need for a one-stop PDF document solution. With the latest technology, friendly user interface, and perfect combination of powerful features, this PDF editing software can be an exhilarating experience for you. Even if you are not a tech expert, it won't take long for you to understand how this powerful software works. 
Features
It has a special "Read Mode" to read eBooks easily
It can reduce the file size of large PDF files
You can definitely create a PDF file, edit and add/delete comments on PDFs
Customize PDF forms, add a digital signature, and secure PDF files
Step by step tutorial to remove Comments from PDF:
Step 1. From the homepage, click on "Open Files" and open the PDF file via the software as it needs deleting comments.
Step 2. Next, you'll find the comments on the PDF file and select the comment that you want to delete. Click on the "Options" button ad select "Delete" to delete the comment from the PDF file.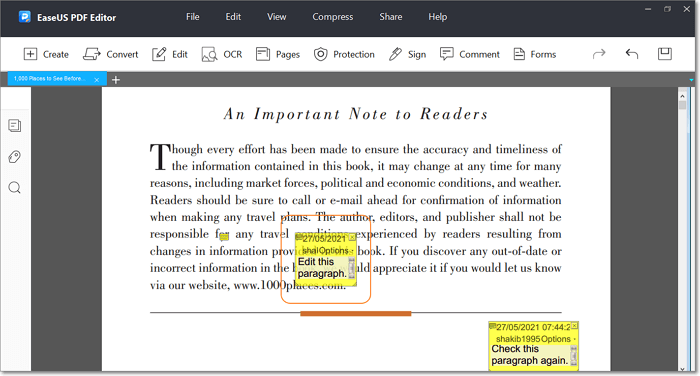 Step 3. Finally, after deleting the comments, click on the "Save" button to save the PDF file to your computer.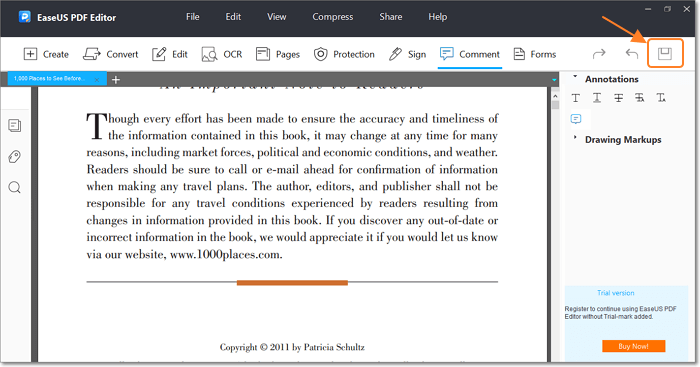 Part 3. How to Delete Comments in PDF using AvePDF Online
If you want to remove or delete PDF comments online, we found the easiest and most convenient way for you to use them. 
AvePDF offers an easy way of removing unwanted comments from a PDF file. This simple and easy-to-use PDF editor has various useful features to edit a PDF file. Any novice user can handle this tool by browsing the official website and uploading the PDF that needs editing. To be precise, it's a powerful online PDF editing tool that is made simple for everyone. You can use this online tool to merge, edit, convert, compress, sign & secure your PDF documents within a few clicks.
Steps to Delete Comments in PDF online:
Step 1. First, you need to visit the AvePDF official website and upload the PDF file that needs comment removal.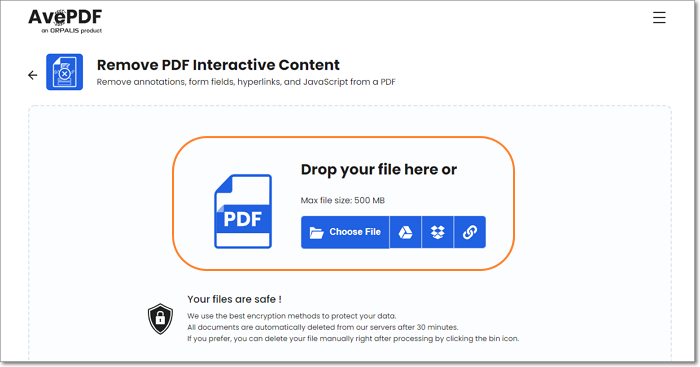 Step 2. Next, when the PDF is uploaded into the system, you'll find options to remove all kinds of annotations, form fields, comments, hyperlinks, and Javascript from the PDF file. "Toggle On" the options that you need to remove and click on the "Remove" button.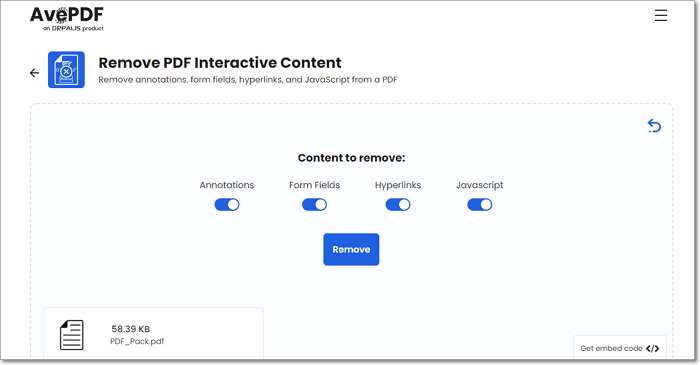 Step 3. Finally, download the PDF file to save it on your computer.
Conclusion
To conclude this whole guideline, the first thing to mention is, you now know several ways to remove comments from PDF. It's not rocket science to delete comments from PDF, but you need to follow a proper guideline to do this. You have the guideline now, and you can use any methods mentioned here.
The best way to remove comments from a PDF file is by using the powerful EaseUS PDF Editor. No other PDF managing software can be as useful and advanced as this one. So stop wasting your time on other tools or ways and start using EaseUS PDF Editor from now.
FAQs About Removing Comments in PDF
Among all kinds of questions from users, here are some common frequently asked questions answered for your convenience.
How do I save a PDF without the comments showing?
You can delete all the comments and then save the PDF. When you open the PDF next time or print the PDF, the comments won't show anymore.
How do I remove mark-ups from a PDF?
You can simply right-click on the mark-up and select the "Delete" option from the list of options available in the menu. Then the mark-up will be removed.
How to hide review comments in PDF?
In EaseUS PDF Editor, click on the "X" button at the corner of each comment, and it will hide your comment. This is how you can hide review comments in PDF.
In Adobe Acrobat, you can open the Comments list and choose "Hide All Comments" or press the short key "SHIFT + CTRL + 8". The comments will be hidden.