How to Convert Excel to PDF Without Losing Format

Jane Zhou updated on Apr 27, 2021 to PDF Converter Tutorials
There are several reasons to convert Excel to PDF format. It might be that you have prepared a quotation in Excel, and you want to send it in PDF format to someone. Or, it might be that you do not want anyone to alter your Excel data, and turning your Excel into a PDF is the easiest way to achieve this.
Fortunately, most Excel to PDF converter software allows you to easily and quickly change all your Excel documents to PDF format. You simply need to select the spreadsheets you want to convert, and the programs take care of the rest for you. If you are in search of such methods, the guide below will be of tremendous help to you.
Part 1. How to Convert Excel to PDF on Windows 10
If you use a Windows PC, there are various ways to convert Excel spreadsheets to PDF. You can use 2 best free PDF printer to do the task. One is EaseUS PDF Editor, and the other is Cute PDF Writer.
As one of the most popular Excel to PDF converters, EaseUS PDF Editor lets you complete the task in seconds. 
Providing many Office files and image formats, it allows you to create a PDF from any of them quickly and easily, including creating PDF from Excel. And your file will keep the original fonts and format. After that, you can edit your converted PDFs with many basic and advanced editing tools it offered. Below are some stunning features of this free converter:
Convert PDF to PPT, Excel, Word, images, or vice versa
Edit your PDFs by inserting, adding, or deleting contents
Offer managing options to split, merge, sign, add watermark to PDF files, and more
Allow adding or changing the background color of your PDF
Now download the free PDF converter and check the following tutorials to create a PDF from Excel on Windows 10:
Step 1. Download and launch EaseUS PDF Editor. Click "Create" > "From File…" to select your Excel files.

Or you can directly select the "Create PDFs" button to import your Excel document.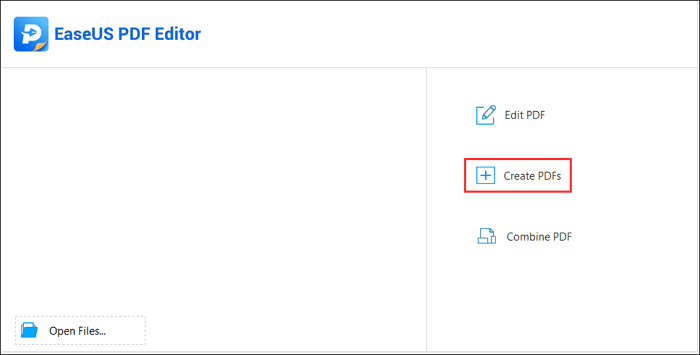 Step 2. Choose your Excel file on your computer, then click "Open" to begin the conversion.
Step 3. Once done, click "Save" or "Save As" followed by "File" to keep your converted files.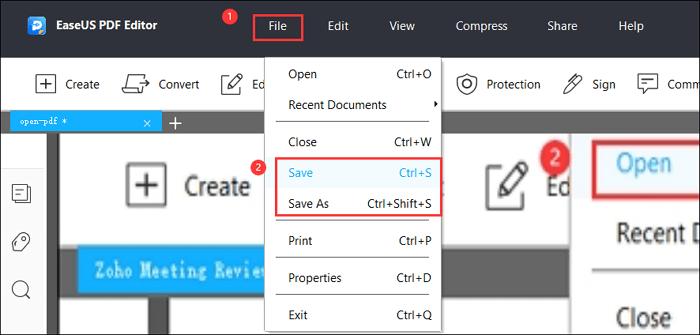 #2. CutePDF Writer
One of these ways is to use the CutePDF Writer. This program acts as a virtual printer on your computer and allows you to save your spreadsheets in PDF format. You can convert pretty much any file to PDF with this tool, as long as your program has printing capabilities.
How to use CutePDF Writer to change Excel to PDF:
Step 1. Download CutePDF Writer, then launch your spreadsheet in Excel and use your mouse to select the area that is to be saved as PDF. Click the "Page Layout" option at the top, select "Print Area", and click "Set Print Area" to set the selected area for print.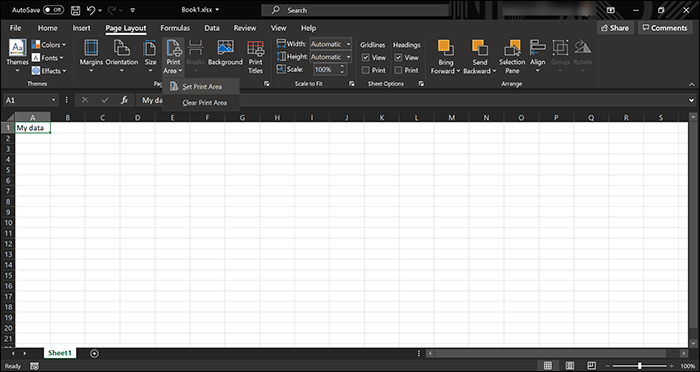 Step 2. When you are ready, click the "File" menu at the top and select "Print" from the left sidebar. Click the "Printer" dropdown menu and choose "CutePDF" as the printer. Then, hit "Print" to generate a PDF file out of your Excel spreadsheet.
Part 2. How to Turn Excel into PDF on Mac
Mac users have as many options to convert multiple Excel files to PDF as Windows users. If you have a Mac and want to turn an Excel file into PDF, use one of the following methods to accomplish your task.
If you have installed Microsoft Excel on your Mac, you can use this very same tool to convert your spreadsheets to PDF. Excel for Mac offers the option to save your files in various non-Excel formats, including PDF. This way of converting files allows you to keep the formatting of your spreadsheets.
How to convert Excel to PDF on Mac:
Step 1. Double-click the Excel spreadsheet that you want to convert to PDF, and it will open in the Excel program. If this does not happen, right-click the spreadsheet and select "Open With > Excel".
Step 2. Click the "File" menu at the top and choose "Save As". On the screen that follows, choose the "PDF" option from the dropdown menu and hit "Save".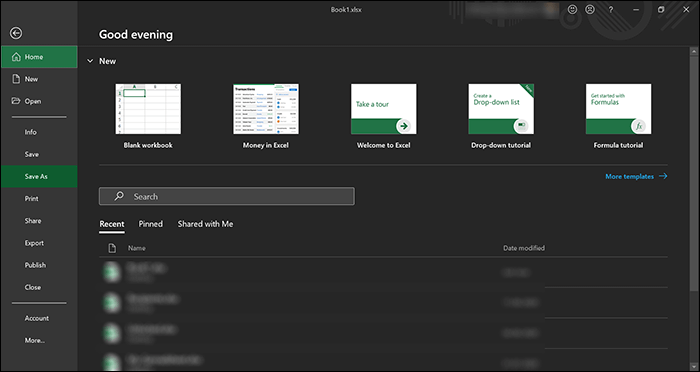 #2. Apple Numbers
In case you do not already know, Apple has actually included a fully working office suite with your Mac computer. There is a word processor, spreadsheet maker, and even a presentation creator. You can use the spreadsheet maker tool, which is called Numbers, to open your Excel spreadsheet and convert it to PDF.
How to use Numbers to convert Excel to PDF:
Step 1. Open a Finder window and find the Excel spreadsheet that you want to convert to PDF. Then, right-click on this file and select "Open With" followed by "Numbers". 
Step 2. When your file opens in Numbers, click the "File" menu at the top and select "Export To" and then "PDF". This will let you save your Excel file in PDF format.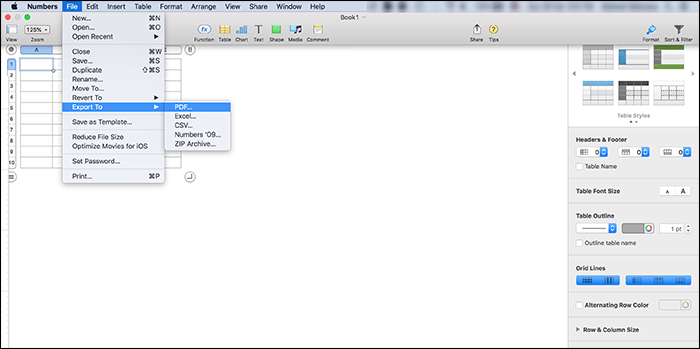 Step 3. Specify conversion options. From the "Image Quality" dropdown menu, choose the quality for your PDF file, add an optional password if you want, and finally click "Next".
Step 4. Enter a name for your PDF, select a folder to save it in, and click the "Export" button.
Part 3. How to Convert Excel Sheet to PDF Online
If you have confidential data in your Excel spreadsheets or too many spreadsheets to convert to PDF, it is a good idea to use an offline software program to convert your files. However, if your Excel files do not contain any confidential information and do not have too many files to convert, you can use one of the many online Excel to PDF converter tools.
Online2PDF is one of the several websites that allows you to convert your Excel files to PDF. It is a web-based app which means you can access it from any of your browsers to convert your files. You simply need to upload your file, and the web app will convert it to your chosen format.

How to use Online2PDF to convert Excel to PDF:
Step 1. Launch a browser like Google Chrome and access the Online2PDF website. Once you are on the website, click the button that says "Select files" and upload the Excel file that you want to convert to PDF from your computer.
Step 2. Once your Excel file is uploaded, click the dropdown menu next to "convert to" and select "PDF". This should be selected by default but ensure PDF is selected. Then, click the "Convert" button at the bottom to start converting your Excel file to PDF.
Step 3. Soon as your Excel is converted to PDF, you will get an option to download your converted file. Click the "Manual download" link, and the file will begin to download to your computer.
The tools mentioned above should help you quickly convert all your Excel files to PDF without losing the formatting.
The Bottom Line
Converting Excel to PDF might seem like a tricky task. Luckily, there are several tools to make this job easier for you. You can use one of the tools mentioned above to get your Excel files converted to PDF without any hassle. The original formatting of your spreadsheets will be preserved.