Top 4 Ways | How to Convert PDF to Publisher Files

Vanessa Chiang updated on Jul 05, 2021 to PDF Knowledge Center
Microsoft Publisher might not sound universal, but it is one of the most flexible editing tools made by Microsoft. Using Microsoft Publisher, you have a great number of templates to create flyers, business cards, appealing documents, and many more. This software also has other advantages such as autoflow, grammar editing, email merging, and many more. 
To make use of all the advantages of Microsoft Publisher, you must have a file in a format supported by Microsoft Publisher, such as PUB. If you are troubled with the problem that you cannot import a PDF file into Publisher, don't worry because there are great PDF to Publisher converters you can use. Read this article to find a suitable tool.
Related Article: >> How to Convert Publisher to PDF Online & Offline
Tool 1. PDFConverter
If you are a Windows user, then you should check out PDFConverter. As its name states, PDFConverter is software that aims to give the best to its users when it comes to filing conversion. The software can convert most files, such as PDF, to other formats, including PUB. users can also convert files in batch or convert scanned files easily. It also provides you with the toolkit to edit the PDF file before converting it. PDFConverter is accessible online, but its features are packed in one application called PDF Convert Elite. However, the software is only available for Windows.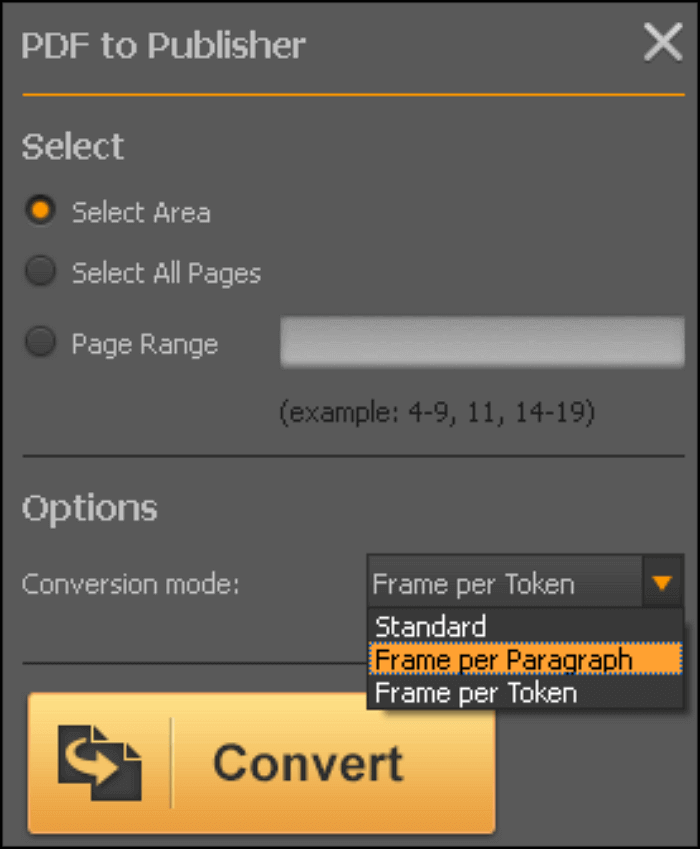 PDF to Publisher Conversion Steps Using PDFConverter:
Step 1. Go to the menu bar and click "Open" to upload the PDF file you want to convert.
Step 2. Click another icon from the menu bar, which is the Publisher bar.
Step 3. Choose the most suitable conversion on the right panel - the entire file, specific pages, or a selected area.
Step 4. Choose the conversion mode you want (standard or frame per paragraph).
Step 5. Click "Convert" and wait for the conversion to finish.
Tool 2. Able2Extract Professional
Able2Extract does more than extraction. It is software that can do lots of things, including convert PDF to Publisher as well as convert PDF to important files formats such as DOC, XLS, PPT, and many more. Able2Extract can also extract scanned content by using OCR technology, allowing us to get the written content of the scan.
Although Able2Extract's main feature is conversion, it does more than that. Users can compare two files and see the highlighted difference between the two. You can also process files in batches, saving you time when converting lots of files. What makes it better is the ability to maintain the original layout of the file and keep the file remains intact until the end of conversion.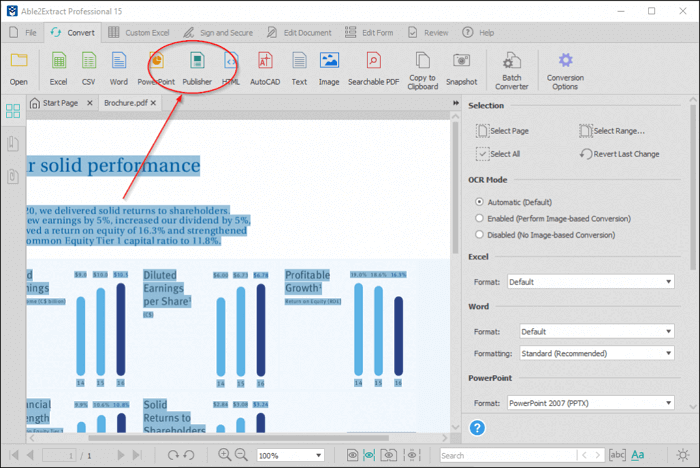 PDF to Publisher Conversion Steps Using Able2Extract Professional:
Step 1. Open Able2Extract and click "Open" at the top toolbar to upload your PDF file.
Step 2. Set the conversion to your needs (complete conversion, selected area, frame per paragraph, and many more).
Step 3. Click "Publisher" at the top and choose the file destination. Wait for the conversion to finish.
Tool 3. Zamzar
Zamzar is another PDF to Publisher converter that supports lots of formats and allows the conversion between them. From TXT to MP3 files, all can be converted using Zamzar. Yes, the conversion from PDF to Publisher is no exception. But Zamzar has a limit of 50 MB, so it cannot handle heavy files.
Since Zamzar is an online tool, you don't have to download and install the software. And this makes it perfect for those who are constantly changing their device. However, since the software is web-based, it heavily depends on the internet connection and traffic. So if the website is a bit crowded, your conversion might be slower than usual.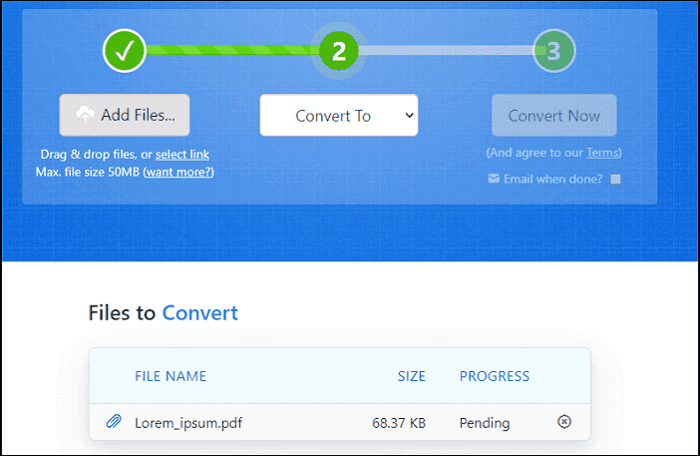 PDF to Publisher Conversion Steps Using Zamzar:
Step 1. Drag the file to Zamzar's website.
Step 2. Pick "PUB" as the target format. Then, press "Convert Now".
Step 3. A few seconds later, the file is converted. Download the file to your computer.
Tool 4. Microsoft Word
If you are unable to use the applications mentioned above, using Microsoft Word is a good alternative method. Microsoft Word cannot do the PDF to Publisher conversion directly. However, it can be the bridge that can help you connect PDF and Publisher by converting the PDF file to Word. Then, you only need to open the Word document with Publisher and save the file as PUB.
The process is longer, but it is perfect for those who are not willing to download third-party software or go to the web pages of online tools. As Microsoft Word is a built-in program, so there is no need for extra installation.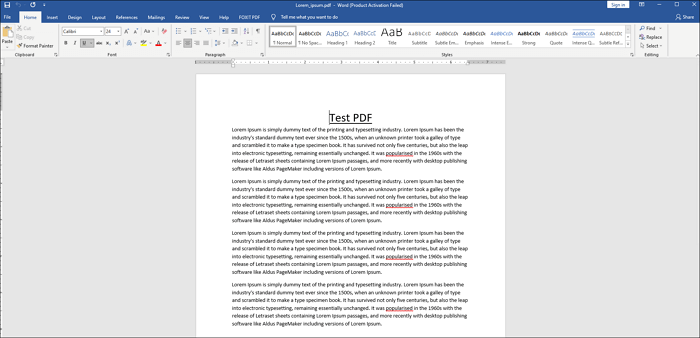 PDF to Publisher Indirect Conversion Steps Using Microsoft Word:
Step 1. Open the PDF file using Microsoft Word.
Step 2. After opening the PDF file, save it as a DOC file.
Step 3. Open Microsoft Publisher, and open the recently-saved DOC file.
Step 4. Save the file as a PUB file.
Bonus Tips: How to Edit PDF Files Before Conversion
If you would like to edit the PDF before converting it to a Publisher file, you can use EaseUS PDF Editor. This editor allows you to make some changes to the PDF without changing its original layout. If it's necessary, it allows you to add PDF forms, text, images, and digital signatures to your PDF file. The tweaking of PDFs can be done easily, too, making the software perfect for all kinds of people. Plus, its user interface is straightforward to understand, so you won't feel overwhelmed when using it.
You can even get files in other formats from PDF documents because EaseUS PDF Editor can convert files from and to PDF. The software supports converting PDF files to documents like Excel, PowerPoint, HTML, etc., as well as converting PDF files to images such as JPG, BMP, TIFF, PNG, and GIF. However, you should note that EaseUS PDF Editor cannot convert PDF to Publisher files for the moment, and you can look forward to future updates.
Key Features:
Protect PDF files using passwords
Split or merge PDF with ease
Add bookmark, footer & header, and page number to PDF
Compress PDF and make it suitable as an email attachment
Support PDF OCR free
Although this software is unable to convert PDF files into PUB directly, you can turn a PDF into a DOC document and open it in Microsoft Publisher. This method may be indirect, but the features mentioned above are worth trying.
Steps to Edit PDF Before Converting to Other Format:
Step 1. Launch EaseUS PDF Editor and import the PDF file you want to edit. You can click on the "Open Files..." button to do that.
Step 2. If you want to edit the text and images in the PDF, click on the "Edit" button, and there are many options for you. It allows you to insert or remove the words and pictures freely, and you can also adjust the font, size, color of the PDF text. 
Step 3. More tools are available under the "Pages" option. This versatile software supports deleting, extracting, cropping, rotating the pages with ease. You can add many elements to the PDF, including header & footer, background, watermark, etc.
Step 4. After editing, you can choose to encrypt the PDF with a password, sign the PDF with an e-signature, or add comments to it. Then, click on the "File" button and select "Save" or "Save As" to preserve the changes you made to the PDF.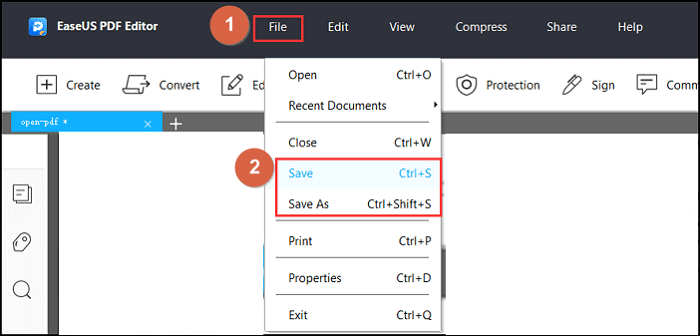 Conclusion
Publisher (.pub) files are great for numerous reasons, but one thing is clear - it gives freedom of creativity to its users in all kinds of ways. It is also editable, making it perfect for people who need to design some works. It's reasonable for people to convert PDF to Publisher files since it would become more convenient to tweak them.
If you would like to edit the file before the conversion, you can use EaseUS PDF Editor. This program has many features that are helpful in editing PDF so that you can make the PDF perfectly meets your needs.