How to Mirror a PDF Without Effort [2 Ways]

Vanessa Chiang updated on Nov 18, 2021 to PDF Knowledge Center
From time to time, you perhaps need to read some PDF documents sent by someone else. Viewing a PDF document is not a challenging task unless the PDF pages are in the wrong direction. If the PDF pages are turned clockwise or counterclockwise 90 degrees, you can rotate them to adapt to your needs, but things are different when the PDF pages are mirrored. Since most PDF editing software only supports rotating PDF pages instead of mirroring them, you may find it's hard to deal with those mirrored PDF pages.
If you are facing this tricky situation, this post will help you a lot. You will know how to mirror a PDF document with simple clicks, and the steps to mirror PDF images will be also offered as a bonus tip. Keep reading to get more information.
How to Mirror a PDF Document with Adobe Acrobat 
As one of the most powerful PDF editors, Adobe Acrobat is also an excellent choice when you are going to mirror a PDF file. Unlike other PDF editors that only allow you to mirror PDF images, this software enables you to mirror the whole PDF pages while printing. As Adobe Acrobat is integrated with a built-in PDF printer driver, everyone can get mirrored PDF without effort.
Since Adobe Acrobat is a versatile PDF editor, you can modify your PDF files using it before or after the printing, and it offers you nearly all the tools you may need in PDF editing. For instance, you can annotate the PDF in many ways, such as adding sticky notes, highlighting text, and more.
Steps to Mirror PDF on Windows and Mac with Adobe Acrobat:
Step 1. First, open the PDF with Adobe Acrobat. 
Step 2. Click on "File" > "Print", and select "Adobe PDF" as the printer from the list of printing devices and drivers.
Step 3. Now, you need to click on the "Properties" button and go to "Layout" > "Advanced" to adjust the document options. 
Step 4. Click on the "PostScript Options" to expand it and set "Mirrored Output" to "Yes." Now, you can hit the "OK" button to start mirroring the PDF pages.
How to Mirror PDF Files with PDF995 Printer Driver 
As mentioned above, a powerful printer driver is a crucial point of mirroring PDF pages. In other words, you can install the printer driver software on your device to enhance the printing functions of a PDF editor and make it able to mirror PDF pages during printing. PDF995 is a printer driver that you may need. But it's worth noting that this software is only compatible with Windows operating systems, so that if you have to mirror PDFs on Mac, it would be better to use Adobe Acrobat.
Ensure that there is a PDF editor that can use PDF995 as the printer driver, and EaseUS PDF Editor is a recommendable one. After installing PDF995 on your Windows PC, you can directly find this driver in EaseUS PDF Editor's printer list, and then all you need to do is adjust the properties to mirror PDF pages.
How to Flip a PDF Document on Windows with EaseUS PDF Editor and PDF995:
Step 1. Install PDF995 and EaseUS PDF Editor on your PC, and open the PDF file you want to mirror using EaseUS PDF Editor.
Step 2. Click on "File" > "Print" to activate the PDF printing mode, and select "PDF995" from the "Printer" list. Then, hit the "Properties" > "Advanced" buttons to adjust the settings.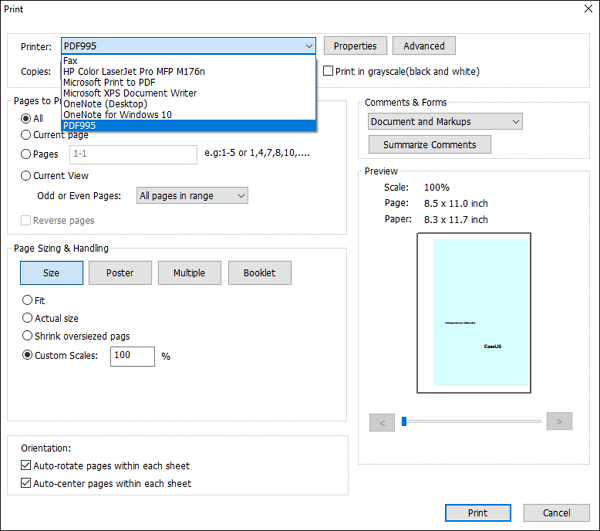 Step 3. When the following window appears, you can click "PostScript Options" to expand the options and set "Mirrored Output" to "Yes."
Step 4. When turning back to the "Print" window, adjust other settings to per your needs. Finally, click on the "Print" button to start mirroring the PDF document.
Bonus: How to Print Mirror Image PDF with EaseUS PDF Editor 
The two apps above can help you mirror the PDF pages while printing. Is there any software that supports only mirroring the PDF Images? Of course, and EaseUS PDF Editor is an outstanding one among this type of PDF editing apps.
This all-in-one PDF editor allows you to edit PDF images from every aspect. For example, you are able to crop the PDF images to resize them, rotate them clockwise or counterclockwise, and flip them horizontally or vertically.
Key Features:
Edit PDF text, images, background, watermark, and bookmarks
Splitting, merging, rotating, PDF pages freely
Turn scanned PDF to editable using OCR function
Protect PDF files by adding a password
Don't miss this all-in-one PDF editor. And you can click on this button for a free download. No registration is required.
How to Flip a PDF Image with EaseUS PDF Editor:
Step 1. Launch this PDF editing program and click "File" > "Open" to import your target PDF file.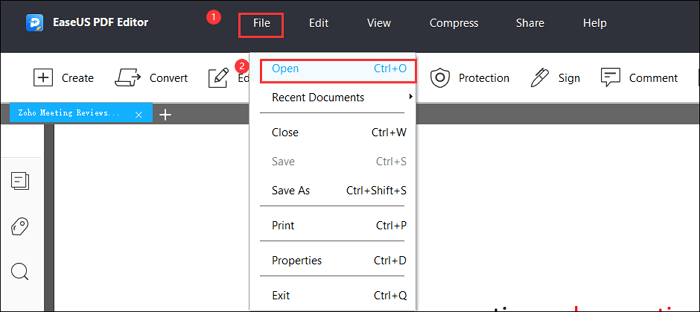 Step 2. Click on the "Edit" option in the top toolbar, then find and select the image that you want to edit.

Step 3. Right-click on the image that you selected, then you will see two options. Here you can choose to flip it horizontal or vertical.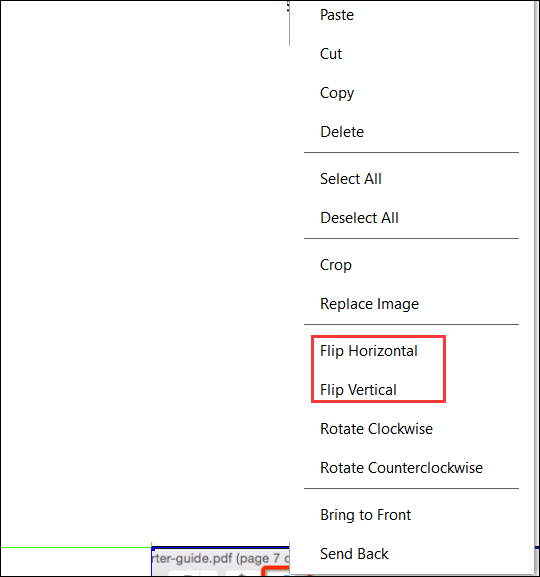 Step 4. When you are satisfied with the edited images, click "File" > "Save" to export the file and save it on your computer.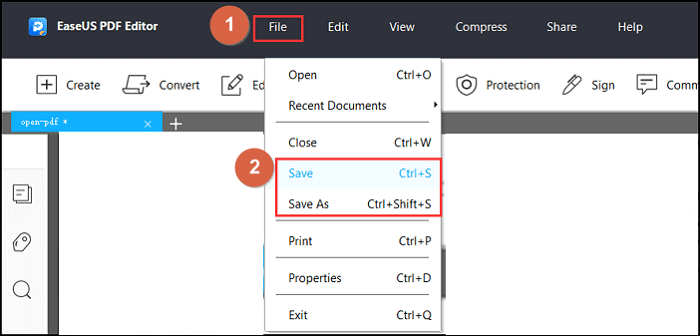 Some people perhaps want to print out the PDF with flipped images. You can click on "File" > "Print" to do that. If you're going to find a detailed tutorial on printing PDF with this software, the following post will help you.

How to Print PDF Without Margins
Click on this post to check the detailed steps to print PDF files. The tutorial is easy-to-understand, and even beginners can print PDFs effortlessly.
Conclusion
This post offered you two workable ways for users who don't know how to mirror a PDF document. You can do that easily as long as you get a powerful PDF printer driver on your device. Both Adobe Acrobat's built-in printer driver and PDF995 are helpful for you. When using PDF995, you should ensure that there is an available PDF editor on your PC. If you are a beginner, EaseUS PDF Editor will be the most suitable PDF editing software for you as it's user-friendly, and everyone can use it without any hassle.