How to Cite a PDF | Simple Methods

Jane Zhou updated on Jun 04, 2021 to PDF Knowledge Center
When going to college or doing a Masters's/Doctoral Degree, most students have to do a Thesis paper about their field of study. This paper needs specific references to support your findings. You might come across a PDF file in your sources, so it's essential to learn how to cite a PDF.
Citing PDFs appears complicated, but once you grasp the method, it becomes a pretty straightforward task. The key to knowing to cite a PDF is to quote it according to its source. After all, a PDF is a file format and a method of displaying a source, not the source itself. Then, depending on your citation style, you can add a brief comment to the citation indicating that the source was in PDF format. This article will teach you how to cite a PDF in the three most common citation styles: APA, MLA, and Chicago.
Things You Need to Know Before Citing A PDF
When you want to cite a PDF, you need to collect certain information about the article that will be cited:
The author's name
Title of the article
The issue, volume, and page number
Date of the publication and name of the journal
the web address of the article
APA vs. MLA vs. Chicago
APA, MLA, Chicago are some of the most commonly used styles in academic and professional writing. However, each has its shortcomings and is used in some specific circumstances. If you don't know how to choose the right one, check the following information:
If you study psychology, education, linguistics, and other social sciences, the APA style is your first choice
If you are pursuing literature, art, or the general humanities, you can use the MLA style
Publishing and editing use Chicago commonly. If you study history, journalism, or communications, you can use the Chicago style
Cite a PDF in APA
For PDFs, the APA Style does not specify a precise citation style. Instead, you'll need to figure out what kind of source the PDF is and cite it properly. Look for hints in the PDF if you're unsure what kind of source you're dealing with. The Harvard article citation format is used in the APA format. After the quoted phrase or sentence, this citation usually includes the Author's name and publication date, followed by parentheses (and sometimes pages).
Once you cite a PDF in APA style, the format should look like this:
- Author's last name, Author's first initial. (Year of publication). Title of article [PDF file]. Journal title, volume number (issue number), page numbers. Retrieved from the web address.

Citation tips:
The author's name and year are written in parentheses with a comma in between
If there is more than one author, use "&" instead of "and"
If a direct quote is taken, a "p." is added in front of the page number, and then add a space
Cite a PDF in MLA
PDFs are not treated as different source types in MLA. When citing a PDF, you must first determine what source it contains and introduce it correctly. If you think it's essential, you might add a "PDF file" to your reference. To know what type of source it is, seek indications in the PDF. The Modern Language Association of America's (MLA) citation system is widely used. If you want to maintain the integrity of academic works, the MLA format should be employed when writing English papers.
Once you cite a PDF in MLA style, the format should look like this:
- Author's last name, Author's first name. Book Title. Place of Publication: Publisher, Year of Publication. E-Book Publisher, Year of e-Book publication. File type. Date of access.

Citation tips:
This style focus on the author of the file and the page number of the reference:
If there are two authors, put an "and" between their names. If there are more than two, separate them by commas
Indicate the place of publication, the publisher, and the year
Cite a PDF in Chicago
Chicago style is another type of citation in your bibliography. Each bibliography entry begins with the Author's name and the source's title, followed by information about the publication. The authors' last names are alphabetized in the bibliography. In American essay writing, Chicago Style is the most widely utilized footer document type. It's most commonly found in footnotes. This citation style is standard in social science areas like history, natural sciences, and social sciences.
Once you cite a PDF in Chicago style, the format should look like this:
- Author's last name, Author's first name. Book Title. Place of publication: Publisher, Date of publication. PDF e-book. Web address.

Citation tips:
Write the author's full name
Remember to note "PDF file" at the end of the title
Mark the date and URL
How to Cite a PDF in APA, MLA, and Chicago Style
In the above section, we have talked about some features and citing tips. Next, let's take a look at the step-by-step tutorial:
Step 1. Open Microsoft Word and click on "References" in the top menu.
Step 2. To choose the citation style APA, click on "Style" and pick your desired style. Here we take APA as an example.

Step 3. Then, click on "Manage Sources" to insert the PDF you want to cite.

Step 4. A new window will emerge called "Create Source". Choose the type of publication and make sure to indicate the author and the date of publication. Then, indicate the title of the publication. Write the name of the journal; if it's a magazine, indicate the volume. In the end, introduce the URL where you can retrieve this PDF. If instead of a URL you have a DOI number, put it.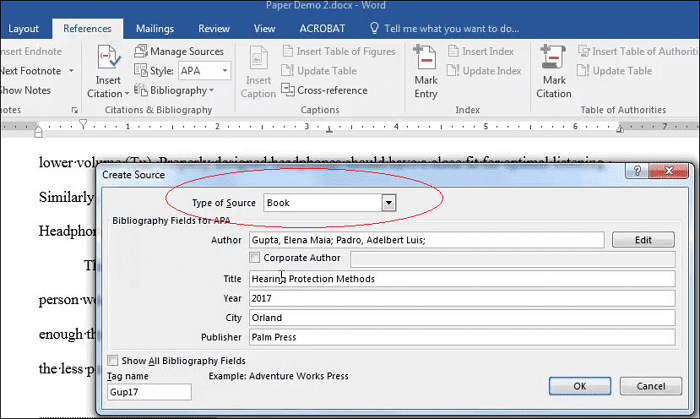 Bonus: How to Edit a PDF Document
If you need to make any type of modifications to your PDF before citing them, then you should try EaseUS PDF Editor.
This among the best and most trustworthy software for editing all types of PDFs. It can perform innovative tasks like creating, editing, converting, and reading any PDF file. You can use this tool to produce and edit PDF files from various sources, including photos and Microsoft Office documents. When it comes to editing text, you can insert new text and modify existing text. For example, you can edit text properties like font, size, color, spacing, etc. Also, you can highlight PDF as you want.
EaseUS PDF Editor
Convert PDF file type into several other file formats
Combine, compare, split and rotate PDF files
Convert scanned text into editable text with OCR technology
Reduce PDF size with one click