2021 | How to Flatten a PDF in Adobe Acrobat | 2 Methods

Crystal Chen updated on Sep 24, 2021 to PDF Knowledge Center
Flattening a PDF or making a PDF read-only means you make the entire document uneditable. Forms, images, and text fields are fixed. No one can edit it, and it's beneficial to print a PDF file. As there could be various layers in an unflattened PDF, making it read-only can lead to a single layer. Here, try the dedicated PDF editing software like Adobe Acrobat Pro DC. Here, you learn how to flatten a PDF in Adobe with detailed steps. Also, an Adobe Acrobat alternative is introduced to you. 
How to Flatten a PDF in Adobe Acrobat Pro DC - 2 Methods
There are two ways for finding the PDF flattening feature in Adobe, including using the editing tool (Print Production) and the shortcut keyboard (Crtl+P). Each method is useful for you to adjust the layouts and other options on a PDF. 
Method 1. Making a Flattened PDF in Print Production
It's beneficial if you need to print a flattened PDF as you lock the fillable items. Also, if you are using an editor to import a PDF, elements like forms can still be editable. One way to prevent it from being editable is by flattening a PDF. 
Flattening a PDF in Adobe Acrobat Pro DC on Windows 10:
Step 1. Open this tool and import your file by clicking "File" > "Open". Back to the Tools, and you scroll down the menu and look for one feature named "Print Production". Click it and then you will see a new window.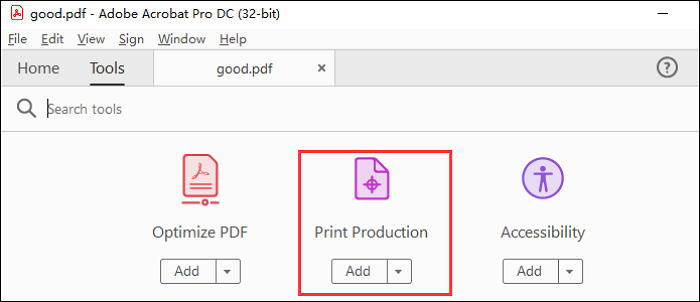 Step 2. Now, you see the option "Flattener Preview" at the right side of the toolbar. Select this option and it shows the Flattener Preview window. To better printing your PDF pages, you should apply those options in the flattener. 
It gives the options as follows:
Transparency flattener from low to high resolution and the Raster/Vector Balance
Flatten and adjust the transparency for a PDF page about the color space
Flattener-Generated images of the compression option
Step 3. Once you have finished the settings, remember to enable the number of pages in a PDF. From the left side of the window, choose one selection from all pages, current pages, or manually select the range. 
Step 4. Finally, you can click "Apply". At the same time, a dialog window shows, and you hit "Yes". Then, save your PDF.
Method 2. Flattening a PDF File with a Shortcut - Quick Method
When you are in a hurry, use the Print shortcut (Ctrl + P) to flatten a PDF in Adobe Acrobat Pro DC. It brings similar effects with the previous method. The transparency flattener preset is also involved. You are allowed to apply many custom settings when flattening a PDF. Below is a guide for you to turn a fillable PDF into a read-only version.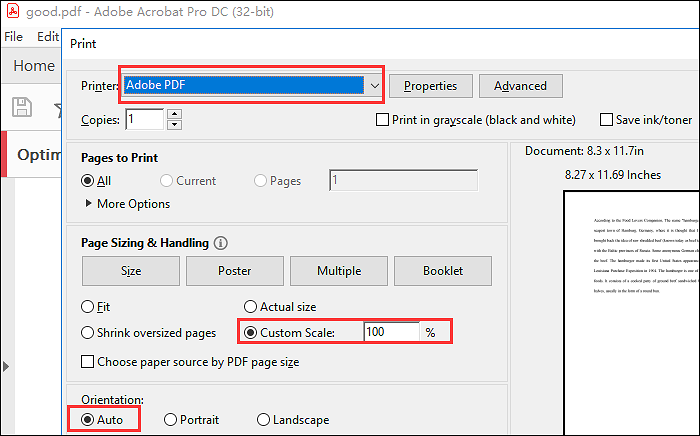 How to flatten a PDF in Adobe with Print Shortcut:
Step 1. Go "File" > "Open" to import your target PDF in Adobe. Then, in the viewing PDF, you use "Ctrl + P" to open the printer. 
Step 2. In the new window, select the Custom Scale in Page Sizing & Handling. Meanwhile, enable Auto in the orientation. 
Step 3. To apply more advanced settings to flatten a PDF, click "Advanced". Here you see the "Transparency Flattener Preset" option, changing the resolution from high to the low level. After that, hit "OK". 
Step 4. To save a flattened PDF on your computer, you find the "Printer" option and click it. Open the down lists and choose "Adobe PDF". Finally, click "Print" to finish it. Then a window "Save PDF File As" shows, and you can rename it and click "OK". 
Why Do You Need a Flattened PDF? 
Interactive properties like forms will not be fillable in a read-only PDF. That's why you require a flattened PDF. There could be some practical reasons to operate it. Firstly, it can protect the design and forms in a PDF. If you have a PDF form with editable fields, you need to flatten it to secure the data. Besides, in order to meet the requirement of some publishers, you need to upload a PDF file after flattening. Last but not least, for printing, if your PDF has many layers, it may not print as you desire, then you need to flatten it. Therefore, to make it, you need a dedicated PDF editor. 
Bonus Tips: How to Flatten a PDF Without Adobe on Windows 10
Believe that you have known how to flatten a PDF in Adobe. As we know, Adobe has 7 days for trial. When the trial period expires, you have to pay a high fee. However, you can use the Adobe Acrobat alternative, EaseUS PDF Editor.
By using the inside printing options, this PDF Editing Software also can flatten a PDF, make the entire PDF file uneditable, and protects the design. Nobody can edit items in a flattened PDF.
To flatten your PDF file, download this beneficial tool. In the trial version, you don't need to register an account. 
Key features of this all-in-one PDF editor and converter:
Rotate, crop, or merge a PDF file
Add page numbers to PDF to increase identification
Convert PDF to common formats like Word, Excel, etc. 
Make a PDF file editable, searchable, and fillable
Password protect PDF with a custom key

How to Flatten a PDF? - Simple Method
Flattening a PDF makes it easy to print a PDF file. Using efficient PDF managing software, you can adjust PDF pages.