How to Create Fax Cover Sheet Template and Fill Out It

Vanessa Chiang updated on Jul 06, 2021 to PDF Knowledge Center
With the development of the internet, more and more people get accustomed to send documents by email and gradually give up some old-fashioned means of communication, including telegram, fax, etc. That is why many of you might not know some important matters you need to pay attention to.
Take fax as an example. Do you know what is a fax cover sheet and how to create an appropriate cover by yourself? Thanks to the convenience brought by the internet, you can find a template when it's really necessary to transfer an important paper document. But another problem comes along, i.e., how to fill out the cover sheet as most of the templates downloaded from the internet are in PDF format. Don't worry. All those troubles will be solved in this post.
Related Article: >> Print PDF Without Margins in 3 Ways
What is a Fax Cover Sheet?
If you plan to send a file to someone in another company, it's important to attach a cover sheet, especially when the fax recipient has to share a fax machine with his/her colleagues. This paper can help identify the sender and recipient of the document, and it can enable the recipient to classify and save the documents more conveniently. On the other hand, even if the recipient doesn't have to share the fax machine with others, the information on the fax cover will help find a specific file from a pile of files.
As mentioned above, the names of the fax sender and recipient are indispensable parts of the fax cover. Besides that, some other content should also be included in it, such as the address, phone number, fax number, date and time of fax transition, number of pages of the faxed document, and a short message.
Create a Basic Fax Cover Sheet Template Using Word
There are various kinds of fax covers to meet all types of demands, and they can be used on different occasions. For instance, you can use the confidential cover to transfer some secret messages, and in transferring the professional papers, you can use the professional cover sheet. However, most of the time, we only need a basic template for sending some ordinary documents. 
Instead of wasting time finding and downloading a basic fax template online, you can create one by yourself. The only tool you need is Microsoft Word. To make a Word fax cover sheet, you only need to create a blank  Word document, insert the text box into it, and then add some spaces to fill in the information mentioned above.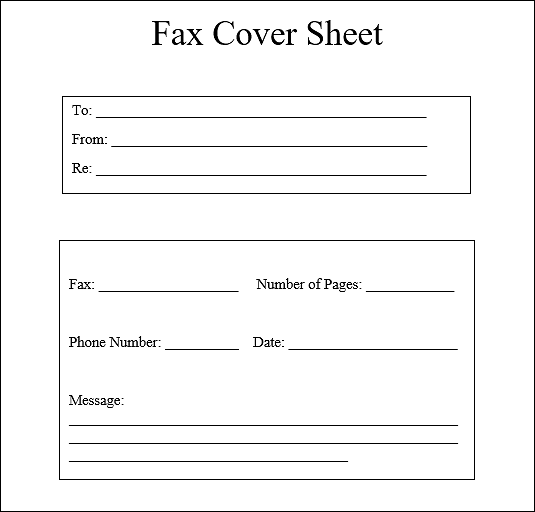 Steps to Create Fax Cover Sheet with Word:
Step 1. Launch Microsoft Word, create a new blank document, and input the text of large font size.
Step 2. Under the "Insert" tab, you can find the "Text Box" option, click on it and select "Simple Text Box" from the drop-down menu.
Step 3. Insert two text boxes at a suitable and symmetrical position. Then, input the necessary items into the box and add underlines.    
Step 4. Print out this cover sheet and fill it out. Now, you can send a fax to others using this cover sheet as the attachment.
Download PDF Cover Sheet Template and Fill Out It
Although it's not difficult to create a basic cover sheet, sometimes you may need to download a specialized template for some uncommon purposes. However, the templates provided by different platforms are of different qualities. More specifically, some templates are designed as a PDF file with the fillable field, and you can directly fill out the form without using other tools. On the contrary, some other PDF templates are not editable. 
What could you do to edit the inactive PDF and fill out the PDF cover sheet?  First of all, a great PDF editor is something that you cannot miss. If you are a Windows user who wants to find the most suitable PDF editing software, EaseUS PDF Editor is exactly what you are looking for. This user-friendly PDF editor can help you solve your problems with two methods, the first method is adding fillable fields to the PDF, and the second method is inserting text into the PDF. 
Before following those steps, click this button and download this PDF editor to your PC. If you need to print this sheet out, EaseUS PDF Editor can even help you print multiple pages on one PDF. Don't hesitate to download and try it now.
Steps to Fill Out PDF Cover Sheet by Inserting Text:
Step 1. Download EaseUS PDF Editor and launch it, then import your PDF file by clicking "Open Files…"
Step 2. When the PDF is imported, click "Edit" > "Add Text".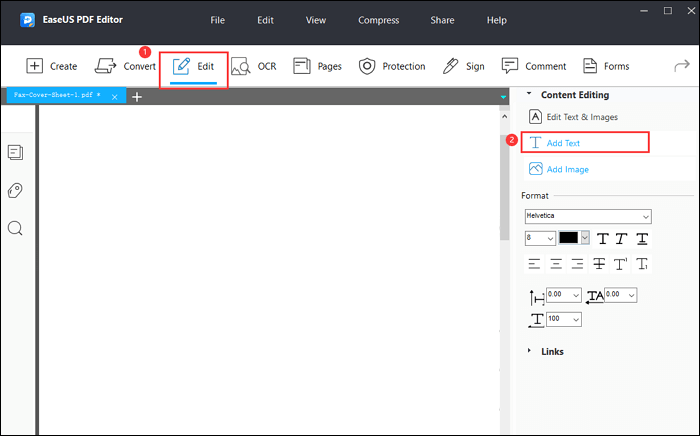 Step 3. Click on the area where you'd like to insert the text and type the word. You can customize the text fonts, color, and more on the right sidebar.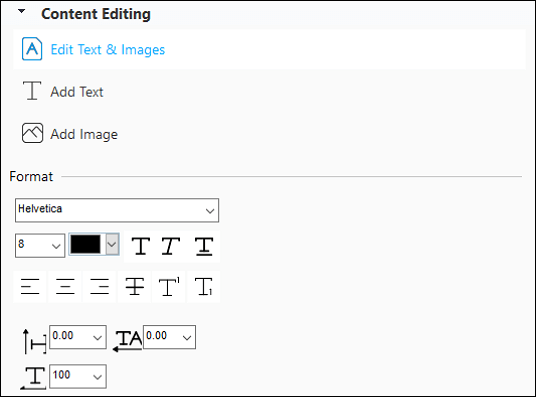 Step 4. When you finish the editing, you can click "File" > "Save" to keep the PDF file on your computer.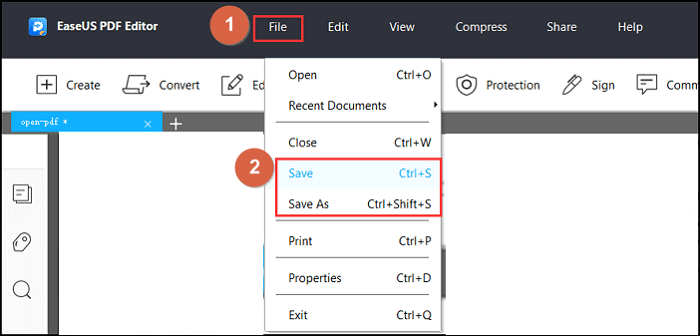 In addition to this method, you can also make use of the tutorials in the following post.

The methods in this post can help you turn a non-editable PDF into editable. Follow the steps to create a PDF with fillable forms and fill it out now.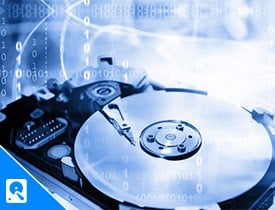 Conclusion
This post is a thorough and detailed introduction to the fax cover sheet, and it not only offers you a lot of relative information about the cover sheet but it also teaches you how to create it by yourself. For those who prefer to download form templates from the internet, the tutorial on filling out an inactive PDF is practical. In case that you get troubled by the non-editable PDF, download EaseUS PDF Editor, which will help solve your problem.