Full Guide to Deskew PDF Pages with Ease

Jane Zhou updated on Jun 10, 2021 to PDF Knowledge Center
People are increasingly saving documents digitally. To do this, people usually use scans or any means to create a digital copy of a physical form. Unfortunately, most times, the scanned pages in document will be crooked.
Luckily, there are some programs that can help you deskew the crooked pages. The entire procedure is completely automated. All you have to do is submit your PDF file and wait a few minutes for the document to be processed, perfected, and converted to editable text. If you want to learn how to deskew PDF, keep reading this article!
How to Deskew PDF Pages on Windows and Mac
Abbyy FineReader has been assisting businesses with document management for a long time. That shows in its latest edition. This software is all about offering solutions to all kinds of users. When referring to the issue at hand, you should know that you can use Abbyy to deskew PDF pages on your Windows or Mac computer.
When using this software, you'll gain all the tools you'll need to convert paper documents into completely readable, well-organized electronic documents after using a scanner. In addition, if your scanned copies are inverted or turned, the OCR software will detect the skew and fix it! 
How to deskew PDF with Abbyy FineReader:
Step 1. Launch Abbyy FineReader to upload the PDF file that you want to convert from scanned to editable text.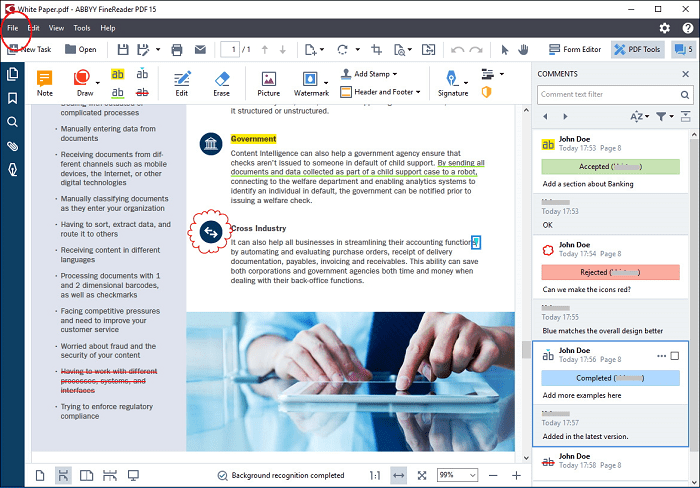 Step 2. Click on "Recognize" on the top menu to find the OCR function.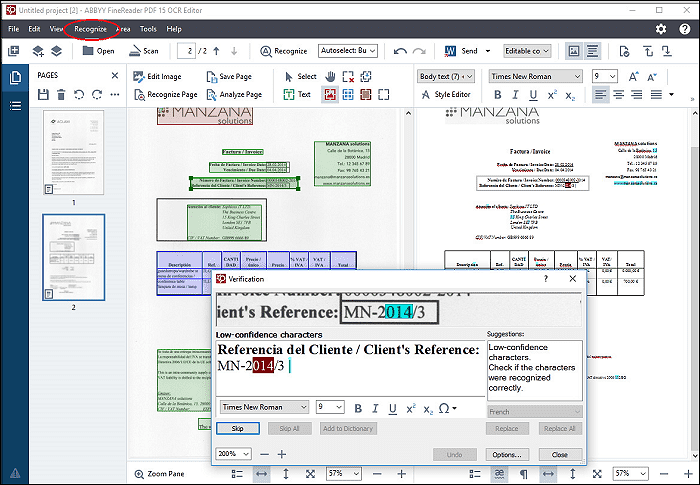 Step 3. After that, click on "Recognize Page" to detect any skew and deskew it accordingly.
How to Deskew PDF Pages Online for Free
If you have many twisted scanned document pages, it can be time-consuming to rotate and align them manually. But, if you use PDFDeskew, you can get this done in seconds.
This online tool allows you to accurately, automatically, and rapidly deskew and straighten pages in your PDF files. There is no need to download any program or create an account. All you have to do is upload your scanned PDF document, and the deskew engine will take care of the rest. The deskewed PDF version will be ready for download after a few moments. Also, it is very serious about protecting your data. It guarantees that it won't be reviewed by third parties because the process is entirely automated. Within 3 hours, the file will be automatically erased from their server. 
How to deskew PDF online with PDFDeskew:
Step 1. Open PDFDeskew to upload the PDF file that you want to deskew.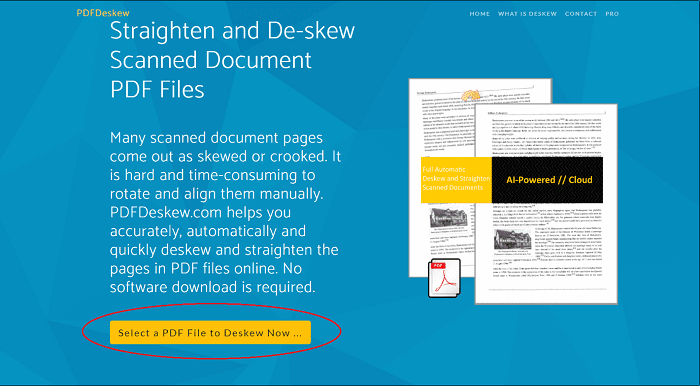 Step 2. Click on "Select a PDF File To Deskew Now…" and select the PDF file to upload.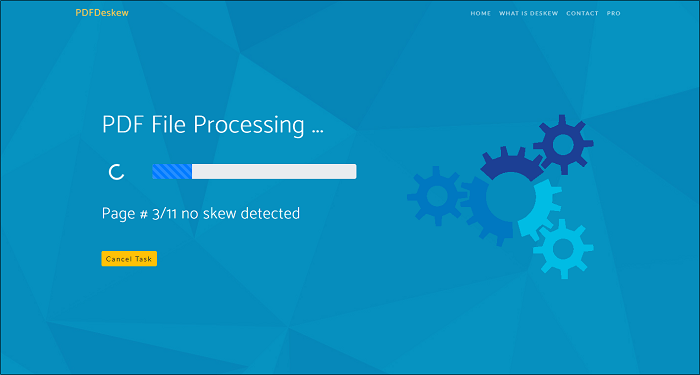 Step 3. After the upload and deskew is over, click on "Download Your Deskwed PDF File" to save your PDF.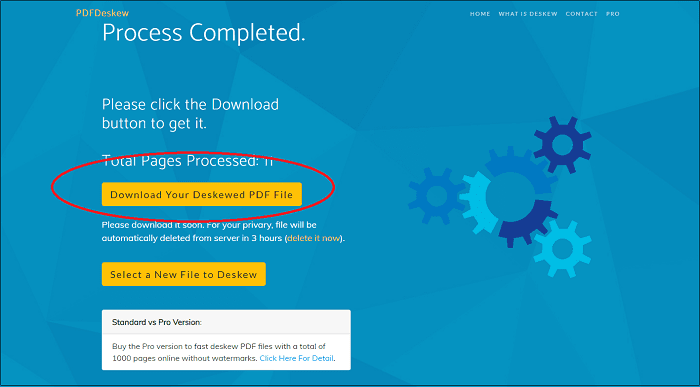 How to OCR Text in Scanned PDF Document in Windows
Try EaseUS PDF Editor if you want to edit the scanned PDF files. It has modern OCR technology, which will make your scanned PDF file editable quickly.
Moreover, with this Windows PDF editor, you will take your PDF editing skills to another level. Thanks to its wide variety of editing tools, you can modify fonts, text color, spacing, and distribution. At the same time, you can edit page settings and layouts. Likewise, this tool can compare and merge PDF documents, add annotations and comments, and more. For more features, you can check the below list.
Features:
Wide variety of text and page editing tools available for free
OCR technology to convert scanned documents to editable text
Merge and compress several PDF files
Convert PDF files to several other file types
Use the Read mode to easily view and read large PDF files
How to make a scanned PDF editable:
Step 1. Click Create and choose From file from the top left corner
If you want to OCR from an existing PDF file, click from the File option on the top left corner to start the process.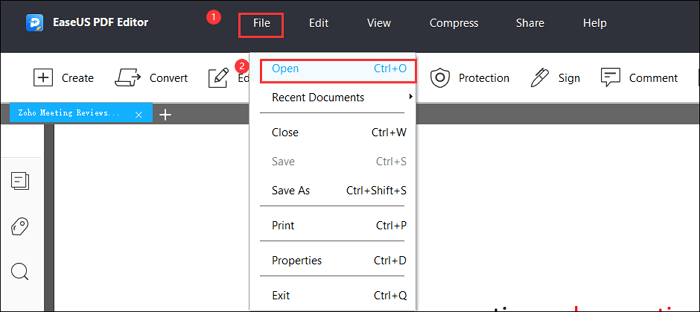 Step 2. Click OCR on the toolbar
After clicking OCR on the menu, select the language, then wait for a couple of seconds.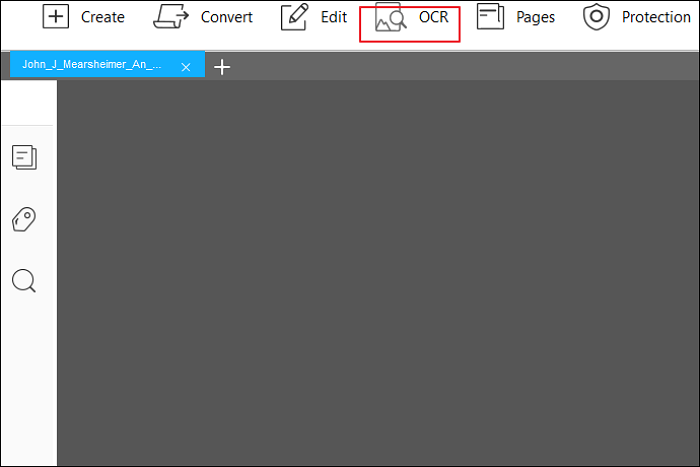 Step 3. Edit your PDF as you wish
You can use crop, rotate, combine, etc. features according to your needs. There are several features, and it allows you to manage this process easily and effortlessly.
Step 4. Click Save to keep the changes
When you are finished with editing, click save to keep the changes. You can also click save as and type a new file name if you want to keep the old version unchanged.
Final Words
On this page, we have talked about some methods to deskew PDF files, so you can choose the right one based on your needs.
If you prefer offline software, you can try Abbyy FineReader.
If you don't want to download or install any other program on your computer, online tools like PDFDeskew may be nice choices for you.