How to Convert PDF to Google Docs with Ease

Jane Zhou updated on Jul 09, 2021 to PDF Knowledge Center
Offline file editing and management are slowly becoming a thing of the past. Individuals and organizations are now slowly moving on to cloud platforms to handle their daily tasks. As such, even the popular word processing software Microsoft Word has started offering cloud services.
In the same department, Google Docs has become a widely used online platform for word processing due to its additional features. Nowadays, people can even convert PDF to Google Docs and start working on it right away. Here, you can learn how to convert PDFs to Google Docs in different ways.
What is Google Docs?
Google Doc is a free online word processing software that offers a lot of features. Due to it being online, all the editing progress is automatically saved with each change in the document. Apart from that, it has a widely used sharing feature that allows multiple users to work on the same document in real-time. Hence, it is widely used by most content marketing corporations, freelancers, and individuals. Some important features of Google Docs include:
Browse and edit from a range of predefined templates for a variety of content-related work
Direct access to a whole library of fonts used by most websites and provided by Google
Share documents with only a few people or with anyone on the internet according to preference.
A plethora of other features make content writing and editing a very convenient and friendly experience
How to Convert PDF to Google Doc in Google Drive
Google Drive is one of the first cloud storage services provided by Google. By default, each Google account holder is entitled to free online storage space of up to 15 GB. However, they are free to increase their storage space limit at a nominal monthly fee, depending on their storage requirements. You can store all types of files in your Google Drive. This includes photos, videos, music, and even documents like PDFs.
Google Docs and Google Drive are linked in a way that all the docs you work on are automatically saved in your cloud storage. Hence, it provides an additional benefit of organizing files in a single workspace. Hence, you can convert PDF to Google Docs directly from Google Drive without any issues:
Step 1. Open your preferred browser and go to https://drive.google.com. Make sure that you are logged in to the Google account you want the files.

Step 2. Next, navigate or create a folder where you want the PDFs to be saved as Google Docs.

Step 3. After that, click on the "New" button on the top left side and choose "File Upload." Navigate to the PDF you want to convert and click "Open." The PDF file will be uploaded to the drive folder.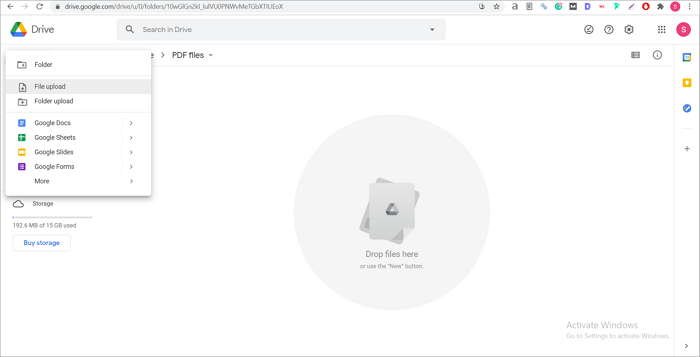 Step 4. Right-click on the PDF file and choose "Open With." Here, click on Google Doc. Finally, the PDF file will be converted for editing on Google Docs.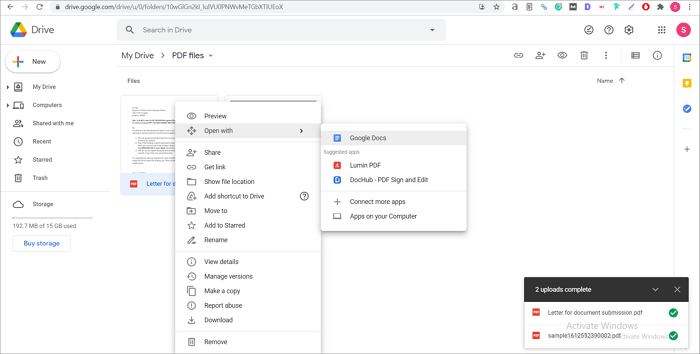 >>> Check to know how to convert Google Docs to PDF
An All-in-One PDF Converter to Convert PDF Documents
Except for converting PDF to Google Docs, you may usually need to convert PDFs to or from other file formats like Word, Excel, PowerPoint, etc. At that time, an excellent PDF converter is a must. Here we wanna recommend EaseUS PDF Editor to you.
It is an advanced PDF editing software that offers a range of benefits for various types of users. This software allows you to convert PDF to Google Docs, DOCX, XLSX, JPG, and more. Most importantly, it helps retain the original layouts and formatting automatically.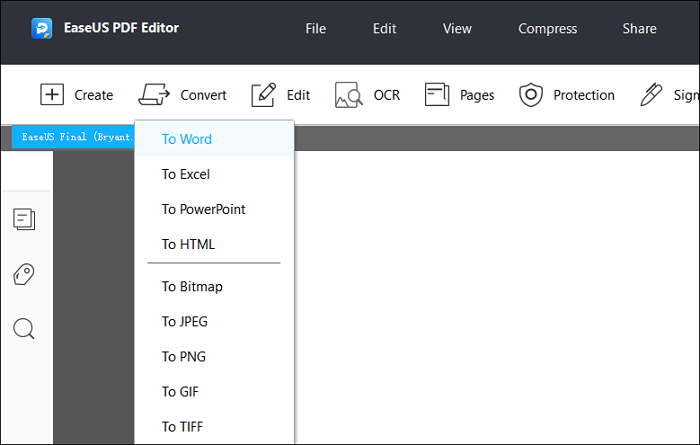 Besides that, it enables you to compress, combine, split, and merge PDF files on the go. You can also use it to It allows you to directly edit the PDF itself and either overwrite the existing file or export it to a different file format for use in other software.
Key Features:
Access to a wide range of tools to edit PDFs effectively and efficiently
Compress PDF sizes without any loss in quality
Collaborate in editing PDFs on the software with ease
Enforce Optical Character Recognition (OCR) to identify and retain the information in the PDFs
Click the below links to learn how to convert PDF to Word/PPT/image effortlessly: