How to Convert PDF to EPUB Without Losing Format

Jane Zhou updated on Jun 04, 2021 to PDF Knowledge Center
Nowadays, most educational publishers have all the textbooks stored in PDF format in the database, but you may find that the textbooks in PDF format do not always match the screen size of the electronic device. So, to make these textbooks look more attractive and match the screen size flexibly, it is a great option to convert them to EPUB files, as the EPUB file adapts itself to any type of device, such as mobile phones, any size of a computer screen, etc., and it will give readers an experience similar to reading a physical book.
But how? No worries! On this page, we are going to share with you some methods to convert PDF to EPUB without effort.
Related article: Top 8 Best EPUB to PDF Converter
Part 1. How to Convert PDF File to EPUB Online Free
For changing PDF into EPUB, the easiest way is to use an online tool. There are lots of online PDF converters that let you finish the task, and here we are going to take Zamzar as an example.
More than any other online converter, it supports 1200+ file formats and aims to complete your conversions in short time. Except for converting PDF files, this online tool also lets you change audio, video, and image formats within simple three steps: select a file, pick a format, and away you go!
Here is how to convert PDF file to EPUB online:
Step 1. Go to Zamzar's official website, then click "Add Files…" to upload the PDF file.

Step 2. Once uploaded, select your desired output format. Here click on "epub".
Step 3. At last, choose the "Convert Now" option to begin your conversion.
Part 2. How to Convert PDF to EPUB Kindle with Calibre Offline
For those who want an excellent PDF to EPUB converter for Windows, macOS, or Linux computers, you cannot go wrong with Calibre.
It is an open-source and easy-to-use e-book manager, which allows you to do nearly everything. Working with it, you are able to convert PDF to EPUB without hassle. If needed, you are also allowed to save PDF files as other file formats.
Step by step tutorial to save PDF as EPUB file:
Step 1. Download and launch Calibre on your computer, then click on "Add books" to import your PDF file.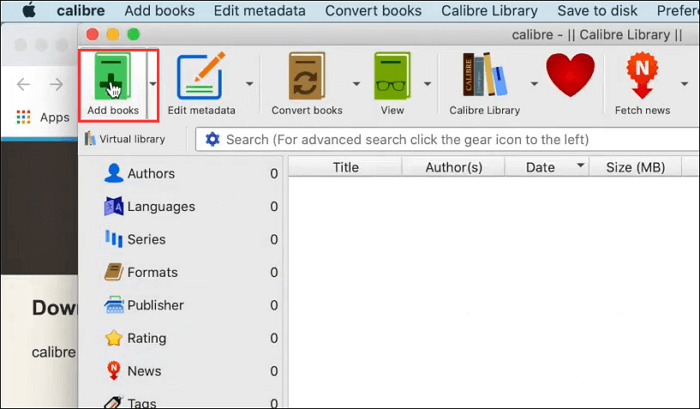 Step 2. Click on "Convert books" to select the output file format. To convert PDF to Kindle, here, you just need to click on "EPUB' in the drop-down menu.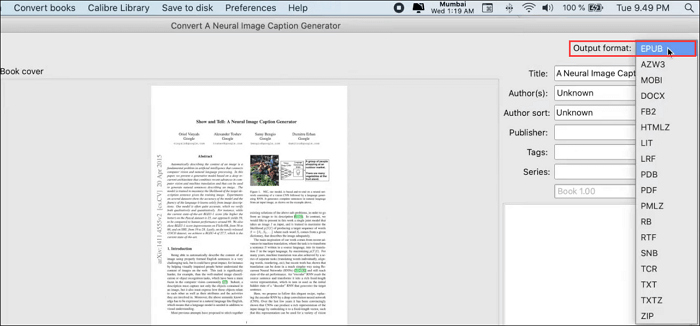 Step 3. When the conversion is complete, you can click the Jobs icon at the bottom to find out more. Al last, you will be able to load the file on your eReader.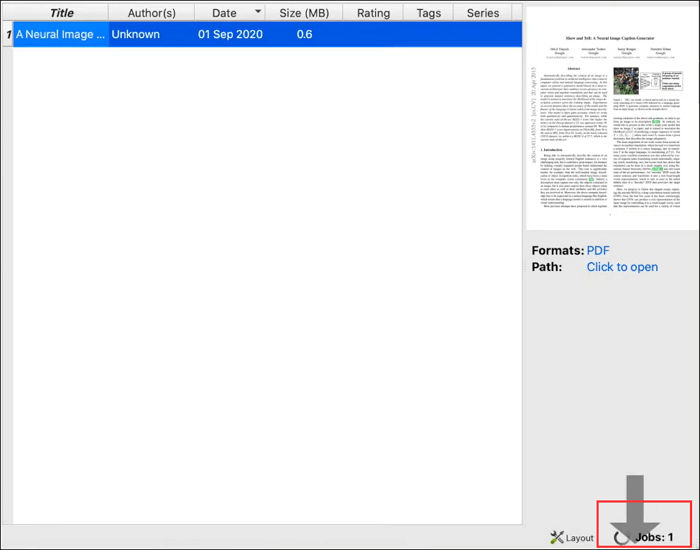 Part 3. How to Turn PDF into EPUB on iPhone and Android
For mobile device users, there also are many ways to turn PDF into EPUB files. In the following, we will show you how to create an EPUB file from PDF on iPhone and Android, respectively.
1. PDF to Epub Converter - iPhone
PDF to Epub Converter will help you convert PDF books into eBooks effortlessly so that you can read them on a mobile device freely. Then how to finish the work? Let's dive into it now!
Step 1. Unlock your iPhone, and click "Open PDF file" or "Share PDF file to" PDF to EPUB converter app.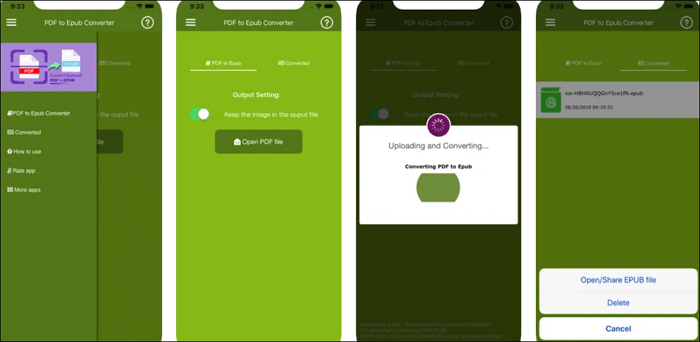 Step 2. Select the output option. Also, you can preserve images in the output EPUB for a better reading experience.
Step 3. To start the converting, just tap the "Convert to Epub" button.
2. Ebook Converter - Android
Ebook Converter can change your PDF files into eBook formats in a snap. Whether you want to get LIT, EPUB, SNB, or other eBook formats from PDF files, you can always count on this app.
Besides that, it enables you to change the cover, book author, title, or send results at once.
Step 1. Open this app and click on the "Add" button to load the PDF file.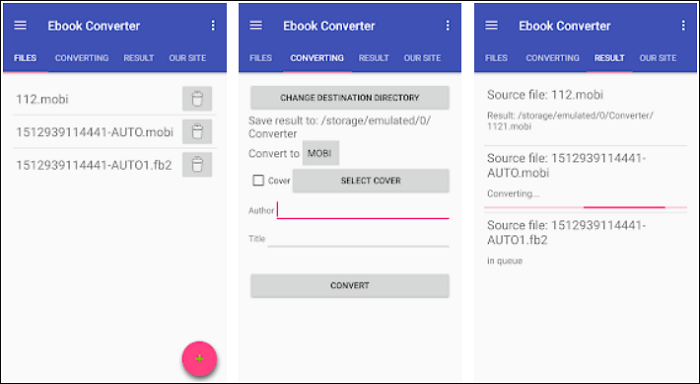 Step 2. Next, tap on the "CONVERTING" tab and choose the "EPUB" as the output format. Once done, hit on the "CONVERT" button.
Step 3. After conversion, you can use eBook on your device or share it.
Part 4. An All-in-One PDF Editor and Converter for Windows
If you are someone who wants to edit PDF files or convert them to some common file formats, you can count on a versatile PDF editing program – EaseUS PDF Editor.
This software provides a great many editing options, which makes it extremely easy to modify your PDF documents on Windows PC. With its help, you are able to change font size in PDF, insert pictures and watermarks, or add passwords to protect the PDFs.
Aside from an editor, it's also one of the best PDF converter software that supports more than 10 common file formats. And it lets you create PDF documents from other files or vice versa in seconds without losing format. Just try it now!
 Notice:

The current version of EaseUS PDF Editor does not support the EPUB format. 
The Bottom Line
The post mainly talked about some easy ways to convert PDF to EPUB. If you are in need to do the task, we hope that you can get help here.