How to Convert Adobe Digital Editions to PDF

Crystal Chen updated on Jul 12, 2021 to PDF Knowledge Center
Adobe Digital Editions, or ADE, is an ebook reader software that gives users a better experience through reading ebooks in EPUB, and so on. It is usually used by publishers, and for personal usage, you can have it on your PC, Mac, or mobile devices. There are many benefits when using it. You can search for words from all chapters of the ebook. Also, it allows to create a bookmark, highlight the text and make notes in the ebook.
However, as Adobe uses advanced protection technology to manage their files, you may face limitations when viewing protected ebooks on other devices. Thus, it's necessary for you to convert Adobe Digital Editions to PDF. You can make this conversion with helpful tools. Here, in this article, we will guide you step by step.
You may be looking for a method to get PDFs from Google Books. There is a clear demonstration in the below tutorial. It will guide you on how to remove the ebook DRM and can easily modify it.
Related Article: >> How to convert Google Books to PDF
Preparation for Converting Adobe Digital Editions to PDF
This ebook reader software is famous in public. The interactive features in this tool allow consistent reading of ebooks. You can use different font sizes and background colors to read. While the only limitation is that it increases the inconvenience of sharing with others in ebook format. Therefore, we guide you on how to convert ADE to PDF format.
You need preparation when following our guide. Firstly, make sure that ADE has been downloaded on your computer. Then, save your ebook to your local files in EPUB or other ebook formats. The below is an image of ADE that helps you check.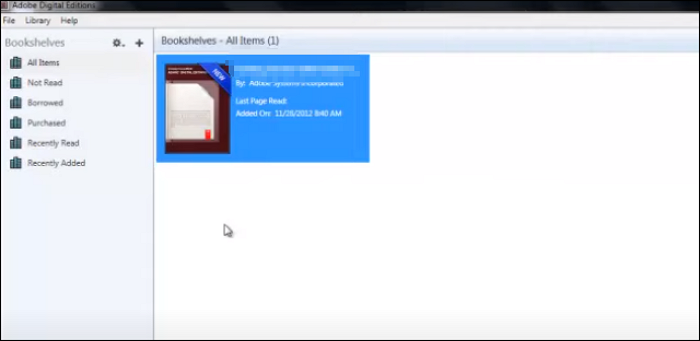 How to Convert Adobe Digital Editions to PDF – Two Converters
Do you know how ADE can be converted to PDF? Using a professional ebook converter can help you with that. After getting a PDF format file, you can share them easily on more devices. 
Tool 1. Calibre
It is a valuable ebook helper, which allows input formats like EPUB, PRC, etc. Meanwhile, it can be used on various devices. You can have this tool to help you get the original Adobe DIgital Edition book in PDF format. But one thing you have to notice is that if the ebook is under encryption, it's difficult for you to send them. 

To better make this conversion, we provide you with a detailed guide.
Step 1. Make sure you have downloaded this tool, and then drag your ebooks into this tool.
Step 2. In the top toolbar menu, you will find "Convert books", and click it to choose the output format in "PDF". After that, click "OK" to operate this function.
Step 3. Once the conversion is done, you will receive a PDF format file with the original information from your ebooks. You can save the converted file to your PC.
Tool 2. ebook2pdf
This program also allows you to convert ebook formats like EPUB, MOBI, AZW to PDF documents. Most importantly, it's a free tool that features a powerful function. Without any installation on your PC, you can easily get your PDF document in your browser. Use it when you want to save time.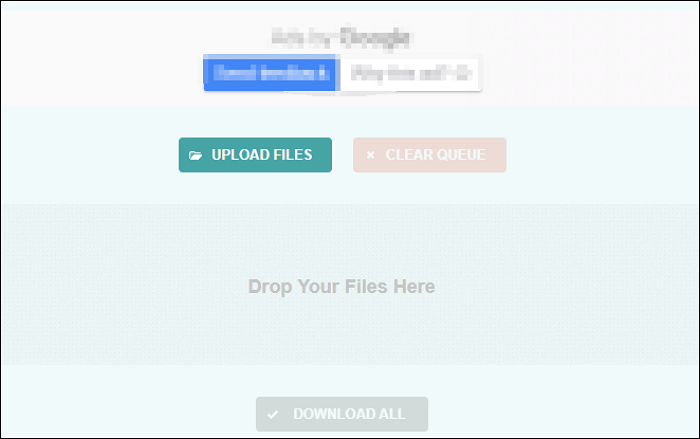 Followed are two simple steps for you to convert ebooks to PDF using this tool.
Step 1. Click "UPLOAD FILES" and choose the ebook you want to make a change to. Another way is to drag files to the area. 
Step 2. Then, click "DOWNLOAD ALL" to get started. As this tool is mainly for PDF conversion, you can get the file quickly.
Bonus Tips: How to Convert Document to/from PDF
Once you have learned about converting Adobe Digital Editions to PDF, you can make other files in PDF. The document is widespread in your workplace, and sometimes you need it in a PDF format. Do you want to know how to do it? Using a helpful tool like EaseUS PDF Editor can help make a good conversion without losing quality.
Main Features of this best PDF converter:
Create a PDF from Word, Excel, PPT
Easily get the HTML from PDF
Make a searchable PDF
Convert PDF to image in JPEG or PNG
For sure, this tool supports functional features, such as allowing you to convert PDF to files or get a PDF from other documents. If you commonly use such files in your workplace, you must have this tool for free!