How to Uncheck Radio Button in PDF Form

Vanessa Chiang updated on Aug 27, 2021 to PDF Editor Tutorials
What is a radio button? It is also called an option button, and it's a graphical control element that enables users to choose one option from the predefined set of mutually exclusive options. That means you can only select one of those options.
However, when we edit PDF files, it's highly likely to check a radio button in PDF form by accident. If you select the wrong choice, you must want to uncheck the radio button to avoid understandings. But, how to uncheck the radio button in PDF form easily? This post will walk you through unchecking the radio button with simple clicks. Keep reading to know the steps.
How to Uncheck Radio Button in PDF with EaseUS PDF Editor
EaseUS PDF Editor is the wonderful PDF editing software that can be helpful in editing PDF from multiple aspects. Like many other PDF editors on Windows, this software offers you the most elementary editing tools, such as adding or removing text, inserting or extracting images, and creating or deleting PDF pages.
In addition to that, this program also gives you some advanced functions, such as editing PDF forms. Under the "Forms" option, you can see many optional form types, such as "Select Field", "Push Button", "List Box", as well as "Radio Button". You can easily select the one you want to add to the PDF, choose a suitable position on the PDF, and save the file. If you want to collect the data from others, you only need to send them a PDF with a fillable form, and they can send a filled one to offer you the data.
More important, this PDF editor offers you a function to "Reset Form" with one click. You don't need to waste time deleting the data one by one. That is really helpful when you need to process a lot of PDFs.
Key Features:
Support adding various forms to PDF
Add a password to protect the PDF file
Sign the PDF with e-signature
As many other PDF editors don't offer you such rich features in PDF form editing, EaseUS PDF Editor gives you various choices. But this is not a complex PDF editor, and it's friendly for users of all levels. Click on this button to download it now.
Steps to Check & Unckeck Radio Button in PDF with EaseUS PDF Editor:
Step 1. Launch the EaseUS PDF Editor and open the PDF with it.
Step 2. Click on the "Forms" button, and there are many types of forms in the sidebar. Select the "Radio Button" and choose a suitable position on the PDF to add it. Then, save the PDF and restart it.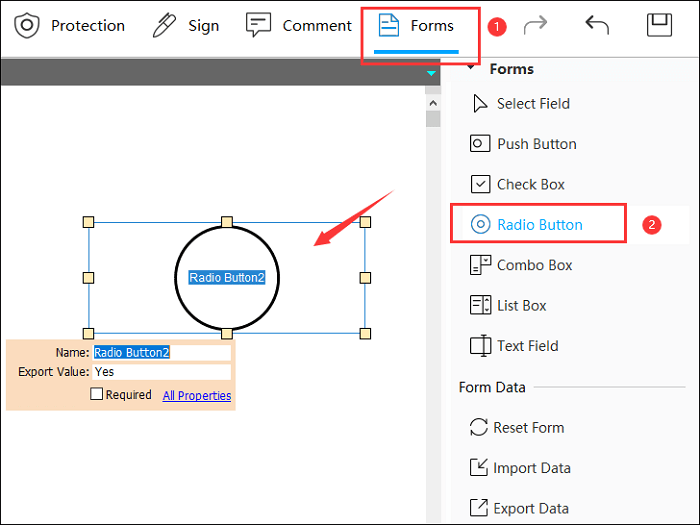 Step 3. Click on the "Highlight Fields" button to see the radio button clearer. Then, you can check it to check it. If you want to uncheck it, click on the "Reset Form" button under the "Form Data" tab.
Step 4. You can click the "Save" button to preserve the changes you made to the PDF.
How to Uncheck Radio Button in PDF with Acrobat
As one of the famous PDF creating and editing software, Adobe Acrobat is the one worth trying. This powerful program also offers you enough optional forms you can add to the PDF documents. Besides those forms mentioned above, you can also use the digital signature tool to set a fillable area for the PDF receiver to sign his/her name.
You can set the form properties detailed to make it to your liking. For instance, you can customize the appearance of the PDF form, i.e., you can choose the shape others can add to the PDF, such as a tick, a cross, or a dot. This software even offers you more than 188 shapes you can set.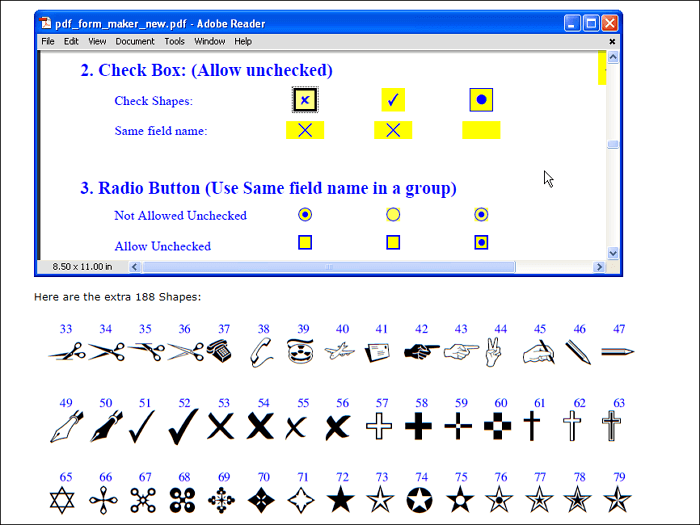 Steps to Add & Unckeck Radio Button in PDF with Adobe Acrobat:
Step 1. Launch the software and choose "Forms Menu" > "Radio Button Tool". You can also select it from the "Forms Toolbar".
Step 2. Hold your left mouse button to choose a suitable region to add the radio button. 
Step 3. Adjust the properties of this PDF form field, such as height, appearance, action.
Step 4. If you want to uncheck the radio button, you can find the "Export Value" under the "Options" tab, and turn the export value to "OFF" state.
Conclusion
Not every PDF editor gives you the ability to add a radio button to your PDF since this is one of the advanced functions of PDF editing. That is why most people are not familiar with unchecking the radio button after check it by accident. 
If you have this problem, don't worry, those methods mentioned in this post are both useful. If you want to uncheck the radio button in a PDF, try to download EaseUS PDF Editor and use it, this is intuitive software for beginners.