FREE | How to Replace Text in PDF Online/Offline

Crystal Chen updated on Aug 10, 2021 to PDF Editor Tutorials
Have you replaced the text in PDF one by one? Actually, there is an efficient way to substitute the same text in PDF fastly. Several PDF editors that allow this function are introduced in this post, including online and offline tools. The online tool can save your time, and the offline one can provide you with more functions. To explore how to replace text in PDF using these tools, keep reading this post.
Are you looking for an excellent method to delete text in PDF? Find the answer in the related tutorial.
Related Article: >> How to Erase Text in PDF in several easy ways
How to Substitute Text in PDF Offline (More Functional)
Firstly, for PDF users, it's a necessity to own an offline tool as you can use it without the Internet requirement. Especially in the workplace, the offline tool has obvious benefits. Here, you can see two PDF editors, and both of them are practical. 
Search and Replace Text in a PDF with EaseUS PDF Editor
This PDF editor for Windows is famous for its editing functions, including replacing text in PDF with simple clicks. Not only replacing text, but you can also use it to add text to PDF. It makes your PDF editable and searchable when using this tool. 
What's more, to convert PDF to other formats like Word, Excel, PPT, etc., this functional tool also meets your requirements. Without losing quality, you can get a new file format to better share with others.
Key features of this beneficial PDF editor:
Effectively black out text in PDF
Copy the selected text to meet the special requirement
Allow you to modify images and edit text in PDF
Change the font size to enhance the visual effect
Extract the image from the file
Congratulations that you catch this chance to download it for free!
Once you've downloaded this software, follow the below guide to learn how to replace text in PDF:
Step 1. Open this tool. To import the targed PDF, click "Create" and choose "From File". 
Step 2. From the left toolbar, click the magnifier icon to apply the function of searching and replacing text. In the "Search" box, type the text you want to subsititue. Then, in the "Replace" box, type the new text. After that, click "Replace" or "Repace All" to start the replacing mission.
Step 3. If you are satisified with the edited PDF, hit "File" from the top toolbar. Then, select "Save as" to save it in computer.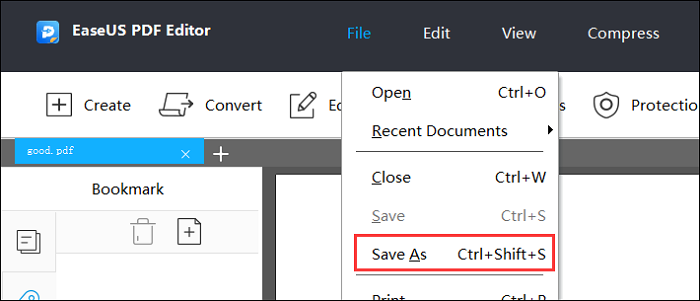 Find and Replace Text in PDF via Adobe Acrobat Pro DC
It's an all-in-one PDF reader and editor for most users to handle with PDFs. This professional software provides efficient ways to substitute the texts, including using the Search window or Find toolbar. The same text can be substituted for another with simple clicks. You don't need to change it one by one anymore. 
Meanwhile, as a powerful PDF editor, it allows more functions such as adding bookmarks and comments in PDFs. Also, you can edit the images and copy text from PDF easily.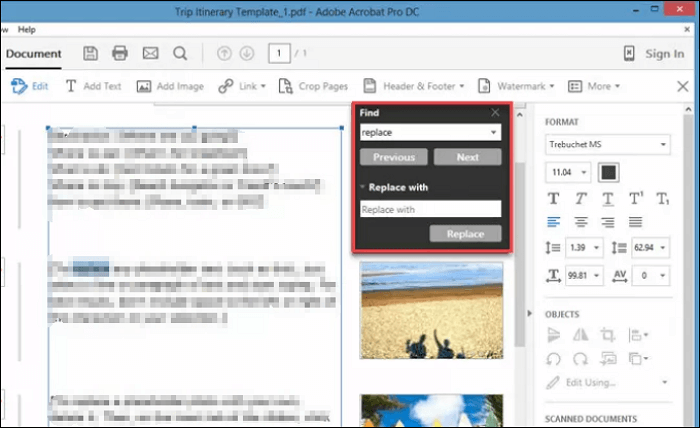 Check for more details on how to operate this function:
Step 1. Perform Adobe and import the selected PDF into this software. 
Step 2. On the main interface, click "Document" to choose "Edit". Then, press "Ctrl+F" on your keyboard. Type the original text in the "Find" box. Also, in the "Replace with" box, type the new content in it.  
Step 3. Press "Replace" to start the mission. After the task is ended, view the effect of the edited PDF. 
How to Substitute Text in PDF Online
Sejda is a practical online PDF editor that allows replacing text in PDFs. You can import the file from your computer. The advantage of this tool is that you can substitute the single target or all related content. Use the Find toolbar to target the text and then replace it correctly. It won't destroy any quality when applying this function. 
Besides, it allows you to delete pages, rotate PDF, add page numbers, and add watermark to PDF for protection. For PDF users, it's necessary to save this tool for frequent usage. Without installation requirements, it helps a lot.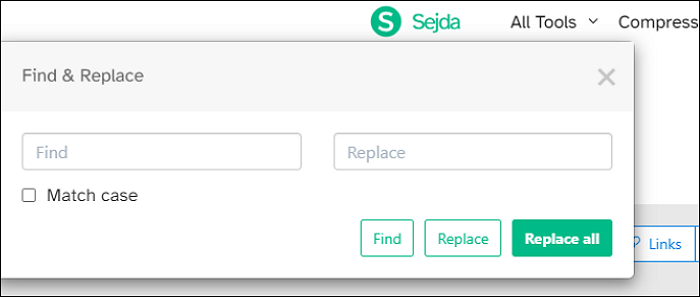 Guide for substituting text in a PDF using this online converter:
Step 1. Open the website and click "Upload PDF File" to import the file. Another way is to drag and drop the file into the box.  
Step 2. From the top toolbar, click "More" to choose "Find & Replace". Then, a window appears. 
Step 3. Type the original text into the left box, and give the new content in the right box. Then, click "Replace" or "Replace all" to start the mission. To save this edited PDF, hit "Apply changes" and then select "Download". 
Conclusion
To learn how to replace text in PDF online and offline, you can bookmark this tab. From the three introduced tools in the post, choose the online tool for saving time. If you want to apply more editing functions, offline tools like EaseUS PDF Editor can meet your requirement. Now, try EaseUS PDF Editor for free!