3 Ways | How to Print PDF Without Margins

Vanessa Chiang updated on Sep 14, 2021 to PDF Editor Tutorials
When you are going to print out a PDF document, the margins may be very cumbersome. First of all, the margins can affect the page layout of your PDF, and it may result in waste of the printing paper. That is why many people are looking for the solution to print PDF without margins.
The features of those PDF printers on the market are different. Some of them allow you to print out a borderless PDF directly, while others don't support that. What could you do on this occasion? Don't worry. This post will guide you through printing PDF without margins on both Windows and Mac. Keep reading to know the operating steps.
How to Print PDF Without Margins Using EaseUS PDF Editor 
To print borderless PDF on Windows, two steps are indispensable. Firstly, you need to edit the PDF pages and adjust the margins of the PDF until you totally remove the white margins. Secondly, you can print the edited PDF as a borderless one.
EaseUS PDF Editor is a versatile PDF editor for Windows which enables you to manage the PDF pages and edit PDF contents like a breeze. You can design the PDF pages from many aspects. For instance, you can add a header and footer to a PDF, add a background or remove background from PDF, and set a watermark for the PDF file. This software also supports customizing PDF margins easily. 
Key Features:
Insert text and images into PDF
Print PDFs out
Reduce PDF size to save storage space
Before printing out the PDF, there are many settings you can adjust. If you want to print your PDF files perfectly, this software is suitable for you. Click on this button to download this program for free now. 
Steps to Print PDF Without Margins Using EaseUS PDF Editor:
Step 1. Install EaseUS PDF Editor on your Windows PC and launch it. Then, click on the "Open Files..." button to import the PDF file you want to print.
Step 2. Click on the "Page" button. Under the "Page Design," you can find the elements you can add to the PDF. Choose "Header & Footer" > "Add".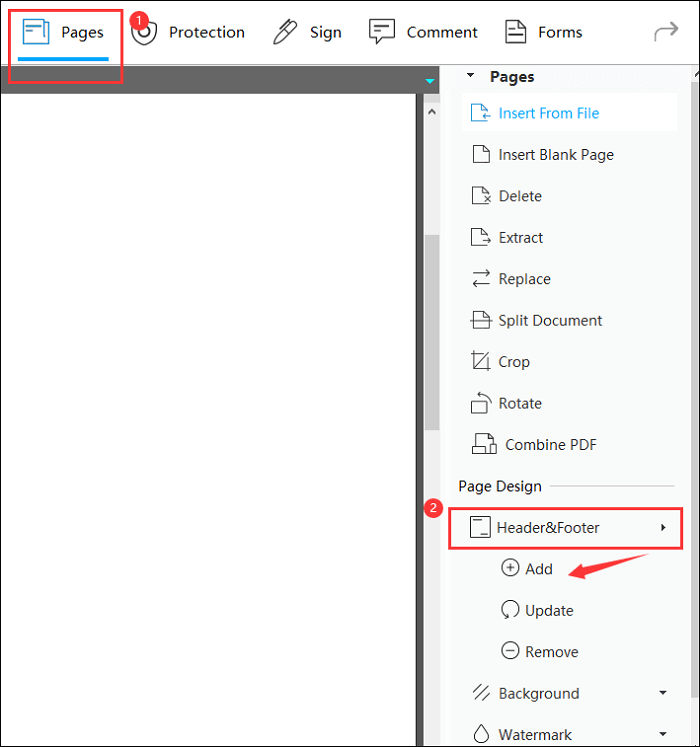 Step 3. When the "Add Headers and Footers" window pops up, you can see four input boxes to set the margins freely. You need to set all the margins as "0" to make the PDF borderless.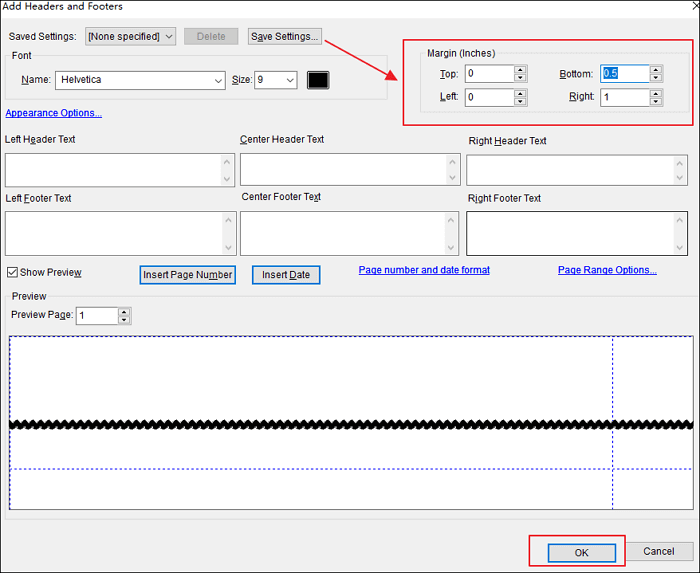 Step 4. Now, you can click on the "File" button and select the "Print" from the dropdown menu. Then, you can print the PDF without margins.
How to Print PDF Without Margins in Adobe Acrobat DC 
To print PDF without margins, another powerful software can help, which is Adobe Acrobat DC.   
This is an all-in-one PDF editor, converter, and printer. As it supports multiple formats, you can convert a Word or Excel document into PDF format using this tool and print it out. This method ensures that the layout of the source file will not be changed, while both the content and the formatting of a document may be distorted when you print it directly. 
Besides that, Adobe provides you many options to adjust the printer setup, and you can find some of the choices under "Print Production". There is an option for you to "Remove White Margins," which you need to print a borderless PDF.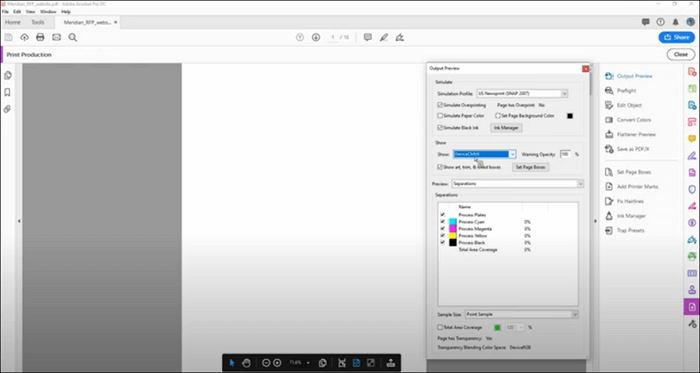 Steps to Print PDF Without Margins Using Adobe Acrobat DC:
Step 1. Launch Adobe Acrobat and open the PDF you want to print using this software. 
Step 2. Click  "File" > "Properties", then you can set the print option in the "Advanced" tab. In the tool menu under "Print Production", you can choose to eliminate the margins on specific PDFs.
Step 3. Navigate to the "Set Page Boxes" menu. And you can choose "Remove White Margins" under "Margin Controls". 
Step 4. Print the PDF out.
How to Print PDF Without Margins in Preview 
For Mac users, Preview is the most easy-to-use program for processing PDFs since it comes along with the system. This software helps you in viewing and editing images and PDFs with simple steps. Since it can also work as a great PD printer on Mac, it's also possible for you to print a PDF without margin using Preview. 
There are many printing settings you can customize in Preview. For example, you can select the number of copies, the range of the pages to be printed, the page size, etc. If you want to change the PDF orientation, you only need to select a suitable orientation, and the software will rotate the PDF and print the PDF according to your requirements.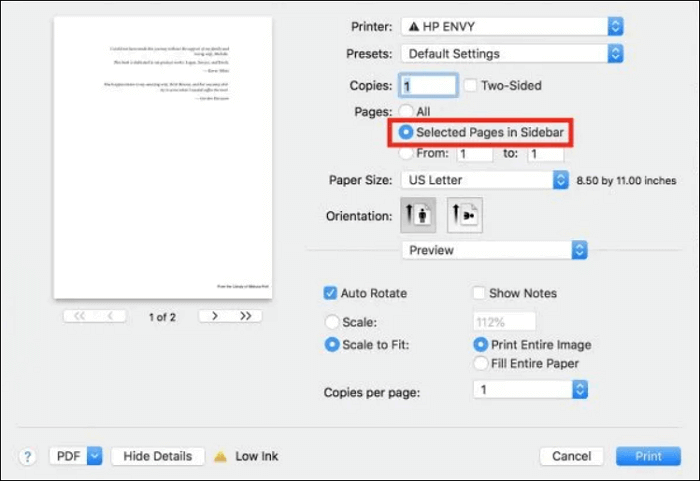 Steps to Print PDF Without Margins Using Preview on Mac:
Step 1. Open the PDF with Preview on your Mac.
Step 2. Click on "File" > "Print", then you need to choose "Show Details". 
Step 3. When the print window appears, you need to select  "xxx (borderless)" from the "Paper Size" menu. And select "Borderless Printing" from the pop-up menu on the "Print Dialog".
Step 4. You can adjust some other settings, and you can move the slider for "Amount of Extension" to the right side. Then, click on the "Print" button to start the printing.
Conclusion
When you want to print a PDF document without margins, you can use various tools and methods. All of the 3 ways we mentioned in this post are available, and you can choose a suitable one for the operating system you are using. 
We recommend EaseUS PDF Editor to be the best one for users who are using Windows devices and are not familiar with printing PDFs. This intuitive and user-friendly software can help you print the PDF the way you like.