How to Print Booklet in PDF on Windows 10 and Mac

Jane Zhou updated on Jun 11, 2021 to PDF Editor Tutorials
Nowadays, more and more companies make booklets to carry their messages, and the contents in it are generally details of the company's services or products. This kind of booklet can help the marketing department present products and services efficiently and clearly, compared to PDF files. So, if you still use PDF files for publicizing products but don't achieve a good result, you can try the Booklet.
On this page, we will walk you through the steps about how to print booklet in PDF on Windows and Mac. Just continue reading.
General Introduction to Booklet
A booklet is a very thin book with a small number of pages and a paper cover, giving information about something. And it is usually used for programs, marketing/promotional booklet, brochure, etc.
Some features about Booklet:
Booklet always has a cover, which can be a thinner text weight or a thicker cover weight
Unlike the book, the booklet has a small page count (8 - 36)
The standard booklet size is 5.5 in * 8.5 in or 6 in * 9 in
How to Print Booklet in PDF on Windows 10 – EaseUS PDF Editor
When it comes to print a booklet from PDF on Windows, you can count on an amazing Windows PDF editor called EaseUS PDF Editor.
As one of the best free PDF printer software, it provides lots of useful features. With its help, you can print to PDF, print PDF in grayscale, print multiple pages on one PDF, and many more according to your needs. As for printing PDF in booklet format, it is just a piece of cake.
Moreover, this software also has many basic and advanced editing functions which let you edit your booklet before printing. This Windows PDF editor enables you to change font size in PDF, add images, and add background to the file to enrich it. 
EaseUS PDF Editor
Support more than 10 file formats, including .doc, .docx, .png, etc.
Create a fillable PDF in a snap
Convert PDF to other file formats or vice versa 
Protect PDFs by adding passwords and watermarks
Inbuilt OCR feature makes the scanned PDF editable
Before printing the booklet in PDF with this versatile PDF program, you can check the following tutorial.
Step 1. Launch this program, and click "File" > "Open" to import the target PDF file.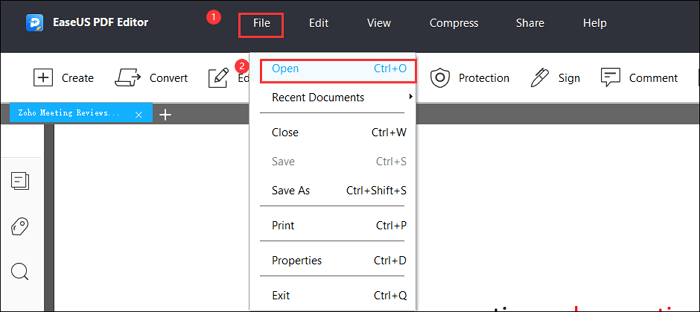 Step 2. Once imported, click "File" followed by "Print" to open the Print window. Or you can press "Ctrl + P" directly on your keyboard.
Step 3. Select the printer and the pages that you want to print in the Print window. Next, click on the "Booklet" button. Here you can make some adjustments to your printing like setting Booklet subset, Binding, etc.
Step 4. Then you can preview the booklet at the bottom right. If you are satisfied with it, click "Print" to make the booklet from your PDF file.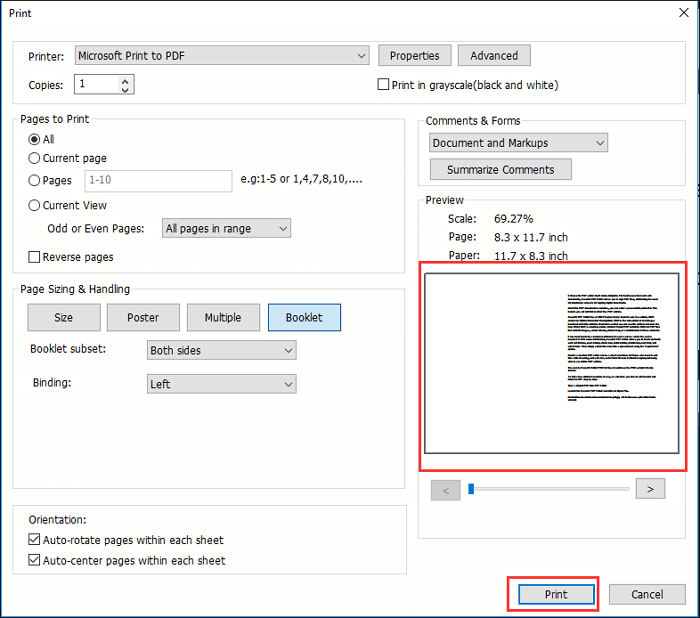 How to Print a PDF File in Booklet Format with Adobe Acrobat on Mac
Another way to create a booklet from a PDF file is to use Adobe Acrobat, which enjoys great popularity all over the world. This software will assist you in editing, converting, and printing PDF documents without any hassle. Speaking of printing a PDF into booklet format, it can complete the task as easily as possible like below.
Step 1. Find the PDF file that you want to print to Booklet, and open it with Adobe Acrobat DC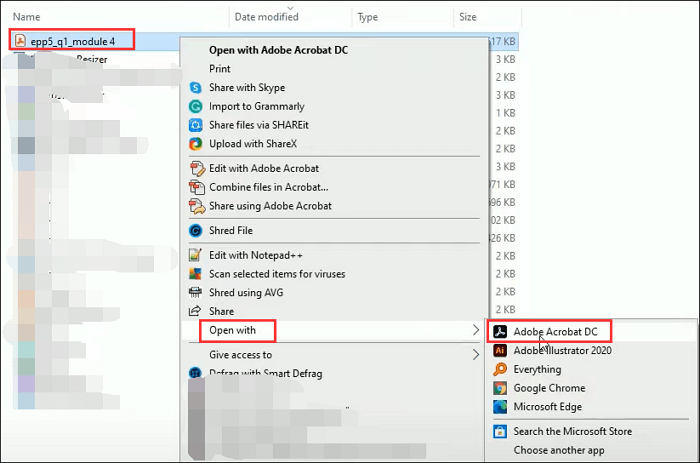 Step 2. Click "File" > "Print" in the top toolbar and choose the right printer. Next, specify which pages to print. Here you have three options: All, Current, and Pages.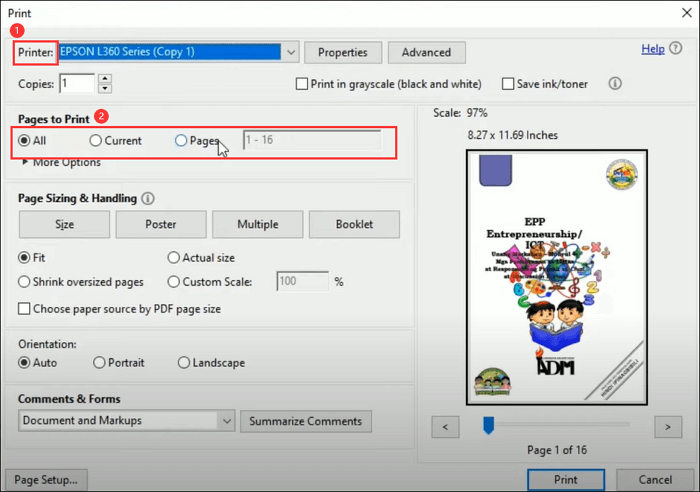 Step 3. Click on the "Booklet" option under the Page Sizing & Handling.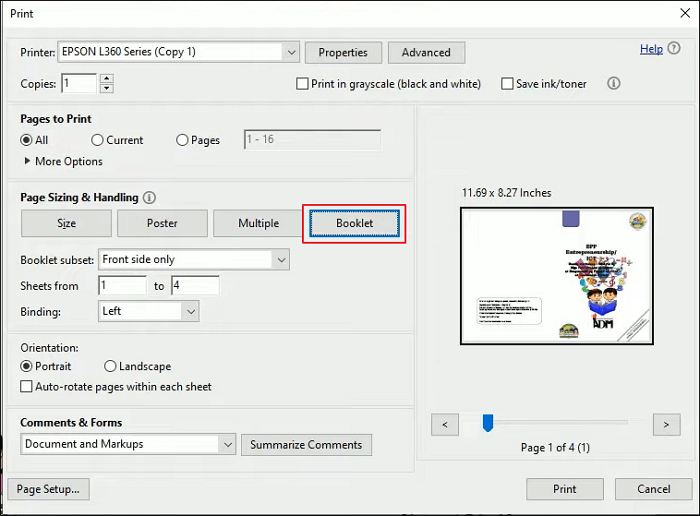 Step 4. Adjust the settings of printing. In the Booklet Subset pop-up menu, you can choose the "Both sides" to print both sides of the paper (your printer must support automatic duplex printing); Or select on the "Front side only"/ "Back side only".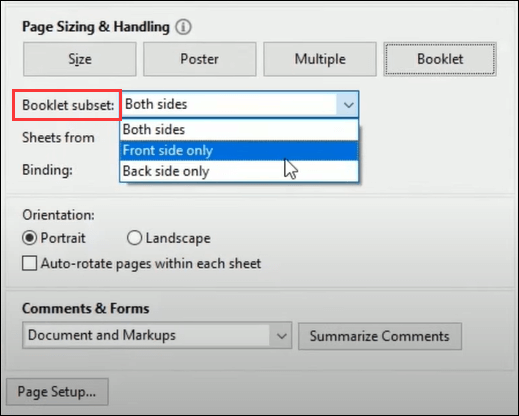 Leave the numbers in the Sheets From boxes as they are, and select Auto-Rotate Pages to automatically rotate each page for the best fit in the printable area.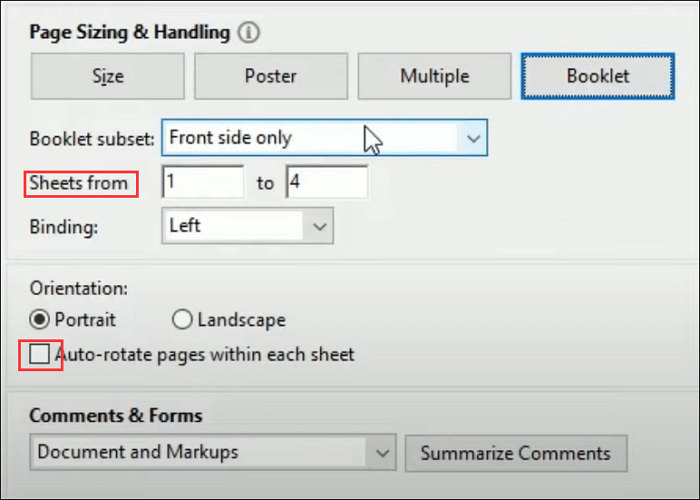 Step 5. Once you are ready to print the booklet, just click the "Print" button at the bottom right.
Final Words
After reading this post, you must have learned how to create a booklet from PDF, whether you work on Mac or Windows computers. Now follow the tutorials to create your own booklet!