PDF Poster Print: How to Print Poster from PDF in Seconds

Jane Zhou updated on Jul 30, 2021 to PDF Editor Tutorials
No matter how digital we get, posters are still an important part of our lives. They are a great way of offline marketing and are also used quite a lot in the online world. If you have a PDF and want to print a poster out of it, without getting too advanced, then this tutorial is for you. We will show you how to print a poster from a PDF in seconds with various PDF editing software.
EaseUS PDF Editor is one of the best available Windows PDF editor software right now! It has all the features you would need without getting too complex and also has a beautiful interface. 
It can easily print PDFs, print booklet in PDF, and has lots of print settings like making it a poster, adjusting scaling, overlapping, various printing modes, and lots more. Apart from that, this best free PDF printer makes the whole process really simple. 
Beyond that, it also enables you to split easily, compress, edit, manage and even annotate on PDFs. But its capabilities aren't limited until here. Some of its top features would be:
Conversion to and from 10+ file formats like Word, Excel, PPT, JPEG, etc.
OCR allows for accurate conversion of already scanned PDFs to editable format from 29 languages
Lots of editing tools like adding and modifying text, images, delete, reorder, extract, etc.
Collaboration for teams working simultaneously on PDFs
Create fillable PDF forms with checkbox, radio box, short and long answer text
Reduce PDF size for later sharing
Here is the tutorial to print poster from PDF document:
Step 1. Open EaseUS PDF Editor and once on the homepage, click on the "Open Files" button and choose a PDF from your PC. 
Step 2. Once the PDF is opened, click on "Ctrl + P" on your keyboard or go to File > Print in the top bar to print your PDF as a poster.
Step 3. Now you will be in the print dialogue. From here, first, select your printer and then select the pages you want to print. Lastly, you will see some page handling options. From there, select the option which says "Poster". Now the software will automatically adapt your PDF for printing it as a poster.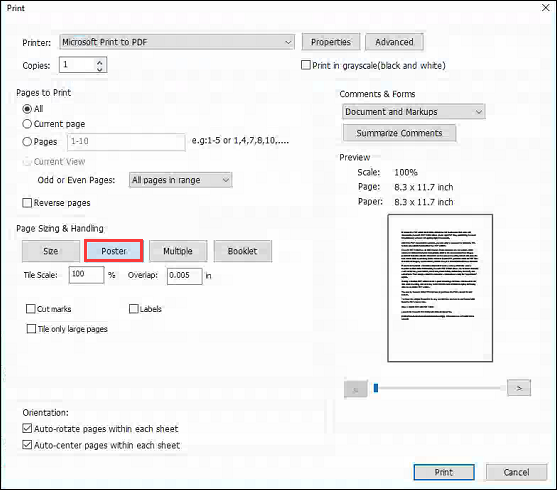 Step 4. Click on the Print button, and you're done!
How to Convert PDF to Poster Using Adobe Acrobat
The software that we will be using for this task is called "Adobe Acrobat DC," and we will be using its latest version. It is the industry-leading software when it comes to PDF editing as it comes with a ton of features. You can convert, compress, split, OCR, add videos, and do lots more. Some of its top features are:
Encrypt your PDF 
Add E-Signatures
Compare PDF files to find the differences
Step 1. Open Acrobat and open your PDF from your PC
Step 2. With your PDF open, go to File > Print, and now you will see a dialogue box. First, select the printer you want to use, the pages you want to print, and then select "Poster" from the printing and page handling options.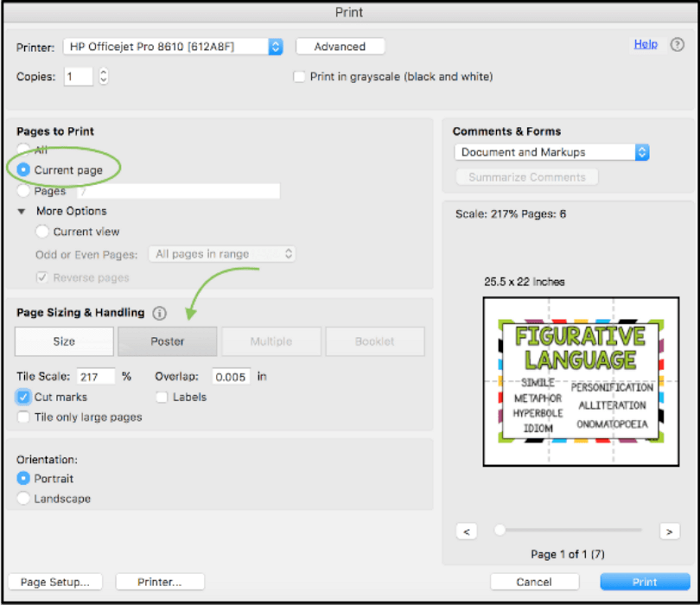 Step 3. Under the "Poster" button, you will also have some settings which you can adjust to make your printed poster look better. 
Step 4. Now print your poster, and you're done!
Conclusion
So that is it. You know how to print a poster from a PDF quickly using EaseUS PDF Editor and Adobe Acrobat. The methods we told you about are fast and efficient. We would recommend going with EaseUS PDF Editor. It's cheaper than Acrobat and comes with a lot of features and also a better interface. This combination of tools and price makes it the perfect choice for anyone who works with PDFs. We hope that this article helped you complete your task.