2021 | Top 6 PDF Editor Without Watermark

Jane Zhou updated on May 26, 2021 to PDF Editor Tutorials
The PDF format is a widely used method of sharing important files over the internet. They are not only simple to create, access, or share files. But also ensure security and take up less space on your storage. Even when creating PDF documents is straightforward, the editing aspect can be challenging and annoying at times. 
As mentioned previously, there are a wide variety of paid PDF editors to buy online. However, these PDF editors are extremely expensive and include so many features for average users. Not to mention the fact that there are various licensing and subscription options, which hinder the choice of getting a plan in time.
Not everyone works with PDF documents on a daily basis. In these cases, it is preferable to use a free PDF editor. However, the majority of them will include a watermark on each page of the file. If you don't like those tools, Let us take a closer look at some of the best free PDF editors that do not really taint your files with watermarks in this post. 
Here you will learn an all-in-one PDF editor and the top 6 PDF editor with no watermark. Let's dive into it!
An All-in-One PDF Editor with No Watermark for Windows
EaseUS PDF Editor software can do everything you need to do with PDF. In aspects of editing your PDF documents, it enables you to delete, insert, extract, reorder, and crop a PDF as you wish. Additionally, you can quickly add footer and header to PDF file, as well as the page numbers of your PDF.
Apart from the features mentioned previously, this software will assist you in converting, managing, and securing your PDF documents without facing any difficulty. But after editing, there will be a watermark on your document if you use the free version. To avoid that, you can upgrade to the pro version, which will give you full access to all the features you want and will not leave any watermark on your files.
EaseUS PDF Editor
Reduce any PDF file size without compromising quality
Allow you to add or remove watermark from PDF file with ease
Convert PDF to different 10+ file formats with ease
Manage your PDF documents like a Pro
Make Scanned PDF document editable
Top 6 Free PDF Editor with No Watermark
In the following, we will share with you 6 excellent PDF editing software with no watermark. Continue reading to find your desired one!
Top 1. LibreOffice Draw
LibreOffice Draw is LibreOffice's diagram and flowchart software, allowing you to open and modify PDF documents. Select the PDF you want to edit from the File > Open menu, and then zoom up to the sentence to pick and start changing anything you want.
One of the lovely things concerning editing PDFs with LibreOffice Draw is that the software was designed for manipulating and creating objects, which means you can also edit non-text objects such as headings, images, and colors.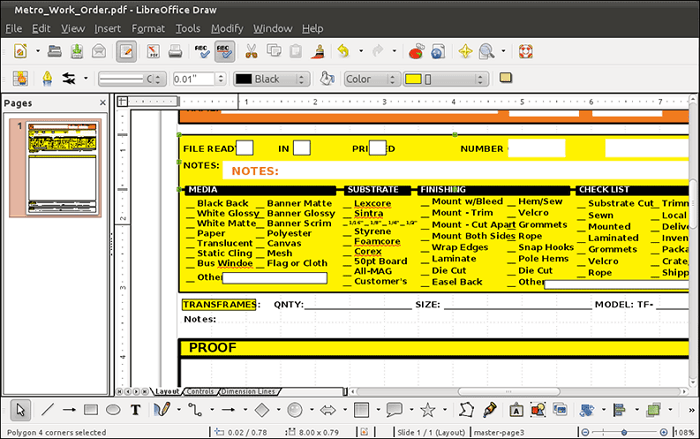 Pros
Modify any text that appears on the PDF page
It does not show the effects of a watermark
Cons
It is necessary to download the entire suite of programs in order to make use of the PDF editor
Top 2. Sedja PDF
Sedja PDF is yet another online and desktop PDF editor. It enables you to edit PDFs online and offline for free, without the result carrying a watermark.
This software runs completely within your web browser, making it simple to get started without downloading any programs. You can also download the desktop version if you prefer. With its help, you can add text, comments, shapes, and even watermark to your PDF files as you want.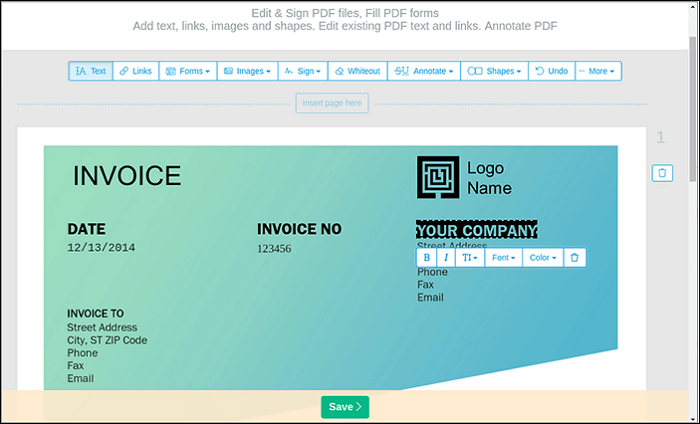 Pros
Enable you to include hyperlinks in the newly created PDF
Enable to remove of pages or sections
Cons
Only three 2 documents can be edited per hour
The PDF document should be no more than 200 pages in length
Top 3.  PDF BOB
PDF BOB is a completely free online PDF editing tool that does not require a user profile to use. Simply upload your PDF, make any necessary changes, and then export your work as PDF again to save.
There are many other tools available for editing your PDF, including a text tool with custom color and font selection, a colored pencil/marker, a few shape tools, and an image picker.
Additionally, you can use PDF BOB to erase pages from the PDF and replace them with new ones. You can also include a password to protect the document.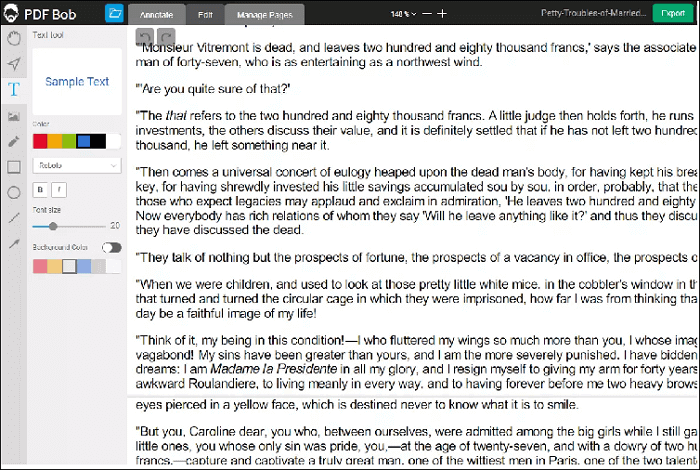 Pros
Extremely simple to use
There is no need to create an account
Multiple conversion techniques are supported
Utilize it in multiple languages
There are no advertisements, and it saves without adding a watermark
Cons
Does not modify the previously written text
There is only one upload source (your computer)
Top 4. Smallpdf
Smallpdf is a simple-to-use online PDF editor software, which comes with an unrestricted free version. The software enables you to edit PDFs online and save them without a watermark easily.
While accessing the PDF file, you could even enhance its contents by highlighting and adding shapes, images, and annotations. Additionally, this online tool enables you to fill out forms and e-sign contracts in just a few & easy steps.
Pros
It is entirely free
It enables you to expand the text in the PDF
Keep adding white space to any area you want to delete
Load PDF documents from a variety of sources
Cons
You are unable to edit pre-existing text
Top 5. PDF Buddy
PDF Buddy seems to be a free online PDF editor tool that enables you to edit your documents online without downloading any program on your device. This PDF editor enables you to edit PDF documents online for free easily. Without breaking a sweat, you can easily complete forms, white-out, add signatures, and highlight.
Moreover, it works across almost all devices because you don't need to install software, you can easily make use of the web browser.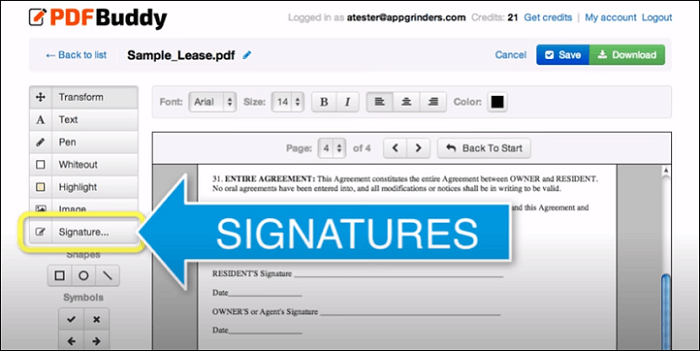 Pros
The PDF document can be quickly uploaded and edited online
Enable users to insert images and text
You can encrypt your documents and also assign a digital signature to them
Once you sign up, you gain access to all features
Cons
You cannot start again from scratch when creating a new PDF file
Two or more PDF files cannot be merged
Top 6. IceCream PDF
IceCream PDF split and merge seem to be a widely used free PDF tool, due to its flexibility. You can modify PDF documents for free using this PDF editor, and it will help you to secure your file with a password.
Though its functionalities are restricted, one can accomplish the necessary tasks. Users could even split PDF files into single-page files, groups of sections, or even delete individual pages using one of the software's splitting modes.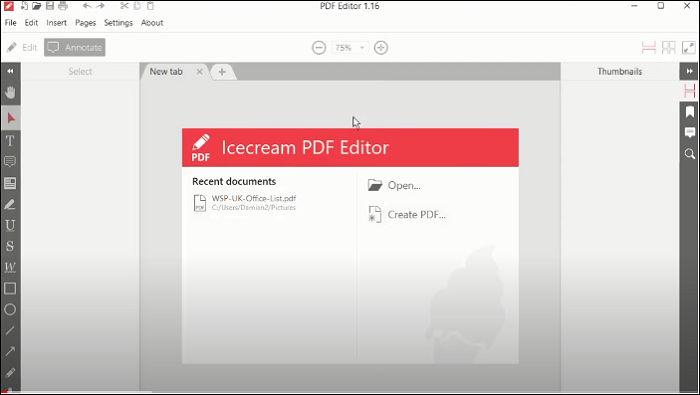 Pros
Split PDF files into multiple files with ease
Capable of merging PDF files and rearranging the pages of two or more merged documents
You can add an extra layer of security to your new PDF document
Cons
The tool's features are highly restricted
Conclusion
By now, you should understand the difference between the free PDF editor and the pro version. Most of them claim to be free but restrict some features to use. A tool like EaseUS PDF Editor software can perform your light tasks or make use of those online PDF tools. Try it now!