6 Ways | How to Password Protect PDF for Free

Jane Zhou updated on Apr 27, 2021 to PDF Editor Tutorials
When it comes to sharing sensitive information such as your financial details, you don't want your information getting into the wrong hands. Isn't it right? If you password protect PDF containing sensitive information, only someone who knows the password can open and view it. This post will walk you through how to secure a PDF with a password to avert unauthorized access to your document content.
How to Password Protect PDF on Windows 10
If you want to learn how to set a password for a PDF document on Windows 10, you have three ways to get the job done – either using EaseUS PDF Editor, Adobe Acrobat or Microsoft Word. We are going to discuss these options, so have a look and see which one you find convenient.
Using EaseUS PDF Editor, you can add password protection to your PDF files quickly and easily. Also, you are able to remove password from PDF in this program. Is that all features of this Windows PDF editor? Of course not.
As an all-in-one PDF make, it provides lots of editing tools like drawing, adding or extracting contents, rotating PDF pages, and more, so you can modify your PDFs effortlessly. Converting is another stunning feature. With the help of EaseUS PDF converter, anyone can change PDF formats in seconds.
Step 1. Install and launch this PDF editor. Next, import the PDF file that you want to add a password to.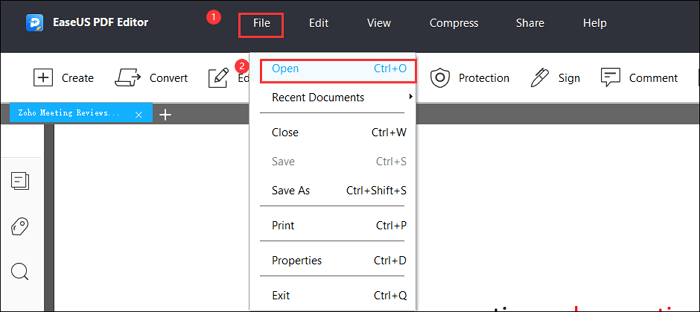 Step 2. On the top of the interface, click "Protection" > "Encrypt with Password".

Step 3. In the following, enter the password protection of your PDF document.
Step 4. Once done, your PDF is password protected now.
2. Adobe Acrobat
With the help of Adobe Acrobat, you can easily impose an extra layer of protection on your PDF documents containing sensitive information. But the catch is that this feature is not available in the free version of Adobe Acrobat. You have to get your hands on its paid version to secure your PDF. However, once you have it, Adobe Acrobat Pro can help you prevent unauthorized access to your file content by securing them with a strong password that receivers require to enter to open or view it.  
Step 1. To begin, open your PDF you would like to protect with a password in Adobe Acrobat.
Step 2. From the right menu, click on "Protect" or you can go to "Tools" > "Protect".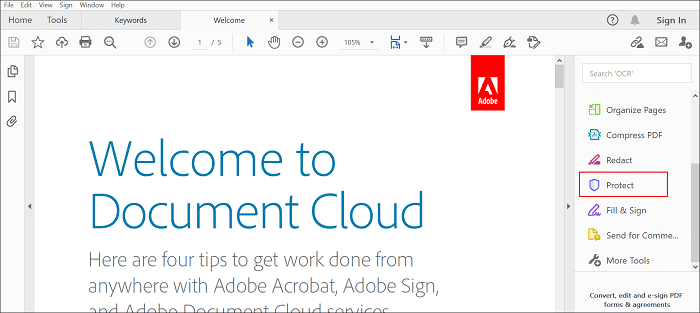 Step 3. At the top of your document, tap the option that says "Protect using password".

Step 4. Select between preventing others from viewing your file content or blocking edits. Set the password and then hit "Apply" to save changes.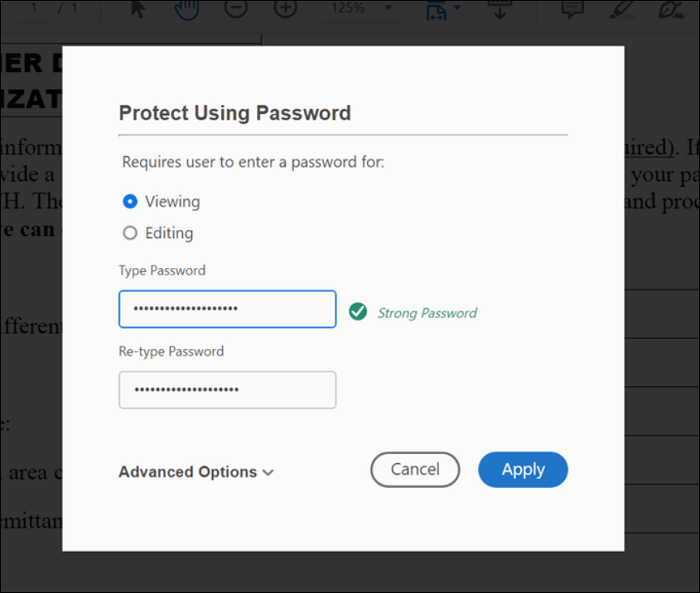 3. Microsoft Word
Did you know that Microsoft Word can also help you password protect PDF? Though Microsoft Word might not be the first thing that comes to your mind when it comes to securing a PDF with a password, it can indeed do that. The only downside of using Microsoft Word to set a password for your PDF is that the format of your document might get modified.
Step 1. Open the PDF in Microsoft Word.
Step 2. Click on the "Ok" button on the message saying Microsoft Word converting your document into an editable form.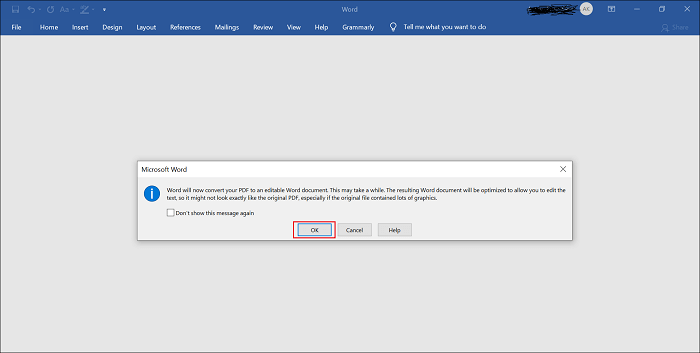 Step 3. Go to "File > Save As > Browse". From the "Save As" drop-down menu, choose "PDF" and then rename the PDF and then select "Options".
Step 4. Choose the box next to "Encrypt the document with a password" as shown in the below picture and hit "Ok".
Step 5. Set a password for your PDF file twice and hit "Ok" to save changes and quit that window. You can also choose where to save your new PDF document and then select "Save".
How to Secure a PDF with Password on Mac
To password protect PDF on Mac, it takes just 10 seconds thanks to Mac's built-in utility known as Preview. It can help add an extra layer of protection to your PDF with a password for free and without any hassle.
Step 1. Open the PDF in Preview.
Step 2. Go to "File > Export as PDF" and then name your PDF and select where you would like to save it. 
Step 3. Set a check in the box next to "Encrypt". In case you don't get the "Encrypt" option, click on the "Show Details" option to expand the window. 
Step 4. Set the password for your PDF twice, then click "Save" to apply changes.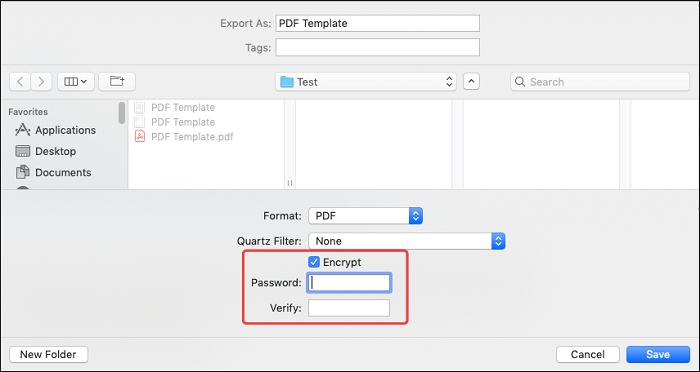 How to Encrypt a PDF Online for Free
If you want to learn how to password protect a PDF online for free without downloading any kind of program on your system, then we have good news for you. The internet is full of great tools to help you set a password for PDF online. But the real hassle is how to determine which online way is reliable to use. Well, no worries!! We tested and tried many tools and found the below options the best one to count on to password protect PDF online for free.
1. iLovePDF
Our first recommendation to password protect a PDF online for free is iLovePDF. When it comes to online tools for PDFs, you won't find a better platform than iLovePDF. It has got all tools at your fingertips to perform various operations on PDFs. Be it merging, compressing, rotating, splitting, converting, or even encrypting PDFs with a strong password, you can count on iLovePDF. Yes, it is 100% free to use with support for all browsers.
Step 1. To begin, go to the official website and then upload your PDF file you want to add password.
Step 2. After that, iLovePDF will ask you to set a password and then click on the "Protect PDF" button.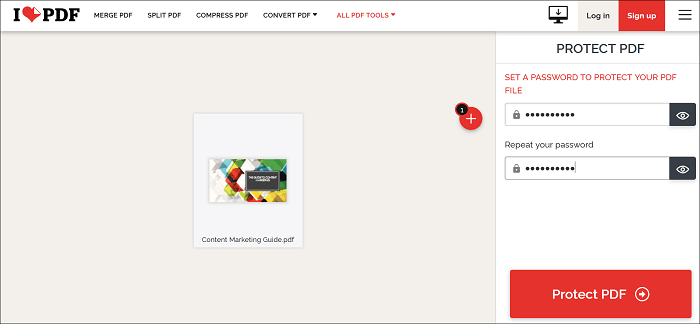 Step 3. Finally, you can click on the "Download protected PDFs" button, and that's it.
2. Sejda
You can also rely on Sejda to secure a PDF with password online. It is 100% free online to help you add an extra layer of protection needed to protect your sensitive information. What we like most about Sejda is its straightforward process of setting a password for PDFs.
What's more, it works on all browsers and supports even smartphones and tablets to help you encrypt your PDF with a strong password on the go. In case you would like to work offline, Sejda does offer its desktop version as well. 
Step 1. Upload your PDF that you want to protect with password.
Step 2. Now, you will be requested to enter the password. Ensure it's a strong one.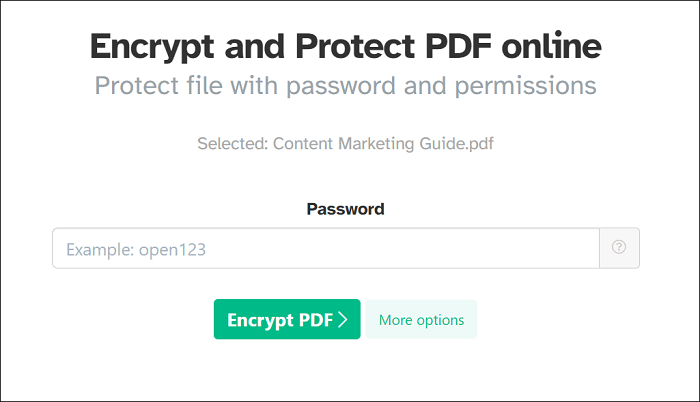 Step 3. You can click on the "More Options" button to choose optional PDF restrictions.
Step 4. Click on the "Encrypt PDF" button. Finally, download your password-protected PDF on your system.
The Bottom Line
That's all on how to password protect a PDF. Setting a password for a PDF that contains sensitive information is no hassle, as you can now see that. To protect PDF with password on Windows 10, you've got three options. For a better experience, we advise you to try EaseUS PDF Editor. This all-in-one PDF program will make your work easier!