How to Save One Page of A PDF on Windows/Mac/iPhone

Vanessa Chiang updated on Aug 06, 2021 to PDF Editor Tutorials
PDF documents are more and more frequently used in this modern era. In the past, when using the paper document is still mainstream, it's easy to take out specific pages from a thick stack of papers. However, it's not as simple as that to extract certain pages from a PDF document. If you get a PDF document from your colleague, there may be only a few pages that are useful for you, and it would be better to only save the pages you need. 
But how to save one page of a PDF or save only certain pages of PDF? Some programs on Windows and Mac can help you do that without efforts, such as PDF editors or PDF printers. This post is for those who are not familiar with PDF printing software, and it will guide you through taking out just the pages you need step by step. Keep reading to know more.
Related Article: >> How to Save a Webpage as A PDF
How to Extract Pages from PDF on Windows 
EaseUS PDF Editor must be a powerful and reliable software for users who want to save only certain pages of a PDF. This PDF editor for Windows is capable of dealing with the issues about PDF from various aspects.
Printing PDF documents is one of its important features. This software helps you print out PDFs while keeping the original layout and content, and you can adjust the page size, page range, and PDF color with simple clicks. With the help of this printing tool, you are able to select the pages you want to save freely and print them to PDF. In this way, the specific pages you need would be extracted successfully.
Besides that, it also supports editing the new PDF you extract from the original one. For instance, when you need to add annotations or comments to PDF, you don't have to find note-taking software as EaseUS PDF Editor allows you to add lines, arrows, comments to the PDF file as well as highlight some sentences in it. And it's also possible to change font size in PDF.
Download this great PDF editor & printer to your PC and follow the steps to save pages from PDF.
How to Save Only Certain Pages of a PDF on Windows:
Step 1. First, you need to launch EaseUS PDF Editor and click on the "Open Files..." to import the original PDF.
Step 2. Click on the "File" button on the top toolbar and select "Print" from the drop-down menu.
Step 3. There are many options on the pop-up window. You need to select "Microsoft Print to PDF" for the "Printer" option. Then, under "Pages to Print", you can choose the page/pages you want to extract. Click on the "Print" button in the lower right corner to start.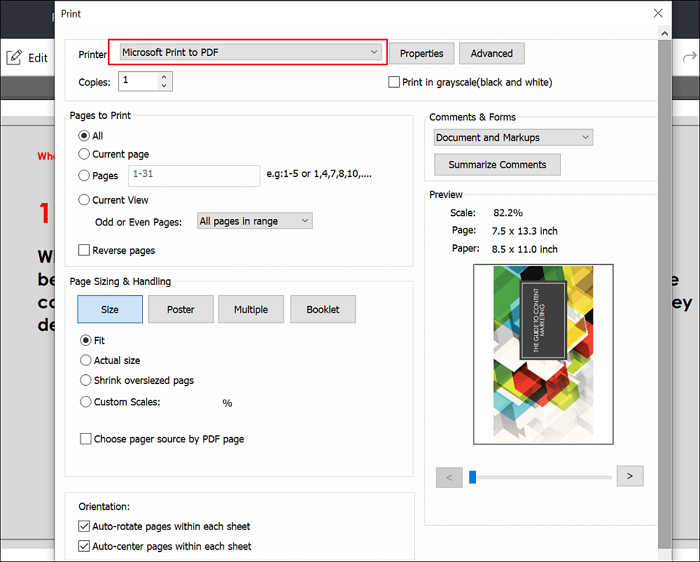 Step 4. Decide the storage path and customize the file name. Finally, click on the "Save" button to save the pages you need as a PDF on your PC.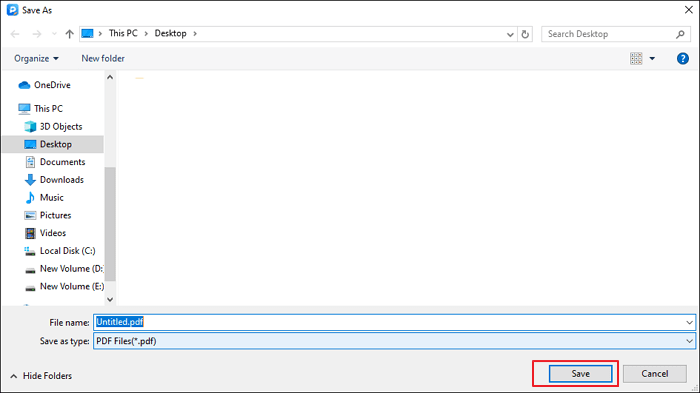 How to Save One Page of a PDF Mac 
A well-known truth about MacBook is that Apple offers Mac users an application to directly view/edit images and PDF files. This tool is named "Preview", and it prevents you from wasting too much time finding and downloading third-party software. 
This software also supports printing out PDF files according to your demands, such as selecting only one page in a PDF file and printing it as a new PDF. In this way, you can save only the page you need to your device. In addition to that, Preview helps you annotate the saved new PDF with various markup tools. For example, you can draw on the PDF and sketch a shape using a single stroke. If you want to add some content, it allows you to insert a textbox into the PDF and type in any word in it.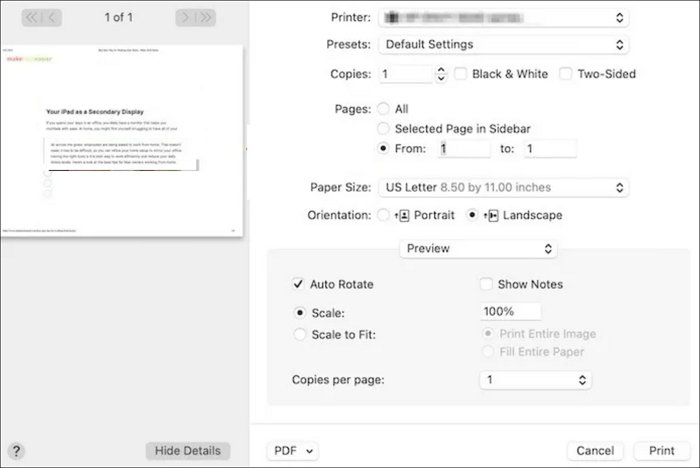 How to Save Just One Page of a PDF on Mac:
Step 1. Right-click the PDF from which you want to take out a page. And choose "Open With" to open the PDF with Preview. 
Step 2. When the PDF is opened in Preview, click on "View" > "Thumbnails" to display the PDF pages and remember the page number of the page you want to save.
Step 3. Go to "File" > "Print". On the "Print" menu, you will have an option to select the page number you want to print to PDF. 
Step 4. Then, hit the "Print" button to export the page you selected as a new PDF.
How to Save Only Certain Pages of a PDF on iPhone 
If you are an iPhone user, you may usually use iCloud to save pictures or other files. As this application is compatible with nearly all Apple products, you can transmit the files among all those devices without a USB cable. 
Besides this feature known to most people, it can even help you save a page or pages in a PDF. You only need to open the original PDF with it, and there is a "Share" option for you to do that. Just like saving PDF pages with Preview, you are also able to select a specific page or customize the page range easily.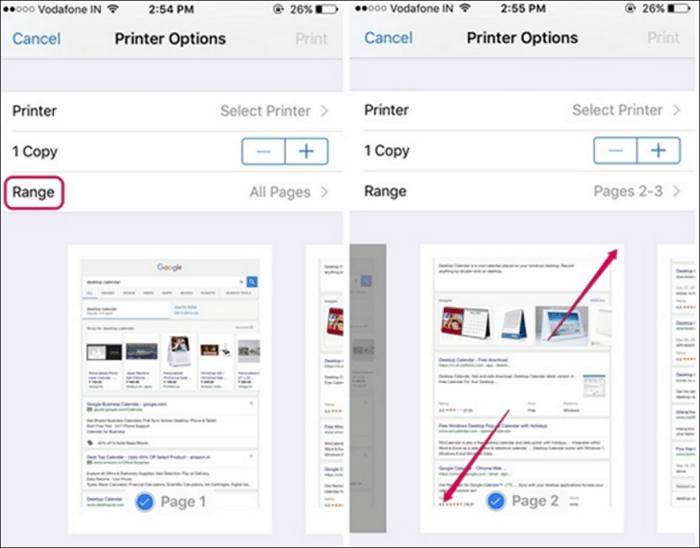 How to Save a Single Page of a PDF/Pages of PDF on iPhone:
Step 1. Open the PDF file via iCloud Drive.
Step 2. You will see the "Share" button on the bottom left-hand corner, tap on it and select "Print".
Step 3. The "Printer Options" window will pop up, and you can select the page or pages you want to save as "Range".
Step 4. Tap on the "Print" button to save the page/pages you need.
Conclusion
This post focuses on the topic "how to save one page of a PDF/pages of a PDF" and gives you detailed tutorials to do that on different devices. 
For iOS and macOS users, the application offered by Apple is enough. Both Preview and iCloud can be used to export one page of PDF with simple steps. For Windows users, EaseUS PDF Editor is the best choice since this software enables you to save the PDF pages you need and edit the saved new PDF with many markup tools. This is really a powerful program that is worth trying.