How to Print Secured PDF Files in 5 Easy Ways

Jane Zhou updated on Apr 27, 2021 to PDF Editor Tutorials
PDF is a common file format used to store both professional as well as personal documents. This format is preferred for various kinds of documents as it preserves the document formatting and prevents most types of editing. You might also come across password-protected PDF files, and you will find that these are a bit more difficult to print than the normal PDF files.
Simply clicking the print button on a secure PDF will not print the file. There are a few things you need to do before you can print these kinds of files, and this guide tells exactly how to print secured PDF files.
Part 1. Why Can't I Print a Secured PDF?
You cannot print a secured PDF because the original author of the PDF has applied restrictions to the file. If you have played enough with PDF files, you probably know that many PDF readers let you apply passwords as well as restrictions to your PDF files.
If someone does not want their PDFs to be printed, they would apply a restriction, and this restriction will prevent you from getting those secured PDFs printed. This is why the normal print function does not work when you try to print a secured PDF file on your computer.
Part 2. How to Print Secured PDF by Removing Restriction
Luckily, there are ways to print password-protected PDFs. One of the ways to do this is to remove the print restriction from your PDF files. You must know the password for your PDF to do this. Then, you can follow either of the following methods to print your secured PDF files.
Option 1. EaseUS PDF Editor Helps Print Secured PDF
EaseUS PDF Editor is a best free PDF printer, which can work perfectly on Windows 7/8/8.1/10. To print a secured PDF, you just need to enter the password, then click the Print button to get it done. For most of you, you may want to edit your PDF files like adding contents or other else, and almost all your editing needs can be satisfied by using PDF editing software, as it offers lots of useful editing tools.
Want to learn more features? Take a look at the below lists.
Compress, rotate, and crop PDF files flexibly
Convert PDF files to other file formats or vice versa
Manage PDF files as you like
Support 10+ OCR languages
How to print secured PDF files on Windows 10:
Step 1. Download and install EaseUS pdf printer, then click "Open Files…" to select the file you want to print.
Step 2. Choose your PDF document and enter the password into the box.
Step 3. Next, click "File" > "Print" to open the Print window. Or you can hit "Ctrl + P" to open it directly.
Step 4. Here you can choose the printer, pages, size, and many more to print your PDF document.
Option 2. Use Adobe Reader to Print Locked PDF
When it comes to manipulating PDF files, the go-to solution for most users is Adobe Reader. After all, this is the default PDF reader and editor on most users' computers. If you too use this program, you would be glad to know that you can use this tool to print your PDFs that are password-protected. This way, you do not need to install any other tools to be able to print your secured PDF files.
How to print a locked PDF file with Adobe Reader:
Step 1. Right-click your PDF file wherever it is located on your computer and select "Open with" followed by "Adobe Reader".
Step 2. Once the file opens in the program, click the "File" > "Properties". Then, click the tab that says "Security" to view the restrictions that have been applied to your PDF file.
Step 3. On the "Security" tab, click the dropdown menu next to "Security Method" and choose "No Security". At this point, you will be asked to enter your restrictions password. Do so and continue.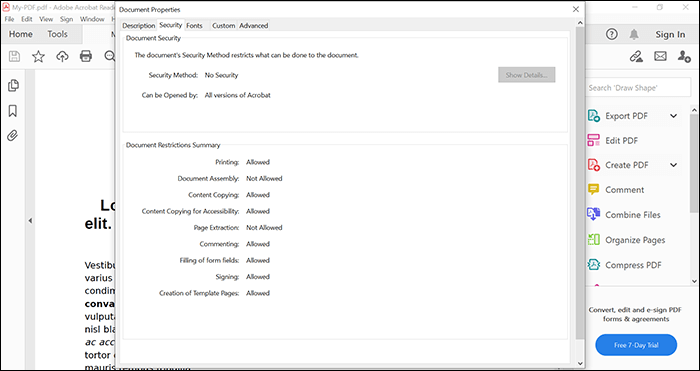 Step 4. Get back to your PDF and press "Ctrl + S" to save your file. You can also directly begin to print the PDF by clicking the "File > Print" option.
Option 3. Use Google Drive to Print Secured PDFs Online
Another straightforward method is to use Google Drive, which can help you out as long as you have a free Google account and access to the Internet. Google Drive has a built-in PDF viewer, and you can actually use this to send your PDFs to any of your printers without having to type any passwords.
Step 1. Open a browser and head over to the Google Drive site. Then, click the "New" button and select "File upload" to upload your PDF file to the website.
Step 2. Once uploaded, right-click on your PDF and select "Preview". This opens your file in Google's built-in PDF viewer, which gives you the option to print your secured PDF files.
Step 3. On the preview screen, click the print icon at the top, and this will let you print your secured PDF file. You will not get a prompt asking you to enter any passwords, and your PDF will go straight to your chosen printer.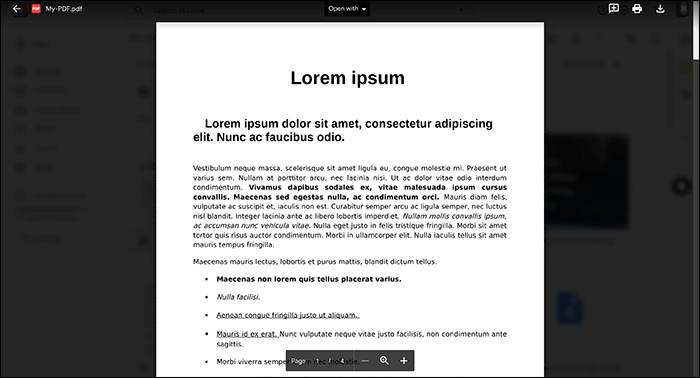 Part 3. How to Print Locked PDF Without Password
If you don't know the PDF files' passwords, the following methods will help you print a secured PDF quickly and easily.
Option 1. Use Chrome to Print a Secured PDF
If you will print a secured PDF at different times, it is best that you remove the password from the PDF, so the printing job becomes easier for you. Removing the password from your PDF only requires you to know the current password. Once you input this password and click an option, your secured PDF becomes unsecured.
This unsecured PDF can then be printed from any printer on any computer. You do not need to enter a password or anything to be able to print this file. This file now acts and works just like other regular files on your computer. Keep in mind you will need to know the correct password for your PDF to use this method.
Step 1. Open a File Explorer window and navigate to where your PDF is located. Right-click on your PDF and select the option that says "Open with" followed by "Google Chrome". 
Step 2. When the PDF opens, you will see a few options in the top-right corner of your screen. Click the icon that is for printing documents as you will be sending your current PDF to a virtual print job.
Remember, this will not actually print your PDF file.
Step 3. A dialog box will appear letting you specify settings for your new print job. On this screen, choose "Save as PDF" from the "Destination" dropdown menu, optionally specify other options, and finally click "Save" at the bottom.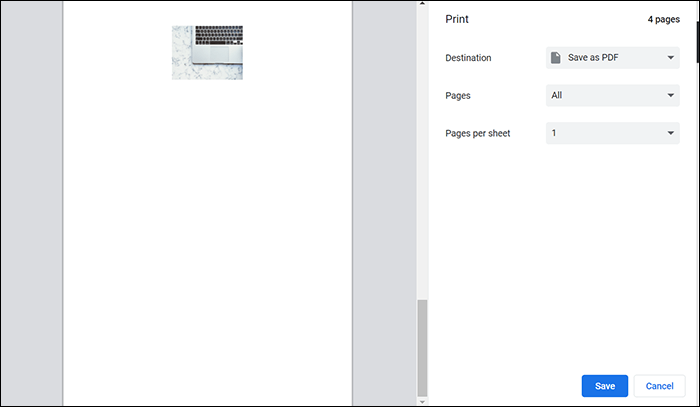 Step 4. Open the saved PDF file, and it is now an unsecured version of the original secured PDF. You can now use the print function in any of your PDF readers to print this PDF file.
Option 2. Use Microsoft PDF Writer to Print Secure PDFs
Another way to remove password-protection and print your secured PDF files is to use the Microsoft Print to PDF printer. This is a virtual printer that comes preloaded on all Windows 10 computers. Using this tool, you can turn pretty much any of your files into PDFs by simply virtually printing your files. This means you can use any program on your computer that supports PDF to use this virtual printer.
To avoid installing any apps, you can even use Windows' built-in Edge browser to use this printer. You simply need to open your PDF in this browser, send it to the aforesaid printer, and your PDF is ready to be printed.
Step 1. Right-click on your PDF wherever it is located and select "Open with" followed by "Microsoft Edge".
Step 2. When the PDF opens in Edge, you will see several options in the top toolbar. The option that you need to click on is print. Click the printer icon, and this will get you going.
Step 3. A dialog box will open on your screen allowing you to specify various options for your PDF file. From the "Printer" dropdown menu, choose "Microsoft Print to PDF" as this will help you save an unsecured version of your PDF file. Then, click "Print".
Step 4. Double-click your newly generated PDF file, and you can use the "Ctrl + P" command in any of your PDF readers to print your PDF document.
The Bottom Line
There are several ways to get around printing the secured PDF files. Use one of the methods described above to get your password-protected PDFs printed. You can even remove password protection from PDF, so they are printable like other regular documents. 
For Windows users, EaseUS PDF Editor is a nice option. It makes it easy to edit, view, print, manage and convert your PDF files in seconds.